Outdoor baby shower ideas that will help you celebrate your growing family
The birth of a baby is an exciting time; one that parents-to-be will undoubtedly want to celebrate with their closest family members and friends. A baby shower is a great way to gather and express your well wishes to the growing family. In spring, summer, and even early fall, sunnier weather makes outdoor baby showers an especially fun way to celebrate. Whether in a park or a backyard or a more elaborate rented special event space, an outdoor baby shower is a celebration to remember.
Who hosts an outdoor baby shower?
Baby showers are traditionally planned by a close family member (like a grandparent-to-be) or friend of the expectant mother. But there are no hard-and-fast rules. Couples can also plan their own baby shower if they want to have a hand in the party. Hosts often find a baby shower theme helpful in how it can connect the invitations, the decor, and maybe even the venue.
When to have an outdoor baby shower?
Baby showers are typically held four to six weeks before the baby's due date. An outdoor baby shower is great for little ones that are due to arrive in late April through early November. For those lucky enough to live in warm weather year-round, you can have an outdoor shower throughout the year. With the right baby shower decorations (and of course the perfect baby shower invitations to kick things off), you can throw a party that the parents-to-be will love. 
Who to invite to an outdoor baby shower?
A traditional baby shower is held in honor of the mom-to-be and guests include female friends and family members, but these days, you can feel free to invite whomever you'd like. Couples can also share their seat as guests of honor. At the end of the day, a baby shower is all about celebrating an expanding family, so you should throw it in the way that feels most suitable and personal to you.
Outdoor baby shower venues
When it comes to finding a spot to host your outdoor baby shower, you don't have to get fancy (though you certainly can if you want to). All you need is a place where you can comfortably seat everyone on your guest list, without them feeling cramped. Your choice of refreshments (whether you'd prefer to serve a sit-down meal or you'd rather provide some light bites) will also lend a hand in the outdoor venue you choose.
If you're open to hosting your outdoor baby shower in public, a park makes a great option. You can also see if your church has a garden you can rent out. If you're inviting friends with kids, a local playground (or a park with a playground) is another fantastic choice, as it gives the little ones a place to play, while adults can still keep an eye on them. A backyard or front lawn can also be dressed up to look festive—perfect for a casual celebration. If your budget allows, you can also look into renting out an outdoor special event space at a local restaurant, hotel, or country club for a shower that feels just a touch fancier.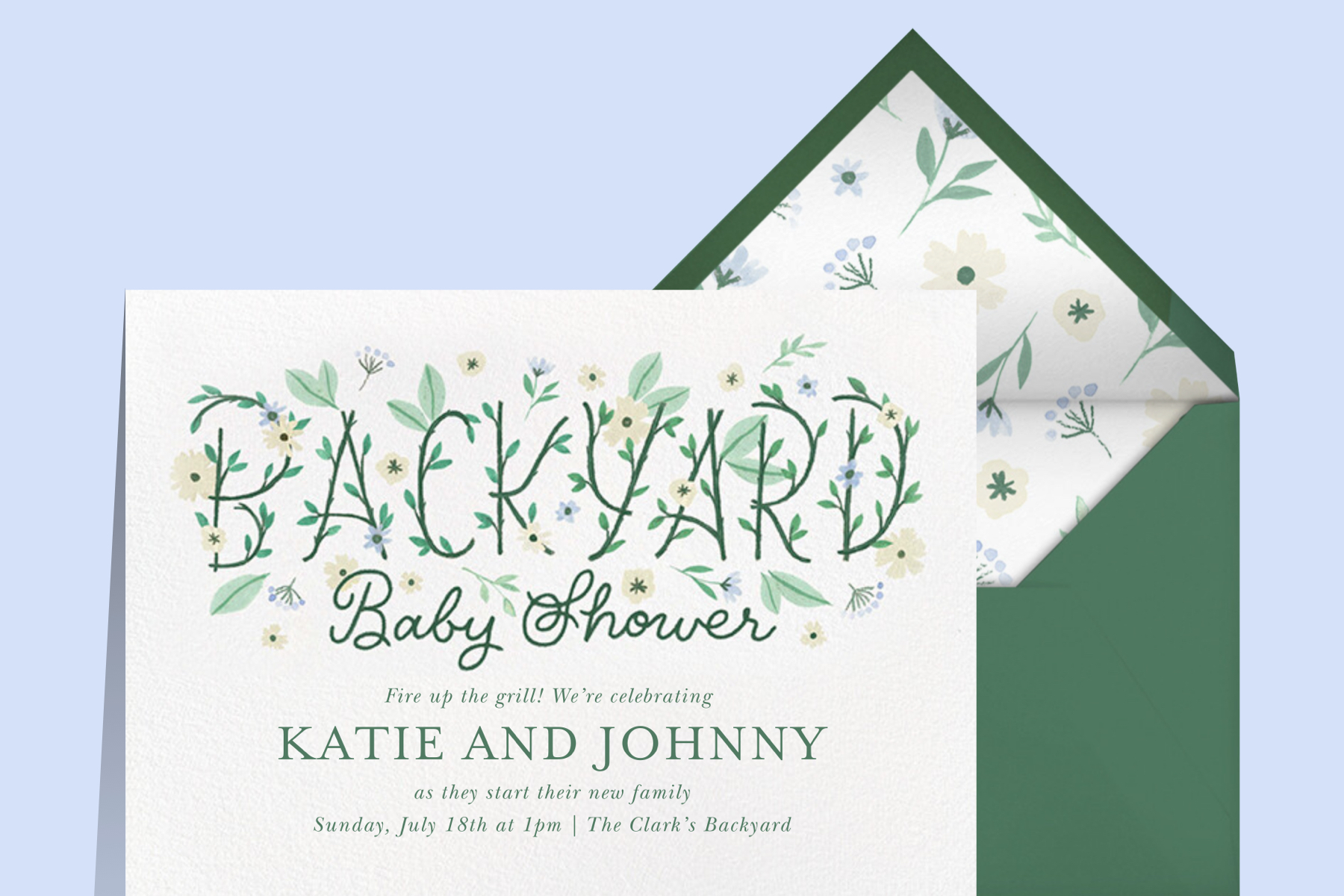 What to do at an outdoor baby shower?
When you're brainstorming your outdoor baby shower ideas, it's important to also consider what you want to do at the shower. It's typical for a baby shower to have a gift-opening component so the parents-to-be can thank guests in person, and you may or may not want to include a sit-down meal. In addition to a broad "cocktail hour"—when guests can catch up amongst themselves—an outdoor baby shower game can make the party even more lively.
If you're at a park or in a backyard, it's easy to set up outdoor activities like ladder golf and cornhole—these games can be set out so that guests can play them whenever they'd like, and they don't have to if they don't feel so inclined. If you want a more active shower, you can also organize field day games to bring out your guests' competitive sides. Because the mom-to-be will likely want to relax, she can be the judge of all competitions. 
Fun outdoor baby shower activities
Alternatively, you can skip the outdoor baby shower games and opt for some more low-key activities instead:
— You can arrange flowers or flower crowns with fresh flowers (and even hire a professional to guide you through it) so that guests leave with a sweet memento.
— You can also decorate clay planters and have guests plant herb seeds.
— Or, buy white onesies in a variety of sizes and have guests tie-dye them at the shower. You can also use the dye as a gender reveal – blue for baby boy, and pink for baby girl. A volunteer can bring them all home to wash them so that the parents-to-be have a nice range of outfits that the baby can wear as they grow. 
— Gift-opening is a classic baby shower activity, but if you don't want it to take up too much time, have a display shower by asking guests to bring their baby shower gifts sans wrapping paper: "Please bring a gift without paper or a bag. A bow is enough, along with a tag. We'll display your gifts for all to see. Enjoying more time with the mom-to-be!" When it comes to opening presents, if the expectant mom doesn't love the spotlight, you can also ask guests to each open a gift for her.
— Another nice way to provide the growing family with a keepsake, in addition to baby items from their registry, is by passing around a guestbook. Each guest can write a piece of advice.
How to decorate for an outdoor baby shower?
As for outdoor baby shower decor, you don't have to get fancy—don't underestimate the power of a good color scheme. You might even be inspired to go all-out with your baby shower theme and coordinated decorations. With a few balloons, some coordinated paper plates and napkins, outdoor signs, and maybe a centerpiece here or there, any outdoor venue can feel instantly festive. Or, if you're celebrating in a garden or any other lush outside space, you can let nature be the outdoor baby shower decoration. Blooming flowers certainly are a sight for sore eyes. 
When it comes to food, consider dishes that can be served separately, like barbecue, oysters, and individually portioned snacks. Of course, don't forget the pre-poured warm-weather libations. Don't overthink the dessert table: cupcakes, cake pops, and cookies are all great options.
The gift table full of baby items can also double as baby shower decor. Whether you ask guests to bring gifts wrapped or not, you can stack them neatly for everyone to see and appreciate. If you ask guests to bring a book instead of a card to build the baby's library, you can also set them out so that their covers serve as baby shower decorations. Here's how to suggest this idea in your baby shower invitations: "If you'll be so kind, please bring a book that you've signed.  Either well-loved or brand new, your book will always remind us of you."
Outdoor baby shower ideas (and invites to match)
Now that you know how to throw an outdoor baby shower, it's time to take the first step: sending out your invitations. Our baby shower cards make it easy to track RSVPs, attach registries, and send guests quick updates via email. Here are a few party ideas to choose from, according to some popular baby shower themes. 
1. Meadow shower theme
If you're hosting a spring baby shower in a local park, these floral invitations by Rifle Paper Co. can kick off the party in style. Keep the outdoor baby shower decorations simple with floral tablecloths and greenery-filled runners. Use a handful of edible flowers on your dessert, instead of a cake topper. 
2. Citrus theme
An orange-themed party is a fun way to celebrate the summertime arrival of a little "cutie." Kick off the theme with an equally bright baby shower invitation.
3. Book-themed baby shower
Ask that, instead of cards, guests bring a favorite children's book to help build the baby's library, and they can write a personal note on the front cover. 
4. Italian Riviera theme
With lots of fresh citrus and maybe even some personal pizzas, you can transform a backyard into an Italian-inspired escape. These invitations help, too.
5. BBQ theme
If you want a laid-back baby shower, opt for a baby-q, either at a park or in someone's backyard. Use mason jars with simple summery blooms like daisies as a simple, rustic centerpiece.  
6. Pink floral theme
Whether you'll be attempting floral arranging at the outdoor shower, or you'll just be surrounded by lots of blooms, these invitations are a pretty way to start the celebration, especially if having a baby girl. 
7. Picnic theme
A picnic theme is perfect for a yard or a park. Send out a baby shower invite with one of these cards and remember to pack lots of blankets for them to sit on. Skip the baby shower games and offer seasonal field games instead.
8. Nautical theme
For a nautical-inspired baby shower (even if you're landlocked) guests can enjoy oysters at the local country club and nautical decorations to match. A popular baby boy shower theme.  
9. Little Pumpkin theme
Hosting a fall baby shower for your little pumpkin? This card is perfect for little pumpkin baby showers, with accompanying autumnal activities like pumpkin carving or apple picking. 
Outdoor baby shower ideas
Outdoor baby shower with a virtual alternative:

Some hosts may prefer to keep the outdoor baby shower local, inviting only friends and family that live within driving distance. Then for guests that live far away, incorporate a virtual component to the celebration. Ask guests in their RSVP to please indicate if they plan to attend in person or virtually so hosts can plan accordingly.

Drop-in outdoor baby shower:

One benefit of having an outdoor baby shower is that it's easy for guests to swing by for a bit. You can establish visiting times, too, which keeps the crowd to a minimum without leaving anyone out. "Pop in for a bit or stay for a while—either way will make mama-to-be smile." Similarly, you can make it an open house, letting guests know they're free to circle in and out within a certain time frame (1-3 p.m., for example). 
Browse Baby Shower Invitations
These outdoor baby shower ideas are a jumping-off point for your own celebration. All would work equally well with a virtual baby shower accompaniment. With a baby on the way, there's a lot to be excited about—a party is most certainly in order.