Field day games that will make you feel young again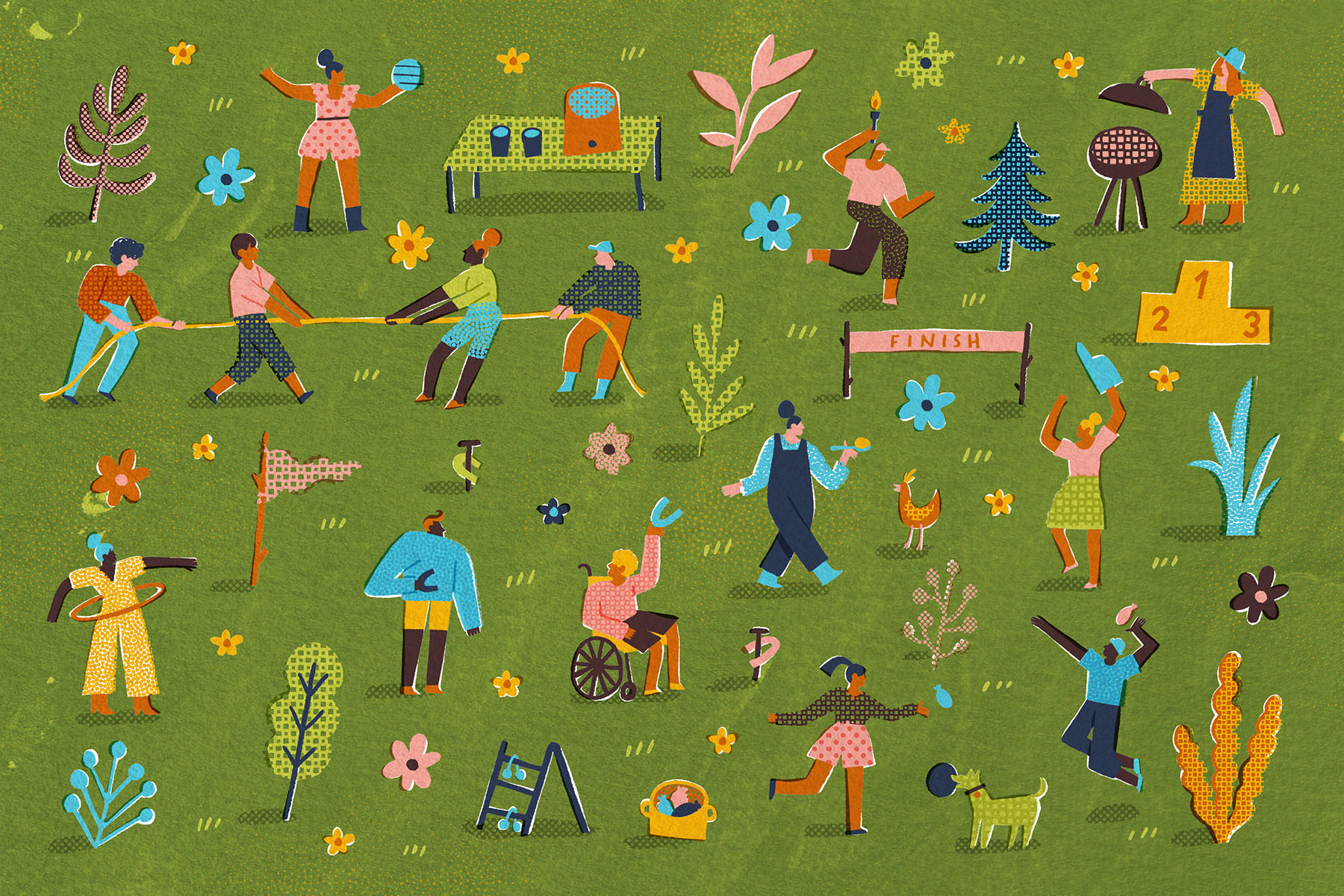 Most people remember field day as an exciting end to the school year or the summer—a way to cap off a chapter of learning (and burn some energy) alongside the friends you've made. But field day, like its cousins color wars games or friend Olympics, doesn't have to be just for kids. The concept of dividing into teams and competing in a series of games for points can be a lot of fun, regardless of age. Whether you're nostalgic for the first summer you spent at sleepaway camp or the first time you watched Wet Hot American Summer, here's how to put together a throwback camp-inspired field day party fit for adults.
Organize f
ield day games for adults 
that are actually fun
Office icebreakers often end up feeling forced and awkward. Instead, encourage collaboration naturally with team-building exercises  that are actually fun and gets everyone outside and moving. At its heart, a field day is an event that emphasizes teamwork — perfect for your summer company party or team summer offsite. Separate employees into several teams, making sure to disperse the different departments and department heads for more mingling. Offer a reward for the team that earns the most points, like an extra vacation day. You can hype up the reward (and personalize with gifs and stickers) with a Flyer invitation.
Involve the whole family with Friend Olympics
Not sure how you're going to keep all the kids entertained at your next family reunion or friend group vacay? Enter Friend Olympics, a sillier take on field games that includes all ages. Set up stations in the backyard, park, or beach and rotate the little and big ones through age-appropriate activities (more on that later). It doesn't have to be a competition, but if it is, make sure to divvy up the little ones into groups that are evenly matched for age and ability level. And of course, adhere to the same three core values of the actual Olympics: Excellence, Respect, and Friendship.
Paperless Post Flyer
Put your own spin on color wars games
There's a reason groups like youth ministries or sororities host color wars games. The color-coded competition is always a crowd-pleaser. It's exactly what it sounds like: Teams are each assigned a different color and then either compete in field day game challenges (think relay races or dodgeball) or run around hurling the hue (in powder form) at the others. Some organizations even do a combination of the two. If you go with the latter, squeeze bottles are a great way to ensure the shades last long enough. We love the idea of amending the activity to suit a slightly older crowd. Head to the beach with coolers of drinks and incorporate some over-21 games. Talk about a colorful, boozy way to meet new people!
Paperless Post Flyer
Plan plenty of field day activities
After all, mixing and mingling is the whole point of field games. Each challenge should be worth a certain amount of points, and the team with the most points wins. Be inclusive in your selections so that all guests can participate and have a chance to shine. 
Team field games
— Tug of war: Perhaps the most iconic playground game of all time, tug of war hasn't changed—but you and your buddies have. The fact that your friends are bigger and stronger ups the ante. Just play on a soft surface such as sand, and place people of similar weight and strengths on either side of the rope.
— Egg-and-spoon race: Always harder than it looks, this activity involves balancing an egg atop a spoon and racing, either solo or relay-style, to the finish line. Make it even more challenging for grown-up guests by incorporating cones, or requiring them to return walking backward.
— Wheelbarrow race: There's a good chance your muscles still remember the feeling of wobbling around on your hands with your ankles in the grip of your partner behind you. See who can travel in tandem the fastest with this traditional relay race.
— Dodgeball: The 2004 comedy starring Vince Vaughn and Ben Stiller brought this beloved gymnasium ball game back into the public eye—and undoubtedly gave your pals plenty of one-liners for game day. Say it with us: "If you can dodge a wrench, you can dodge a ball."
— Three-legged race: This test of coordination and cooperation will have your friends laughing (and probably tripping) just like they did in the good old days. 
— Water balloon toss: Even pint-sized partygoers can partake in a water balloon toss, which consists of teammates holding the ends of a beach towel and flinging balloons filled with water over to members of the opposing team, who must catch and return.
Paperless Post Flyer
Individual field games
— Sack racing: We're all for the classics, and hopping around inside a potato sack is even sillier as an adult.
— Hula hoop contest: As any P.E. teacher can tell you, a simple hula hoop offers endless hours of fun. Two of our favorites: Compete to see who can keep theirs at hip-level the longest, or hold hands in a circle and play "pass the hoop."
— 100-yard dash: Some field days are track and field-themed. Hurdles, long jump, and shot put might be a tad too sport-focused for most groups, but a simple, short race is totally doable. Bonus: There's no planning required for this one beyond measuring and marking 100 yards. On your mark, get set, go! 
Get gear fit for grown-up field day games
Your camp counselors made it look easy, but field day does require a fair amount of prep work. Stock up on colorful sweatbands or bandanas that will associate members of a team. If hosting a color war, ask everyone to wear white for a more effective, rainbow-streaked result. Get field games supplies, such as self-filling water balloons, hula hoops, flags, and anything else you might need for the aforementioned field day games. Of course, every competition calls for a winner, so don't forget awards for the team that scores the most points. 
Fuel up with these food and drink ideas
Remember the voracious appetite you used to work up on field game days like this? Now that your crew is twice as old and twice as big, you can count on being twice as hungry. Plan a camp-inspired menu that's just like the old days—except now you can drink alcohol. Do it up potluck-style and ask revelers to arrive with their take on a cafeteria classic (macaroni pasta salad and sheet pan pizzas are a must). Pair with refreshing boozy popsicles, or keep it simple with a keg and ice bucket of rosé. For dessert, order cookies coordinated to the color theme. We love these by The Rounds. 
Incorporate lawn games for more laid-back guests
Not everyone enjoys competitive playtime. If some of your friends or colleagues shy away from traditional field games, organize alternative outdoor activities as well. Think low-effort sets like corn hole, ladder toss, bocce, or horseshoes. We also love the less-expected Kubb, KanJam, and giant Jenga.
Now that you've brushed up on the ins and outs of field day games, set the tone with a Paperless Post Flyer. You can personalize it with gifs and stickers and share via text and your email. For more summer party ideas head to our pool party guide, Gray Malin's summer party tips, or check out our indoor summer party ideas.