36 first birthday party themes and ideas for a one-derful party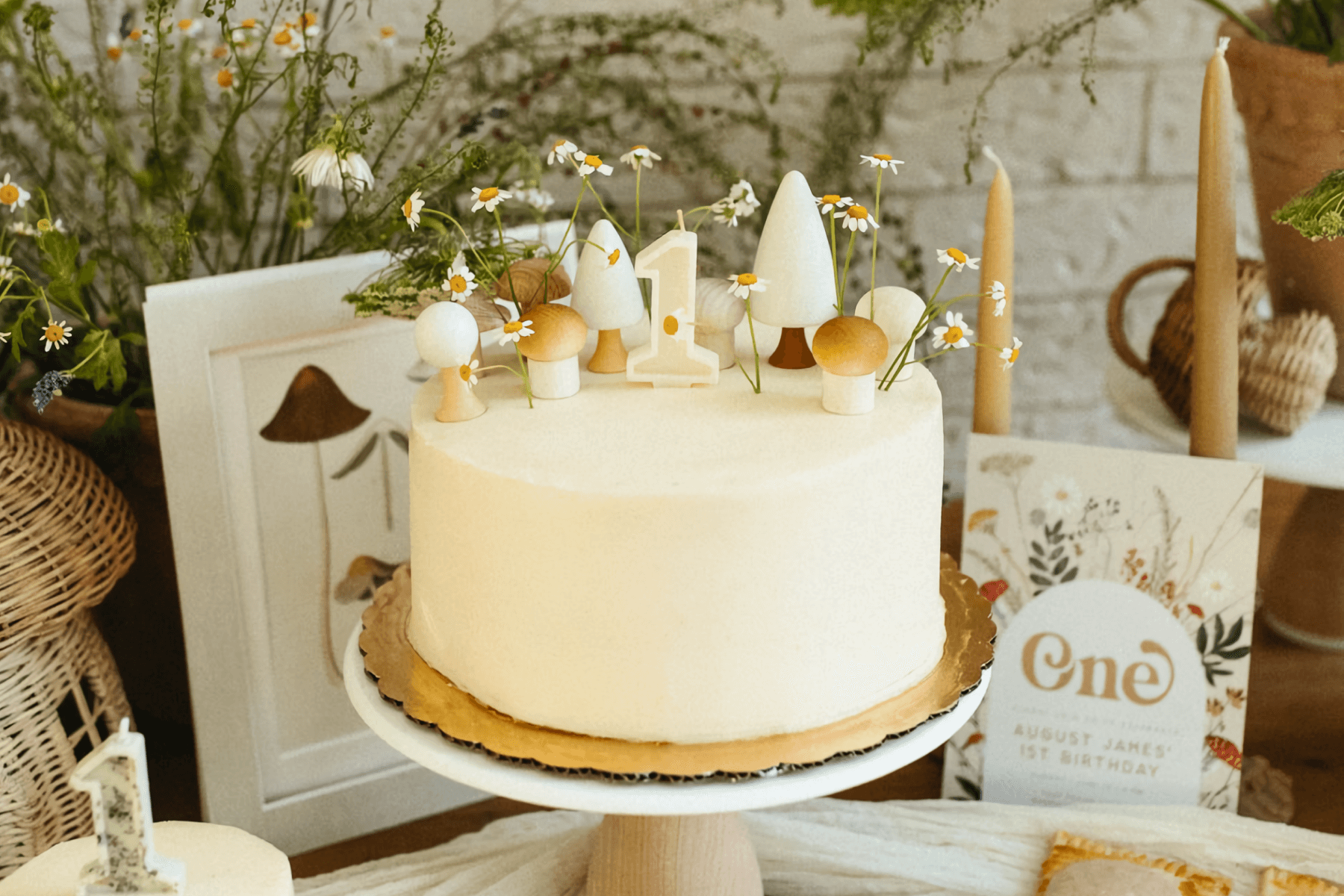 It's been a wild, memorable, amazing year, since a certain special somebody entered the world—and now it's time to party! Everyone wants to celebrate you and your little one, so how do you throw the best first birthday to do just that? The first step to planning a first birthday party is choosing your party's theme, and we're here with some ideas for adorable (and punny) themes for the party. 
Once you settle on the perfect idea, find sweet, customizable birthday party invitations by theme. All of our invitations include event management tools like RSVP tracking, guest messaging, and mailing address collection to make planning easier. After you've chosen the invite, you can fashion your decor, refreshments, and party games around the theme for a truly memorable occasion. 
Getting ready for the big day? Gather some ideas, themes, and activities to make your baby's first birthday a truly special occasion.
What do you do for a first birthday party?
When it comes to your baby's first birthday, there are endless ways to celebrate. Whether your party idea is a bonafide family reunion with tons of people, or an intimate get-together, don't be afraid to personalize your first birthday party theme for a girl or a boy.
Here are just a few items and activities you can incorporate into your baby's first birthday.
1. Start new traditions
There's no better time to start traditions than your baby's first birthday. Your child can claim they've been experiencing that tradition every year for their entire lives, and maybe even pass it on to their own kids years down the line.
Where do you begin? Perhaps you dress your baby girl or baby boy in their favorite color or bring out a special plate with their first handprints. It's a wonderful time to look back on your existing family traditions as well and pass them on to the next generation. Sure, they can't wear Grandpa's watch quite yet; but maybe there's an old family cookie recipe you can make, even if your baby's only job is being the taste tester. 
2. Baby's first cake
There's nothing quite like the confused, delighted look on your baby's face when they taste their first birthday cake, also known as a "cake smash." It may even be their first dessert ever.
Make cake time even more fun by providing a smaller birthday cake your baby can smash their hands into. Watch Baby go wild with bewildered delight while the adults enjoy their own delicious cake on the sidelines.
3. Turning 1 photoshoot 
Commemorate this big day with a fun photo session. Pick your favorite local park or deck out your backyard with streamers, posters, and hats. Then position the camera and let the fun begin. Adults and kids alike will love striking a pose and making precious memories on your baby's first.
First birthday themes
The theme of your party can be anything your baby and you like, whether it's a favorite food or the main color of their room. Even a favorite book can be a great theme idea—is there anything cuter than a "Corduroy" party, or a party based on "Pete the Cat" or another favorite character? From animals to outer space to pirates to tacos, we've got a theme everyone can get behind.
4. Wild one
If your one-year-old loves animals, throw them a "Wild One" party, or a party animal birthday. 
Get the party started with cute "

wild one" invitations

 

Bring in safari or jungle themes with trees, plants, and fruit

Shop

safari-themed party supplies

to bring the jungle home

Use lots of instances of the number 1

Decorate with blue, green, and brown 

Serve lion-themed cookies for an added treat
And if you'd like a literary lens, bring in some colors and images from "Where the Wild Things Are" to drive the wild theme home.
5. First trip around the sun
It's the end of your little one's first year on Earth, but it's the very beginning of the next one. Blast into the stratosphere with a space-themed first birthday party. 
A delightful space theme invitation sets the stage for guests, so they know to look for an out-of-this-world experience. Find some starry and space party supplies, including:
Planets, astronauts, and spaceships

Cool black, blue, and purple decorations

Some orange and yellow flames for a blast-off to remember
6. First bee-day
A bee-themed first birthday party is especially cute—even if you didn't have a "Mama To Bee" baby shower. 
Show everyone that it's fun to "bee" one with: 
7. Some bunny is turning one
Bunnies are a sweet way to celebrate a first birthday, no matter what time of year it is. Whether your one-year-old can hop or crawl, they're somebunny special.
Play into the theme with: 
8. Isn't she (or he) one-derful
Turning one is a big deal—so focus your party planning on the number 1, itself! A number-themed party is not only fun for your guests, but it's a nice opportunity for your baby to prepare for their mathematical future.
Use a

first birthday invitation

with a photo upload to show off your beautiful babe

Add more pictures from the last 12 months to decorate your party

Don't forget the number 1 candle for baby's first wish
9. One-der the sea party
Bring out all your favorite sea creatures (mermaids included) for an outstanding "one-der the sea" first birthday party.
Send out a

Sea Buddies invitation

to set the stage

Decorate in light blue, cream, and green 

Consider adding fish and octopuses to the birthday cake

Serve Goldfish crackers as party snacks

Have a copy of "

The Pout-Pout Fish

" on hand for read-aloud entertainment
10. Unicorns
Unicorns have one horn, making them an ideal mascot for a celebration of one whole year of life. To bring beautiful unicorns—or narwhals, if you'd like a different one-horned creature—into your party planning, try:
Unicorn party invitations

to

start the party off on the right horn

Magical

unicorn decorations

, like festive balloons and horn party hats

Gold, pink, purple, and silver decorations

Rainbow sherbet as a tasty unicorn dessert—after the unicorn smash cake, of course
12. Winter one-derland
Winter birthdays are a special time of year. While they're sometimes overshadowed by holidays, these birthdays deserve their own moment in the sun—or snow.
To plan a special first winter birthday:
Decorate with snowmen, ice skates, snowflakes, and polar bears

Use white as a main color, with touches icy blues

Serve flavored ice or snow cones
12. Barnyard bash
Time for a hoedown at the farm! If your baby knows that the cow says "moo" and the sheep says "baa," they're ready for some fun down in the barn.
To hit the theme home, use:
13. Rookie of the year
Your little athlete won every trophy this year—including your heart. Throw them a championship celebration with a sports-themed first birthday.
Start the game clock with a

sports party invitation

Serve popcorn, cotton candy, and hot dogs for a stadium vibe

If you're focusing on a particular sport, like football (first down), golf (hole-in-one), or baseball (home "one"), decorate with

sports party supplies

like ball-shaped napkins and give every guest an on-theme cap
14. My first rodeo
Yee-haw! Everything about last year was the baby's first rodeo, so host a Western-themed party that celebrates that wild, wild ride.
Cowboy or cowgirl party invitations

let guests know you're planning a rodeo-worthy hoedown

Bring in

rustic party decor

and bandanas to set the scene

Have guests wear their Western finery, boots and all

For a cute touch, add bucking horses to Baby's cake, table decorations, and hanging decor
15. One-ce upon a time
Treat your little prince or princess like the royalty they are with a fairy tale-themed party.
16. Time flies
It seems like yesterday that your babbling one-year-old was a squirming newborn. Celebrate how quickly time "flies" with a plane-themed party, just right for those babies who point at the sky when they hear an airplane.
To stay on theme without any delays:
Check out

plane-themed invitations

that feel like a first-class ticket to your dream destination

Decorate your party with

lots of blue

and white to make the venue feel like the sky

Glean color or decor ideas from "The Little Airplane" board book 

Serve pretzel packets and ginger ale in small, clear cups
17. First stop: Baby's party
All aboard the birthday train! 
Help your baby at their very first stop with a train-themed birthday. You'll find lots of cute ideas for this birthday party theme, including:
Train birthday invitations

to welcome birthday passengers on board

Decorations with bold colors and

metallic touches

A cardboard train with cars of snacks on the party table

"Thomas the Tank Engine" birthday decor—every new toddler's favorite friend on the tracks
18. "One" voyage
It's time to say bon voyage to infant days and welcome to the mobility of toddlerdom. Bring out the sailor hats and the horns for a first birthday party all about boats.
Start planning with:
Decorations in sailor blue and red 

Anchors and life preservers 

A sailor suit for the birthday baby
19. Ahoy there
Get your baby's best mateys together for a pirate-themed first birthday party. Yo ho ho, and a bottle of milk! 
Host a celebration for scallywags and seadogs with: 
Adorable

pirate party invitations

Red and black decorations, lots of pirate flags and parrots, and a chest full of buried treasure (i.e. favors to take home)

Pirate eye patches for the birthday baby and guests
20. Birthday-saurus
Your baby doesn't need to have a favorite dinosaur to love their birthday-saurus party. All dinosaurs are welcome at a rawr-ing first birthday party.
Use

dinosaur party invitations

to bring everyone over for a dino-mite good time

Add green and orange decor with

dinosaur birthday party supplies

Serve some veggies and meats for the omnivores 

Try a few bold touches, like bones or caves, for more of a prehistoric look

Use pictures from the "Dinosaur Dance!" board book
21. Construction site
Does your one-year-old obsess over every construction vehicle they see? They may be hinting at their ideal party theme. Lucky for you, there's lots of fun construction party supplies to choose from.
But first:
Send out

construction party invitations

to let people know when the work begins 

Find decorations in yellow and black 

Serve snacks in toy dump trucks on the table

If your baby loves "Goodnight, Goodnight, Construction Site," bring some of those fun details to the party
22. A perfect picnic 
Planning a party is fun, and a picnic party is a great way for everyone to celebrate your baby with their own snacks and lunches. (For those who prefer grilled meats, a Baby-Q party at the park might be the right choice.)
Invite guests with sweet

picnic party invitations

that detail whether the party is BYOB— whether that means "beverage" or "baby" 

Decorate with red gingham and other summertime decor, no matter what time of year you're planning to have your party

For an extra cute detail, add some ant decorations to the party—better than the real thing!

Serve ants on a log and other small picnic snacks in picnic baskets
23. "Sesame Street"
Everyone wants Elmo, Big Bird, and Oscar the Grouch at their birthday party. Bring the whole gang to your little one's big day with a "Sesame Street"-themed first birthday party that would cheer up Oscar even on his grouchiest day.
Send one of an adorable assortment of "

Sesame Street" birthday invitations

 

Choose bright primary colors (yellow, red, and blue) for decor

Add "Sesame Street" character pictures to your table decor and cake

Serve cookies (for the Cookie Monster, of course)
24. A magical first year
Turning one is no magic trick, but it still makes everyone ooh and ahh. Bring out the magic in your baby's first year with a magician-themed first birthday party, complete with magic hats, rabbits, and red capes.
First, send out

magic party invitations

 

Then, get the illusions ready with red and black decorations—including wands for the kids to wave around

Consider hiring a magician for the party (or learn a few cool magic tricks yourself)

Incorporate images of playing cards into your decor to add to the "pick a card, any card" vibe
25. Paddington Bear
A classic for kids as well as bear-loving parents, Paddington Bear is the sweetest party guest on your list (besides your baby, of course). Paddington Bear birthday invitations bring a literary tone to your party. To add to the theme:
Decorate your Paddington party in blue and yellow to match his timeless rain slicker and galoshes

Find a baby-sized slicker and boots for your little one to wear—it's an adorable costume that doubles as protection from the smashing of the cake 

Serve tea and biscuits for a very British vibe
26. Afternoon tea
Speaking of a British vibe, cordially invite your loved ones to an afternoon tea birthday party for a dignified celebration of the first year of life. (Actual tea is not recommended for babies).
Start with:
Teapot-shaped party invitations

to welcome guests with a cozy greeting

A tea-themed party spread that includes finger sandwiches, tea cookies, and scented sachets to take home

Bring in lots of

fresh flowers

and gingham tablecloths for an authentic tea time look
27. Baby's first fiesta
"Taco 'bout" a special kid! Some first birthday parties revolve around the smash cake, but with some strong planning and fiesta birthday invitations, you'll turn "baby's first cake" into "baby's first taco" in no time.
To be the "taco" the town:
Plan on lots of yellow, orange, and brown decorations to match the fiesta decor

A (soft) taco bar is a must for a first fiesta

If you're really in the spirit, try cutting the flan instead of the cake
28. One-der kid
Your baby has gone from a helpless infant to a walking, talking, opinionated pre-toddler in only 12 months. If that's not superhero-level, what is?
Celebrate your little one's not-so-little superpowers with a superhero party, complete with: 
Superhero birthday party invitations

that include a spot for a photo of your kiddo in their favorite superhero costume

Decorations in bold colors—especially in red and blue

Lots of masks and capes for guests to join in the fun
How to choose a first birthday party theme
With so many first birthday themes for boys and girls, how do you pick the best one? Here are a few quick tips to help you decide.
There's no "perfect" theme

: As long as it makes you and your baby happy, it's the right theme for you.

Choose the theme that matches your level of party prowess:

If you're a party planning newbie, don't sign up to decorate 101 dalmation-shaped cake pops the night before your party. Leave that to the professionals.

If your baby loves something unconventional, create your theme around it

: It's fine to have a party themed around your family dog, a garbage truck—or TV remotes.

Use that book as your theme

: Is there a book that makes your baby giggle? No one's going to refuse seeing that smile at a "Little Blue Truck" party.

Keep photos in mind as you plan your baby's first birthday party theme

:

Which images will you and your guests enjoy seeing displayed? Is there a photo that can help inspire a theme?

If you can't decide between two first birthday party themes, combine them

: Who says you can't have a mermaid-construction party or a sports-pirate celebration?

Save themes you like for next year

: If you go with one theme for the first birthday party, save another idea you like for next year's theme.

Explore the Paperless Post Party Shop for decor you like

: You may not have imagined a dinosaur party, but you might change your mind when you see our cute

dinosaur party cups

. It happens.
Browse 1st birthday invitations