How to throw the perfect baptism party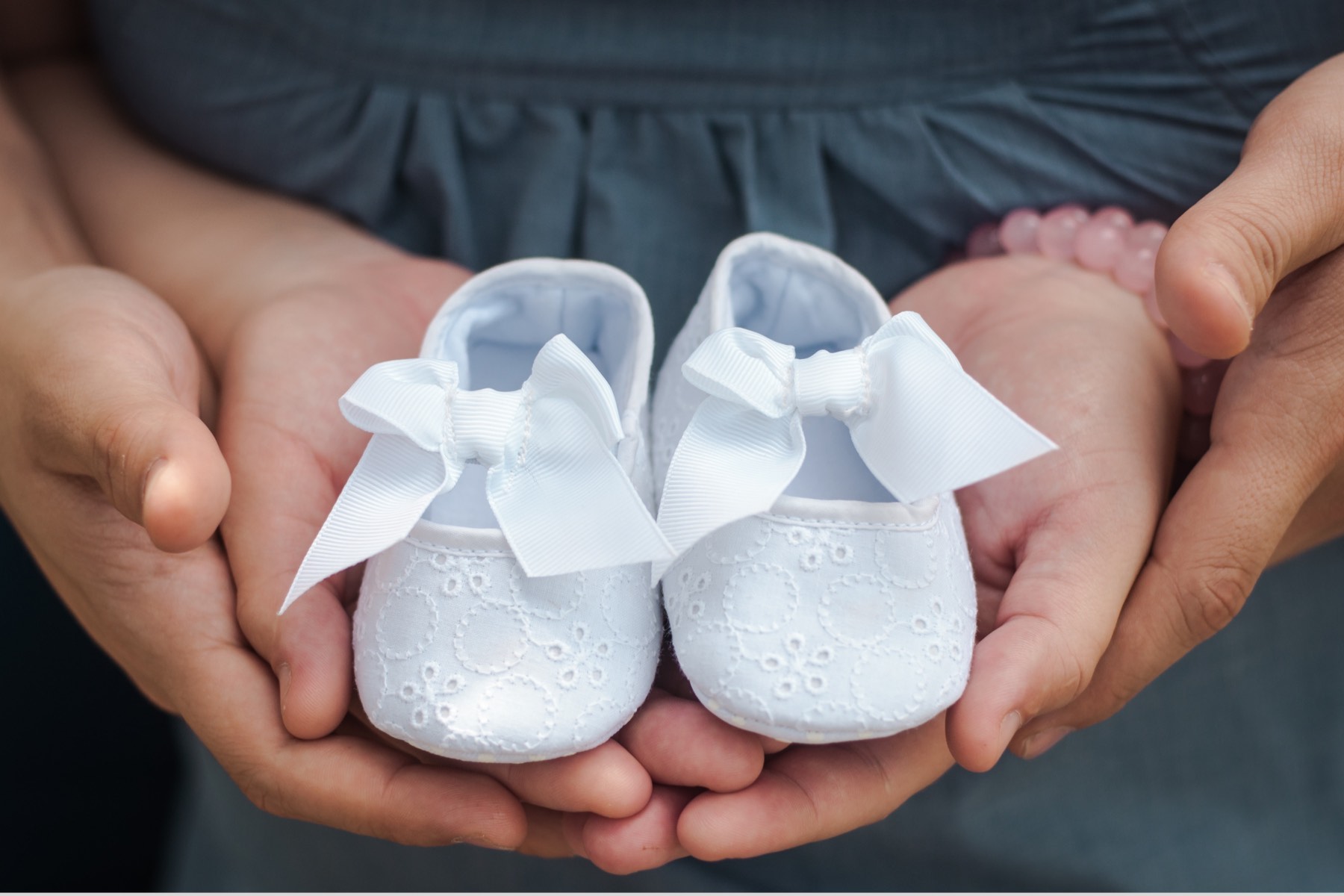 Baptism party ideas
Baptism is a sacred way of welcoming a newborn into the family and the Church. To help you commemorate your child or godchild's baptism, we've put together a useful list of baptism party ideas, along with beautiful religious invitations you can use to gather family and friends to join in on this special occasion. 
What do you do at a baptism party?
First of all, congratulations on the newest member of your family! We're happy to help you honor this powerful tradition and plan a party for such a memorable day. Whether you're the parent or the godparent of the baby of the hour, take a look at these seven activities you can incorporate into your tot's baptism party to ensure an unforgettable and moving celebration. 
1. Save some of the sacrament 
Bottle a small portion of the holy water that's used to baptize your baby to save as a keepsake. This holy water can be a lifelong reminder of the first of many sacraments taken throughout your child's life.
2. Create a photo album 
Be sure to take plenty of pictures during the event. Later, you can use these photos to create a special photo album that you and your child can look back on when the time is right.
3. Collect heartfelt messages 
Ask each of your guests to write a message for your child to read on their sixteenth birthday. They can choose to share their favorite Bible verses, important life lessons, or helpful advice.
4. Share prayers and blessings
Have guests share what's on their hearts as you all lift up your newest member in prayer. Record their responses so you can look back on them for years to come. 
5. Plan games for kids
If other young children will be at your baptism party, try to have some activities planned to keep them entertained. Some ideas include: 
— Classic games: Hide and seek, scavenger hunts, and capture the flag are timeless classics. 
— Water games: If you're holding your baptism party in the summer and have outdoor space, consider planning for water balloons, water guns, and slip and slides. 
— Card games and board games: Choose kid-friendly options, such as Go Fish, Checkers, or Connect Four.
6. Plan games for adults
Why let the kids have all the fun? Plan some entertaining games for your adult guests, too, such as:
— Guess who: Ask everyone to bring a baby picture of themselves and see how many partygoers can correctly match up the infant to the adult. 
— What's in a name: For this game, everyone is assigned another person's name to research. Before researching the name, guests should try to make an educated guess as to what it might mean. After researching, guests can announce their findings. 
7. Picnic on the lawn
Spread out in the backyard or on the church lawn with light bites, blankets, and family. The following food options are ideal for an outdoor picnic: 
— Finger sandwiches: Finger sandwiches allow for plenty of snack-sized variety (and besides, they're just really cute). Serve your guests options like tomato and mozzarella, cucumber, and tuna fish. 
— Olives and cheese plates: Green and black olives served alongside cheese and a few different kinds of crackers can make for an irresistible spread. We recommend having at least one hard cheese and one soft cheese to choose from. Almonds, jam, apple slices, and toasted baguettes are also welcome additions. 
— Fruit plate: Set out a serving platter of fresh fruit, including grapes, melons, and strawberries. You can even arrange the fruit into the shape of a cross to keep things festive and on theme. 
What are some themes for baptism parties?
An ideal theme for any baptism party is one that complements the central cause for celebration: the baby being baptized! There are plenty of adorable and easy-to-execute ideas and themes to choose from, such as:
— Cuddly animals: From Peter Rabbit to Winnie the Pooh, cute and cuddly animals that represent childhood are perfect for celebrating your little one with family and friends.
— Seasonal: No matter the time of year, you can commemorate your child's special day by matching their baptism theme to the season. Choose bountiful florals for springs, nautical decor for summer, pumpkins and autumnal colors for fall, and snowmen for winter.
— Twins: If you're baptizing twins, celebrate the day by doubling all of your decor in a cute and intentional way, and dressing your little ones in matching outfits. 
How do you decorate for a baptism party?
Depending on your theme, you'll definitely want to make wherever you're celebrating—whether it's your home, or a rental hall—look festive. Here are some ideas for making the party come to life:
— Color schemes: Typically, a celebration for a boy will feature blue and gold, while one for a girl will incorporate pink and white. Whatever you choose, you can display your color scheme with party supplies like cups, plates, napkins, hats, streamers, tablecloths, and invitations. 
— Religious imagery: From doves to the cross, arks to lions and lambs, there are plenty of religious images to make use of when decorating for your child's baptism party. You can also find inspiration in a favorite Bible story or the story of your child's patron saint.
— Use text as well as images: Decorate your venue with posters and fun lettering that feature favorite Bible verses, quotes, or the good wishes contributed by your guests.
What food do you serve at a baptism party?
Like religion, food has the power to bring people together. When it comes to serving your nearest and dearest at your child's baptism party, consider hor d'oeuvres and finger foods that encourage guests to mingle throughout the event. 
Here are a few ideas to get you started:
— Bagel bar: If you're hosting a brunch-style party, break out the cream cheese, capers, and smoked salmon, along with an assortment of sweet and savory bagels for your loved ones .  
— Light bites: Set up a snack bar where guests can easily fix themselves a plate. By keeping it simple, you can offer a variety of options, including pretzels, chips and dip, vegetables and hummus, charcuterie boards, and mini quiches. 
— Cake: Nothing says celebration quite like a baptism cake, so consider adding one to your baptism menu. You can even decorate your baptism cake with a meaningful Bible verse, quote, blessing, or cross design. Don't forget the beautiful cake stand.
— Potluck: If you're feeling somewhat overwhelmed, you can ask your friends and family to pitch in by hosting a potluck baptism party! Assign each guest to bring their favorite small dish, dessert, or drink to share for your loved ones (and take some of the pressure off of you).
Where do you have a baptism party?

"Tapered Candle for Baby" by Mr. Boddington's Studio for Paperless Post.
Baptism celebration parties can be held almost anywhere that can accommodate your guests. However, it's best to hold the party close to where the baptism is being held. That way, your guests don't have to worry about traveling far. Some options include: 
— The church: What could be a more appropriate venue for celebrating the baptism of your child than your church? Have party guests join you in the fellowship hall after the morning service comes to a close.  
— Your home or friend's home: Invite everyone to your home for an intimate celebration. Or,  if your home isn't large enough to accommodate everyone, see if a close friend or family member can host your party.
— A restaurant: By holding your baptism party at a restaurant, you can sit back and enjoy the celebration. Let the staff take care of the cooking and cleaning. If you're on a budget, see if the restaurant can provide a set menu with options that fit your finances. 
Can you have a virtual baptism?
Depending on your resources, health concerns, and how far your guests live from your church, you may want to host your child's baptism online. Take a look at some ideas for holding a virtual baptism: 
— Use Zoom to broadcast your baptism: If you're able to and comfortable with meeting your minister in person, consider using Zoom as a way to broadcast the event to your friends and family who can't be there.  
— Give everyone a chance to speak: Because it can be difficult to mingle virtually, consider having a moderator for your Zoom baptism reception to ensure everyone has a chance to speak. Guests can share blessings, well wishes, and prayers. 
— Customize your background: Use Paperless Post's Personal Design Services team to create a festive Zoom background everyone in attendance can enjoy. You can even have it match your invitation!
When do you have a baptism party?
The baptism party should follow shortly after the baptism takes place, the same way a wedding reception follows a wedding ceremony. The best time of day to hold your party will depend on your availability, your church's availability, and your reception venue's availability. 
How long is a baptism party?
Since these gatherings tend to be smaller and more intimate, the length of the party can be as long or as short as you and your family deem fit. The length of a leisurely meal is typically a good measure to go by when determining an appropriate timeframe for your event. 
Who is invited to a baptism party?
A baptism party should be as intimate as the baptism itself. Anywhere from four to ten people is appropriate, though this number is flexible. Typically, guests will include: 
— Godparents: Part of the essential cast of people in your newborn's life, the godparents should be invited to the baptism and baptism party.
— Any immediate family: Siblings and parents can be invited, as well as anyone you foresee playing an active role in the child's life.
— The minister: You can also invite the minister who performed the sacrament but make sure it's clear that nothing is expected. Every minister is different and will have different comfort levels when it comes to attending functions. 
When should baptism party invitations be sent?
Whoever you choose to invite, give them plenty of time to RSVP. Typically, between three to five weeks is appropriate. Keep in mind that not everyone will be able to join due to conflicting schedules. If you're planning on hosting a small group, you can poll your guests ahead of time to see what date and time are best for everyone. 
Baptism invitations
When putting together your baptism invitations, consider personalizing them with a photo of your baby, a favorite Bible verse, or a quote that captures your hopes and dreams for your child's bright future. 
You'll also want to include the following information:
— The name of your baby
— The parents' names
— The date and time of the baptism and party
— The location of the baptism and party
— RSVP request
Baptism invitation wording
Choosing the right words to invite guests to such a sacred event and showcase your excitement can be challenging. Let our cards and wording be your guide as you think about how you want to customize your baptism party invitations.
— Illustrative wreath invitation: This elegant card features a wreath of fresh blooms and a cross symbolizing God's eternal love, along with the following: 
MYRTLE AND CHARLES WEBB
INVITE YOU TO JOIN THEM
AS THEY BAPTIZE THEIR DAUGHTER
Emily
Isabella
SUNDAY, JANUARY 22ND AT 10 AM
HERSEY MEMORIAL CHURCH
55 MAIN STREET
GROVER'S CORNERS
NEW HAMPSHIRE
— Elegantly modern invitation: Sophisticated, yet vibrant, this cross glows with the words:
Isabel and Wilbur Minafer invite you to join them
as they baptize their son
GEORGE AMBERSON
Sunday, July 10th at 10:30 am | Saint John the Baptist Church
1125 Tarkington Avenue | Indianapolis
— Touch-of-gold invitation: Invite family and friends to your baby's baptism party with this minimally accented card that reads: 
JOIN US FOR
THE BAPTISM OF OUR DAUGHTER
kate BENNET
SUNDAY, AUGUST 21ST
AT 11 IN THE MORNING
MONICA'S CATHOLIC CHURCH
– brunch to follow at our home –
Christening party ideas and invitations
"Edenham" by Liberty for Paperless Post.
The words "baptism" and "christening" are often mistakenly used interchangeably, though technically they are different ceremonies within the same overall holy event. A baptism is one of the seven sacraments in the Catholic Church, identifying the child or person as a follower of Jesus Christ and his Church. It typically involves water, and the baptized person's name is included in the ceremony. A christening, however, is the naming ceremony of a child, wherein the child is first presented to the Church by his or her given name, marking an important moment in their life. 
Since christenings and baptisms typically occur on the same day, you can host a combined party for both. Therefore, when planning your child's christening party, please see our tips for hosting a baptism party listed above.  
Here are some christening party invitation ideas along with wording to help inspire you:
— Warm and welcoming invite: Invite your guests with colorful florals and the words:
JOIN RUTH AND HENRY WILCOX
AS THEY CHRISTEN
THEIR NEWBORN DAUGHTER
EVELYN
RUTH
SUNDAY, 31 JULY AT 10 AM
SAINT GEORGE'S CHAPEL
13 FORSTER STREET
ROTHERFIELD
PLEASE REPLY
— Simple and clean invite: This card features an elegant typeface and beautifully minimalistic design:
RANDOLPH AND JENNIE
INVITE YOU TO THE
Christening
OF THEIR SON
Winston Churchill
SUNDAY, MAY 15TH AT 11 AM
BLENHEIM CHAPEL
44 PRIMROSE WAY
PLEASE REPLY
Personally designed invitations for your baby's special day
An event as significant as a child's baptism deserves an invitation created with care and love. With Paperless Post, you can customize baptism invitations and Christening invitations alike with personalized wording and unique designs to showcase the importance of your little one's special day. 
Celebrate this special moment in your child's spiritual life with a card your family will cherish for years to come. Find your perfect card with Paperless Post!