11 fun Christmas party games folks from one to 92 will love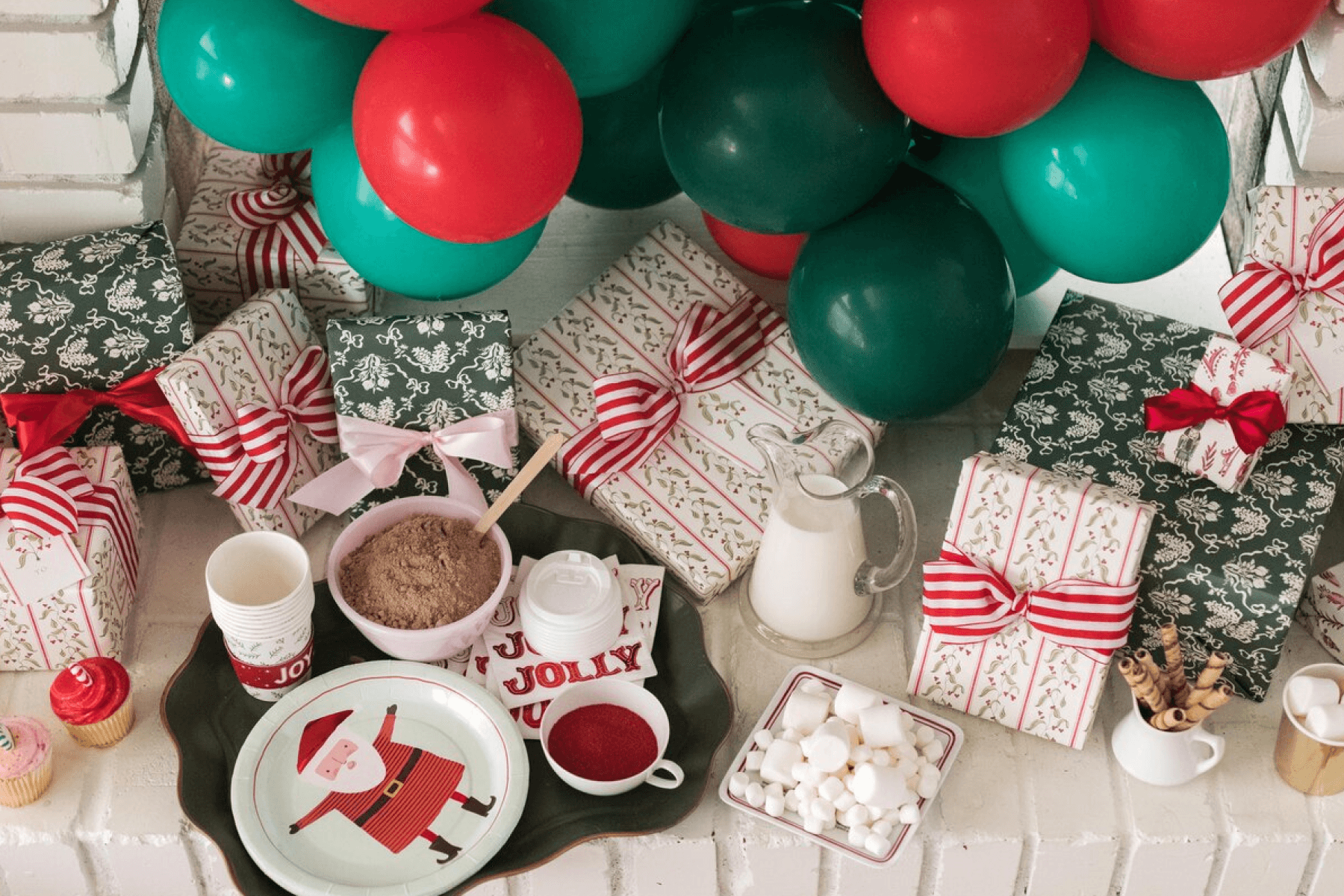 Winter is nearly upon us, and you know what that means: Cold days, long nights, and of course, Christmas parties. If you want to liven up one of those chilly winter evenings with a merry and bright holiday celebration, there's nothing like a nice, fun Christmas party game to get your holiday party guests in the festive spirit. 
Whether you're planning an evening with friends, an office get-together, or a cookies-and-cocoa party for the kiddos, we've put together a list of 11 fun Christmas games and activities to suit any group. Read on for classic party games for adults to festive activities for families.
Joyful games for the kids and tiny tots
Think beyond cookie-baking and gingerbread house decorating with these easy and unique party games. If your group includes mixed ages, opt for activities that let both older and younger kids join in and participate equally. 
First, two things you'll want to have on hand when entertaining little ones: 
— Prizes: Some small, fun toys, trinkets, treats, and other child-friendly items can help to build excitement for a fun Christmas game—especially for the winner of each round. But don't worry about going overboard with prizes. After all, this is the season when many kids are already getting plenty of new stuff! The fun in these games is more about the activity than winning a gift (but for youngsters, it doesn't hurt). 
— Party favors: Be sure to have a few small party favors to hand out to everyone, whether or not they win a game. That way, no one goes home empty-handed. 
Now, on to the games.
#1 Pass the parcel
This is a classically fun game similar to Hot Potato that involves passing a wrapped gift around while music is playing. But unlike Hot Potato, holding the parcel when the music stops is a good thing! 
Here's how to play:
— Pre-game prep: Before the party, wrap one or more small prizes in layer upon layer of wrapping paper. The more layers, the more the suspense builds and the longer the game lasts.
— Party time: Have players sit in a circle while you press play on your favorite holiday playlist. Let players pass or toss the present around the circle as fast as they can. Stop the music when they aren't expecting it. Whoever has the parcel unwraps one layer of paper, then the music starts back up, and the passing resumes. The game continues until the prize is fully unwrapped, and the player who unwraps it wins!
#2 Christmas scavenger hunt
This one is sure to get everyone moving and searching high and low for all the hidden items on your list. Have a goodie bag ready for the first player or team to find all the items.
— Pre-game prep: Prepare a list of items commonly found at Christmas time (think candy canes, holly or mistletoe, gingerbread houses, etc.) and hide them around your party space. 
— Party time: Give each child a list and see who can find all the items first. You may also want to divide the group into two or three teams so older kids can help younger ones.
#3 Rudolph's nose
Ready for some reindeer games? Try this fun twist on the classic party game Pin the Tail on the Donkey. In this version, players take turns trying to stick a red nose on the red-nosed reindeer while blindfolded. The player who gets closest to the correct spot wins. 
— Pre-game prep: Preparing for this fun Christmas party game is as easy as can be with printables available free online. Use double-sided tape on the back of the red noses to stick them in place. 
— Party time: To get young guests in the proper frame of mind for reindeer games, make sure to have everyone put on a reindeer antler game hat.
Image by Studio DIY; "Merry Village" by Mr. Boddington's Studio for Paperless Post.
#4 Surprise pop
If you don't mind your party getting a little loud, Surprise Pop is a fun Christmas game that involves doling out small treats and surprises.
— Pre-game prep: Before your party, prepare by dropping a small candy cane, toy, eraser, or any other little goodie that will fit into a deflated balloon. Blow up the balloon with the prize inside. Blow up at least as many balloons as there are guests, plus extras.
— Party time: At the party, let kids retrieve their prizes by figuring out how to pop their balloons. For an extra challenge, no hands allowed! 
Festive Christmas party games for adults
Kids aren't the only ones who love a good Christmas party game. If you're planning a get-together for adults, you can go with tried-and-true favorites like a Christmas trivia game, a favorite things party, or an ugly sweater contest. Or, spice things up with any of these Christmas party ideas for grown-ups that are sure to make things merry.
#5 Christmas card icebreaker
This card game is the perfect holiday party icebreaker for a large group. Plus, you can finally use those old Christmas cards stashed away in a drawer somewhere! 
To prep, cut your old cards in half (or quarters if you have a big group). Next, mix up all the pieces into a basket and have each guest (or couple) take a piece as they arrive. During the party, guests mix and mingle to find the matching pieces. This is also a great way to form pairs or foursomes for any other team games. 
#6 Name that tune
This classic Christmas carol game is perfect for getting everyone in the festive spirit. Simply play a few seconds of a popular Christmas song and have your guests try to guess the name of the tune. The one who gets the most right wins. You can choose a playlist of Christmas classics, current hits, or other thematic tunes depending on your guests and their ages and interests.
#7 White elephant gift exchange
This popular game is always a hit at adult Christmas parties. Each guest brings a wrapped gift to exchange, and then takes turns choosing gifts from the pile. 
But here's the twist that often gets overlooked: A true white elephant gift exchange is all about competing to contribute the most useless, most unexpected, or just plain weirdest item to the gift pile.
Traditionally, guests don't purchase something new, but wrap up something impractical or unusual they already own. Why not bring the classic white elephant back into fashion this year at your party? It's a fun, earth-friendly way to encourage reusing over buying new.
#8 Dirty Santa
Similar to the white elephant gift exchange, this game is played with each guest bringing a wrapped gift to exchange. However, in this game, there are no rules against stealing gifts. Each guest can steal from someone else or choose to open another present. 
There are lots of variations of Dirty Santa to encourage more or less stealing and to lengthen or shorten the game, so you can tailor it to your group. Be sure to set the tone for the evening with a Naughty Santa invitation.
#9 Gift passing game
This is another gift exchange game, but with a fun twist that's sure to get your guests laughing. No one can predict which gift they'll end up with by the time it's over!
Gather your guests in a circle with each guest holding the gift they brought to the party. Next, read this silly holiday story out loud to the group. Every time the story includes the words "right," "left," or "across," guests pass their gift in that direction. When the story's over, each guest can unwrap the gift they're holding.
Christmas games to bring glee to all ages
Christmas is a time for family, so if you're planning a party that mixes adults and kids, be sure to include some Christmas activities the whole crew can get in on.
One easy strategy that can make a wide variety of party games work for kids and adults is to choose activities where teams can include one kid and one grown-up. For example, Christmas charades can be played with two-person teams so adults can help kids read tougher clues. 
Here are two all-ages Christmas games to start the party fun:
#10 Christmas charades
Charades is always a hit, no matter the age group—and putting a seasonal spin on this classic is a breeze. Simply follow the regular rules of charades, but act out popular Christmas movies, songs, or carols for your guests to guess. You can write suggestions on slips of paper or let guests come up with their own ideas.
You can also gather ideas from your guests in advance when you send out your party invites using Paperless Post. Our online invitations let you ask your guests questions and take suggestions, so you can have your charades list (or holiday music playlist!) all ready to go at party time.
#11 Christmas heads-up
Kids and adults both love this silly guessing game. Prepare ahead of time by writing the names of famous Christmas characters on sticky notes. Pop the notes into a paper bag and mix them up. 
At the party, each player pulls a name from the bag and sticks it to their forehead without looking at it. Players try to give each other clues to guess their character's name without using the name.
Make your Christmas party a smash hit with Paperless Post
With so many fun and unique holiday party games to pick from, your gathering is sure to be the hit of the season—no matter if your guests are friends, family, kids, or coworkers. Add some delightful holiday decor, easy snacks, and party favors for a finishing touch that will have everyone feeling festive.
Once you've made your guest list and checked it twice, send out invitations with style from Paperless Post. Our online Christmas party invitations and fun, animated Flyers are brimming with holiday cheer, and all of our designs are easy to customize and send by email, text message, or shareable link. 
Plus, Paperless Post online invitations track opens and RSVPs instantly—so you won't have to wonder whether your guests have received their invites or who's coming to your holiday party.
Get your guests ready for a holly, jolly time with Paperless Post.
Browse Christmas Party Invitations
Editor's note: Party Shop shipping is only available in the continental US.