How to host a favorite things party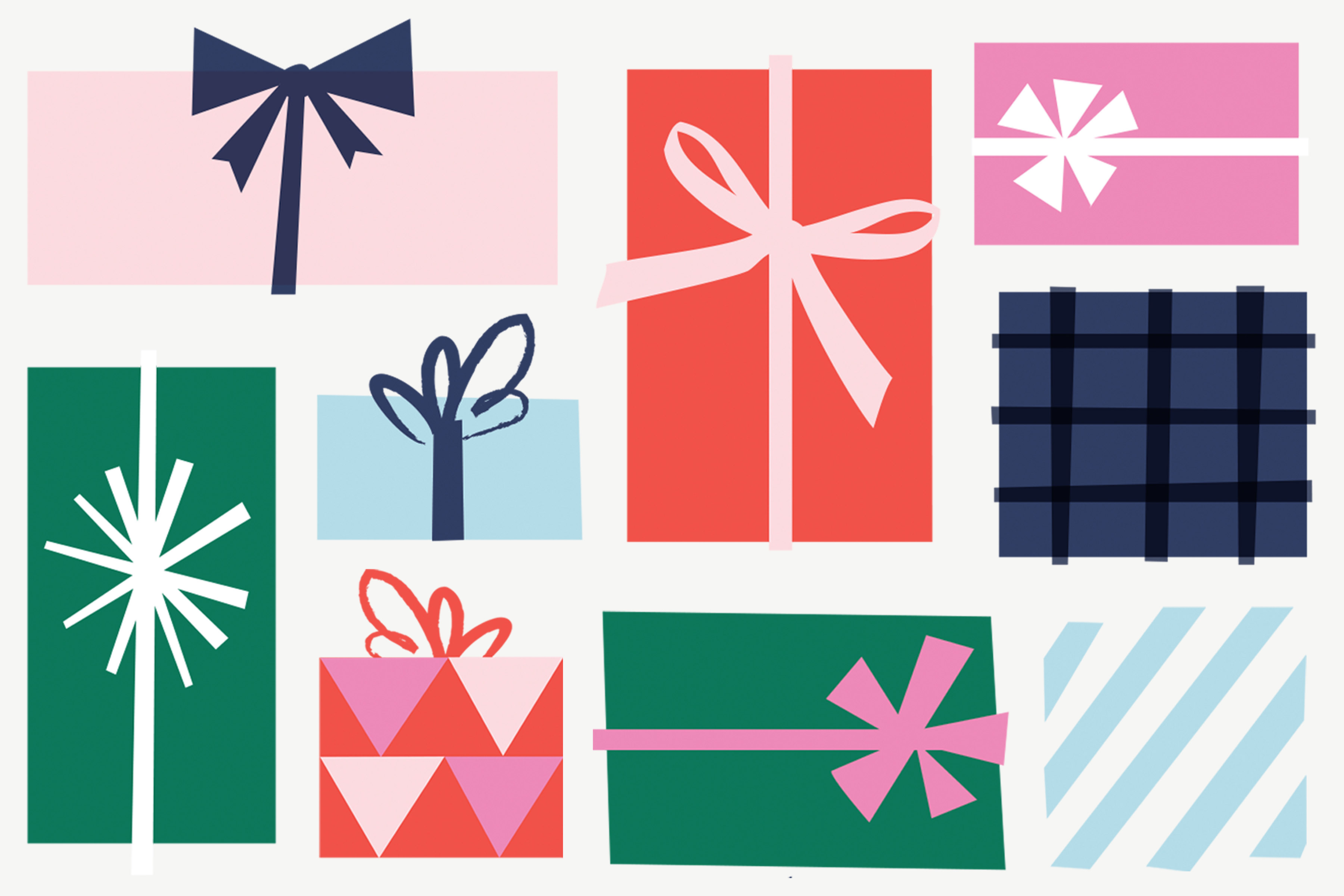 We've all heard the phrase 'one man's trash is another man's treasure,' but it's not quite as relatable during a white elephant gift swap. They usually play out the same way. There's a handful of quality gifts everyone ends up squabbling over. Two people who started the night off as friends get in a heated debate around the rules. And when the dust settles, you're stuck holding a cat hair crafting book, and you don't even have a cat. While we definitely get a kick out of gag gifts (and yes, that book really exists if you'd like to snag it for your next swap), we think gift exchanges are just a little bit sweeter when you love the gift you're taking home with you. That's why this year, we're swapping our white elephant exchange for a favorite things party.
First things first, set your budget
So, exactly what is a favorite things party? There are a few different ways you can organize your gift exchange, but the basic concept remains the same. Instead of bringing gag gifts, ask each guest to bring something they really love. 
For large groups, you can set a higher budget ($20-$40) and have guests bring only one gift to swap Dirty Santa-style. For small groups, establish a lower price limit ($5-$10) and ask everyone to bring multiples of the same gift, one for each guest. Or if your party size falls somewhere in the middle, have guests bring three of the same item in the $5-$15 range, and swap in three rounds. 
Lay down some ground rules
To avoid squabbling, decide on your favorite things party rules before you start swapping.
If you're playing Dirty Santa-style with a big group, have everyone bring their gifts wrapped. Each guest should draw a number from a bowl and take turns choosing (or stealing) gifts in numerical order. When someone opens a gift, whoever brought it shares why it's their favorite. Rules vary, but typically each gift can only be stolen twice, and you can't immediately steal back a gift once it's taken from you. Whoever was the first to open a present at the very beginning has the last chance to steal, and then all gifts are locked in.
For medium-sized groups, have guests bring three identical gifts unwrapped. Display all the favorite things in the center of the room or on a table. Have everyone share why they brought their favorite thing, then draw numbers from a bowl. In numerical order, take turns selecting a gift from the pile. That gift is yours to keep, no swapping, or stealing. Do this for three separate rounds, redrawing numbers from a bowl each time.
For small groups, the gift exchange is pretty straight forward. Everyone brings as many gifts as there are guests. Take turns sharing why you love your item, then pass them out amongst the group.
Spread the word in style
Once you decide on your budget and the swap-style that's best for your group, go ahead and send out your favorite things party invites. From traditional stationery-inspired Cards to animated Flyers with brown paper packages tied up with string, we have a wide range of designs perfect for your favorite things party invitation. Here are some of our favorites:
Pick out your favorite things
Whether you're hosting or attending a favorite things party, the best part is undoubtedly shopping for your gift. If you're still on the hunt, ahead are a few of our personal favorites to get you inspired.
Favorite things under $5
Your favorite magazine (Around $5): Some light reading for holiday downtime. 
Beauty products: Share your favorite drugstore steals. 
Jacobsen Salt Slide Tins (2 for $6): Fits right in your pocket, purse, or picnic basket. 
Grace & Stella Depuffing Undereye Patches (12 for $15): No more dark circles. 
Matcha Pocky Sticks (3 for $4): You can't go wrong with sweets. 
Ursa Major Essential Face Wipes (20 for $24): For cleansing on-the-go.
Hyoola Beeswax Taper Candles (12 for $25): Handmade and slow burning. 
Favorite things under $10:
Mario Bedescu Face Mist ($7): Nothing beats a mid-day spritz. 
Mini Cheese Plate ($6): Perfect for intimate entertaining. 
Telephone Cord Hair Ties (5 for $6): Give your ponytail an upgrade.
GOLDE Turmeric Tonic Blend (2 for $6):  Your daily dose of superfood.
Weleda Skin Food ($8): Hello, hydration. 
COSRX Acne Pimple Master Patches (4 for $15): For not-so-perfect mornings. 
OXO Good Grips Electronics Cleaning Brush ($6): Gunk be gone. 
Reusable Glass Drinking Straws (6 for $9): Save the turtles. 
Keepax To-Go Insulated Coffee Mug ($9): BYO to the coffee shop. 
OXO 3-In-One Avocado Slicer ($10): Avocado toast, made easier. 
Dewey's Bakery Triple Ginger Cookies ($6): Like we said, you can't go wrong with sweets.  
Favorite things under $15:
Tenoverten Non-toxic Nail Polish ($12): Vegan and long-lasting. 
Moon Juice Sachets (12 for $35): Adaptogens for everything.
Stasher 100% Silicone Reusable Food Bags ($12): Tupperware of the future.
BAGGU Reusable Tote ($12): The perfect all-purpose tote.
Looking for even more holiday party inspiration? Prep for incoming guests with hosting tips from our partners, or show up in style with outfit tips from InStyle editor, Kahlana Barfield Brown. 
Hero image: Your Presence invitation by Cheree Berry