15 Ugly Christmas sweater party ideas
What's not to love about an ugly Christmas sweater party that encourages you to come cozy, get toasty, and celebrate the season in a very low-key way? Nothing, if you ask around the Paperless Post office. An ugly sweater party is fair game for your team's holiday happy hour, Christmas Eve with the family, or a university alumni virtual party. We'll dive into our best party ideas (for virtual or socially-distanced parties), including the newest ugly sweater party invitations, tried-and-true decorations, the down-low on DIY ugly sweaters, and the best ugly sweater party games.
"Flashy Sweater" Flyer ugly sweater party invitation by Paperless Post.
What is an ugly sweater party?
Guests are encouraged (or required!) to wear ugly sweaters, but it's more of a spirit than a party prescription. The allure of an ugly Christmas sweater party is that everything is in bad taste—from the dress code to the evening's activities and the menu. It's freeing after a season of formal parties, heels, and good behavior. Once guests arrive, what you do next is up to you: karaoke, games, an ugly sweater contest, or even a gift exchange.
When did ugly sweater parties start?
You're probably wondering how this fascination with ugly Christmas parties started in the first place. As the holiday becomes more commercialized in the 1950s, people began adding jingle bells to Christmas sweaters. Then came the ugly sweaters of classic 1980s sitcom families like the Huxtables. In 1989 Chevy Chase's ugly sweaters in National Lampoon's Christmas Vacation walked a fine line of earnest and ironic. Then Colin Firth's reindeer sweater in Bridget Jones' Diary was unfortunate. The first recorded ugly sweater party took place in 2002 at the Commodore Ballroom in Vancouver, and it has become a mainstay ever since.
The ugly sweater party invitation 
Set the tone for your party with the perfect invitation; our ugly sweater party invitations are a favorite year after year. We have a range of styles—from sweet to very saucy. Let guests know if ugly sweaters are required (they are) with the invitation and if there will be a contest, as a little spirited competition can give people a nudge to buy or DIY their ugly sweater. The wording of your invitation will let guests know what kind of party to expect. For example, phrases like "It's going to get ugly," "Who is the ugliest of them all?" or "Holiday sweater get together" are great.
What's your invitation style: Flyer or Cards?
Both invitation styles allow you to track RSVPs, follow up with guests, and set a virtual location (if you're partying over Zoom). With those features in mind, simply pick the style that matches your party best. With our card ugly Christmas sweater invitations you can invite a co-host and set maximum capacity in advance and reply to individual guests at any time.  Our Flyer ugly sweater party invitations are text invitations you can customize in seconds by adjusting the colors and style or adding text effects, GIFs, or your own photo.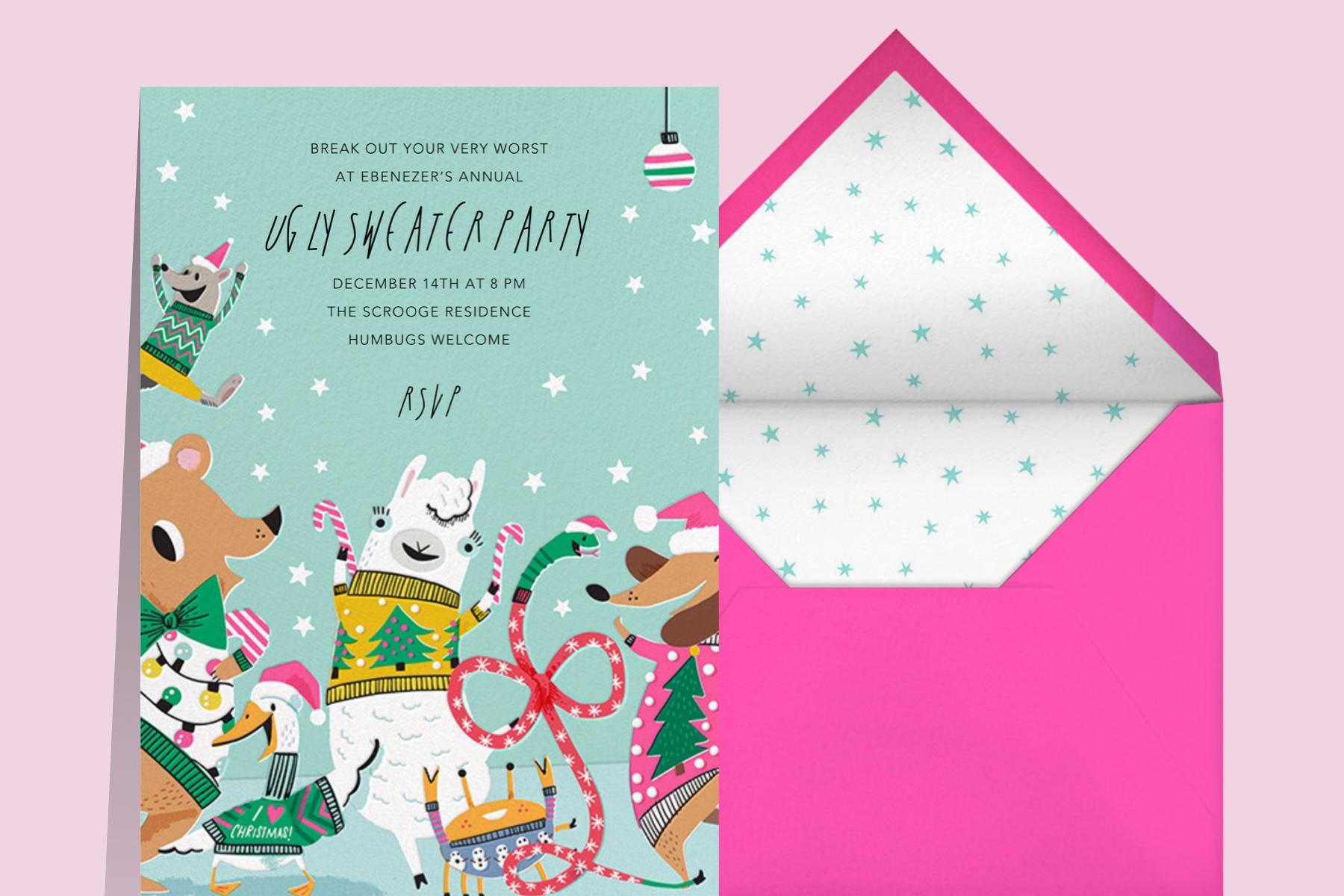 "Sweater Party Animals" ugly sweater party invitation by Hello!Lucky.
Ugly Christmas sweater party ideas
If you're looking for a theme to lean into beyond ugly sweaters, we suggest going full-on '70s basement. Think embarrassing family holiday photos and Elton John on the playlist. You could go the ugly photo booth route, but we like to keep it simple. Pass around disposable cameras or an Instax and take group photos next to the fireplace (or the crackling logs station on Netflix). Or go in a Danish direction with a hygge vibe complete with tea lights, smorrebrod, ginger cookies, and plenty of aquavit. For more on this theme, and a few more party themes from abroad read up here. 
Virtual ugly sweater parties
If you're looking for a creative way to celebrate the holidays from afar this year, a virtual ugly sweater party is a sure bet. Encourage friends to match their ugly sweater with an even "uglier" Zoom background, or decorate a real background wherever they're streaming. Share out your Zoom link with a festive invite, and give a nod to the virtual theme on your invitation with phrases like "Ugly From The Waist Up" or "Cameras On, Sweaters On, Party On". In lieu of physical prizes, send a digital gift card to the "best" or "worst" dressed.
"Against Sweater Judgement" ugly sweater invitation by Hello!Lucky.
Ugly Christmas sweater game ideas
Drinking games are a no-brainer, but make them Christmas. We love Christmas karaoke, Christmas carol Pictionary, or even charades. Or try your hand at the ugly sweater game: hand each guest an (unbreakable) ornament to hang from their sweater when they arrive. If someone says "holiday" or "Christmas," the person that catches them gets their ornament. The person with the most ornaments at the end of the evening wins. However, if games aren't your speed, have your favorite terrible Christmas movie playing in the background. Keep your retro vibe going with films like Die Hard, Home Alone, National Lampoon's Christmas Vacation, Scrooged, or Bad Santa.
Ugly sweater contest
It's not an ugly Christmas sweater party without an ugly sweater contest. Have a few categories on the ballot and let guests place their votes in corresponding bowls. After that, hand out cheesy trophies to the winners for a grand finale. Here's what's on our ballot:
Most Original Ugly Sweater
Best Couple 
Most Likely To Get Arrested
Tackiest Ugly Sweater
Ugly Christmas sweater party food
Now isn't the time to break out the fine china. Instead, create a menu that gives you an excuse to indulge in classic Christmas party food that feels dated but delicious. Order fried chicken or pick up a honey-glazed ham for heartier fare. Or go with retro apps like shrimp cocktail, Swedish meatballs, Jello mold shots, pretzels in a bucket, or a cheeseball in the shape of a Christmas tree. Are you making cocktails for a crew? Mix a large batch of eggnog or rum punch and then serve in the largest bowl you have.
What do you wear to an ugly sweater party?
There is no shortage of ugly sweaters out there. We found everything from sports teams to southwestern vibes, pizza cats, naughty gingerbread men, and a lot of NSFW Santas. Even ugly Christmas sweater dresses. If you're attending as a couple consider matching or coordinating looks: two Christmas elves, Mr. and Mrs. Claus, naughty and nice, two snowmen, or Christmas pajamas. Finally, finish your look by accessorizing with tinsel hoop earrings or a pair of Christmas ornament earrings.
"Greatest Knits" ugly sweater Flyer invitation
DIY ugly Christmas sweaters
The absolute ugliest Christmas sweaters are DIY. Hit up your closet or a thrift store to start with a mildly ugly sweater, break out the glue gun, add ornaments, LED light strands, tinsel garland, bows, and gemstones or an oversized Christmas stocking that conveniently holds a bottle of wine. Encourage all those guests that show up in tasteful ugly sweaters to get into the spirit with a craft station set out with glue guns, jingle bells, and tinsel.
It's always the right night for an ugly sweater party—browse our ugly sweater party invitations to get started. Read our blog for more holiday party ideas.