The 7 best wedding websites on the internet
A lot goes into planning a wedding, from booking a venue and hiring a caterer to choosing floral arrangements and sending out wedding invitations. It's your (and your partner's!) big day, and you want everything to run smoothly. A wedding website is the best way to keep all of your details organized so that your guests are well-informed and up-to-date on all of the wedding-related events you've planned so carefully.
The best wedding planning websites include everything you need to manage your event, like RSVP tracking and a place for guests to ask questions and provide useful information to the hosts. Some wedding websites, such as Paperless Post, go a step further—offering great features like Custom URLs and Password Protection.
So, how do you find and choose the best wedding website? We've done the research for you. These are our top seven picks.
7
best wedding websites
To find the best websites for your wedding, we looked at a number of wedding invitation websites and evaluated factors like user-friendliness, aesthetically pleasing designs, useful features, user reviews, and value for your money. 
1. Paperless Post: The all-in-one option
Paperless Post wedding invitations essentially replace the need for a separate wedding website builder. How? You can include all of the information you'd traditionally put on a wedding website directly onto the Event Page of your save the dates and wedding invitations themselves—so everything's conveniently in one place.
Choose from hundreds of customizable invitations, including from world-renowned designers like kate spade new york, Monique Lhuillier, and Oscar de la Renta. Once you've chosen the perfect invitation, personalize it to your liking with fonts, text colors, and wording to suit your event, then customize the way your Event Page looks using a variety of sophisticated Page Styles. Add Blocks below the main invitation to provide information about travel and accommodations, a Google Maps link, and a link to the wedding registry. Include a Photo Gallery Block to showcase your engagement photos or love story, or a Video Block with a personal message to your guests. Instead of a digital guestbook, add a Comment Wall, which allows guests to post questions and comments. Invitations sent via a shareable link can be password protected with a Custom URL. 
For a full-feature wedding RSVP website, Paperless Post fits the bill—our event management tools make it easy to track opens and RSVPs, and send reminders to those who haven't opened their invitations or provided their RSVP. You can also ask guests questions about which meal they'd like to have, whether they'll be bringing children, dietary concerns, and more. 
These features are all included in the cost of wedding invitations on Paperless Post, which ranges from free for certain designs to affordably priced Premium designs. Some advanced features may also cost extra.
Pros: All-in-one website, 100s of invitation designs, variable pricing, custom domain available for wedding website
Cons: Advanced features may cost extra
Minimum price: Free
2. The Knot: The quick-and-simple option
If you're looking for more wedding planning tools, The Knot may be the right option for you. The Knot promises to "walk you through every part of planning." In addition to invitations and RSVP management, the website includes wedding checklists, a budget tool, and the ability to contact vendors (and read reviews) directly from the site. 
Design your free wedding website—or get a custom domain for an additional $20—using one of the available templates. Customization options can feel a bit limited here, especially using the mobile app, but the simplicity means you can have your site up in a matter of minutes. 
Pros: Highlights wedding vendors for multiple needs, variable pricing, custom domain available for wedding website
Cons: Limited customization
Minimum price: Free
3. Wix: The easy-to-use option
With relative ease of use and good customer support, Wix has earned itself a loyal fan following. The website builder on Wix offers a variety of customizable templates and a drag-and-drop interface that can create almost any kind of website. This also means it may take some digging to find the wedding-specific features you need, like RSVP management, guest books, and event calendars. 
Wix offers a free plan that includes Wix branding and advertising, which can be distracting. To remove this branding, you need to sign up for a premium plan which starts at $16 per month when paid annually. You also have the option to connect a custom domain.
Pros: Variety of customizable templates, easy-to-build websites
Cons: Wix branding on free options, hard-to-find wedding-specific features
Minimum price: Free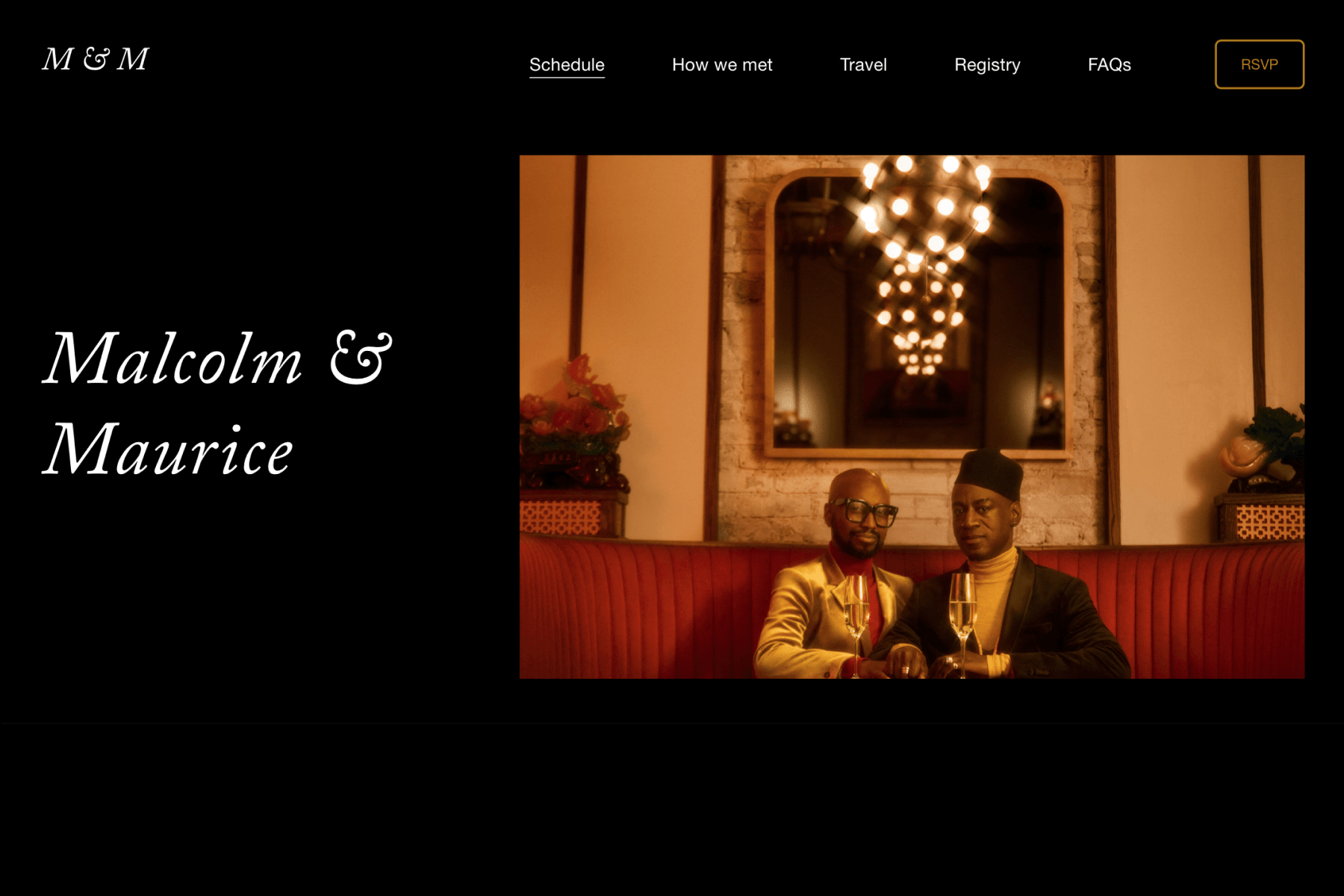 4. Squarespace: The flexible option
In many ways, Squarespace and Wix are very similar. They are both nonspecific website builders that people use to power everything from blogs to e-commerce stores. Squarespace is more business-oriented in nature, but the flexibility of the professional templates and customization options makes it one of the best wedding website builders, especially since the template store includes a wedding category.
To better manage RSVPs with Squarespace, include a customizable form block on the invitation page. Then, responses are sent automatically to an email address, Google Drive, or Mailchimp account so you can keep track of your guest list. You can also link to multiple registries with image blocks. While you can try Squarespace for free, a paid personal plan (starting from $16 per month) may be needed. 
Pros: Flexible website templates, wedding category templates, RSVP auto-send features
Cons: Experience created with e-comm businesses in mind—not weddings
Minimum price: Free
5. WedSites: The boutique option
Unlike Wix and Squarespace, WedSites is specifically designed for building wedding websites. WedSites offers a variety of personalizable templates that match the style and theme of any wedding. Useful features include a wedding planning dashboard, custom questions, guest list management, live video streaming, and virtual guest books with photo support. 
WedSites is a smaller site with a smaller community, so troubleshooting issues may be a challenge. The free plan comes with limited features, basic templates, and a WedSites subdomain. Premium plans remove WedSites branding and add premium templates. 
Pros: Variety of wedding templates, wedding planning dashboard
Cons: Small company with limited customer support, WedSites branding on free templates
Minimum price: Free
6. Joy: The designer option
Design a personalized website on Joy that's unique to you as a couple, starting with hundreds of website templates that can be easily customized to almost any style. Many of the templates also make it easy to change colors and fonts to match the wedding theme. More advanced users will appreciate the ability to change the CSS code.
One of the more notable features is the ability to create customized schedules. It's not just about RSVPing to the wedding itself—you can also include related events, like rehearsal dinners and bachelorette parties, too. Plus, individual guests will only see the events you've deemed relevant to them. Travel guest tools, like booking flights and hotels, integrate into the free wedding site as well. However, all the features can be a bit overwhelming for planners who want something simpler. 
Pros: Variety of templates in different fonts and colors, CSS coding available, customized schedules
Cons:  More complicated than other website builders
Minimum price: Free
7. Zola: The free option
Zola isn't just about building free wedding websites. Similar to The Knot, Zola aims to deliver "everything you need to plan the wedding you want." This includes setting up a gift registry, looking for venues and vendors, customization for invitations, and tracking RSVPs. It offers a lot of solutions for organizing the big day.
The gift registry connects with hundreds of vendors, like Crate & Barrel, SONOS, and KitchenAid. Flexible gift-giving options include cash gifts and shippable items too. It's free to create a wedding website on Zola, and adding a custom domain is only $15. 
Pros: Gift registry options, vendor suggestions, RSVP tracking
Cons: Difficult to add a registry that is outside of Zola's store
Minimum price: Free
Paperless Post: Your invitations and website in one place
The right wedding website will reflect not only your wedding, but your relationship, your love, and your excitement for your upcoming nuptials. (By the way, if you're looking for wedding theme ideas or wedding invitation ideas, we've got plenty of great ones.) 
Even before you're ready to send out your invitations, a wedding website can help you organize and send save the dates to alert out-of-town guests who need to make travel arrangements. You can even include your wedding website on your save the dates if you want to give guests a hint at what's in store for them.
Paperless Post wedding invitations offer the perfect mix of traditional stationery invitations and a wedding website in one. Your guests can get all the information they're looking for at a single URL, without receiving a crowded, cluttered Card. It's truly the best of both worlds!
The best wedding websites tie into your chosen theme, making it easy for guests to find the information they need—and get excited to attend. Then, all that's left is to say "I do" and celebrate the big day together.