13 best wedding invitation websites for online, print, and custom invites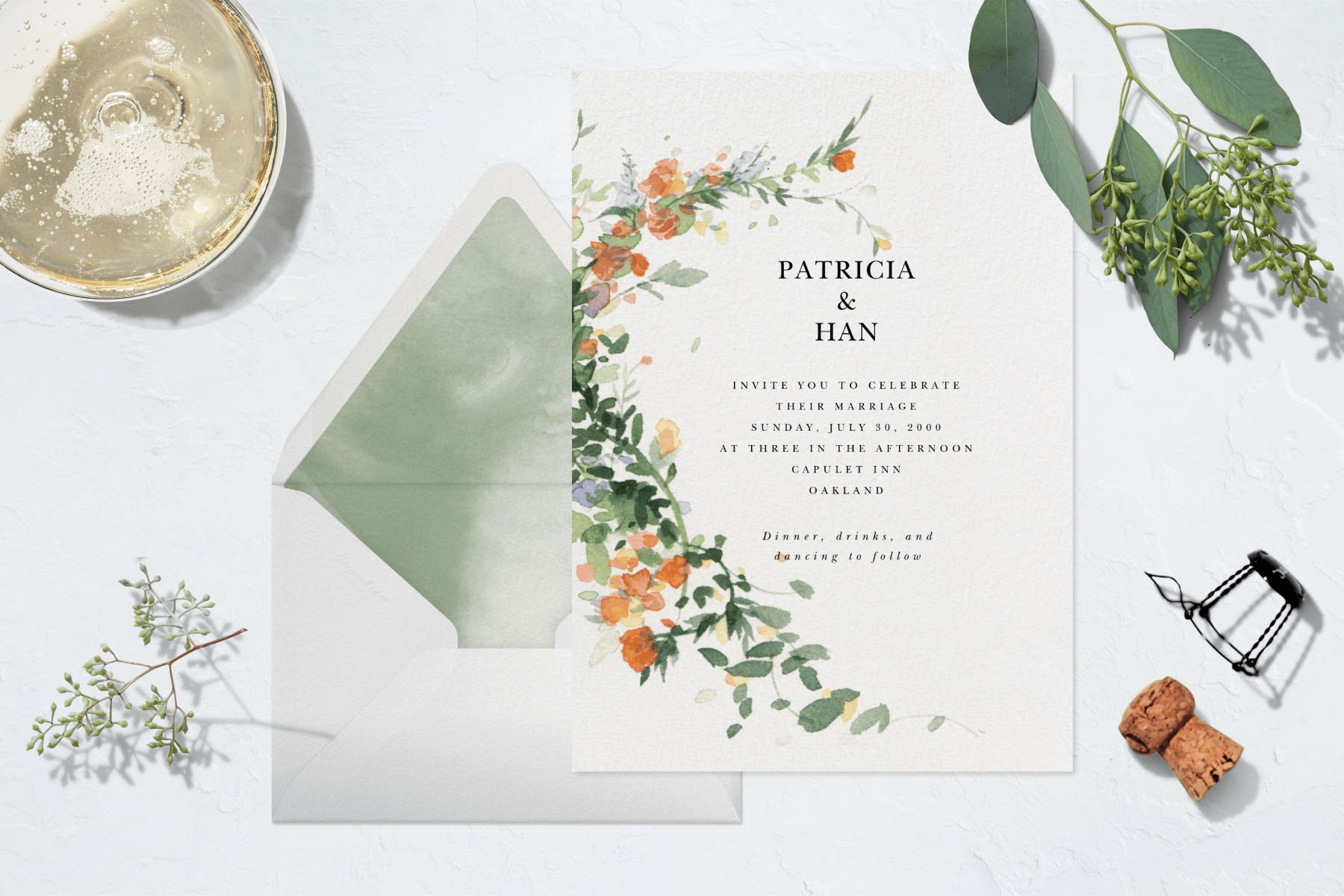 In the age of the internet, nearly all of your wedding planning can be conducted online—from researching and booking venues and caterers to shopping for your wedding dress and table decor. It makes sense, then, that more and more couples are heading to the web for their wedding invitation needs. The hardest part of shopping for wedding stationery online? Narrowing down the sheer number of stellar wedding invitation websites out there. 
Here, we offer a list of our 13 favorite wedding invitation websites, along with some helpful resources for deciding how much you should spend—and how to save as much as possible when sending out your invites.
How much do wedding invitations cost?
The typical cost of wedding invitations ranges from $0 to $30 per invitation or more. As with almost everything in life, you'll get what you pay for. Free or overly inexpensive wedding invitations are often less exciting and unique than those you pay for. Still, that's not always the case. A great way to save money on your big day is to scour free wedding invitation websites and see what pops out at you. You might just find the invitation of your dreams.
If you're planning to pay for your wedding invitations, figure out how many you need, and decide on a budget ahead of time. The cost of your invitations will depend on a slew of factors, including the paper type and quality (if you're going the printed route), the number of invitations you order, whether the invitations are delivered electronically or via a shipper, and what sorts of customizations you request. On a strict budget? There are always ways to save money on wedding invitations and allocate those funds to other areas of your wedding, without sacrificing style and efficiency. 
Best wedding invitation websites
There are countless online wedding invitation websites out there to choose from, whether you're looking for a traditional printed invite, an online wedding invitation, or a combination of both. 
Here are our top picks for the best wedding invitation websites.
1. Paperless Post
Paperless Post offers best-in-class digital wedding invitations from a long list of talented and popular designers, including kate spade new york, Monique Lhuillier, and Oscar de la Renta. Skip the insert cards and add informational Blocks to your Event Page, where you can include useful information for guests like travel and accommodation suggestions and registry links, along with a photo gallery and love story. Our user-friendly platform offers event management tools, like guest questions and communication, RSVP tracking, and mailing address collection. You'll find everything you need to create your dream wedding invites on Paperless Post, including save the dates and wedding invitation Flyers. For completely custom designs, contact our Personal Design Services team. Best of all, we have beautiful products to fit any budget.
Pros: Huge selection of designer and affordable invitations, plus helpful event management tools
Minimum price: Free; Premium options starting at 2 Coins per guest. (Learn more about Paperless Post Coins.)
Why it might not be a good fit: Limited to online invitations (but you can have Paperless Post invites printed by our exclusive print partner, Paper Source.)
2. Paper Source
In addition to quality paper invites at its brick-and-mortar stores, Paper Source has an enormous online collection of wedding invitations from a wide variety of designers—and most provide the option to add matching RSVP cards. Paper Source is our official print partner and offers a Paperless Post collection as well as its own signature wedding invitation suites, which include coordinating menus and thank you cards. 
Although Paper Source's user-friendly design tools make it easy to personalize the text, font, and layout of invitations, more elaborate customization options are limited. But you can mix and match design options—and if you don't know where to start, you can request a free consultation with a Paper Source expert.
Pros: User-friendly design tools, plus signature wedding stationery including coordinating menus and thank you cards
Minimum price: From around $220 per 100 invitations
Why it might not be a good fit: Customization options are limited
3. Crane & Co.
Crane & Co. is a household name in stationery circles, and for good reason: Its 250-year (and counting!) dedication to quality paper, inks, and service has made this brand famous for its craftsmanship and invite expertise. Their designs run the gamut from formal and traditional to lighthearted and unconventional—including invite suites in square, oval, and other shapes. Crane & Co. always has its experts standing by to answer questions about paper types, invitation details, and general wedding etiquette via email. Love the Crane collection, but want to go with digital wedding invites? Check out the Crane & Co. collection on Paperless Post.
Pros: Exceptional paper quality and craftsmanship, plus uniquely shaped invitations
Minimum price: From around $362 per 100 invitations
Why it might not be a good fit: Personalized printed invitation orders may take 25 business days or longer to process and send.
4. The Knot
Well-known "everything wedding" website The Knot has a collection of printed wedding stationery in a wide range of styles, from vintage to modern to boho to industrial. While full customizations aren't possible, you can personalize many of the details, including color schemes and fonts, and choose to include coordinating RSVP cards, enclosure cards, place cards, and menus. Many of The Knot's invites fall on the more expensive side, but the website offers a variety of options to fit most budgets.
Pros: A variety of options for different budgets
Minimum price: From around $199 per 100 invitations
Why it might not be a good fit: Limited selection compared to other wedding invitation websites
5. FineStationery
FineStationery was born in Maggie Swanson's garage in 2000, just as the Delaware entrepreneur was about to give birth to baby number three. Dreading the prospect of hauling her toddlers into a stationery store to pick out birth announcements, Maggie decided to start FineStationery.com. More than 20 years later, this website is a premier destination for paper announcements and invitations of all kinds, with stellar customer service and a seamless website experience that makes choosing, personalizing, and ordering wedding invites stress-free and easy. 
Pros: Excellent customer service, easy-to-use website
Minimum price: From around $224 per 100 flat print invitations or $394 per 100 engraved invitations
Why it might not be a good fit: Smaller selection than other invitation sites; printed invitations only
Best custom
wedding invitation websites
Many couples prefer to make their wedding invitations an authentic representation of who they are. Sometimes, even the most beautiful, engaging templates won't do when you have your heart set on custom invites. Although bespoke wedding stationery is considerably more pricey than personalizing a template, custom designs can take your invites to the next level. Here are some of our picks for the best websites for wedding invitations that are partially or fully customized.
6. Paperless Post
All of Paperless Post's wedding invitations can be personalized to some extent, including fonts, colors, text, layout, and customizable Blocks for information about travel, accommodations, schedules, your registry, and photos. If you're looking for major customizations, our Personal Design Services team can get you started. You can also contact one of the stationers or illustrators on our list to create a custom digital invite for you—or upload your own file for access to all of Paperless Post's event management tools.
Pros: You can upload your own files and add Blocks with photos, maps, and more
Minimum price: $100 for custom design work, plus sending costs starting at 2 Coins per guest
Why it might not be a good fit: Fully customized invitations may exceed limited budgets
7. Bernard Maisner
Bernard Maisner, hailed by "Town & Country" as a "renowned virtuoso," is a master calligrapher and contemporary artist whose emotional, aesthetic designs are alive with personality. His bespoke wedding stationery is in high demand—custom orders start with a consultation, and the entire production process is personally overseen by Mr. Maisner, who hand-renders all of the calligraphy and elegant filigrees himself. If custom Bernard Maisner invitations aren't in the budget, Paperless Post's elegant Bernard Maisner collection is the next best thing.
Pros: Production of custom invites is overseen by Mr. Maisner, who also hand-writes all text
Minimum price: Price upon request
Why it might not be a good fit: Bernard Maisner invites are in high demand and may not be available within your time frame
8. Stephanie Fishwick
Stephanie Fishwick doesn't kid around when it comes to color or calligraphy. The Virginia-based artist is well-known for her saturated, opulent collages featuring chinoiserie-inspired flowering vines, exotic birds, and other creatures. And her calligraphy skills are best-in-class—she trained under a former White House Chief Calligrapher. While Fishwick's custom commissions are highly sought after (clients include Tiffany & Co. and Gwyneth Paltrow, who invited guests to her 2018 wedding with Stephanie Fishwick invitations), you can order her gorgeous invitations and other wedding stationery right here on Paperless Post. Our Stephanie Fishwick collection offers a variety of personalizations, including text styles and envelope colors, and backdrops. Learn more about our partnership with Stephanie Fishwick. 
Pros: Beautiful and exciting designs in exotic motifs from a highly skilled calligrapher
Minimum price: Price upon request
Why it might not be a good fit: Original custom invites are pricey
9. Cheree Berry Paper & Design
The designers at Cheree Berry Paper & Design love to play with all the elements of an invite, from fonts and folds to images and inks. As a result, their wedding invitations are delightfully unique, with unexpected twists that turn tradition on its head, yet still maintain the timeless elegance of any conventional invite. Working on a custom wedding invitation with Cheree Berry involves creative collaboration and a dedicated project manager. Although the resulting bespoke invites are pricey, you can find a wonderful, whimsical collection of Cheree Berry wedding invites exclusively on Paperless Post.
Pros: Unconventional takes on tradition; highly collaborative with custom invites
Minimum price: Price upon request
Why it might not be a good fit: Collaborative design process can take time
10. Etsy
The Etsy marketplace showcases talented creators with wedding invitation designs and templates that run the gamut of styles and vibes. On Etsy, you'll find independent designers and small brands working in nearly any medium you can put on paper. Some creators offer digital downloads only, while others offer both digital and print options. Many shops on Etsy create fully customized wedding invitations—give them a vision, and they'll design a one-of-a-kind suite just for you. Once you have the digital file, you can upload it to Paperless Post and get all the benefits our event management platform offers. As with any online marketplace, always do your due diligence—read the reviews, and contact the shop if you have any questions before you order.
Pros: A huge variety of invites by a large cache of independent designers of all stripes
Minimum price: Price upon request
Why it might not be a good fit: Marketplaces can be risky if you don't thoroughly vet the provider
11. Happy Menocal Studio
Happy Menocal lives and works in New York, where she first started designing wedding stationery in 2009 after a close friend enlisted her services. Whether she's working with acquaintances or strangers, Happy Menocal's bespoke invitation process is the same. It requires an intimate connection with the subject, and the results are deeply personal, subtly witty, and highly symbolic. You can also find signature Happy Menocal Studio wedding invites at Paperless Post. 
Pros: Deeply personal, custom invites 
Minimum price: Price upon request
Why it might not be a good fit: The custom design process can be lengthy and expensive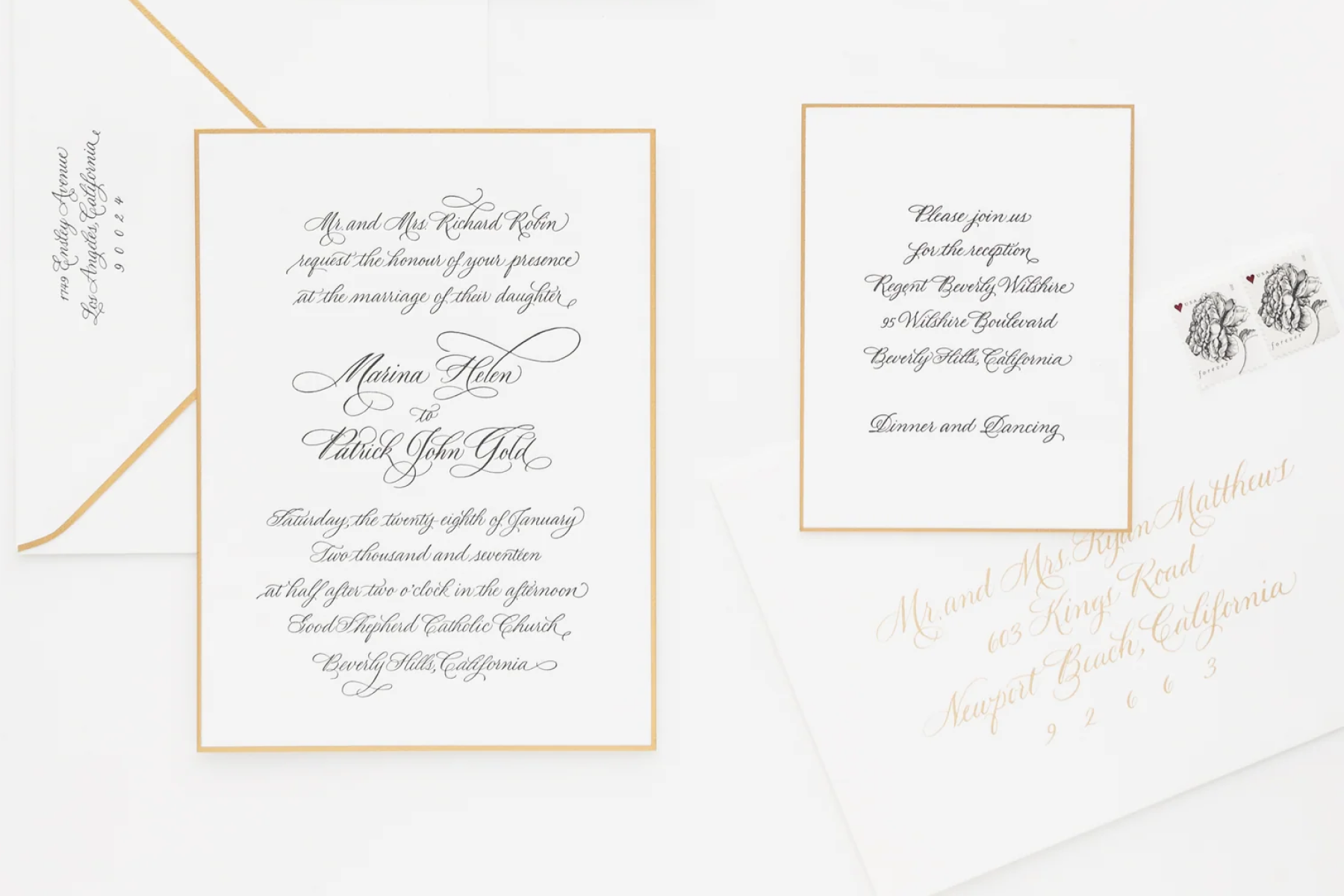 12. Sugar Paper
Sugar Paper is a bespoke letterpress studio that considers invitations a form of art. Los Angeles-based designers Chelsea Shukov and Jamie Grobecker find the sublime in the simple, and their wedding stationery is eye-catching in its understated elegance, muted colors, and monochromatic motifs. Their custom wedding invitation designs are created in close collaboration with each happy couple, down to the smallest details that capture exactly what they have in mind. If you love Sugar Paper designs but don't have room for bespoke in your budget, browse the Sugar Paper wedding collection on Paperless Post.
Pros: Elegant and unique letterpress invitations 
Minimum price: Price upon request
Why it might not be a good fit: Custom Sugar Paper invites may not be in the budget
13. Felix Doolittle
Watercolor painter Felix Fu and his photographer wife Loren Sklar founded Felix Doolittle in 2003, and they've been creating wildly successful lines of handcrafted and hand-finished wedding stationery ever since. While Felix Doolittle is currently only offering wedding invitations by request (inquire via email), Paperless Post features a Felix Doolittle collection in Fu's most popular styles and motifs.
Pros: Beautiful nature-inspired invitations are hand-finished
Minimum price: Price upon request
Why it might not be a good fit: Custom invitations by request only, and there may be a wait list
Wedding invitations to fit your style and budget
Whether you have a big budget or you're planning your wedding on a shoestring, it's not hard to find the best wedding invitations for your nuptials within your price range. Paperless Post has a wide variety of affordable invite choices, along with helpful wedding invitation ideas and inspiration. Discover online and printed invitations by your favorite designers, along with fully customized options to suit your style and price range. Whatever kind of wedding invitation you're looking for, you'll find it at Paperless Post.
Hero image: "Watercolor Garland" by Paper Source for Paperless Post.