10 wedding invitation ideas that'll have your guests counting down the days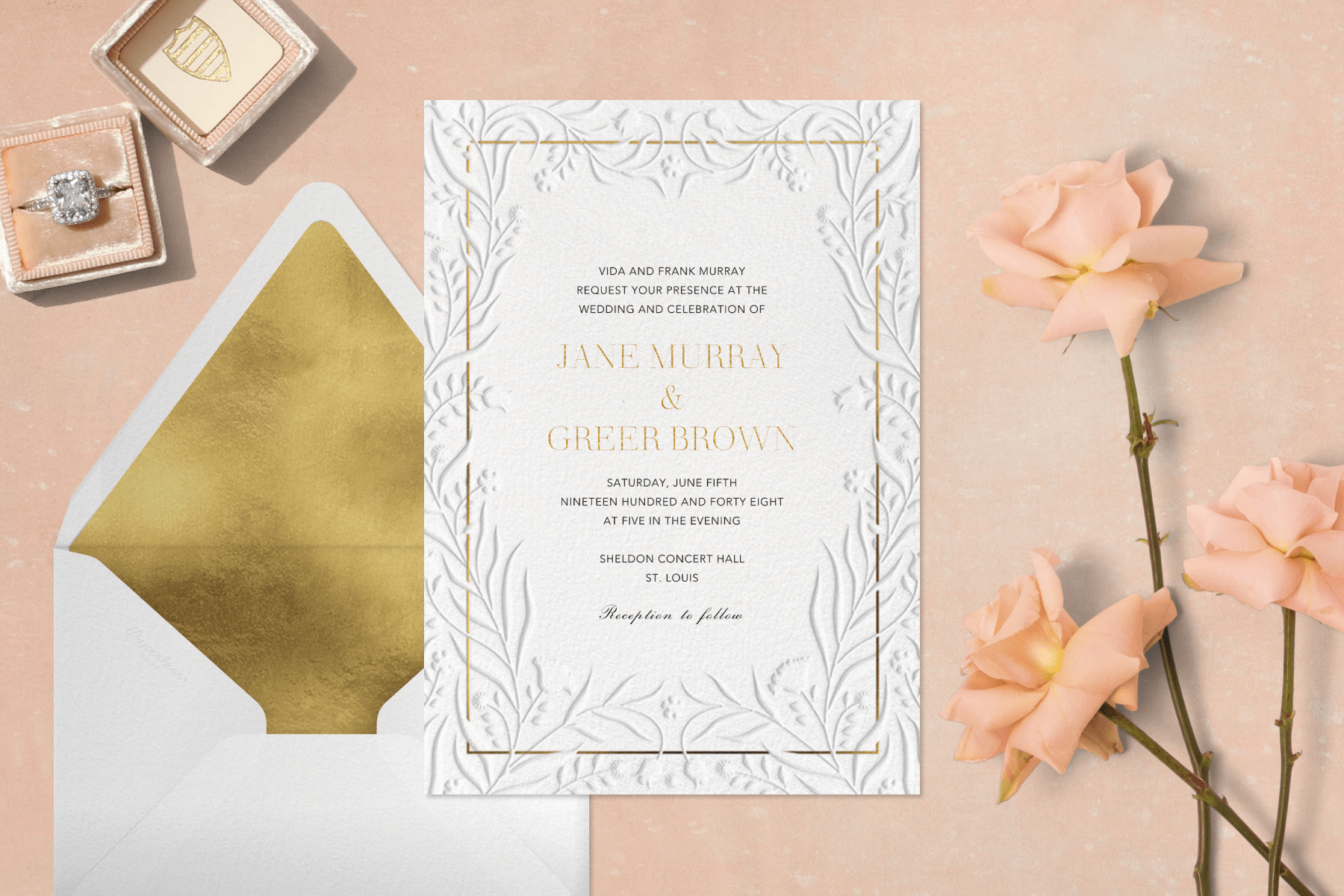 Congratulations on your engagement! You've picked a date and booked a venue; now it's time to ask your friends and family to join you on your special day. Wedding invitations are a beautiful and exciting way to set the tone of your wedding while providing important details your guests will appreciate knowing. 
Paperless Post's collection of wedding invitations has hundreds of gorgeous options that showcase endless individual styles. To help you narrow down your choices, we've rounded up a list of ideas for creating wow-worthy wedding invitations that bring your vision to life. No matter what you have planned for your nuptials, the celebration is sure to be absolutely fabulous with a wedding invitation to match. 
Key information to include in your wedding invitations
Your wedding invitations should include the following information. Traditionally, it's also written in this order: 
– The names of the couple tying the knot
– Where and when the wedding will take place
– The wedding request phrasing. Some common introductions to inviting guests to a wedding include the following phrases:
"Kindly join us for the wedding of [NAME] and [NAME]"
"You are invited to join the lives of [NAME] and [NAME]"
"[NAME] and [NAME] request your attendance"
"Please join us as we celebrate"
– The cocktail hour and reception timing
– Attire details
– Wedding RSVP details
Not sure how to word things? Don't fret—we've got step-by-step wedding invitation wording advice to help along the way. But first, let's choose your invitation design. 
1. Classic or modern?
Weddings are a wonderful opportunity to express creativity and display your personality. Think of your wedding invitation as a teaser for the celebration to come. Therefore, choosing the right style helps set the theme of your gathering. Are you leaning toward a classic wedding vibe, or more modern? We've gathered a few tips to help you decide. 
Classic wedding invitations may feature elegant cursive fonts and heraldry-style graphics with graceful floral or gilded accents. Classic style goes hand-in-hand with traditional, formal celebrations, but if you see something you love, don't let that stop you from choosing something timeless and refined for a more relaxed gathering. 
Modern wedding invitations often have bold minimalist fonts, colorfully stylized graphics, and geometric details. With so many gorgeous options to choose from, it's easy to find a modern wedding invitation that speaks to your contemporary style. 
2. Cool hues or warm tones?
One of the most fun aspects of planning your big day is deciding on a color scheme that embodies the spirit of your wedding. Your color palette is entirely your choice, and there are no wrong decisions when it comes to using your wedding invitations to showcase those shades. Whatever colors you choose, you can be sure to find an invitation that introduces your aesthetic to your guests.
Warm colors like reds, oranges, and yellows cast a glow like the sun, twinkling lights, or a cozy campfire. Warm tones are often popular choices for fall or winter weddings, when the temperatures plummet and the air has a nip to it. Luxurious warm colors evoke feelings of passion and romance, perfectly setting the tone for tying the knot.  
Cool colors like blues, greens, and grays and elicit images of water, snow, and sky. Cool, soothing shades create feelings of serenity and a sense of calm. Choosing an invitation that has dreamy blue tones can also tick the box for your "something blue" wedding tradition.
3. Give your invitation a rustic feel or try something romantic
If you're having a cozy country wedding away from the city, a rustic wedding invitation can capture the essence of your ceremony and reception. Think fields of sunflowers, nature-inspired textures and orchard trees strung with lights against the night sky. Adding details like "cowboy boots encouraged" or "farmhouse formal" to your invitation helps set the tone for a barn wedding or countryside event. 
If your wedding must-haves include masses of fresh flowers, soft blush tones, and gilded centerpieces, a romantic wedding invitation sets the tone beautifully. Using language in your invitation to highlight your love and commitment to each other is a wonderful complement to a romantic-themed wedding. Phrases like "our hearts belong to each other on this day, and forever," or "please join us to celebrate the next chapter in our love story" are good examples of how to include an air of romance in your invitation.
4. Capture your free spirit with boho or celestial invitations
Choosing a boho-inspired theme for your wedding is a fantastic way to stand out from the crowd and showcase your free spirit. Capturing a sense of whimsy and wanderlust,
boho-chic wedding invitations often include eclectic elements like delicate wildflowers and playful color patterns. If you're dreaming of a boho-themed wedding, including ethereal visuals on your wedding invitation is a great start to your celebration.
For couples seeking an evening under twinkling stars and fairy lights, a celestial-inspired invitation makes the perfect introduction to your magical event. Lean into inky hues, luminous metallic accents, and the radiance of the cosmos to express your originality and share your vision with your guests.
5. Minimalist or maximalist?
Minimalism focuses on simplicity and purity, while maximalism centers around vibrancy and abundance. Both concepts make for striking wedding invitations—so as long as you're clearly providing the must-know details for your guests, you can have fun playing with as much or as little opulence as you want. With Paperless Post, you'll find countless invitation options that capture the essence of whichever style speaks to you. 
If you're going for a sleek, clean vibe, choose minimal designs with elegant metallics and solid backdrops. Look for uncomplicated fonts and crisp lines. Minimalist wedding invitations often feature color contrasts that allow the text to stand on its own as a style. 
On the other hand, more is more when it comes to maximalist wedding invitations that layer a kaleidoscope of colors, textures, and lavish patterns. Invitations featuring rich flora and fauna or mixed prints beautifully capture the maximalist spirit. 
6. Customize with a photo or illustration
If you had an engagement photo session or had friends capture a surprise proposal on camera, consider adding a snapshot of those sweet moments to your wedding invitation. Sending a photo invitation is a wonderful way to give friends and family a personal memento of your wedding, and get them even more excited to see your faces in person on the big day. If you don't have engagement photos, a treasured picture from your early days together is a great option as well. It's also an excellent way to showcase your relationship, especially for guests that haven't met your fiancé. 
If you're having a destination wedding, you might include a photo of azure waves crashing onto white sand beaches surrounded by sun and sky. If you have a special idea in mind for an illustration, like a custom motif to a map of your wedding event venues, contact our Personal Design Services team to help bring your invitations to life. Or choose one of our artistic wedding invitations and customize it to your heart's content.
7. Just your type
Font is an important aspect of any wedding invitation, and it's fun to experiment with different types. Just like color can sway your mood, a font can influence your tone. If you are aiming for classic, formal wedding invitations, you might choose calligraphy fonts that showcase the beauty of cursive script. 
Modern wedding invitation fonts are crisp and bold, and Paperless Post has many modern font options to choose from. If you truly want to stand out from the crowd, consider color options like ombre text for your wedding invitations. 
Using a font that is crisp and easy to read for the details of the ceremony, like Helvetica, Times New Roman, or Georgia is a good idea, regardless of the style of the invite. 
8. Digital invitations you can feel
Exercise your creative spirit by adding details to your digital wedding invitations like you would to physical ones. Choose finishes like wood grain to add a casual, rustic element. Feature precious metals like gold or silver to evoke elegance. Embrace art and color with painterly watercolors. If you love depth and texture, try a wedding invitation that creates the illusion of embossing. 
9. Indian wedding invitations for every style
If you're planning an Indian wedding, you can incorporate features of both modern and traditional invitations from our selection of stunning Indian wedding invitations. Blend modern accents with traditional imagery, like an Indian temple arch and cascading flower chains. Pair an iconic paisley print with contemporary fonts and formats. Or, stand out with an intricate, gilded border over an attention-grabbing crimson background. After you find a style that represents your celebration, our guide to Indian wedding invitation wording makes communicating the details a breeze. 
10. Unique wedding invitations: more to consider 
There are endless ways to make a unique mark with your wedding invitations. If reducing your carbon footprint is important to you, digital wedding invitations are a perfect fit for your lifestyle and ethos. Invitations that feature greenery and plants or the beauty of flowers communicate your love of nature to your guests. 
Or, choose invitations with visual aspects of the season your wedding takes place in, like spring, summer, fall, or winter. 
If you and your partner bonded over the love of a specific hobby, like board games, golf, or theater, giving a nod to those elements into your design is a fun way to pay tribute to your personality as a couple.
Adding a seal or monogram to your digital envelope is an elegant detail that adds flair and makes your invitation intimately personalized. With Paperless Post, there are countless opportunities to create custom themes that reflect your tastes and passions. From Art Deco to abstract, you're sure to find the perfect invitation. 
Need more wedding inspiration?
If you're still searching for an invitation that speaks to you, check out our complete selection of wedding invitations. With Paperless Post, you have access to hundreds of invitation styles for any type of nuptials you're envisioning. And once you've sent them, you'll be able to track RSVPs instantly, message with guests, and more.
If you're looking for extra help customizing your invitation, our Person Design Services team can help you bring your vision to life. Once you've picked the perfect invite style, our guide to wedding invitation wording takes the guesswork out of adding the details for your big day. No matter what type of invitation or theme you choose, your guests will be thrilled to celebrate and honor your love for each other.