Kids' birthday invitation wording 101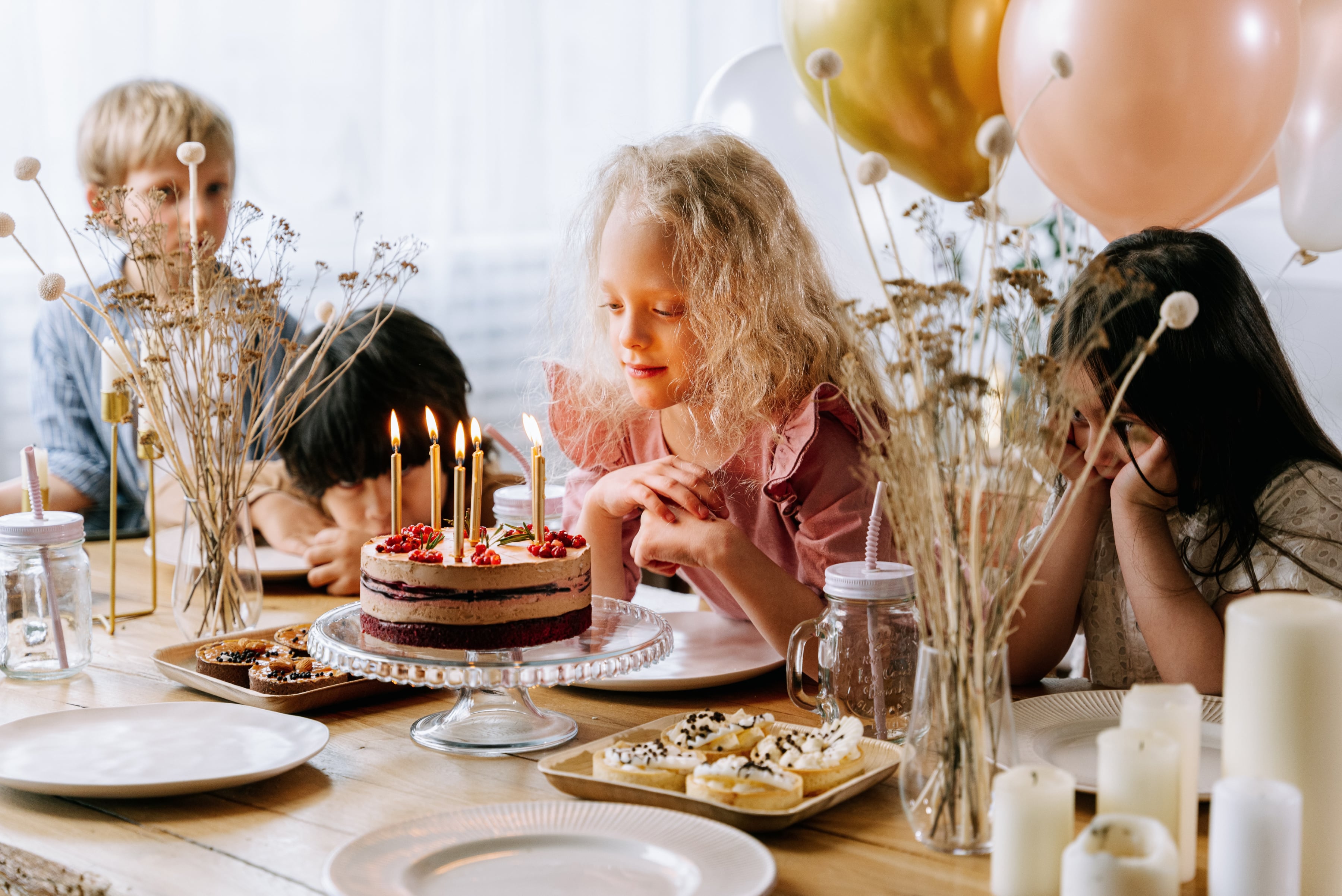 When it comes to planning your child's birthday party, creating an invitation is a fun and exciting way to let everyone know about the celebration. With kids' birthday invitations, all the important details of the event are conveniently in one place, making the process simple for both you and your guests. 
What to include in your birthday invitation
Not exactly sre what invitation wording and details to include on your little one's birthday invitation? We're here to help! Read on to learn more about kids' birthday invitation wording and what specifics to include when writing the invite itself. 
1. Your child's name and age
Turning one year older is an exciting time in your child's life, so you'll want to make the name and age of your child stand out on your birthday party invitation. Since this special day is all about them, the placement and sizing of your child's name and age should be the main focus of the invitation card.

"
Birthday Faces
" by Indigo Bunting for Paperless Post. "
Confetti
" Flyer by Paperless Post.
If you're celebrating a milestone birthday, like your baby boy or girl's first birthday, this will definitely be key to point out. You can make important details stand out even more by selecting a font and color that is just as vibrant as your little one.
2. The time and location of the party
The last thing you want on the day of the celebration is a mix up with the start time or party venue. Being specific when wording this information will help make sure that everyone is on the same page.
Make sure to set a timeframe for the party (i.e. 12:00pm to 3:00pm), include the day of the week along with the date, and reference the address of the party location whether it is a house or a venue. Not only will this communicate the party details clearly, it will help other parents organize their schedules and plan accordingly around the event. 
3. Birthday party RSVP details
It's very important to include details around how and when guests need to RSVP, especially when it comes to the next steps of planning your child's birthday party.
As the host, knowing how many guests to expect will make the rest of the planning process easier for you, especially when it comes to ordering food, party supplies, and party favors. 
4. The RSVP process
With Paperless Post you can manage your online invitations and track each response from your guests as they come in through RSVP tracking. Being able to track RSVPs for your child's birthday party allows you to have full visibility into who has opened the invite as well. If, for any reason, a few of your guests have opened the invitation and have forgotten to respond, you can nudge them to RSVP with a simple one-click reminder.
You can also send follow-up messages with any further information that may come to mind after sending out the invitations. This is additionally helpful regarding any last-minute change of plans. Not only is this aspect helpful on your side of planning the event, but it's also a convenient and quick way for your guests to RSVP and stay informed about the big day.
5. An RSVP deadline
As for the deadline, give your guests an exact date to RSVP by so that you can finalize the headcount and plan accordingly. Typically, an RSVP date two weeks before the day of the event is suggested as it gives you enough time to place food orders and start putting together party favors.
6. The birthday party theme
While birthday invitations are a great way to give information about the event, they are also a great way to highlight the overall theme of your child's birthday party. You can embrace the party theme through both the wording of the invitation and the overall design.
7. Express it in words
Words are a powerful means of expression. When it comes to birthday party invitations, you want your guests to be as excited about this special day as you and your family are. A great invitation does just that by using the invitation wording to spark excitement among your guests. 

For example, if you are throwing a space birthday party for your child, your invitations can include wording such as "out of this world" and "have a blast." Similarly, if you are planning a Frozen-themed birthday party, consider fun wording ideas like "join us in celebrating princess [YOUR KID'S NAME HERE]" for "a Frozen adventure."
8. Communicate with design
Aside from the wording specifically, the graphics and design of the birthday party invitation are a great way to illuminate and carry out the overall theme of the birthday celebration. With a designed invitation, prior to even reading the invite, your guests will know what type of party they will be attending. With Paperless Post, you can select from a variety of templates that perfectly express the theme of your child's birthday bash. 
This is also helpful to your guests, as it may give a hint or two about how to go about choosing a birthday gift based on your child's current interests. For instance, if you are throwing a Frozen-themed birthday party for your child, guests will be more inclined to buy character dolls, Frozen Lego pieces, or anything related to the movie as a gift knowing that it's one of their favorite things at the moment.
9. Include the small details
Towards the bottom of the invitation in a smaller size font, use this space for any other details.

"
Splash
" Flyer by Paperless Post
Common additional details that are specified for children's birthday parties typically include dress code and parking information.
10. Call out the kids party dress code 
If you are throwing a birthday party and want your guests to dress along with the theme, it is important to specify this in the invitation details. For example, if it's a kids' costume party, make sure you specify that. Another common detail about attire is clarifying what to bring for a pool party. Here, it is important to remind parents to pack a bathing suit, change of clothes, and a towel for their kid.
11. Let guests know where to park
If you are hosting a party in your neighborhood, you may want to give parking suggestions in the surrounding area. This will make sure that guests know where to park, especially if there are any restrictions on certain days of the week. If you are hosting a party at a specific venue, the same details apply, especially if there is not a designated parking area for guests.
Kids' party invitation wording examples
Need a little help with your birthday party RSVP wording? Take a look at these sample kids' party invitations below to get started.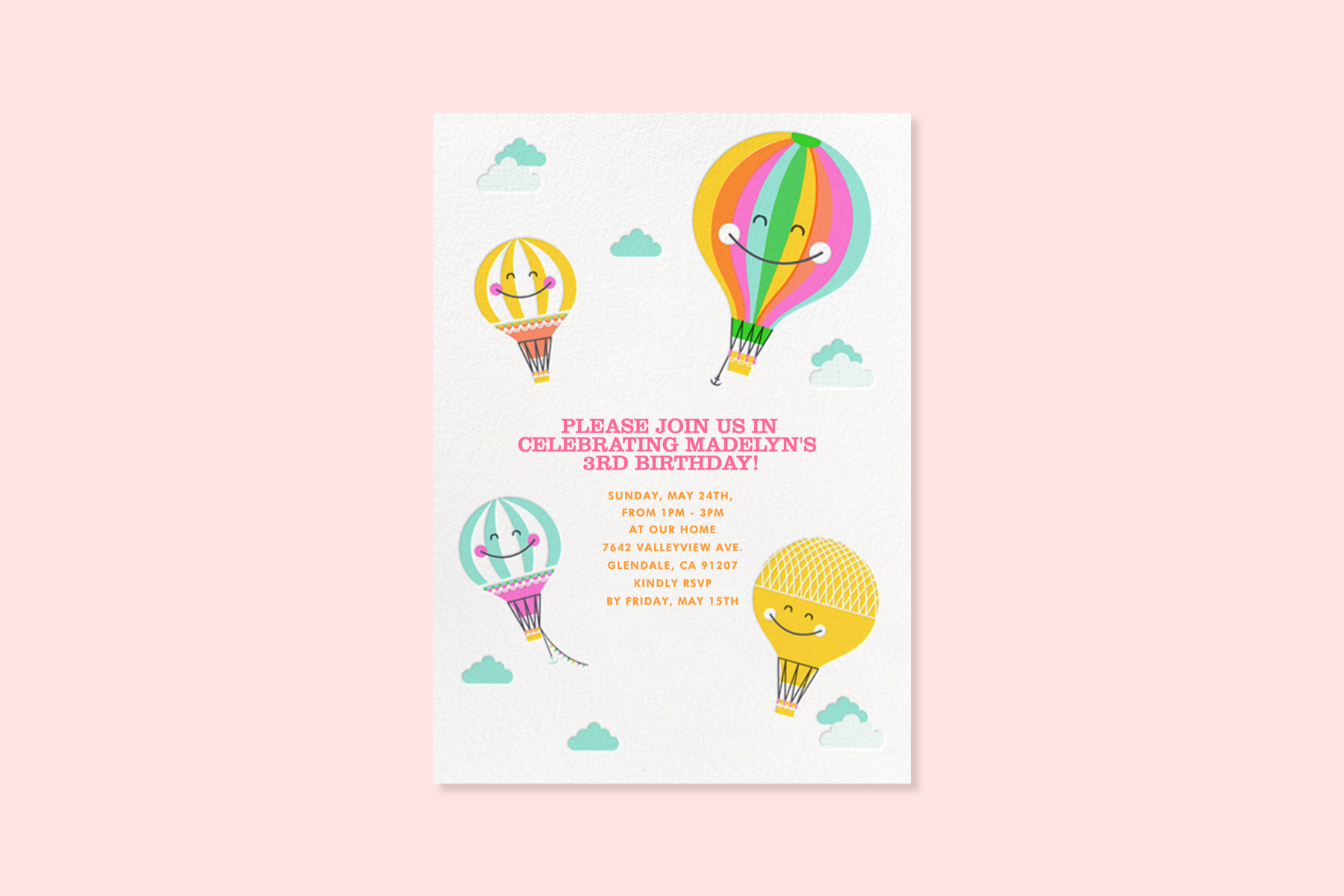 "
Happy Balloons
" by Hello!Lucky for Paperless Post.

"
Classic Triassic
"

by Meri Meri for Paperless Post. "
Maude's Pool
" by Paperless Post. 

"
A Day at the Zoo
"
by Hello!Lucky for Paperless Post.
No longer at a loss for words
No matter the theme for your child's birthday party, there are a variety of birthday invitation templates to choose from, which will make the process smooth and easy from start to finish. At Paperless Post, you can browse beautifully designed birthday invitations curated for kids with templates and themes already laid out for you. All you have to do is add your own details and any personal touches—and voilà—you have a fully customized invitation in minutes. 
Now that you have a few ideas on birthday invitation wording for kids and what to include, you can focus your attention on planning a great party! Looking for kids' birthday party ideas to get your wheels turning? Check out how to plan a flower theme party and more on the blog!