How to host a celebratory Dia de los Muertos party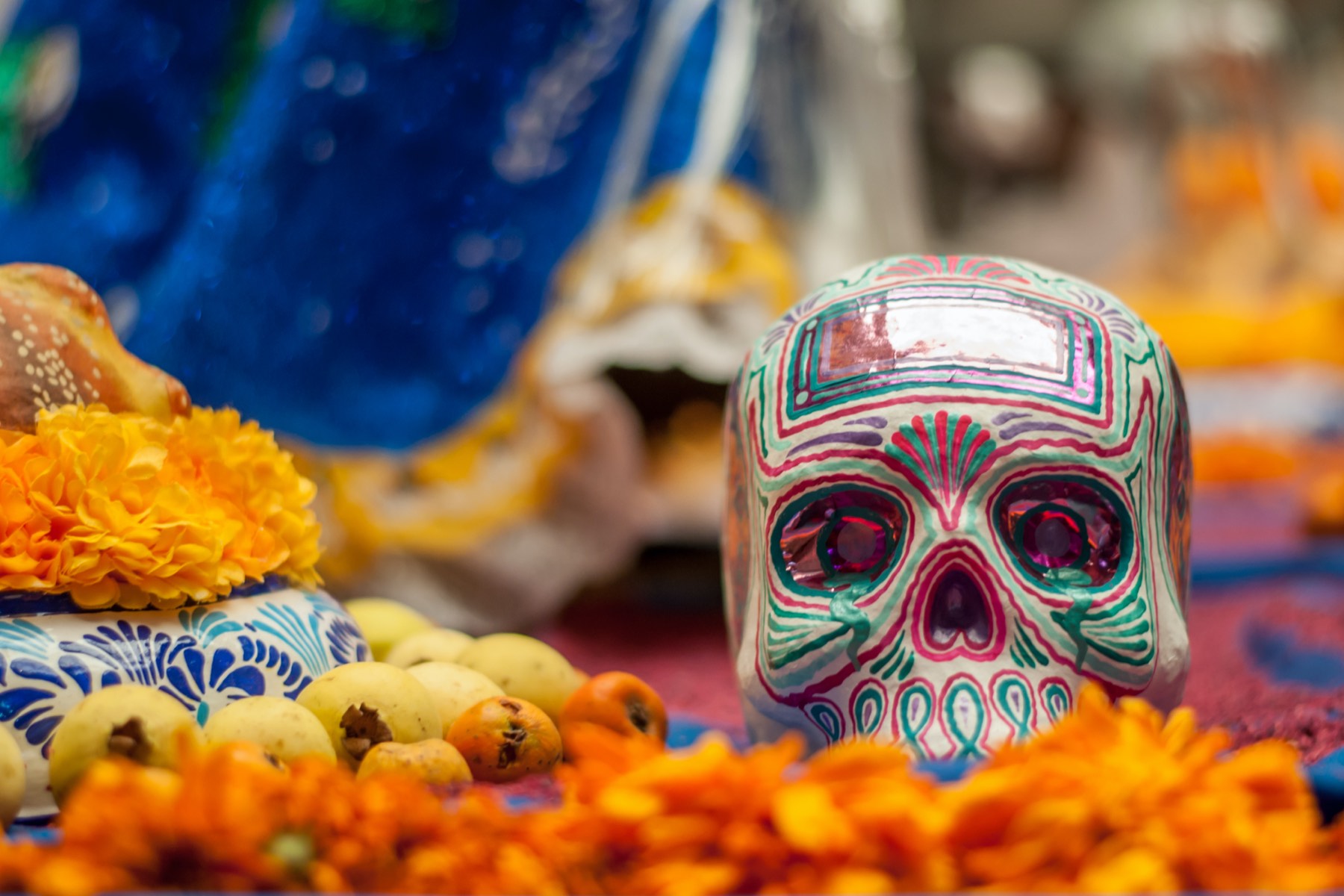 Dia de los Muertos (also called Dia de Muertos) is a unique and highly anticipated holiday among those who observe it. It's a time for friends and family to come together and turn their mourning into a lively celebration of life and death, surrounded by sweet sugar skulls, sunny marigolds, and most importantly, the happy memories of people who've passed. 
Since losing loved ones is a universal experience—and because the vibrancy and message of Dia de los Muertos is so appealing and uplifting—Day of the Dead is a holiday that people across many cultures may be interested to take part in. For this reason, it's important to keep your Dia de los Muertos celebration as respectful and authentic as possible. 
Whether you're hosting Dia de los Muertos for the first time or want to make your annual party even more memorable, read on for our tips on the Mexican tradition and holiday cards. 
What is Day of the Dead and who celebrates it?
If you have any newcomers joining in on the Mexican tradition, it's important that they understand the true meaning of Dia de los Muertos. Many people may recognize the notable decor that's utilized during this holiday, but each element of Dia de los Muertos comes from a long, rich history and a high respect for those who have passed on. 
Dia de los Muertos is a Mexican holiday traditionally celebrated by members of the Catholic Church. During this two-day holiday, observers perform a number of activities to mourn and honor any loved ones who have passed away. The holiday also embraces the celebration of life and death together, and encourages spirits to visit the earthly world and enjoy the festivities of the Mexican holiday. 
When is Dia de los Muertos?
Dia de los Muertos is a two-day celebration that's broken up into three parts:
Dia de los Angelitos

: The first portion of the holiday is known as Dia de los Angelitos, or Day of the Little Angels. Starting at midnight on November 1st, this 24-hour period is dedicated to children who have died. Toys, candies, and sweet photos are brought to the altars of lost children to encourage a visit from their spirits.

Dia de los Difuntos: When the clock strikes midnight on November 2nd, the celebration shifts to the Dia de los Difuntos, or Day of the Deceased Adults. This portion of the holiday incorporates more adult offerings at the altars of loved ones, like tequila, atole, and pan de muerto. Games, live music, and dancing are also encouraged to celebrate loved ones and bring out their spirits.
Dia de los Muertos: Finally, the grand finale of Dia de los Muertos is celebrated the following day. This is when public festivities are held to honor all the spirits together. Those celebrating may participate in face painting, parades, and visiting the graves of loved ones. Many people also take time to clean up their loved ones' grave site and leave gifts, flowers, and sugar skulls.
Ideas for celebrating Dia de Los Muertos
One of the best parts of hosting a Dia de los Muertos party is that there are so many ways to celebrate. This holiday is truly an observance of how beautiful life can be, and those who participate will have plenty of opportunities to enjoy all that it has to offer.
Below are some thoughtful and creative Day of the Dead party ideas to help you enjoy the holiday with friends and family.
Activities
Dia de los Muertos is a holiday filled with many different events and activities. Whether you're planning to celebrate the way you always have or want to put a new spin on an old tradition, here are some to include at your party:
Set up your ofrenda:

 

Ofrendas

—or altars with offerings—are perhaps the most important part of any Dia de los Muertos celebration. While

ofrendas

are often set up at the gravesite of the departed, most families in Mexico opt for an at-home

ofrenda

, as well. This area of the home can be adorned with photos of the deceased, flowers, candles, colorful tablecloths, and tissue paper cut into different shapes. Encourage guests to bring gifts for the

ofrenda

, like home-cooked foods, alcohol, cigars, books, or clothes that the deceased would like to be given. The basic idea here is to create a welcoming environment for your loved one's spirit.

Face painting: Face painting is a classic tradition during Dia de los Muertos celebrations. The designs used for this holiday utilize both Catholic and European influences, combined with the artwork of Indigenous Mexican tribes—particularly the Aztecs. Face painting is enjoyed by adults and children alike, and it's a great way to get yourself into the spirit of the holiday. Common symbols used in Dia de los Muertos face painting include skulls and marigolds. The designs are often wildly detailed and extremely beautiful.
Sugar skulls: Skull iconography in Mexican culture dates back to prehistoric times, when Indigenous Mexican people offered them to Mictlantecuhtli, the god of the underworld. It was in the 17th century that Italian missionaries first brought the art of sugar sculpting to Mexico, and the native people quickly began adapting the process for their own practices and celebrations—including what we now call sugar skulls, or calaveras.
Today, sugar skulls are mainly created from hardened sugar or chocolate and used as an altar offering during Dia de los Muertos. For a fun party activity, set up a DIY sugar skull station where people can craft their own unique design. The recipe for creating sugar skulls is fairly simple: combine sugar, meringue powder, and water. Add your mixture to your skull shaped molds and allow them to air dry for at least eight hours. After that, your skulls are ready for decorating! Colorful royal icing and metallic foil are some of the most common things used to decorate sugar skulls.
Set the mood with music

: Music is not only a crucial part of Dia de los Muertos, but it's also a major influence on Mexican culture as a whole. During Day of the Dead parades, live music is traditionally played in the streets with dancing and costumes to accompany the celebration. If you don't have a live band available (or even a few friends who play instruments), you can also put together your own Day of the Dead playlist. Here are some fan-favorite songs you'll want to include:

"Altar de Muertos" by Gabriela Ortiz
"Xochipilli" by Carlos Chavez
"Son de la Bruja" by Jose Luis Hurtado
"Calaverita" by La Santa Cecilia
"No Es Serio Este Cementerio" by Mecano
Décor
Cheerful, colorful decor is another big part of hosting an authentic Dia de los Muertos party, so you'll want to make sure you have all the staples on hand:
Marigolds

: Marigolds are the symbolic flower of the Dia de los Muertos holiday. The bright orange petals were traditionally left as a guide to help spirits find their way towards the celebration you've prepared for them. Don't limit your marigolds to floral arrangements—you can place real and faux versions anywhere you please and really make a statement.

Dogs: Although not necessarily a "decor" item, canines are traditionally considered helpful guides for ancestral spirits navigating the afterlife. (In particular, Xoloitzcuintli—also known as Xolos or Mexican hairless dogs—are considered liaisons with the Kingdom of the Dead.) Encourage guests to bring their furry friends along to your Dia de los Muertos party if you want a fully authentic experience. Wall hangings, statues, and photographs of dogs can also work if need be.
Papel picado: Papel picado is an easy, yet beautiful decoration that can be incorporated into your Dia de los Muertos party. All you'll need is a stack of colorful tissue paper and some scissors. From there, you'll fold the paper in half several times and cut out small, intricate shapes to create a gorgeous design. These lightweight decorations can easily be strung up on your walls using string or yarn.
Sugar skull decorations: Whether you're making them yourself or purchasing them fully adorned, sugar skulls are another must-have at any Dia de los Muertos celebration. These can be placed at the ofrenda and throughout the house, and the more colors and patterns you incorporate, the better!
La Catrina: One of the most recognizable elements of Dia de los Muertos decor is the prevalence of La Catrina. La Catrina is the beautiful, stylish skeleton image that many people see—and even dress up as—during this time of year. This design was first created in the 1900s by artist Jose Guadalupe. Guadalupe used his art to make a satirical statement about European aristocracy, and the ways classism affects the people of Mexico. Today, La Catrina is used in Dia de los Muertos art as a reminder to be yourself and celebrate your roots. La Catrina can be incorporated into your Dia de los Muertos party through small figurines, face paint, or costumes.
Dia de los Muertos food ideas
Many people eat foods on Dia de los Muertos that are made from traditional Mexican recipes. You can try to make some of these on your own, or you can purchase them from nearby traditional Mexican restaurants. Either way, the point is to celebrate Mexican culture with your family's souls. Below are five favorite Dia de los Muertos recipes for festive foods and drinks to add to your celebrations.
Tortillas de Cempazuchitl
Also called marigold tortillas, these can be used for making any variety of dishes from enchiladas to burritos. All you need are flour, water, salt, and marigold petals. 
Since marigolds are a traditional decoration for Dia de los Muertos, this is a unique way to include them in your celebration. 
Traditional Oaxaca-style mole negro
Mole negro can be a labor of love, but it sure can feed a crowd. It's one of the most complex sauces in the culinary world, but it has deep roots in Mexican culture. Serving up a mole on the Day of the Dead shows your love of Mexican culture and willingness to spend a long time preparing the perfect reunion for your family. 
Chicken in salsa verde tamales 
This chicken in green sauce tamale recipe is easy to carry and can be prepped ahead. Tamales are typically made from corn masa and wrapped in some sort of husk. They're a traditional dish in Mexico, and they don't require any dishes or utensils for eating. 
Pibipollo 
This is a unique and traditional corn meat pie from the Yucatan region. When you serve this at your celebration, it's a nod to traditional Mexican culture, which your ancestors' souls may be intimately familiar with. 
The ingredients are fairly simple and include chicken, onion, lard, corn flour, tomatoes, recado rojo, and sour orange juice. Note that it does take a couple of hours to make this dish. 
Mexican hot chocolate
To wash it all down, you can't go wrong with a hot cup of Mexican hot chocolate. 
This delicious, warm drink is said to have originated with the Aztecs and Mayans, so preparing it on Dia de los Muertos shows your commitment to ancient practices. The end result is a frothy and spicy version of hot chocolate.
What should you wear on Dia de los Muertos?
Even though Dia de Muertos is celebrated around the same time as Halloween, it's important to remember that they're two different holidays with two very different purposes. So if a Dia de Muertos invitation calls for guests to come in costume, you probably shouldn't show up dressed like Britney Spears or a pumpkin.

Instead, dress colorfully and celebratorily. For women, long, flowing dresses with ruffles and floral details in bright, saturated colors like yellow, orange, red, pink, and purple are a beloved fashion choice. Look for traditional puebla embroidered dresses or campesina-style dresses with cinched waists and exposed shoulders. Accessorize with chunky jewelry, a shawl, and a flower crown or wide-brimmed hat—just like La Catrina would. 
Men should dress as dapperly as possible in a tuxedo or suit with suspenders and gloves, if possible, and accessorize with a cane and hat.

While many choose to paint their faces to look like sugar skulls, some instead paint the names of deceased loved ones on their foreheads. After the first day, it's more typical for men to use only black and white face paint.
How to word invitations for a Dia de los Muertos celebration
Lest we forget, one of the most important parts of planning any great party is having the right invitations. Before you host your Dia de los Muertos celebration, you'll want to make sure you send out authentic, festive invitations to match. This will ensure your guests are prepared for the festivities to come—especially if you're enacting a strict Dia de los Muertos dress code. 
Below are some examples of Dia de los Muertos invitation wording:
Potluck invitation
To invite friends and family to share in the celebrations (and contribute their delicious recipes), try this invitation wording:
Dia de los Muertos
Bring your favorite sweet treat to Diego's celebration of friends
In honor of Dia de los Muertos
November 1st at 2 PM
44 Avenida Del Toro
Guadalajara
Kids' party
Children make Dia de Los Muertos a joyful event of remembrance and celebration. Try this invitation wording for a kids party:
Please join Ofelia Vidal
After school to celebrate
Dia de los Muertos
With sugar and skulls 
October 31st at 4 PM
44 Avenida Del Toro
Guadalajara
*Costumes encouraged*
Family and friends
Dia de los Muertos is all about celebrating with your loved ones. Let them know they're invited to your party with this wording:
Acompañanos a celebrar
Dia de los Muertos
Con familia y amigos
Lunes de Noviembre 
Nuestro hogar
Una noche de fiesta
Dia de los Muertos is a party, after all!
Viva el Dia de los Muertos
Saturday November 2nd
7:00 PM
Casa de Rodriguez 
3123 Alvarado St.
San Francisco, CA 94114
Planning your Dia de los Muertos Party with Paperless Post
When planning your Dia de los Muertos celebration, it's important that guests receive their invitations in a timely manner. Relying on traditional postage to deliver invitations could take days or even weeks. Thankfully, Paperless Post is here to simplify things.
With Paperless Post, you can choose from dozens of gorgeous invitations and flyers for your Dia de los Muertos party. Not only will these creative and memorable invitations be sure to leave an impression, but they can also be sent entirely online—no stamps or envelopes needed.
Planning a big event? Don't stress. Paperless Post includes online RSVP tracking to keep your guest list in check—plus, you can message guests directly from the site. Plan your next Dia de los Muertos party today with a little help from Paperless Post!