Creative pregnancy announcement ideas 
Whether you're a first-time mom-to-be or are welcoming another child into your family, creative pregnancy announcements are an easy (and exciting) way to spread the news. 
Sure, you could call or FaceTime everyone individually, but sending an official pregnancy announcement feels much more special (and saves you time!). After all, you've got something big to celebrate! Pregnancy announcement cards make sure everyone hears the news at the same time, and they're the fastest way to share your news with a lot of friends and family. Plus, when you send your we're expecting announcement cards online through Paperless Post, you can instantly view responses from your recipients, and respond right back to their well wishes. Does it get any better?   
Pregnancy announcement wording tips
Our pregnancy announcement templates are a great jumping off point for wording. But all of our example text is editable to allow you to easily craft your own unique message. Simply start with your favorite pregnancy announcement template, and make it your own in minutes with creative phrases. Can't find the perfect pregnancy announcement design? Any card on our site can be edited with the appropriate wording to be used for a pregnancy announcement. 
If you're only sharing your pregnancy announcement with a small group at first, don't forget to let your recipients know. Simply include a note on your pregnancy announcement card such as "We are only sharing this news with family and close family friends, so please keep it mum until we announce more broadly!" 
If you know your baby shower is coming up on the calendar, build excitement by adding a reference to your upcoming party on your announcement card with "See you at the shower" "See you soon on Zoom" or "Shower invitation to follow."
Pregnancy announcement ideas we love 
From photo cards that show off your new bump to seasonal puns, there are so many ways to get creative with your we're expecting announcement. Ahead, to get you inspired we've compiled a few tips, our favorite pregnancy announcement ideas, and the online cards to match.  
1. Save the (due) date 
Put your due date front and center with a pregnancy announcement card that highlights your special date. Help friends and family start the countdown with your due date glistening in gold foil, or a dramatic bold font.
"
Confetti Ceremony
" by kate spade new york for Paperless Post.
2. The reason for the season
Just like your due date, why not play up the season you're expected to welcome your new arrival? If you are due in the fall, use wording such as "We're having a little pumpkin" on your pregnancy announcement card, or "The more the merrier" for a wintertime due date. 
"
Little Pumpkin
" by Little Cube for Paperless Post.
3. And baby makes three 
If you're welcoming your little one into the world with a partner, get them in on the fun. With Paperless Post you can easily customize photo pregnancy announcement cards to showcase a sweet family photo of the two of you, with a third on the way. 
4. Include your fur baby
Already have a (fur) baby in the house? Include them in your photo for extra cute pregnancy announcements. Showcase your cat or dog with pregnancy announcement wording that calls them a "big sibling" or refers to them getting a new sibling. If you want to take things over the top, you could even match with your dog and partner in a photoshoot for your pregnancy announcement. Think matching sweaters or coats.
5. Big announcement, big siblings 
Speaking of big siblings, if this isn't your first time having a baby it's a great idea to include your other children in your pregnancy announcement. A photo of them hugging your belly, or a simple family photo will be an adorable addition to your card. 
6. Keep it simple and sweet 
Yes, there are pregnancy announcement ideas that don't require photos or a shot of your bump. If you're looking for something more minimal, consider an abstract reference that alludes to your growing family. Use pregnancy announcement wording such as "We are adding a new place setting at the table!" or "Baby Smith, coming soon."
7. Baby's first photoshoot 
Have a sonogram photo to share? Customize pregnancy announcement cards with a sonogram for instant aww's from family and friends. Include wording such as "Our joy is growing day by day" or "We can't wait to meet you."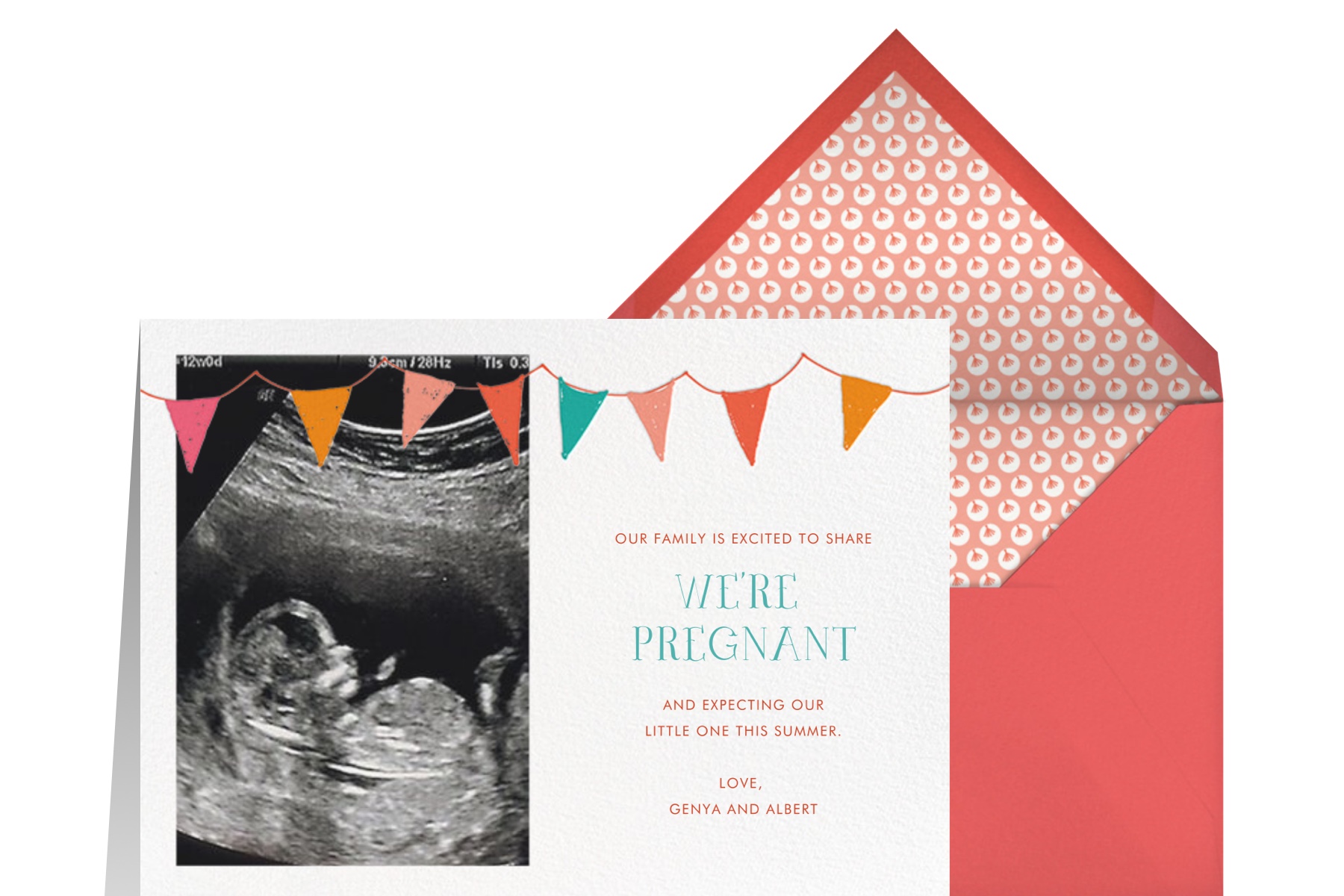 "
Ticker Tape Baby
" by Mr. Boddington's Studio for Paperless Post.
8. Knock your pregnancy announcement out of the park 
Searching for sports-themed pregnancy announcement ideas? Play up the idea of adding another member to your "roster" or "team" or let everyone know "the world is gaining another Yankees fan." Swapping in the name of your favorite sports team, of course. Ready to announce the gender of your little one? Use wording such as "We'll be adding A BABY GIRL to our team come September!" 
9. Adventure awaits 
There are tons of cute pregnancy announcements to choose from, but what about something that hints to your sense of adventure? If you're an outdoorsy couple, you can play that up in your theme. Use wording such as "Introducing our newest adventure" or "Adventure awaits." This theme fits especially well for first time parents, or if you're expecting twins (or triplets!). Love to travel? Add a cute note like "We're going to need another passport" or "New world traveler on the way."
"
Forest Quest
" by Petit Collage for Paperless Post.
10. On the move 
If you're also moving while you're expecting, your pregnancy announcement card can double as a moving announcement. Just add a clever phrase such as "New house, New baby" and be sure to include your due date along with your new address. Two birds, one pregnancy announcement card. 
11. Help spread their news
Have a close friend or sister who's expecting? If they are feeling shy about sending a pregnancy announcement themselves, collect well wishes for them (with their permission of course). Send pregnancy announcement cards for the parents-to-be using language such as: "Sarah and Dwayne, parents-to-be, will soon be a family of three. Please join us in well-wishing the Smiths by emailing a thoughtful family message or a personal family video."
12. Double the love 
Of course, you don't have to share the spotlight with anyone else, but if you are pregnant at the same time as a close friend or sibling, you can send a joint announcement. While it's definitely one of the more non-traditional pregnancy announcement ideas on our list, it can be an exciting way to share the fun with a loved one. For example "The Smith sisters are pregnant! Charlie & Meg are expecting their baby girl in November 2020 and Annie & Alex are expecting their baby boy in December 2020."
13. Keep things light 
With all the somber updates circulating these days, your pregnancy announcement card will be a pleasant break from the news. It's okay to acknowledge the current pandemic, but we recommend doing so in a more lighthearted way. When in doubt, keep things positive. Here are a few examples to get you started:
As part of our stay-at-home orders we're now painting a nursery, in expectation of a new arrival in December 
Baby coming out of quarantine, Due January 2021
Product of the quarantine, Due January 2021
Quarantwinning (if you're expecting two!)
14. Reflect on your journey
If you don't mind sharing, it can be inspiring to your friends and family to share your good news with the journey that led you there. For example: "With great joy, we're expecting! Due Christmas 2020. After 75 shots and a miscarriage scare, Kylie is now nearly 18 weeks gestation and cruising through pregnancy. We can't wait to bring our little nugget home this winter as we start a new chapter on so many fronts."
First comes the pregnancy announcement, then comes the baby shower
Once you've sent out pregnancy announcement cards, you can start looking forward to your baby shower. Get inspired with our virtual baby shower ideas. With any of our online baby shower invitations, you can add a registry link for easy gifting, and a link to the Zoom room so guests can easily join in on the fun. We have Christmas baby shower invitations perfect for the holidays, woodland baby shower invitations perfect for the spring, or perennially adorable elephant baby shower invitations.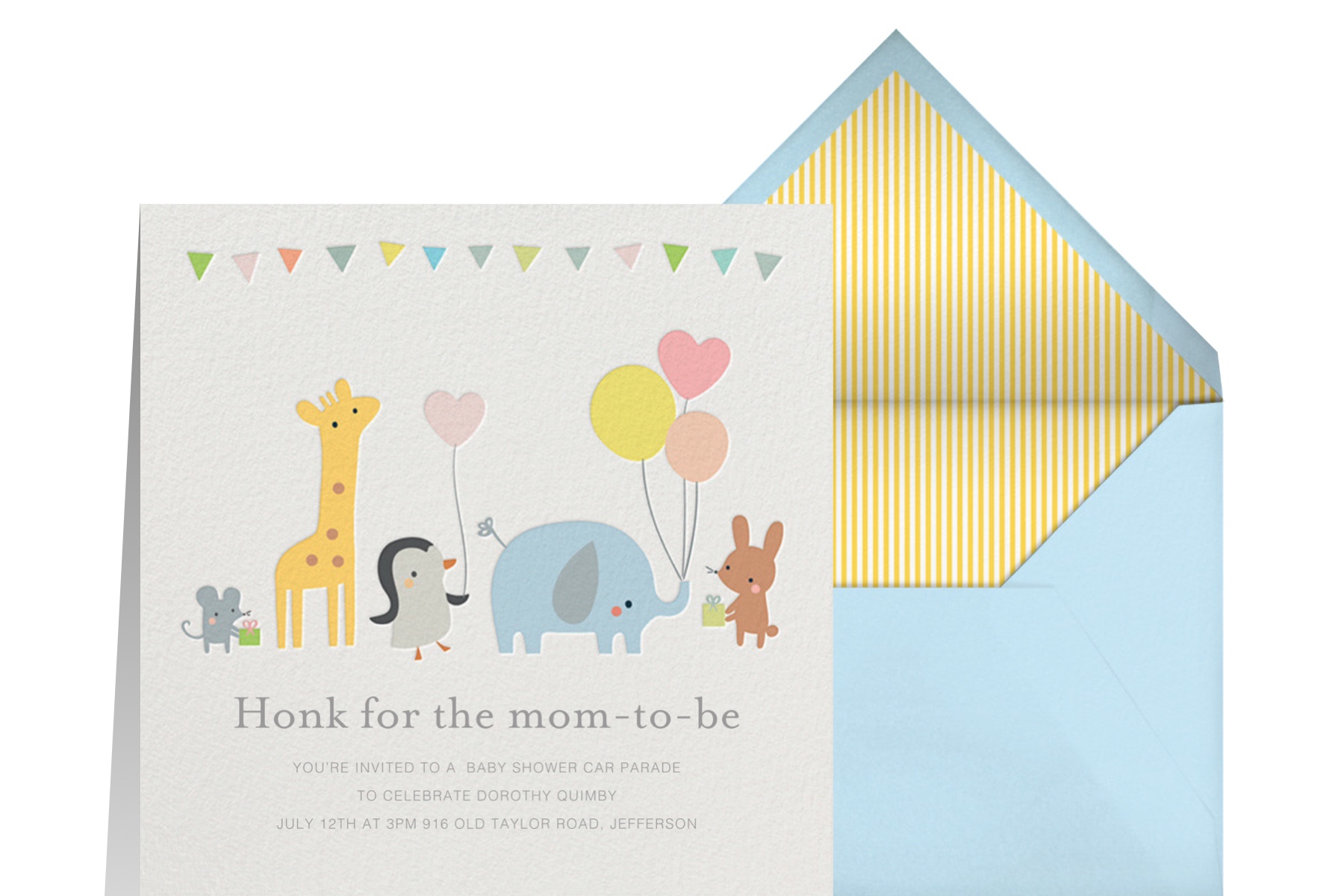 "
Party March
" by Little Cube for Paperless Post.
Feeling inspired by our pregnancy announcement ideas, but quickly approaching your deadline? Browse our wide selection of online birth announcements and super cute baby boy announcements that you can send once your little one arrives.