How to compose the perfect bridal shower invitation
If you're reading this, congratulations. You're likely a bride-to-be, maid of honor, or devoted family member, beginning the process of planning the biggest event of the season. Well, apart from the wedding itself.
We're talking about the bridal shower.
Bridal showers are a special time for those closest to the bride. Friends and family get to spend precious moments with her before life becomes a whirlwind of change. It's a time for laughing, reconnecting, and sharing your best wishes for her future. Show the bride how happy you are for her by planning a bridal shower that reflects her unique style and personality, starting with the invitations.
Need ideas on what information to include, how to put together virtual bridal shower invitation wording, and more? We've got you covered.
How do you invite people to a bridal shower?
When deciding how to plan a bridal shower, there are many routes to take. You can plan your upcoming bridal shower down to the smallest detail, from morning brunch to table bouquets. But first, you need to let guests in on the what, when, where, and how of the event. Like your wedding invitation, your bridal shower invitation sets the tone of the event to come and can direct dress code, gift guidelines, and more.
There are two standard types of bridal shower invitations: a gorgeous modern flyer or the classic e-card.
— Modern flyers – Invite loved ones to the celebration with one of these sleek, striking one-page flyers because her shower deserves more than a plain courtesy text.
Easily collect RSVPs with eye-catching designs your guests won't soon forget.
Personalize the bridal invitation card with a sweet photo of the bride-to-be or an animated gif. 
Make sure no one misses the memo: you have the option to send your invitation over multiple platforms, including email, phone, and WhatsApp.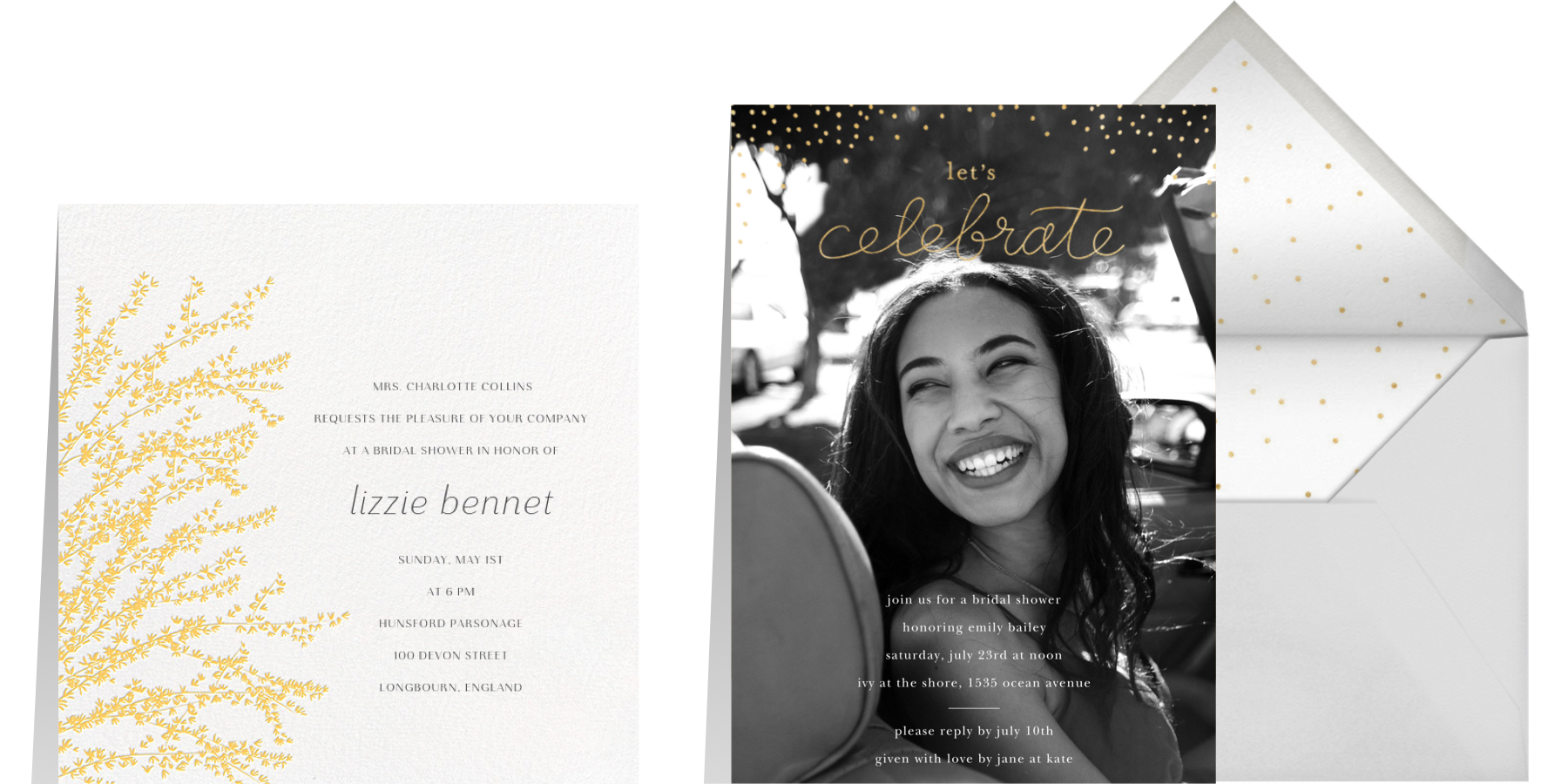 — Classic cards – Give her the royal treatment without stuffing a single envelope. All you have to do is choose a stunning design, gather your bridal shower guest list, and invites are out at the click of a button. 
Enjoy the classic beauty of stationery, minus the headache of a physical card that can be lost, late, or damaged.
Browse our exclusive collections with Stephanie Fishwick, Oscar de la Renta, Rifle Paper Co., and more exciting designers.
Track RSVPs instantly, so you know early on how many people to plan for. You can also message your guests directly instead of chasing down phone numbers for those last-minute replies. 
Make sure no one misses the memo: you have the option to send your invitation over multiple platforms, including email, phone, and WhatsApp.
What do you write on a bridal shower invitation?
You've picked out an amazing card or flyer for the shower. It's got the perfect pun, a funny inside joke, or a flower design that matches the event to come. Now it's time to put that superb virtual stationery to good use and write the perfect invitation. 
Regardless of your choice of invitation, be sure not to miss any of these important details. 
— Date – Triple-check this one! People want to mark their calendars and make sure they're free as the breeze for this bridal shower.
— Time – A vital piece of the invitation that dictates whether this will be a morning event, an afternoon brunch, or an evening soiree. 
— Venue – Where's the bridal shower going down? Make the location crystal clear, whether it's happening at a swanky restaurant downtown or at your cozy home. 
— Theme – Paperless Post has an invitation for every theme out there! From classy white and gold traditional to funky graphic designs.
— Attire – Make sure the preferred attire is apparent somewhere on your card. There's nothing worse than showing up in shorts to a black-tie event or in a gown when everyone is in their casual outfits (unless that's your style).
— Registry – Create an easy route for guests to find gifts when you attach the couple's wedding website or gift registry link. Wedding gift details are easy to pass along and can be attached to any Paperless Post bridal shower invite.
Can you put registry information on a bridal invitation?
Absolutely! Including registry information is a great way to indicate to guests whether or not the bride wants gift-giving to be part of the party. It also takes the pressure off your guests who won't have to perform a guessing game to figure out what the bride needs for her new life.
With Paperless Post, your guests get to click the link on the invite to reach the bridal shower gift registry or wedding website. Way easier than typing the link into your browser from a paper card. 
Let's explore the many options to craft the perfect bridal shower invitation below. 
Traditional or formal invitation wording
Are the upcoming nuptials going to be modern, sleek, and official? Show the blushing bride that you get her love for the classic and traditional. Whether you're throwing a surprise bridal shower or hosting it on behalf of the bride, traditional wording may be the way to go.
This gorgeous white and gold Forsythia-themed invitation is a wonderful example of formal bridal shower invitation wording. Want to make it more personal? Customize cards like this Cursive and Confetti invitation with photos of the bride. Your invite can look and sound something like this:
Mrs. Charlotte Collins
Requests the Pleasure of Your Company
At a Bridal Shower in Honor of
Lizzie Bennet
Sunday, May 1st
Hunsford Parsonage
100 Devon Street
At 6 pm

Match the invitation to the classic bridal shower decor and theme to tie it all together. 
Fun bridal shower wording
For the bride that wants to cut loose with her girls before the big day, choose a fun, slightly more casual bridal shower wording with a card like "It's Going Down before the Gown." Remember that for virtual bridal invitation wording, rhymes are your best friend. 
Another option simply catches attention with a "Hey Ladies!"
It's Going Down Before the Gown
Join Ariana Chavasse for
One Final Fling
Before She Gets the Ring
Saturday, May 29th at 8:30 pm
Chez Wilder, 99 Passage Saint-Sébastien
Themed bridal shower wording 
If your bridal shower party has a theme, you have free reign to get punny. For example, if your bride is the queen of crafts, always gifting handmade sweaters and doing needlepoint in front of Netflix, surprise her with a "Let's Get Crafty" invitation. Cute as a button, and with all the necessary info to kick off a great party. Give a hint about the bridal shower games or activities that the guests will participate in at the event.
If you're planning on trying something modern and thinking of hosting a combined shower or bachelor/bachelorette, make sure you work with your significant other to create pre-wedding party invitations that everyone will remember.
Some other suggestions: "Crochet Before the Big Day" or "Knits and Purls for Your Girl's Big Day."
Let's Get Crafty
Please Join us for Crafts and Cocktails
In Honor of the Bride-to-Be
Carrie Meeber
May 20th at 4 pm | 302 Henry Street
Brooklyn
Bridal brunch invitation wording
There's nothing like a boozy bridal shower brunch with best friends or a bridal party to celebrate. Especially when that brunch is celebrating something as special as a bridal shower. This Brunch for the Bride invitation pairs perfectly with eggs benedict, Belgian waffles, and of course, mimosas.
She said Yes!
Brunch for the Bride
Hosted by
Ali Jones
Please Join Us as We Celebrate Alyssa's Last Days of 
Singledom with a Proper Bridal Shower! 
Macarons and Champagne Abound! 
Saturday, August 31, 2019
1:00pm
Lingerie bridal shower wording
The precious time before the upcoming wedding is perfect for showering the bride with gifts she might not otherwise buy herself. We're not just talking about that fancy, expensive stand mixer. 
Lingerie can get expensive, too, so throw a Lingerie Shower before the big day, where guests can gift the cutest underthings imaginable. You'll have tons of fun watching her unbox it all, and she'll be stocked up for her honeymoon. 
Mrs. Charlotte Collins
Requests the Pleasure of Your Company
At a Lingerie Shower in Honor of
Lizzie Bennet
Sunday, May 1st at 6 pm
Hunsford Parsonage
100 Devon Street
RSVP
Afternoon tea wording 
As you go down the list of bridal shower ideas and wording, Fondly remember all those tea parties you had as little ones with a Bridal Afternoon Tea invitation. This time, instead of teddy bears, the guests will be the best friends of the bride. You get to provide all kinds of tea and cookies, or book a tea party venue with a lovely garden nearby. Let the bridal shower card resemble the elegance of afternoon tea.
Here's a toast to grown-up tea parties, where the laughs are loud, the memories are fond, and the cake is sweet. 
Sip & Shower
Join Us for Afternoon Tea and Cake at a Wedding Shower 
For Lucy
Saturday
December 13th
At 4:30 pm
6 Melcombe Place
London
Garden party bridal shower wording
If you're planning an elegant afternoon eating delicate desserts in a rose-filled garden, you should adopt equally elegant invitation wording. 
We request your presence 
At the bridal shower of
Kimberly White
Please join us at the New York Botanical Gardens
For an afternoon of desserts and gifts amongst the roses.
May 15th at 1:30 in the afternoon
Sundresses encouraged.
Seasonal bridal shower wording
Are you planning around your bride's favorite season, like a winter wonderland or fall harvest theme? Use playful season-inspired language in your invitations, and be sure to tell them the dress code (we don't want anyone getting chilly!).
Warm up by the fire
At our winter wonderland bridal shower for
Augusta Merriweather
We'll go ice skating at Wollman Rink before hot cocoa and dessert by the fireplace.
3 p.m., Central Park
Please dress appropriately to spend the afternoon outside on the rink!

"Party on Ice" by Crate & Barrel for Paperless Post.
Stock-the-bar shower wording
Is the bride always introducing a new favorite mixed drink to the party? Return the favor to the soon-to-be-wed who regularly hosts fantastic boozy parties with a Stock-the-Bar bridal shower invitation. Guests can bring their favorite spirits to gift to the new couple, who will have a fully stocked bar in no time. 
We Propose a Toast
Let's Stock Their Bar
You're Invited to a Bar-Themed Gift Shower 
To Celebrate Bryan, Kendra, and Their Life Together
Hosted by Adrianna Wilkins
May 21th at 6 pm |981 Dempster Street, Palmdale, CA 93550
Couple shower wording
Bridal showers don't always have to be about the girls. Celebrate both halves of the couple with a lovely couple's shower invitation. Two beautiful gold rings make for a timeless card design, and you'll have no trouble at all collecting RSVPs for the big event. For the inseparable pair and all their equally inseparable friends. 
Couple's Shower
Gwen and Jack
Are Tying the Knot
Join Us in Toasting Them
Saturday, October 16th at 4 pm
54 Half Moon Street
London
Around-the-clock shower wording
They say marriage is an Around the Clock Commitment; send out a beautiful bridal shower invitation to match. 
One of the year's trendiest bridal shower themes includes giving the bride a present for every hour throughout the day. This gifting format is an exciting take on showers, instead of opening all the gifts at once. So, send out this charming invitation and keep the party ticking. 
Around the Clock
Marriage is an Around-the-Clock Commitment
Join Minnie Meeber for a Shower in Honor of
Carrie & Robert
May 20th at 4 pm | 302 Henry Street, Brooklyn
"Prim Peony" by Oscar de la Renta for Paperless Post.
A no-gifts shower wording
Often, the best gift you can bring to a bridal party is your bright presence. For the bride that doesn't want to fuss over gifts at the shower and would rather party hard, compose a bridal shower invitation that instructs guests not to bring gifts. This Prim Peony card provides the perfect background. 
Like all our cards and fliers, it's endlessly customizable for your no-fuss message.
Nicole's Getting Married!
Join Us as We
Toast the Bride-to-Be
Saturday, April 12th
At 4:30 pm
No Gifts; Bring Only Your Wonderful Self
"Save the Plate" by Crate & Barrel for Paperless Post.
Stock the Kitchen Shower Wording
Is the bride-to-be a self-described foodie? Does she plan her meals days ahead of schedule? Is her version of date night cooking a 4-course meal together? 
Organize a fun bridal shower party that's all about the kitchen. This "Save the Plate, Stock Their Kitchen" invitation will have guests drooling over the party before they reach your door. Another suggestion: "Let's Get to Breading Before the Wedding." Cheesy, we know. But what are bridal showers for if not reminiscing on delicious old times?
Save the plate
Stock Their Kitchen
Join us for a cooking-themed gift shower to celebrate
Natalie and Ethan
Let's dish out some love.

April 16 at 4 pm
8910 Hillcrest South
Annapolis, Maryland 21401
Hosted by Lizzie and Dan
Paperless postcards with flowers make beautiful bridal showers
Sending invitations for an upcoming bridal shower has never been easier. Instead of hand-stuffing 5 (or 50) envelopes, you get to pick an exclusive design from our collection. 
After that, write your invite with the help of our expert bridal shower wording suggestions. Then, with one click, send out all your invitations, keep track of your guest list, receive RSVPs, and message guests. One platform, no stress. 
If you're the visionary behind the bridal shower, but you're still not seeing the invite of your dreams, no worries! Our Personal Design Services team is here to bring your custom bridal shower invitation to life. We'll work with you every step of the way, from graphics to RSVPS to the perfectly worded message. 
Never sweat over last-minute post office trips again. Take cards, invitations, and thank-you notes into your own hands with Paperless Post. 
We make thoughtful look easy.