13 Outdoor graduation party ideas to celebrate commencement in style
The past year has been tough for everyone—especially the students in your life. The transition to remote schooling and the cancellation of countless major events, from homecoming to prom, put a damper on the school year for kids of all ages. But there's good news just around the corner. More and more people are getting vaccinated across the country, and outdoor celebrations are becoming a safe way to cheer for the grad in your life and make their milestone feel extra special. Students have overcome extraordinary circumstances to finish this chapter of their lives. They deserve a party.  
How to host an outdoor graduation party?
An outdoor graduation party doesn't have to be massive to be exciting. You can stick to vaccinated pods, or offer COVID safety precautions, like encouraging people to wear masks and setting up seating far apart enough to help people stay socially distanced. These kinds of parties can have a theme or not—a big, backyard blowout can be just as memorable as a picnic at the park. As long as you do your best to tailor the celebration to what you know your grad will enjoy, it's bound to be a great time (just be sure to set up rain plans, too). After a long, hard year, a good celebration is something everyone can look forward to. These outdoor graduation party ideas are sure to be enjoyed by everyone on your list. 
Outdoor graduation party ideas
A grad party can be as simple as setting out a dessert table and some balloons in your grad's school colors in your backyard. It can also be as elaborate if you'd like. These outdoor graduation party ideas are a celebratory way for your recent grad to cap off the end of their school year and finish with a bang.
1. Graduation garden party
Especially if your child is graduating from high school or college, a fancier affair may be in order. For a graduation garden party that feels elevated, invite parents over for hors d'oeuvres, champagne, and a photo opp with a professional photographer to take pictures with their graduating sons or daughters with their graduation cap in hand.
Graduation garden party invitation wording:
You're invited to Sarah's Graduation Garden Party! Please join us for hors d'oeuvres, champagne, and pictures with your children. Saturday, May 15, 4:00 pm – 6:00 pm | Attire – Garden dress | Please RSVP
2. Group outdoor graduation party
During graduation season, social calendars can quickly fill up with lots of parties—so it's a good idea to think of graduation party ideas that celebrate not just your graduate's commencement but their best friend's too. With a group party, you don't have to fight over a date, or risk people feeling split between parties. Keep it casual by hosting in your backyard with a photo booth and dessert table.
Graduation garden party invitation wording:
CLASS of 2021 SARAH, CLAIRE, ALEXA, MANDY & CHRISTINE  GRADUATION PARTY! Please join us for an outdoor celebration! Sunday, May 16 from 1:00 – 4:00 pm, 681 South Rd. Phoenix, AZ 12345
Grand Year

 group graduation party invitation

 by Paperless Post
3. Graduation crawfish boil
When you're trying to think of especially festive graduation party ideas, there's nothing quite like a summer crawfish boil, especially (but not only) if you're in the south. Serve up jambalaya and crawfish—or your favorite cookout food of choice—along with wine and beer for the 21+ crowd. Ask guests to bring blankets and folding chairs so they can get comfy, and coordinate a musical guest, like a local singer or band, to liven things up.

4. Graduation open house party
If you want to limit the number of guests you may have in your home at any point, then an open house-style party is your best option. Establish a set amount of time when people can circle in and out. Instead of having any set itinerary, you can set out individually portioned refreshments, like cupcakes, for people to grab.
Graduation open house party invitation wording:
Please join us for an Open House to celebrate the graduation of  Sarah Claire | CLASS OF 2021 – Raleigh Country Day | 5:30 pm – 7:00 pm, Friday, June 11th | 81 Shadow Lane, Raleigh, NC
Confetti Caps

graduation open house party
5. Block party graduation party
The best graduation party ideas feel personal and fun. Especially for elementary graduates who live in tight-knit communities who haven't been able to be as social this past year as normal, a block party grad party could be a great way to reconnect with neighbors. If multiple families want to co-host, cater it to keep it simple, or save money and ask neighbors to BYO their dinners, but hosts can provide the libations—or even hire an ice cream truck to swing by. Check with your city or town about closing off your block.
6. Graduation afternoon high tea (a par-tea, if you will)
For a more intimate outdoor graduation party, host an afternoon tea. Collect tea settings at second-hand shops and use them both as decorations and for tea service. Set up tables where families can sit together in pods to drink their tea and enjoy some desserts. This is a great option for a high school or even middle school graduation.
Graduation tea party invitation wording:
Please join us for an afternoon part-tea! Celebrating Sarah Claire Smith | Saturday, May 1st at 2 pm | Hosted with love by her godparents.
7. Raise a toast
Chances are, your grad wants to celebrate their big occasion with their best friends—and not necessarily at a big family gathering. You can spare her the extended gathering by inviting guests over for a short and simple toast with libations and light refreshments.
Graduation toast invitation wording:
Please join us to raise a toast to celebrate the graduation of Shelby Jane | Class of 2021 | Mercer Island High School | 5:00 pm – 6:00 pm | Our home | Please reply
Tassled graduation invitation by Paperless Post
8. College graduation fiesta
When the guests are mostly of age, you have a bit more leeway with grad party ideas, so you can host a margarita night. Keep the theme and decor festive and bright, and order catering from your favorite local Mexican restaurant. If you're feeling ambitious, you can also serve individual plates of chips and guac.
College graduation fiesta invitation wording:
It's time for a fiesta & fun, Sarah Marie is finally done! Fajitas, margaritas, and BYOB. Please say si & RSVP!
9. Graduate school graduation dinner at a vineyard
For a medical school, law school, business school, or other grad program graduation, a bit more pomp and circumstance may be in order. Take your party to the field and host a dinner at a local winery or vineyard. You'll not only be able to sample delicious wines, but you'll also be helping a local business, as many wineries have been hard-hit during COVID with reduced visits.
Graduation dinner at a vineyard invitation wording:
Join the Smith family in celebrating Charlie's graduation from Stanford Medical School. Saturday, May 29th at Hamel Family Wines. The party begins at 5:30 pm and dinner will be served outdoors at 7:00 pm. Please RSVP.
Champagne Bubbles graduation invitation by Paperless Post
10. Graduation dance party
For a high school graduation party, a backyard or rooftop dance is a fun option, especially since many schools have had to cancel proms, spring flings, and other celebrations. To make it even more festive, pick a graduation party theme, like '80s, '90s, or disco and encourage costumes. Whatever the theme, decorate with lots of bright lights and glitter.
Graduation dance party invitation wording:
TIME TO PARTY! Help us celebrate Sarah's graduation with good food, good friends, and good (or not so good) moves. SATURDAY, JUNE 5TH 7:00 PM | CHURCH & STATE ROOFTOP, OHIO CITY
11. Graduation luncheon
Whether hosted on the terrace of your local country club or on the porch of the graduate's aunt's house, a graduation luncheon can be a nice way to celebrate your grad. For food, draw inspiration from where your graduate is headed off to college. Louisiana or Mississippi? Host a crawfish boil. To the Northeast? Have a clambake. New York City? Order plenty of pizzas.The Sun Belt? Enjoy tacos and Topo Chico. You get the picture. 
12. Outdoor graduation party plans still TBD?
If you're not sure exactly what your outdoor graduation party will look like—either because of COVID or because you're still figuring out some finer details—you can always send a party save-the-date to ensure your party guests leave their calendars open. Pick a date and time, and let everyone on your invite list know that the exact festivities will be announced later. Once you've honed in on your graduation party ideas, you can send out invitations. 
13. Or skip the party and send a graduation announcement
If it doesn't seem like a party will be feasible—because of COVID precautions, family obligations, budget, or any other factor—you can still let friends and family members know of your grad's big occasion by sending a graduation announcement, whether they're wrapping up their time in high school or if you're making a college graduation announcement.
Tassel Script

 graduation announcement by Paperless Post
How do I decorate my outdoor graduation?
For an outdoor party, you certainly don't have to overthink decorations when you're party planning—a simple banner, some streamers, or decor in your grad's school colors can easily liven up a backyard. You can decorate with graduation hat paraphernalia and balloons that display the graduation year. If you're having a backyard party, yard games like cornhole and bocce can also serve as graduation party decor. Or, if you want to make things a bit more elaborate, you can set out some rustic floral arrangements as a centerpiece for each table. Then add some decorative outdoor lighting if your party will extend into the evening.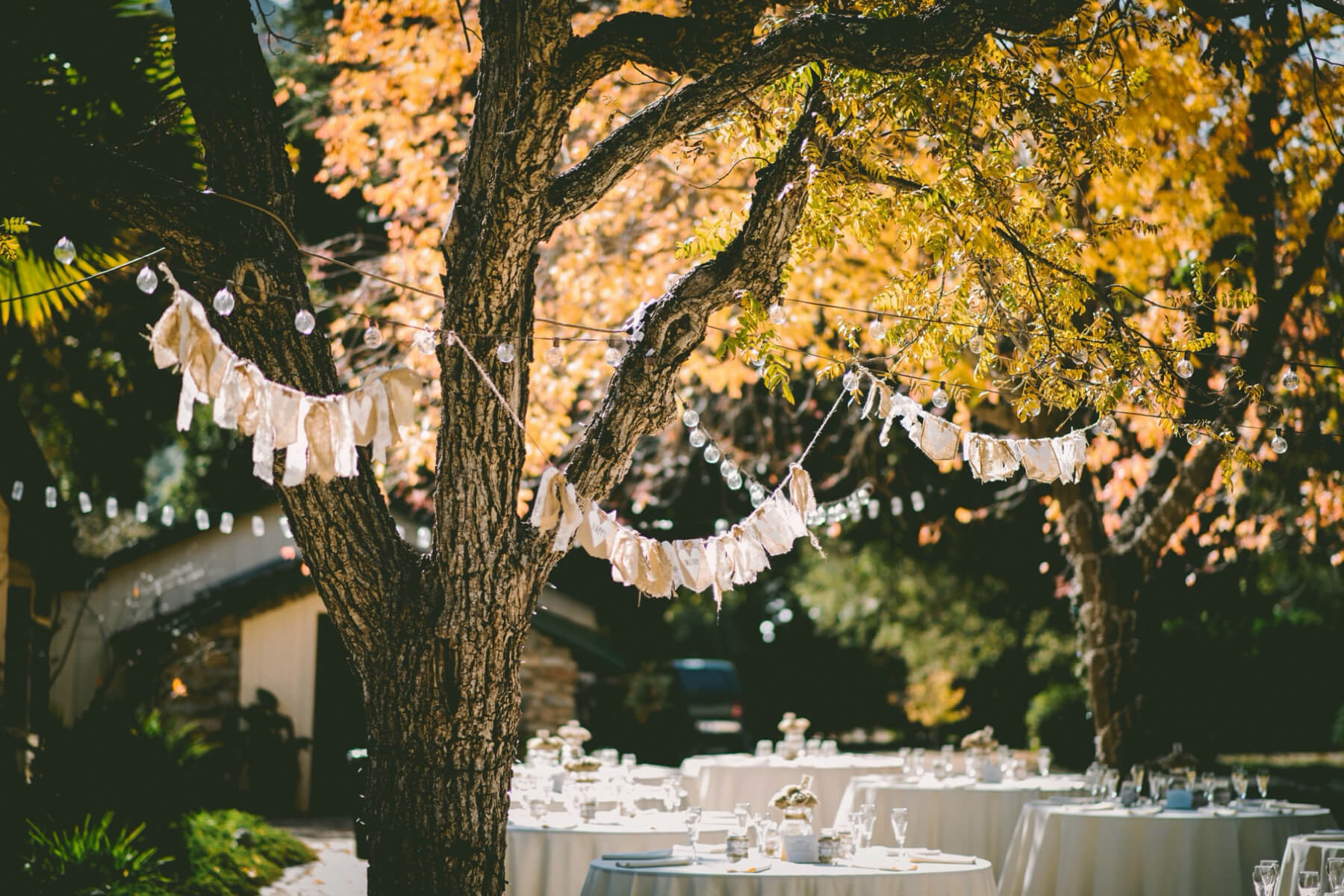 If your grad's actual graduation was canceled, you can have a faux ceremony—have guests arrive wearing a graduation cap and gown and prepare to take pictures in a photo booth with a graduation banner. Later, you can email everyone the photos.
You can also go all-out with a graduation theme: western, fiesta, collegiate sports (keg stands are optional), garden picnic, etc. At the end of the day, the best graduation party ideas should feel suited to what the grad in your life loves, so feel free to make things as personal as possible.
What do you serve at an outdoor graduation party?

As far as the menu, there are countless directions you can go in for your graduation celebration. It's best to figure out your food situation once you've settled on a theme, as that can make it easier to coordinate the food.
In general, you can't go wrong with a casual buffet with all kinds of snacks. If you want your refreshments to feel cohesive, think thematically. Set up a popcorn bar or dessert bar—depending on whether your grad prefers salty or sweet—or you can create a summer camp vibe with backyard s'mores. If you want to serve a more substantial meal, burgers and brats are a great cookout option, and if you want the graduation celebration to feel a bit more refined, opt for hors d'oeuvres and bubbly. For dessert, set up a cupcake stand or serve up some ice cream.
Let's not forget about drinks. You'll want to set up a drink station. For a high school graduation, provide seltzer and soda for the underage crowd. You can get a little more playful for a college graduation. Consider serving a signature drink that you can serve in mason jars—or, if you want a more casual vibe, get a keg of beer (once again, keg stands are optional). 
If you're planning a more elaborate grad party with family and you need to ask for a per head dollar amount to cover food, be specific on the amount and note what kind of payment you prefer (Venmo, PayPal, cash, etc). 
Graduation party invitations
Once you've decided which graduation party ideas you want to go with to celebrate your recent grad, it's time to narrow down your guest list and send out your invites. There are plenty of graduation party invitations you can choose from. Here are a few theme ideas to kickstart your party planning.
Luau graduation party: Get the summer off to a fun start with a tropical-themed celebration and get your guests excited with this graduation party invitation.
Tiki Tiki luau graduation invitation by Hello!Lucky
Western theme graduation party: This playful theme is fun for a high school graduation party or even a middle school ceremony.
Assorted theme party invitations: Don't see your perfect fit here? Never fear—Paperless Post has tons of invitation options for all kinds of theme parties no matter which graduation party theme you pick.
Browse Graduation Party Invites
Whether a socially distanced luncheon, or a virtual graduation party, we have invitations to make your party a hit. If you skip the party, celebrate the grad with an online announcement. Whatever you do, make your graduate the center of attention.