21 exceptional graduation party invitation ideas for every graduate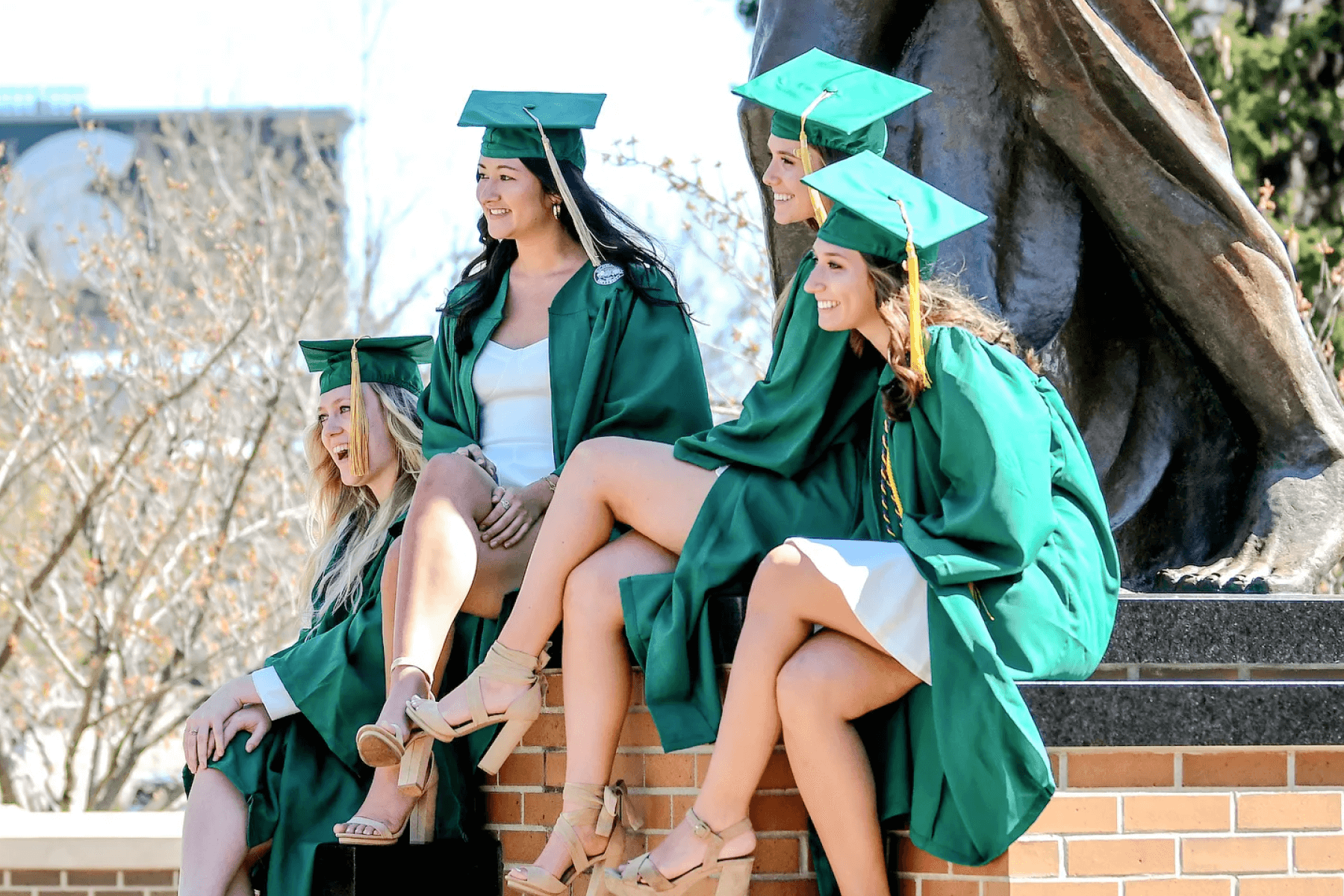 From middle school graduation to completing a Master's Degree, graduation is a milestone moment that deserves to be celebrated. Finishing school is no easy feat, so why not make a party out of it? For some people, graduation happens once in a lifetime, while others may experience it several times. From preschool to PhDs, the age of graduates varies widely—and with graduates at so many different stages of life, it's safe to say that not all graduation parties look the same. Thankfully, there's plenty of variety and options for your graduation party invitations, so you can find the perfect choice to celebrate your grad. 
At Paperless Post, you'll find a great selection of graduation party invitations, no matter the achievement you're celebrating. Here are some of our favorite graduation invitation ideas for today's grads and tips on the wording that'll get your VIP guests to the party.
What to include on graduation invitations
Once you've decided to host a graduation party, you'll want to get your invitations out the door so your guests can mark it on their calendars—especially because graduation season can get quite crowded with multiple events and celebrations. Some key elements to include on your graduation party invitations are the date of the event, the venue, and the time. You may also want to include any dress code specifications, if guests are allowed to bring a plus-one, when RSVPs are due, and whether people should contribute a food item or BYOB. 
If you're planning a graduation party with a specific theme, let guests know so that they have time to plan their outfits accordingly. Our graduation party ideas offer inspiration to get you started in planning an unforgettable event.
A note: It's important to note the difference between graduation invitations and graduation announcements. A graduation announcement is something that shares the news of your achievement (rather than notice of a specific group celebration), and you can send an announcement to anyone from family to colleagues. Even if you're planning a graduation party, you may want to send a graduation announcement to loved ones who live too far away to attend. 
"Our Year" by Paperless Post.
Graduation party invitation wording
Don't hold back when writing a graduation party invitation—add a little pomp! These invitations are not just a way to invite people to your celebration, they are also a timeless way of telling your guests how proud you are of yourself or your loved one for all those academic achievements and accomplishments. 
Graduation party invitation wording should include your rightful pride, and express how excited you are to celebrate this milestone with the ones you love the most. Let them know how much having them there would mean to you.
How you phrase your party invitations can range from casual to formal. For example, a laidback grad invitation may simply say, "Join us for a graduation party for [Graduate's name]!" and include the relevant details about the celebration's time, date, and location. A more formal approach (for a party hosted by others) could also include the names of the graduate's parents. An example of this type of wording would be "[Parent name] and [Parent name] invite you to celebrate the graduation of [Graduate name] on [date of event]."
If you need help with your graduation announcement wording, we can help you there, too.
8th grade
graduation party invitation ideas
The transition from 8th grade to high school is one of the first graduations a student will experience, and it deserves a celebration—whether it's an open house at the graduate's family home or at a rented venue with a set guest list. Here are some graduation invitation ideas for an 8th grade graduation.
1. Playful graduation caps
The grad cap is an iconic celebratory motif, making for an excellent invitation theme. For this type of graduation invitation, we recommend "Caps Ahoy" or "Hats Off." 
2. Spring or summer-themed invitations
Since graduation typically happens in late-spring or very early summer, a floral or colorful invitation is very fitting for the occasion and season. If this is the vibe you're going for, check out "Mr. Porter's Ribbons."
3. Bold colors
Primary colors and cheerful hues offer a classic look for 8th grade invitations. They give a sense of whimsy and fun—perfect for teenagers. Our "Grad Banner" invitation is a great choice for celebrating with a rainbow of bright colors.
4. Reach for the stars 
Nothing says celebration like a burst of stars, and your invitation can let your 8th grade graduate shine just as brightly. We love "Reach For The Stars" to express this theme to your guests. 
High school
graduation party invitation ideas
High school graduation is arguably one of the most memorable moments in a young person's life. This time represents a turning point from teenager to adult, and it's worthy of an epic party. Here are some high school graduation invitations to explore when inviting guests to your grad's big bash. 
5. Then and now invitations 
Use a photo of your graduate from early childhood along with a current "grown up" picture for a sentimental way to celebrate their milestone on your graduation invitation. Our favorite photo invitations include "Bookends" and "TBT Grad."
6. A year to remember
Get nostalgic over your student's high school graduation with a photo collage invitation like "Academic Review." Photo collages are a great way to celebrate their academic achievements as well as the great memories from their high school experience. 
7. Show off senior portraits
Take a personal approach to your graduation invitation by including your child's graduation photo. Show it off on a Flyer or photo Card invitation like "Thinking Cap" or "Glad Grad." 
8. Floral
A floral-themed party for high school graduation is great for summer, especially if you're planning on having it outside. Consider high school graduation invitations like "Heather and Lace," "Birch Monarch," and "Botanic Year" that will help your grad bloom into their next chapter.
9. Cookout or barbecue
If you're taking over the grill for your graduate's big day, take your outdoor graduation invitation to the next level with a Flyer invite like "Diploma Drop," which will have guests salivating for your famous burgers and hot dogs.
"Diploma Drop" Flyer by Paperless Post. 
College
graduation party invitation ideas
College graduation represents a major change in a person's life: Unless they're continuing on to a graduate program, they're likely leaving academic life behind and entering the workforce for the first time. Celebrate with a memorable college graduation party, or by sending out college graduation announcements to friends, family, and colleagues.  
College graduation parties may differ slightly from 8th grade or high school grad parties, as it can often be the student who plans and organizes this party themselves. Here are some college graduation invitation ideas that work to usher in this new chapter of life, ranging from formal to relaxed. 
10. Themed parties
Everyone loves a good theme—it provides a great way for everyone to dress up and bring the vibe to life at your venue. Try one of these ideas for graduation invitations, including "Moon Lagoon" for a beach-themed graduation event, or "Cap Off" for a throwback disco-inspired party. 
11. Funny invitations
Add a little bit of humor to your college graduation invitation with our funny invitation options, including "My Brain RN," and "Permanent Break." A touch of humor will make your invitation memorable and set the stage for a fun event.
12. Add confetti
Confetti is a go-to aesthetic for all kinds of celebrations, and college graduations are no exception. Paperless Post has plenty of confetti-themed invitations for you to choose from, such as "Classy Confetti," "Stars in the Sky," and "Grandest Grad."  
13. Get rowdy
We're all of age now, right? Say cheers to a new chapter with some beers. Some of our favorites for raising a glass include "Beers and Tears" and "Classy."
14. Bold Type 
Make your words pop with bold type invitations that allow your message to stand out, like "One Night Only."
15. Poster style
An epic celebration calls for an epic invite. Feature the star of the event with poster-style graduation invitations such as "Picture of Success" or "Graduated Check."
16. Keep it unique 
Make your graduation invitation one-of-a-kind and upload your college or university emblem to an invitation like "Tassel Time" to display your school spirit. 
Higher education
graduation party invitation ideas
Graduate school celebrations are for those who have gone above and beyond in their academic studies—think Masters, PhDs, specialized degrees, medical school, law school, and more. This is the highest level of academic achievement, so feel free to go all out in celebrating. Higher education graduation invitations can be fun, formal, or relaxed depending on the graduate's wishes and personality. These parties are also an opportunity for a classy event at a restaurant or an art gallery. However, they also make for perfect at-home parties. 
17. Formal affair
Formal invitations are perfect for an upscale event, possibly a black tie reception or a white coat ceremony. Keep it classy with elegant options such as "Diploma" or "Ionic."
18. Pop some Champagne
You can never go wrong with a bubbly-infused celebration. Celebrate with a toast by using one of our Champagne-inspired graduation invitations such as "Graduating Glass," or "Last Hurrah."
19. Gold accents
Gold represents the highest level of achievement, making it an ideal theme for higher education graduation parties. Check out our gold-themed invitations like "Tassels in the Sky" or "Josephine Baker."
20. Black and white 
A black-and-white event is as formal and classy as it gets, whether it's an upscale gala at a fancy venue or an elegant cocktail party at home. Set the stage with a sleek and timeless black-and-white-themed invitation like "Markham."
21. Modern
Prefer something more modern? We offer intelligent choices for design-focused grads like architects and artists. Add that cool factor with some of our most modern invitations like "Glittering Grad," "Checkerboard Grad," or "Grandiose."
"Glad Grad" by Paperless Post.
Tips for choosing graduation photos
Since many graduation invitations use photos of the graduate, it's important that you choose the right ones. Generally speaking, a graduate should receive four or five final images from their grad photoshoot and you'll likely have your own collection of fun and memorable photos to select from, too. Here are some tips on choosing the perfect photo for your graduation invitation:
Select a photo of the graduate on their own rather than with other people. This is their day, so make them the star! 

Choose a photo where the graduate is smiling so the celebratory tone of your event comes across with one glance at the invite. 

If you've selected an invitation that is very graphic and color heavy, pick a grad photo that has a minimal background so that the invitation doesn't look too busy. Alternatively, if the invitation design is minimal, you can choose a grad photo that was taken outdoors or at a more elaborate location.

If your graduation celebration is a formal one, opt for a photo of the graduate wearing a suit, dress, or graduation cap and gown.

If the party is more on the casual side, choose a fun candid shot that captures their personality, or go for a cute childhood photo to show how far they've come.
With our graduation party invitation ideas, invite wording suggestions, and expert tips for party hosting and choosing a photo, you're well on your way to planning a stellar celebration. Our wide selection of graduation invitations is fun and easy to customize for any kind of event—big or small, formal or casual. If you need some professional assistance in creating your graduation party invitations, don't hesitate to contact our Personal Design Services to get a helping hand in making your invites as unique as your graduate. 
Looking for supplies and decorations to make your graduation party shine? Stop by Paperless Post Party Shop for unique, elevated goods that complement our best-in-class online invitations.