Throw some color on your celebration with these Holi party ideas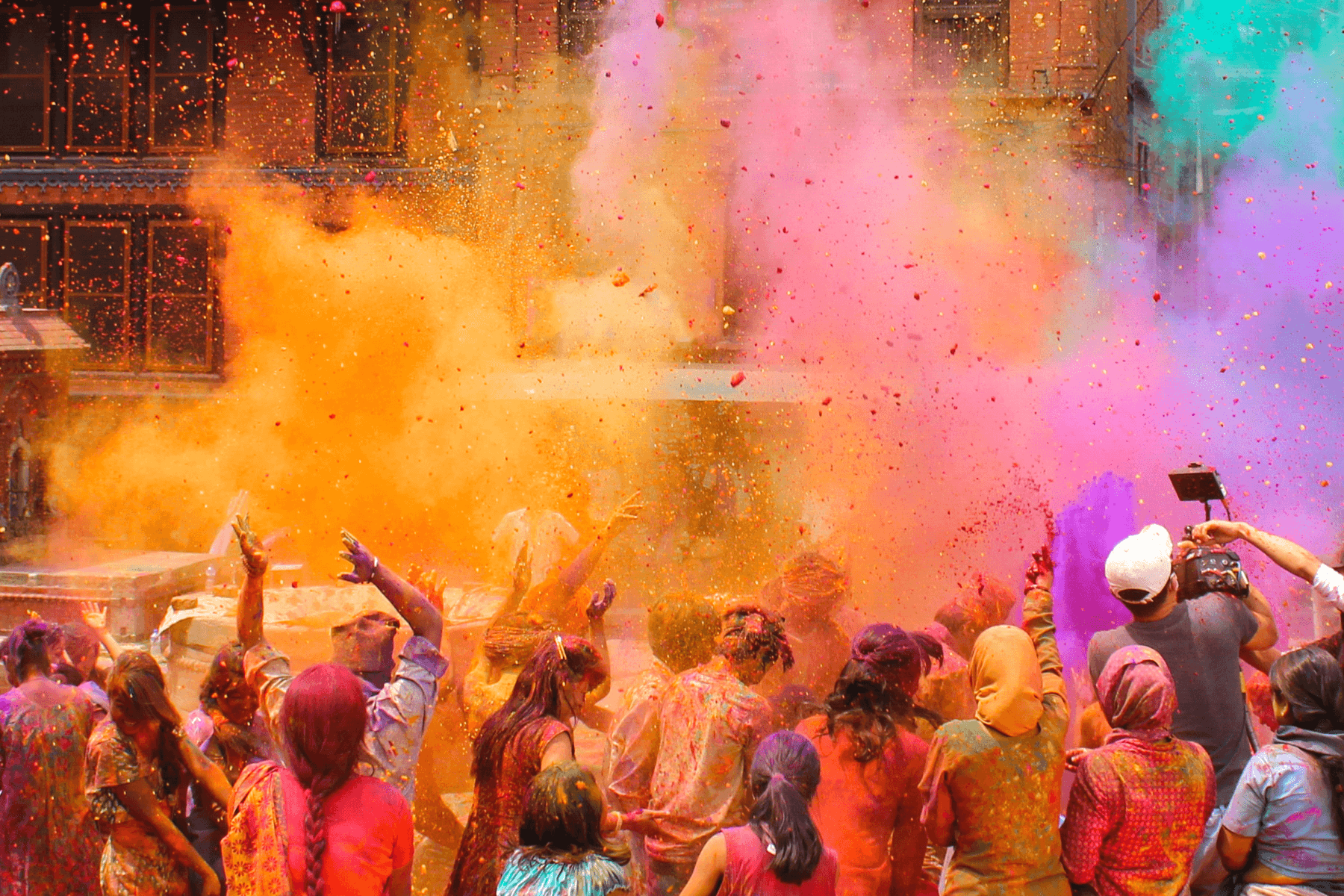 Play, laughter, and love are the essence of Holi, the Indian festival that marks the end of the dark and dreary winter and welcomes the bursting colors of spring. Each year, Holi kicks off the beginning of the spring growing season, and the festival is a chance to let loose and celebrate with family and friends, both old and new. Partygoers of all ages don all-white, eager to be covered in a kaleidoscope of colors at Holi parties around the world. It's a time to blow off steam, dance like the Bollywood star you are in your heart, and indulge in delicious fried foods. What could be better?  
Because Holi is all about saying farewell to negative emotions, sore relationships, and harsh winters, it's the perfect time to throw a technicolor party. Lucky for you, we have the most colorful Holi party ideas and the invitations to match. 
What is Holi?
Holi is a Hindu festival that celebrates the divine love between the Hindu Gods Radha and Krishna. As the story goes, Lord Krishna approached Radha and asked her to color his face in any color she wanted to, so that she would accept him as her lover. Holi also signifies the victorious devotion to the creator Vishnu, symbolizing that good wins over evil. Other Hindu traditions link Holi to compassion, forgiveness, and the resurrection of Kamadeva, the Hindu God of love. Holi is fondly called the Festival of Love, the Festival of Colors, and the Festival of Spring. 
When is Holi?
Holi is celebrated starting on the evening of the full moon day (Purnima) during the month of February or March (Phalguna) according to the Hindu calendar. This day is called Choti Holi (little Holi) and is often marked with a community bonfire. The following day (Rangwali Holi) is the main holiday that is synonymous with colorful Holi parties. 
In 2023, Holi falls on March 8th. 
What colors are used at Holi?
Holi is internationally known as the festival of colors, and Rangwali is the most popular event for Holi parties. To get started with your own Rangwali event, you can choose dry powder, water-filled balloons, and water guns filled with dyed water (called pichkari), all with the goal of getting each other as drenched in color as possible. There are no rules on Holi day and everyone, no matter their age, gender, or status, can sprinkle color on each other. Because the Rangwali can get rather messy (in fact, the messier, the more fun!), you should opt for a location with plenty of outdoor space such as your backyard, a blocked-off street, or a nearby parking lot or public park. 
To prepare for your Rangwali Holi party, purchase water-soluble bright-colored powders (called gulal). Plan for at least a half-pound of powder per participant. Set up mounds of colors at different stations so people can grab and throw. The most popular colors to play Holi with are blue, yellow, red, purple, pink, and green. Just make sure to ask your guests to wear old white clothes and shoes. White doesn't only signify peace and brotherhood, it also helps enhance the rainbow of colors on you! Let your guests know that Holi colors may permanently stain clothes, so they shouldn't wear anything they'd be upset getting dirty. You can also provide zip lock bags for the guests to store their phones while they play, and face wipes to use for cleaning up before it's time to eat.  
Pro tip: synthetic colors may cause skin and eye irritation and inflammation, so it is best to use naturally pigmented organic Holi colors derived from vegetables and flowers. If you're worried about guest allergies, you can ask them to let you know in your Paperless Post invitation and you can label the colors with their ingredients lists. As an alternative, sprinkle fresh flower petals on each other for an eco-friendly Holi. 
What are some Holi traditions?
 Looking to incorporate Holi traditions into your festivities? There are so many ways to add little touches of your culture or family traditions to the spring festival, including prayer ceremonies, collecting donations, lighting bonfires, attending community parties, and playing with colors. We've gathered some of our favorite traditions below to inspire you as you begin to plan your own Holi party.
Holika Dahan
Also known as the burning of Demon Holika. On the night before Holi, people gather around a bonfire and perform religious rituals to honor the victory of good over evil. An effigy to signify Holika is often placed on the fire and burned during the night of the gathering. It is believed that Holika got consumed by the fire in which she tried to kill her nephew, Prahlad, a devotee of Lord Vishnu. This historic event gave name to the festival and marks the triumph of good faith. 
Matki Phod
Another Holi event that deserves a spot in your celebration is the Matki Phod competition. Just suspend an earthen pot filled with cream or butter in the air (similar to a pinata) and encourage guests to work as a team to stack themselves in a human pyramid to reach it. This exciting tradition honors Lord Krishna, who was lovingly known as the "butter thief" for his affinity to dairy. For those party guests who don't want to participate, you can encourage them to cheer along with the chant "Holi Hai" and dance to your favorite Bollywood tunes. You can even provide drums and encourage your more rhythmic guests to get the crowd pumped with some live drumming.
Holi Mela
Not eager to host a Holi party at home? Gather your crew and attend a community event instead. You can search for a festival or fair in your area, many of which are held by neighborhoods, temples, Indian organizations, universities, and social groups. You can expect to indulge in lots of Indian food, traditional drinks, live DJs, and splashing colors to entertain everyone. The best part? You won't be expected to do all the clean-up after your family and friends head home.
How do you celebrate Holi?
Holi originated in the Indian subcontinent, but the ancient Hindu religious festival is now celebrated throughout the Indian diaspora. Some Sikhs, Jains, and Buddhists celebrate Holi too. If you're planning to celebrate with your community, we've got some tips to make it extra bright, colorful, and special. Remember to send your Holi invitations to guests at least two weeks to one month in advance so they can save the date (and you can track their RSVPs along the way). 
After you've got your guest list, you'll want to start your Holi party preparation about a week in advance. We recommend gathering wood if you plan to have bonfires, as well as shopping for colors, and ordering sweets and snacks. 
On Holi morning, it's time to decorate palanquin and do pooja ceremonies, praying for blossoming love and marriage, gratitude, brotherhood, internal peace, and forgiveness. If you're religious, you'll incorporate prayer at a home altar or visit your neighborhood temple.  
Typically, Holi parties begin soon after breakfast, so remember to let guests know when they should arrive. Because anyone is fair game to smear with color once a Holi party begins, be prepared! By late morning, everyone looks like a canvas of green, orange, yellow, red, and pink. Make sure to capture the merriment with photos and videos!
Holi parties can last an entire day or just a few hours, depending on how enthusiastic the crowd is. We recommend you account for at least two hours of playtime, followed by snacks or lunch. 
In the evening, it's time to wash up and change into your Holi finery for a seated dinner, gift exchange, and a night filled with poetry, music, and time well spent with family and friends. If you're planning to host just the dinner portion of the evening (and leave the color throwing to someone else), let your guests know what to expect and what they can bring to contribute (like their favorite dessert). 
Here are some fun Holi celebration ideas:
Holi Decorations
Decorate your home with Rangoli drawings and cloth paintings of nature motifs to create a festive atmosphere. 

Spruce up the party venue with colorful balloons, lanterns, streamers, and flower garlands. 

Create a Holi-themed photo booth with colorful props and a beautiful backdrop. Your guests will have a lot of fun posing for photos and have sweet memories to look back on.
Holi Food and Drink
Cook traditional Indian sweets, such as

puran poli

(sweet flatbread with chickpea stuffing),

gujiya

(flaky empanada filled with nuts), and

malpua

(fried pancakes soaked in sugar syrup). 

Invite your friends to a Holi potluck lunch or dinner party. For drinks, serve

thandai

– a refreshing cold drink made with milk, rose petals, saffron and spices. Offer traditional Holi snacks like vegetable pakora, dahi vada, and mathri. 
Holi Games and Entertainment
Create a Bollywood show tunes

playlist

and dance the night away. 

Host a musical talent show and ask guests to bring their musical instruments. Include traditional Indian

dhol

(drums) for authentic Holi beats. 

If it's warm enough, turn on the sprinklers for a "rain dance" party. To us, the perfect song for this moment is  "

Balam Pichkari

."

If you're hosting kids, ask them to entertain everyone with a Holi puppet show of epic Indian folk tales. Or hire a puppeteer to captivate the little ones.

Play

Holi bingo

featuring words associated with the festival, such as

unity

,

spring

and

rang barse

(pouring color). 
Holi party themes & invite wording
Holi parties typically involve drinking, eating snacks and sweets, and singing and dancing all day. Whether you plan to have large gatherings with pomp and show, or a small backyard get-together, we have the perfect invitation to help you invite your guests to your Holi party.  
Holi Celebration – You're invited to a colorful Holi celebration with dyes and music.
Holi Feast – Please join us for a Holi Festival feast with cocktails and dinner.
Bollywood Costume Party – Dress as your favorite Bollywood star or character and join us on the red carpet. (We have dibs on Shah Rukh Khan and Kajol)
Rang Barse – Holi Dance Off – You are invited to the ultimate dance party.
Holi Bonfire – Join us for a backyard bonfire and melodies as we celebrate the peaceful night before Holi.
Planning your Holi party with Paperless Post
There's so much to juggle when you're planning a Holi party, from communicating with your guests to finding the perfect white attire to selecting your Bollywood playlist. With Paperless Post, take the stress out of party planning with dozens of gorgeous invitations for your Holi party. Not only will these creative and memorable invitations be sure to leave an impression, but they can also be sent entirely online—no stamps or envelopes needed.
Can't gather in person with family and friends? Send a Holi greeting card instead.
Planning a big event? Don't stress. Paperless Post includes online RSVP tracking to keep your guest list in check—plus, you can message guests directly from the site. Plan your next Holi party today with a little help from Paperless Post!