These 33 going away party ideas are the perfect way to say farewell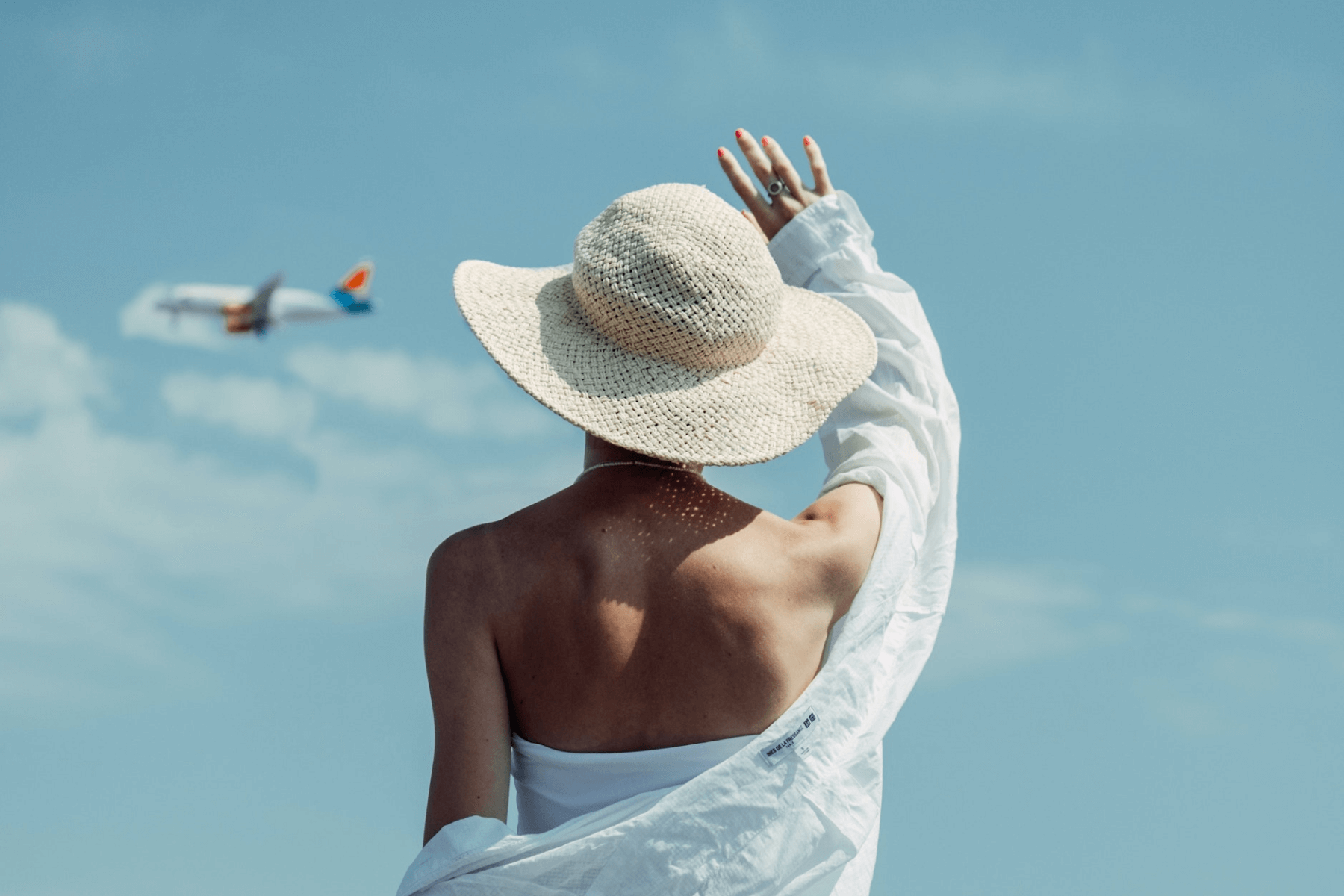 Goodbyes are an inevitable part of life. While they can be sad, they can also be a real celebration. Whether you're moving on to a new job or relocating for your growing family, leaving can be an opportunity for new, exciting things. And what's a better way to appreciate the people and places that you're leaving—while welcoming what's to come—than a going away party?
Going away parties come in all shapes, sizes, and budgets. Whether you're hosting a farewell party for yourself or throwing one for a friend, family member, or coworker, here are some farewell party ideas at different price ranges to help you get started. Plus, we've got some extra ideas for decor, food, and games that will lighten up any going away party. 
Going away party ideas
for friends
Making any sort of departure comes with a mixed bag of emotions, and a going away party can help soften the blow—especially when it's with your friends. Start with one of these farewell party ideas, and personalize it to fit your friend and their new destination.
1. Take a food tour through the city
For many, food is one of the main factors that defines a place and characterizes home. As one last hurrah, invite close friends and family on a food tour through the city that takes the group to some of the best diners, restaurants, and eateries. 
Stop by the favorites of the person going away, but sprinkle in some new, "always wanted to try it" spots.

Plan the tour around different courses—start with a spot that has good appetizers or small plates before moving to a restaurant with delicious main courses. 

Work in some breaks between restaurants to see some sights, take in the architecture, and otherwise enjoy the city while digesting.

Add a Travel Block to your invitation to show off some of the restaurants you'll be visiting. 

Ask each party-goer to chip in a set amount—use a Link Block on your Paperless Post invitation to provide your Venmo handle—so payment is easy at each spot. 

Cost:

$$$
2. Visit a local brewery, winery, or distillery
If your friend has a particular cocktail they love, organize a visit to a local spot specializing in that beverage. This can be a great opportunity for your departing friend to cross an establishment or two off their bucket list before they leave, and maybe it'll give them a reason to come back and visit more often.
Breweries, wineries, and distilleries frequently offer guided tours with tasting events.

They also usually provide food and refreshments.

If your city has several breweries or wineries, rent a bus to take you on a tour of all the breweries. 
3. Puzzle your way out of an escape room
Nothing says "I appreciate this friendship" like being locked in a room full of puzzles you have to solve together.
Escape rooms come in all forms, but the general idea is to solve a series of puzzles using your logic, teamwork, and general resourcefulness to find your way out of the room within a given time limit. Players might be blindfolded, or the escape room may have a zombie theme to create a sense of immediacy.
Find an escape room with a theme that honors your friend or your city.

Escape the room in time, and you and your friends have the pride of solving puzzles through the power of camaraderie. If not, it's still a fun time with your pals. 

Have some pizza and beverages to look forward to on the other side.

Let the games begin by using a

game-themed invitation

. 

Cost:

$$
4. Relax at a full spa day
Before your friend starts hauling boxes into a moving truck, set up a fully serviced spa day packed with rejuvenating activities.
Include massages, facials, and lounging in a sauna.

Set up a spa day at home, complete with comfy bathrobes and cucumbers on the eyes. 

Invite party-goers with a

spa day invitation

that gets everyone excited for some pampering fun.

Cost:

$$–$$$ (depending on location)
5. Create something new in a pottery class
Whether you're throwing some clay on the wheel or doing some freehand molding, pottery classes give your departing friend a chance to make a ceramic object that they can put in their new home.
Pottery classes involve instructors who help students turn lumps of clay into vases, plates, and other beautiful objects.

See if you can bring in refreshments, or find a bar to stop by afterward to admire your makings.

Invite party-goers with a

pottery-themed invitation

.

Ask guests to reserve their own spot in the pottery class, so you don't have to worry about payment.

Cost:

$$
Going away party ideas
for family
Whether your son is going to college across the country or your sister has taken a job teaching English overseas, try one of these special farewell party ideas for family to send your loved one off in style. 
6. Enjoy a backyard barbecue and movie night
A barbecue is a great way to enjoy time with the family without building too much structure into the activities. 
Fire up the grill and invite the family and some friends over—make it BYOB, or provide a tub of beer and sodas. 

Use a

barbecue-themed invitation

to entice all your guests.

Once the sun sets, project your departing family member's favorite movie or some fun throwback photos onto a large screen or blank section of wall. Pop plenty of popcorn and stock up on candy treats.

Cost:

$–$$
7. Compete in some friendly family sports
If yours is a sports-loving family, plan an epic game to send off your family member with fond memories. Whether it's a basketball tournament or a football match, you can get the whole family involved for some spirited competition.
Set up a field at your house, or see if you can reserve a field at a local park.

Invite family members with an appropriate

sports-themed invitation

. Use the Details Block to ask people to bring sports equipment or potluck fare. 

Make the family member of honor a team captain. 

Hand out trophies and MVP awards at the end.

Round it all out with some good grub and drinks after.

Cost:

$–$$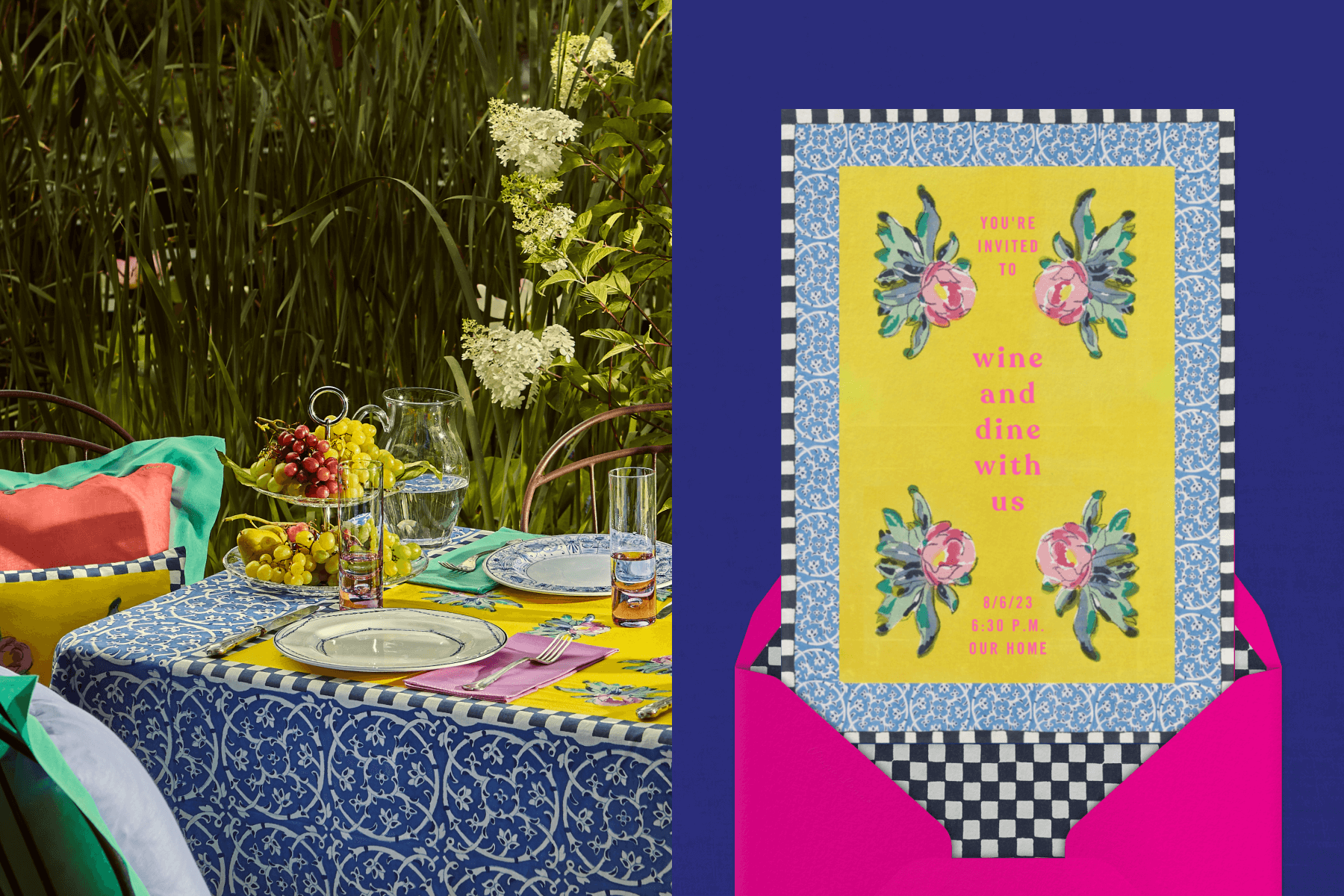 8. Invite a private chef for a delicious meal
Why cook something yourself when you could invite a private chef to cook a five-star meal for you? The best part is that you don't have to do much of anything. 
Choose your departing family member's favorite type of food.

Design and send a

dinner party-themed invitation

to your family.

Set up an RSVP-by date so the chef knows how many people to cook for.

The private chef will take care of the rest—from planning and prep to cooking and cleaning up. 

Cost:

$$$
9. Box up belongings with a packing party
Packing up belongings is one of the most time-consuming parts of moving—so why not get a little help from your family? It does take a bit of time and elbow grease, but it'll go by much faster than one person packing on their own. 
Supply plenty of boxes, packing tape, and markers to label things. 

Relive some memories with photos—you can supply them or ask the family member of honor to put aside their photo albums for party-goers who need a break.

Once everything has been packed up neatly, open up some bottles of Champagne and order up plenty of pizza to celebrate.

Cost

: $
10. Test your family knowledge with trivia
Trivia is a fun chance to put your family's knowledge to the test. 
Host at home, and order a pizza and some drinks to have while playing.

Include questions that only your family would get. What is Mom's favorite karaoke song? What did Uncle Steve get everyone for Christmas last year? Add questions about the guest of honor, too—and about the destination they're moving to.

Cost: 

$
Going away party ideas
for a coworker
You spend a lot of time with your coworkers and colleagues—enough that you develop important working relationships with them. It can be sad to see them go, whether they're heading off to another company or are planning to retire. Hosting a good, professional going away party with one of these farewell party ideas for a colleague is a chance to celebrate your work friend's successes while showing some appreciation.
11. Host a cocktail party
A cocktail party gives the office an opportunity to dress up and let loose with some adult beverages. 
Reserve a table or room at a local bar, or host the party at the office or your house.

For a special touch, work with the guest of honor to create a signature cocktail for the occasion.

Create a slideshow tribute to the departing coworker that highlights the employee's successes and contributions. You can also solicit speeches from coworkers.

Cost:

$–$$
12. Rent out a barcade
Combine the drinks and ambiance of a bar with the cabinets and pinball machines of an arcade—the humble barcade has become an important social space in the modern age. 
Hand out plenty of tokens for free games.

Hold tournaments for high scores at pinball and Skee-Ball machines.

Cost:

$$–$$$
13. Bet on yourself with a charity casino night
Say goodbye with a Vegas casino experience to send them off in style. Determine how much you can spend on food and drinks, so you aren't surprised by the cost at the end. Then:
Set up tables at the office hosting different games, from craps to blackjack to poker.

Let the crew know that any winnings will go to a charity of the departing colleague's choice. 

Provide some prizes for the employees who win the most chips.

Cost:

$–$$
14. Go out for one last happy hour
If you're having trouble planning a professional event, stick with what you know. Happy hours have always been a time for colleagues to let off some steam, especially after a hard work day. 
Use a

happy hour-themed invitation

to invite the whole company out to one last hurrah at your colleague's favorite happy hour spot.

Encourage toasts from coworkers. 

Ask attendees to pitch in for the guest of honor's drinks before the bill comes.

Cost:

$
15. Take them out to the ballgame
Root for the home team one last time with your coworker. 
Ask each party-goer to buy their own ticket in a specific section of the stadium.

Make it a truly special experience by renting out a suite at a baseball game or getting courtside seats at the basketball game for everyone.

Get plenty of concessions, drinks, and Cracker Jacks.

Cost

: $$
Going away party theme ideas for everyone
Giving your party a theme can really bring things together, elevate basic ideas, and help with the overall planning. Here are some going away party themes that work for any honoree. 
16. Combined party
It's not uncommon to combine a high school or college graduation, a birthday party, or a holiday party with a going away party as the friend, co-worker, or family member in your life moves on to greener pastures. 
Host at home, or rent out a local park or party venue for a larger crowd. 

For graduates,

party supplies

can include diplomas and cap-and-gown decor, along with logos, mascots, and other iconography of their school.

For holiday themes, you can deck the party out in their favorite holiday decor.

Supply foods that the guest of honor enjoys, but that also fit the combined party theme. A birthday party combined with a going away party can include a cake for each reason. 

Cost:

$–$$
17. A new city or region
If your friend or family member is moving to a new city, throw them a party themed after the city or region that they're moving to. 
Host at home in your backyard, or rent out a party space if there will be a bigger crowd. 

Include decor, activities, and food from the new spot. For example, if they're moving to Texas, you can have a cowboy-themed party, complete with cowboy hats, boots, and horses, along with the perfect

Texas-themed invitation

. For a new Arizonian, you can have a taco party where everyone makes their own tacos from a given spread.

Cost:

$–$$
18. A favorite monument or attraction
When you're looking for a venue, think about what your departing friend, coworker, or family member likes. What's their favorite place in the city? Is it a special monument or attraction? Is it a hole-in-the-wall cafe? Start your planning there. 
If the guest of honor lives in San Diego and loves Balboa Park, consider a picnic in the area.

See if you can rent out their favorite attraction, so your party won't be full of tourists.

Bring the guest of honor's favorite foods and drinks and reminisce about their memories of the attraction.

Cost:

$–$$
19. A pool or beach party
A pool or beach party is a timeless tradition, and it's a great way to say bon voyage in style.
Find a spot at a local beach, or use a friend's or family member's pool if you don't have your own.

Bring some coolers for drinks and cool refreshments, like fruit or cold sandwiches.

Add some

beach or pool party

decor. 

Learn the rules and regulations beforehand. For example, some public beaches do not allow open containers of alcohol or pool floats.

Cost:

$–$$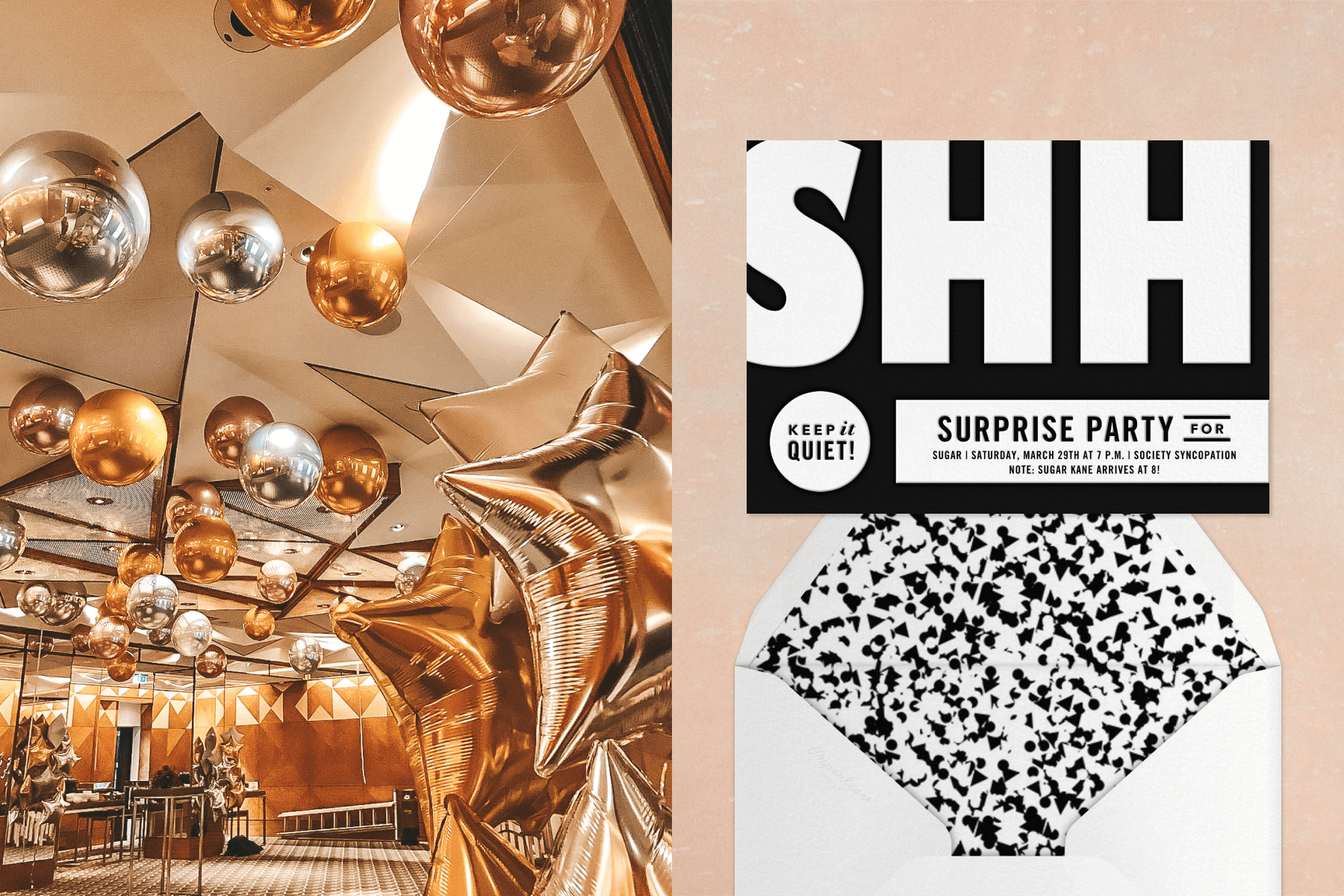 20. A surprise going away party
Pulling off an epic surprise party is the best kind of challenge. Keep the secret close, and choose co-conspirators who can help get the guest of honor to the right place at the right time.
When you send out

surprise party invitations

, use a Details Block to emphasize that it's a surprise.

Try not to sweat it too much if the secret does get out. 

Use a location that seems common for the guest of honor to go to.

Get help with food and drinks—and offer up some of the guest of honor's favorites.

Cost

: $–$$
Going away party decorations
The specific party décor you choose will depend on the party's theme and venue. Here are some decoration staples you won't want to forget, regardless.
21. A guestbook or guest board
Similar to a high school yearbook, a guestbook gives guests an opportunity to leave encouraging messages for the person going away. Instead of a guestbook, you can also set up a large poster board for guests to sign and decorate. Then, the guest of honor can hang it in their new home as a work of art. 
22. A photobooth or instant camera
Rent a photobooth for guests to take pictures for their own memories or to leave them with the person who is departing. Alternatively, set out instant or disposable cameras throughout the venue so guests can take selfies and leave the proof for the guest of honor to laugh at later.
23. Plants and flowers
Plants and flowers give a venue a festive vibe and add cheerful color. Pick out some small potted plants or bouquets to place throughout the space. At the end of the party, guests can take the plants home as party favors, or the guest of honor can take them to their new abode to make it a little more homey.
24. Commemorative glassware
Order special mugs or glasses that commemorate the occasion. Choose a fun design that resonates with the person moving away, and include the date of the party. Then, when they use the glass, they'll remember their friends and family in their old locale.
Going away party game ideas
While a lot of parties thrive on free time where guests can mingle, it doesn't hurt to fold in planned party game activities to keep everyone interested and excited. Try one of these going away party game ideas to get guests engaged and energized.
25. Board games
Pick out some favorite board games that everyone is familiar with or that have simple rules. Have some simple games available for kids, as well. Encourage the guest of honor to create teams and have a battle for the championship of their favorite game.
26. Scavenger hunt
A scavenger hunt can be an ongoing activity throughout the party. Set up items for people to hunt for—like someone with the same initials as you or someone who has visited the place where the guest of honor is moving to—or add activities that people have to do, like taking a bathroom selfie. Give each task on the scavenger hunt a point value. At the end of the party, give out prizes or funny awards to the people with the most points.
27. Would you rather?
Another standard party game, "Would you rather?" presents two seemingly difficult choices that guests have to vote on. Divide the room down the middle, and ask guests to stand to one side or the other based on their choice. This encourages both movement and laughter. 
28. Trivia
Trivia is always a popular game choice. To make it extra special, ask trivia questions specifically about the person leaving—or about their new destination—which can be a real test of who knows that person the best. The winner gets a special photo with the guest of honor. 
Going away party invitation wording ideas
The exact wording for your going away party invitation will vary, but every invitation should include the date, time, and location of the party and who's hosting it. Here are some additional components you might include if they're relevant to your party:
Dress code

Information about the theme

Activities guests can expect to take part in

Anything your guests should bring to the party

Guest Questions for dietary restrictions and preferences

RSVP-by date

A Comment Wall so guests can interact with one another and view pictures from the party after it's over. 
When it comes to the wording for corporate invitations or invitations for a best friend's farewell, you want to get it right. Here are some general messages to include on your going away party invitation so guests know what to expect.
29. Message for a special friend
Special friends deserve special goodbyes. Join us at [name of venue] on [date and time of party] to help us send off [guest of honor] in the most special way possible.
30. Serious message
You're an important part of [guest of honor]'s life. Join us to bid them farewell as they take the next step of their life's journey.
31. Message for a family member
Beloved members of the [family name] Family! [Guest of honor] is leaving town to begin a new phase of their life. Please join us at [name of venue] to send them off with love, happiness, and unsolicited family advice.
32. Surprise party message
Our much-loved mutual friend, [guest of honor], will be leaving town next week. To celebrate, we are hosting a surprise party at [name of venue]. No gifts necessary. Please attend if you can, and absolutely do not tell [guest of honor]!
33. Funny message
You are cordially invited to a going away party for [guest of honor] to say goodbye and ensure they'll miss us lots and come back for a visit soon.
Invitations they'll never forget, no matter where they go
Send Paperless Post farewell party invitations via text, email, or shareable link. Our online invitations are customizable and include guest management tools like RSVP tracking and guest messaging. Although it may be sad to see them go, a going away party commemorates the best times you've had with your departing friend or family member—especially if they're invited with a bright, witty Paperless Post invitation.
Browse farewell away invitations