13 birthday dinner party ideas that are both sophisticated and seriously fun
You say it's your birthday, and you're in need of some unforgettable birthday dinner party ideas. Well, you've come to the right place! Birthday dinners are a wonderful way to get your favorite people together, indulge in great food, and flex your creative muscles in one fell swoop. 
Planning a birthday dinner might look a little different from planning a typical dinner party, since birthdays usually involve a higher expectation of festivity. But don't let the anxiety that can come with throwing the best party ever get to you. The possibilities for a birthday dinner party are truly endless: you can go formal, casual, or somewhere in between. 
Reserve a table at your favorite bistro, hire a caterer, or whip up your own signature dish. After dinner, entertain guests with dancing, lawn games, board games, or a fire pit. Or make it a themed party—like "Lord of the Rings," The Roaring Twenties, '80s Hair Metal, or simply your favorite color.
To help you narrow down the options and solidify your plans, we turned to two of our favorite party gurus for tips and advice. Here, baker Aimee France and celebrity event planner Serena Merriman of Merriman Events share their birthday party expertise—and some of their more memorable experiences—to inspire your special celebration.
Planning a birthday dinner party
Whether you're hosting a small get-together or a fancy catered dinner, there are a few components that go into how to plan a birthday party. But don't stress—Aimee France's advice is to keep it simple, even if you're going big. "All you need is good food, good friends, good dessert, and good music." 
Meet the experts
Serena Merriman
specializes in event planning and decor, working with each client to create a visual and experiential storyline around the theme of an event.
Aimee France
is a self-taught baker based in Brooklyn, New York.
Here are the major points to keep you on the straight and narrow while planning your dinner party.  
What to plan ahead of time
Set yourself up for success, and get these tasks done ahead of time so you can slide into your birthday dinner party relaxed and ready to enjoy yourself.

Invitations —

Send your

birthday invitations

four to six weeks before your party to give guests enough time to plan around the date. 

Reservations —

If you're dining out, make reservations as soon as you have RSVPs from your guests (and set an RSVP-by date accordingly). 

Place orders —

Order the cake if you're not making your own. Order one to two weeks out for small cakes and one to two months out for larger or more elaborate cakes. Shop for any

birthday party supplies

you need, and reserve rental chairs and tables if you don't have enough of your own.  

Get help —

Hire a party planner if you want an expert touch for your birthday fest.  
Cooking not your forte? Place catering orders or hire an at-home chef to impress your guests. 
Solicit speeches —

Another special touch to plan ahead of time? Speeches. Says Serena Merriman,

"I think it's nice to have a speech at a birthday dinner. Have people prepare something ahead of time. Speeches are especially great for milestone markers."

Entertainment —

Looking to keep your guests entertained while they enjoy their dinners or as an after-dinner treat? Hire entertainers to wow the crowd. Just remember performers are busy people, so ask them well in advance if they are available. 

Invite your favorite people —

No party is complete without a guest list of your nearest and dearest.

"For a birthday dinner, I always think it's good to have a mix of loud and quiet people," says Ms. Merriman. "You need a party starter. Different flavors of people are a good recipe for a birthday dinner." 
Plan the menu
The menu is, of course, an integral part of any birthday dinner party. Who's cooking or baking? Are you ordering out, bringing in a caterer, or doing the cooking yourself? If you're DIYing your birthday menu, Ms. France recommends making the food in advance. "Everything has to be done ahead of time so you can mingle with your guests instead of being in the kitchen during the main event. For example, if you're going to make your own cake, you can make it the night before." 
For Ms. Merriman, it depends on how many people are on the guest list. "I don't cook if it's 40 people. I hire a caterer or a bartender, and I have a birthday cake made every year by a different baker du jour. Sometimes I'll get pizza delivered, and I'll make a big green salad. And you can have a lot of fun with a cheese plate." 
If you're not a foodie, don't fret, Ms. Merriman says. "I always tell people when they come to my house that the table will be different every time, but they'll probably eat the same food. Having a good time is equally important." 
Choose your tunes and entertainment 
Setting the mood at a dinner party will put your guests at ease and get them in the spirit of the celebration. If you're making a playlist, choose music guests can talk over during dinner. You can amplify the tunes afterward to get everyone up and moving around. 
If you want to add something special to the dinner, choose your activities for the night. Ms. Merriman says, "I like to have some element of a surprise performance. Add a balloon sculpture and drag queens. Last year I had a magician—he sort of blew our minds." 
Don't want to hire out? Ask your friends to entertain you. "Sometimes I'll ask people to bring their favorite poem or something they've written," Ms. Merriman says. "I love to get as close to a salon as I can—for your birthday, people are more likely to do it." 
When in doubt, get gussied up. "I also like to get dressed up," she says. "I think it's fun to get dressed up in your home." 
12 birthday dinner themes & decor ideas 
Part of the fun when you're planning a birthday dinner party is deciding on a theme, and then decking out your pad in festive decor to match. Ms. Merriman and Ms. France have a bounty of ideas for themes and decorations, from tablescapes and placeholders to colorful themes and innovative ways to jazz up your space—even the bathroom.
1. Keep it super simple
Your birthday dinner party doesn't need to have an elaborate theme in order to be festive. "I love a theme party, but I think sometimes it can be a little intimidating, especially when costumes are required," Ms. Merriman says. "Crowns are a fun way for people to feel united at the table without compromising their outfit." She also suggests creating a dinner party around a color. "I did a birthday party recently for a woman who loves green, so the theme was green. Everyone came in green, and we had green apples as place cards." 
2. Flex with your favorites 
What is the celebrant's favorite movie, music, or other pop culture moment? Use the answer as inspiration. Ms. Merriman remembers a particularly fantastical "Valley of the Dolls"-themed party for a friend's 40th birthday: "We attached the escort cards to pill bottles filled with candy. The table names were named after the characters. We had drag queens dress up like characters, and filled a pill piñata with all kinds of fun things." 
Don't fret if the food you serve doesn't match your theme. A beautiful tablescape and the right decorations and entertainment set a festive mood, though a thematic main course is always a nice touch.
3. Mastermind a milestone
Milestone birthdays make for especially fun parties. Ms. Merriman suggests that for milestone birthdays, make the theme and decorations all about the person you're celebrating. She recalls a 70th birthday party she organized for an Italian gentleman. "We took the book 'How to Speak Italian with Gestures' and used its pages as place cards. He loved opera, so we hired an opera singer from the Met, and she did a few songs at the end of dinner. We had Italian food and special biscotti made as a take-home treat afterward." 
Milestone birthday parties are a great opportunity to showcase what you know about the recipient, Ms. Merriman says. "It's nice to be creative and think of less obvious things—their favorite game to play, their favorite hobby, bingo. Activities where you can learn new things about the person are always fun."
4. Bust a move
Dance parties never go out of style—and according to Ms. Merriman, they're having a moment. "Everyone wants a disco ball incorporated into their party in some way," she says. "I did a party in May where we built a dance floor on top of their tennis court and had a disco party." If you don't have the space or wherewithal to build a dance floor, move the furniture to clear an area where guests can get down.
To fuel your disco-themed dinner party, concoct some '70s-inspired cocktails and set out fondue pots with sweet and savory sauces with plenty of fruits, veggies, and bread for dipping.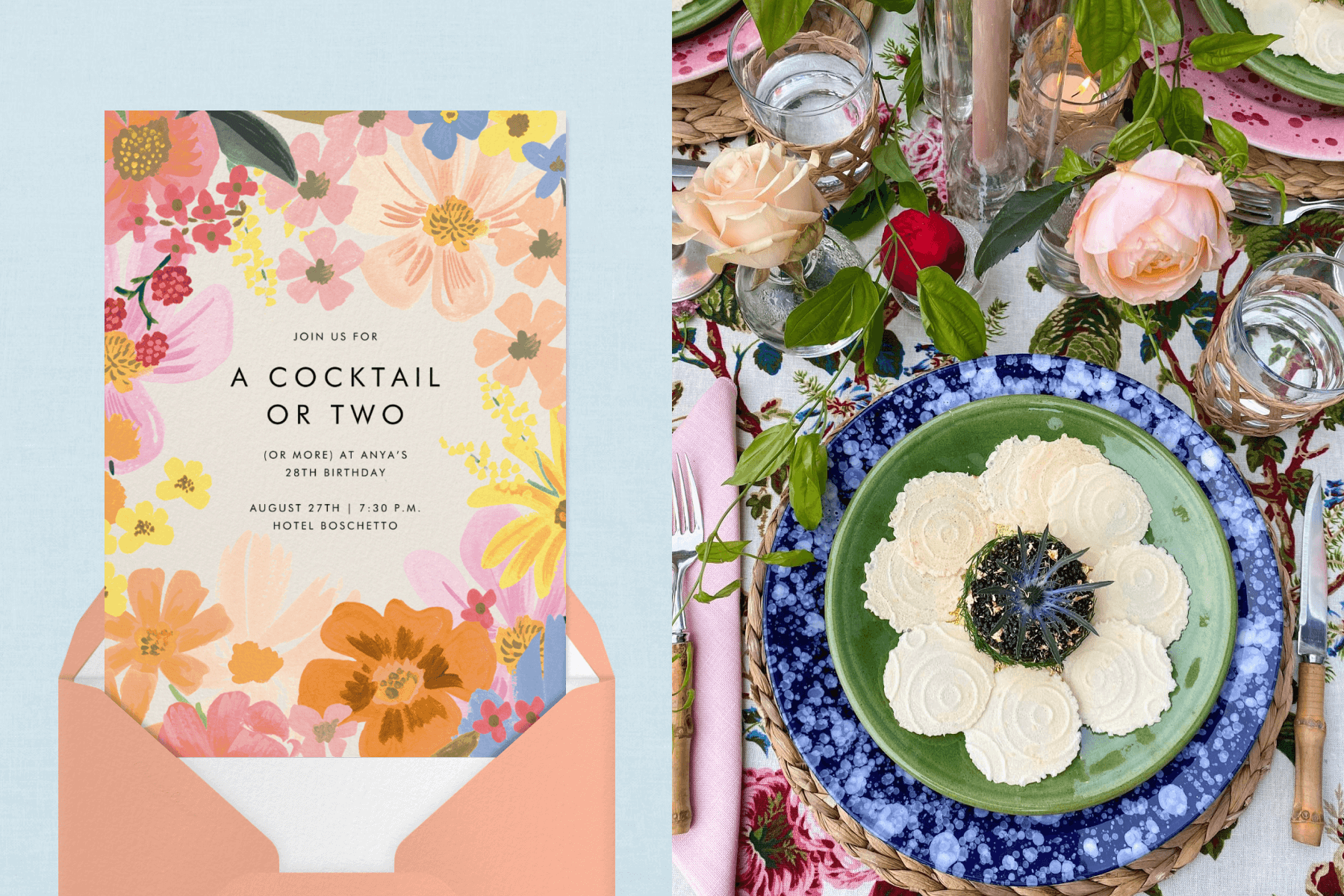 5. Spring a surprise 
Ms. Merriman loves to throw a surprise party and insists that the surprises don't have to stop once the celebrant walks through the door. "For a birthday dinner party, it's fun to have a surprise, interactive element at the table that people can play with and get involved." She also suggests spreading the surprises throughout your home. "Bathrooms can be a fun, unexpected thing: fill your bathtub with candy, fill the room with tons of balloons, swap out white bulbs for more colorful options. It'll become a total party room, an Instagram moment where people can take pics in the tub. People like to get weird in bathrooms, so you can kind of go crazy in there."
Where to host a
birthday dinner party
Before you decide where you'll host your dinner party, consider what type of atmosphere you're going for. Do you want a chill birthday party with a few close friends, or someplace cozy where you can get a little wild? No matter what you're after, there are plenty of places to have a birthday dinner. 
6. There's no place like home
Sometimes there's nowhere you'd rather be than partying with your crew in the comfort of your own home. For a casual birthday party, says Ms. France, "Try something low-key. A cute at-home dinner party like the ones you see on Instagram—nothing over-the-top, and no need to rent out a space. It'd be fun to cook with friends or make little bites to share." 
Ms. Merriman prefers birthday dinner parties at home, too. "I usually host at home because restaurants are expensive, don't feel personal, and you can't get as crazy. Plus, I don't love to have other people pay at my birthday party. Hosting your friends and cooking for them is an act of love. It's life as art."
But why not have the best of both worlds? "I've had a few clients request a special omakase chef who comes to your house," says Ms. Merriman. "On your typical night at home, you don't have omakase, so it feels unexpected." If raw fish doesn't float your boat, call your restaurant of choice and see if they'll cater. 
7. Dine out  
Gather a small group of friends and go out to your favorite restaurant—but don't forget to note additional planning considerations like reservations, party size, any dietary (or monetary) restrictions in your friend group, or reserving a private room. 
Need some restaurant inspo? Here are a few spots that make for a memorable birthday dinner party: 
Steak house

Sushi bar

Dim sum restaurant 

Korean BBQ 

Somewhere with rooftop access or outdoor seating
8. Unleash the unexpected
You don't have to limit your birthday dinner party to a restaurant or your home. Rent out a theatre, and play a double-feature of your fave flicks while your best friends gorge on candy and snacks. Round up your crew and dine on a boat. Book a flight on a hot air balloon and toast with a bottle of bubbly while you're floating with the clouds. It's your birthday—why not go big?
Birthday party invitation ideas to fit the vibe
If you need a few birthday invitation ideas, look no further than the huge selection of invites on Paperless Post. Whether you've got a theme picked out or you want to find an invitation that perfectly captures the vibe you're going for, our online invitations are sure to dazzle. Plus, they're customizable and come with easy-to-use features that allow you to track RSVPs, showcase photos of the celebrant, and update guests with party details.
9. Food-themed invites
A good, old-fashioned pizza party is a great way to feed a crowd—especially one with a variety of dietary preferences. A design like "Pizza Party" will get their mouths watering in anticipation. Or have a sushi party, and send out an invitation like "Omakaze." 
10. Surprise party invitations 
The key to a good surprise birthday party is cluing in the guests ahead of time. Let your invitees know to stay quiet with invites that say it all. Invitations like "Sign of Surprise" and "Olive Surprises" spell it out in neon, so it's impossible to miss.  
11. Memorable milestone invites
Celebrate landmark birthdays in style with milestone invites that shout it from the rooftop. "The F Word" is great for a gold-gilded laugh for a 50th, and "Living Large" and "Biggie" know how to make any number look good. 
12. Paperless Post favorites 
Allow us to introduce a few of our Paperless Post favorites, "Split the Tab," "It's All Wavy," and "Arch Day." These stellar birthday invitations are excellent for any theme (or no theme!). We love them, and we think you will, too. Find more birthday invitations in our carefully curated collection.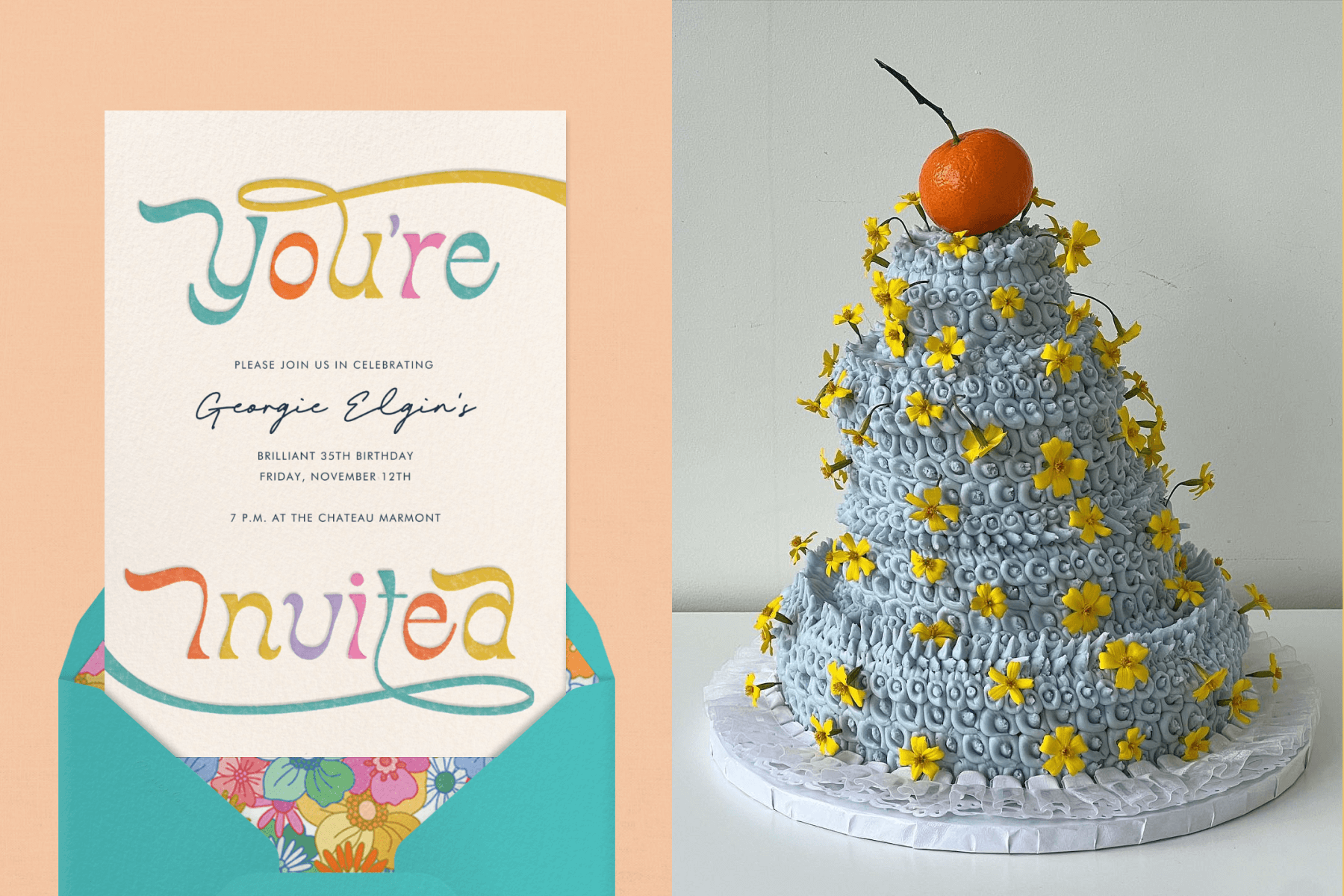 Make your birthday dinner extra-special with Paperless Post
No matter what theme or mood you decide to channel for your birthday dinner party, Paperless Post has a huge selection of birthday dinner invitations (and thank you cards for all the gifts you receive!). Choose from our best-in-class Cards and Flyers, and then head to the Paperless Post Party Shop to find all of the birthday party supplies you need for a special soiree everyone will be talking about for years—or at least until the next one.