Baby shower thank you card wording examples & etiquette
If you recently had a baby shower, or have one coming up, let us start off by saying congrats! Your baby shower is a special event you'll cherish for years to come. After the party, don't forget to send baby shower thank you cards to those who showered you and your new baby with gifts! Thanks to their generosity, you'll have most of the key things you need for your little one —from diapers and onesies to cribs, toys, and gift cards. Paperless Post makes it easy to thank everyone on your list!
When to send baby shower thank you cards
It's best to send out baby shower thank you cards within one month of the celebration or before the baby arrives (whichever comes first). You'll want to thank your attendees while their gifts are still fresh in your mind, and before you're busy taking care of your new addition. If you're tight on time, Paperless Post makes sending baby shower thank you cards fast, easy, and affordable. Choose your thank you card template, customize it with your desired wording,  backdrop, and envelope, and send instantly to your recipients via email, text, or shareable link.
Baby shower thank you card etiquette
Even if you thank someone in person, it's incredibly thoughtful and considered good manners to send a thank you note. If the party was a sip-and-see, the thank you note is also a convenient way to include a picture of the new baby (bonus points if he or she is playing with the baby shower gift in the photo!), so the recipient of the card has something to cherish.
Thank you cards for baby showers are much like any thank you card. When you're writing many thank you notes at once, it's easy for things to get generic and impersonal pretty fast, so we'd say the number one thing to remember is to personalize it. Here are some things you need as well as some things that make your thank you note special. The essentials:
1. Personalize your thank you message
If the gift-giver was at the baby shower party or on the Zoom call, mention how great it was to see them. If they weren't present, tell them how thoughtful it was that they sent you a baby shower gift. Haven't seen them in a long time? Reminisce about the last time you did, and say how you'd like to see each other soon or catch up over the phone. If the person is a close friend or family member, thank them not only for the baby shower gift but for being there for you through the pregnancy and everything else. Let them know you can't wait for them to watch your baby grow up. If the gift-giver is a coworker, let them know you can't wait to reconnect after your maternity leave. 
2. Mention the baby shower gift
You'd be surprised, but a lot of people forget who gave them which gift. Make sure you ask someone at the shower to keep track of what you open and who it's from so you can mention it specifically in your baby shower thank you wording. It makes a thank you note more personal. If the gift is something practical, like a bassinet, thank them for providing you with a key necessity, especially if it's something you've been eyeing. For a gift card or a generous cash gift, offer up some examples of things you can't wait to spend it on. If the gift is more on the fun side, like stuffed animals or adorable outfits, tell the giver you'll think of them when the baby uses it. Even better? Offer to send a photo of your baby with it once the time comes.
3. Include a photo
Including the gift in the photo is a bonus, but either way, it's likely the gift-giver hasn't met the baby in person and would love a personal photo. Even if your new addition was already alive and kicking for the shower, social distancing and the normal demands of distance and daily life may mean it will be a while before many loved ones get to see your new pride and joy. Use your baby shower thank you as a way to share a photo and reconnect, even if virtually.
Baby shower thank you wording examples
Thank You Banner baby shower thank card by Paperless Post
If you're hung up on the specific wording of a thank you note for a baby shower, don't stress. It needn't be complicated. Yes, your card wording can be simple. Better yet, we have some card wording ideas to get you started. If you choose one of our pre-formatted greeting cards, you can use one opening message for everyone, and then add a more personalized message.
We've included here some baby shower thank you wording ideas, as well as ones that are a little more tailored. Whether you want to keep it short and sweet or not spare any detail, these wording ideas will get your creative juices flowing and hopefully help you come up with just the right thing to say. Again, no matter what you choose, don't forget to include something that makes it personal, like the aforementioned thank you card etiquette.
Baby shower thank you wording for host
If you didn't host the shower yourself, make sure the baby shower host gets an extra special thank you card! No bells and whistles are required, though a small gift may be appreciated. The most important thing is to make sure they know how much it means to you that they hosted and helped plan such a beautiful baby shower for you and your new baby.
— Dear [Host Name], thank you for hosting my wonderful baby shower. I had a fantastic time. The food was great, the company was amazing, and everyone had a fun time playing the baby shower games. It was the perfect baby shower. I feel so lucky to have such great friends. I can't wait for Baby Boy to meet you all!
— First, you hosted my bridal shower, and now my baby shower! You amaze me with your thoughtfulness and hosting ability. Thank you for making the shower such a special day. From the custom invitations to the lovely baby shower games, you really outdid yourself! I am including a small gift certificate, and some of my favorite personal photos, as a token of my gratitude.
— Thank you for coming to my baby shower, and thank you so much for the wonderful gift! It's certainly going to come in handy once our new baby arrives. You're a lifesaver!
— I'm so excited to use [insert gift] once the baby is here. I've been eyeing this for so long, and I know it's going to make my life so much easier. Thank you also for making the time and coming to my baby shower.
— The clothes you gifted are too cute. I can't wait for our new baby to fit into them—I'll be sure to send you a picture of him/her rocking it when they do!
Baby shower thank you wording for a family
Baby shower thank you wording for gifts
— Thank you not only for the generous gift certificate but for being an amazing friend and sister. It makes me so happy to know my baby will have you in his/her life. There are so many more great adventures in store. 
— Dear Grandma and Grandpa, thank you so much for the diaper subscription and the cute booties. Every time Baby girl uses them, I'll think of you and smile. I'm incredibly lucky to have you two in my life, and I can't wait for you to meet the new addition to the [insert last name] clan!
— As always, it was lovely to see you, Aunt Jan. The flowers you brought to the shower are still brightening the house. Thank you so much for attending. My heart is full of gratitude.
Belated baby shower thank you card wording
If anyone's to be forgiven for a belated thank you card, it's a new parent. Be truthful and concise about the lateness of the card. But know your friends and family will be able to sympathize. You have a lot going on! They'll likely be impressed and/or surprised by the note.
— Oh my. It appears I missed the boat on a speedy thank you note. – Did you just rhyme? Yes, and they'll love it.
— I've been meaning to send this – This belated thank you card by Hello!Lucky, while originally a birthday thank you, can easily be edited to suit your post-baby shower needs.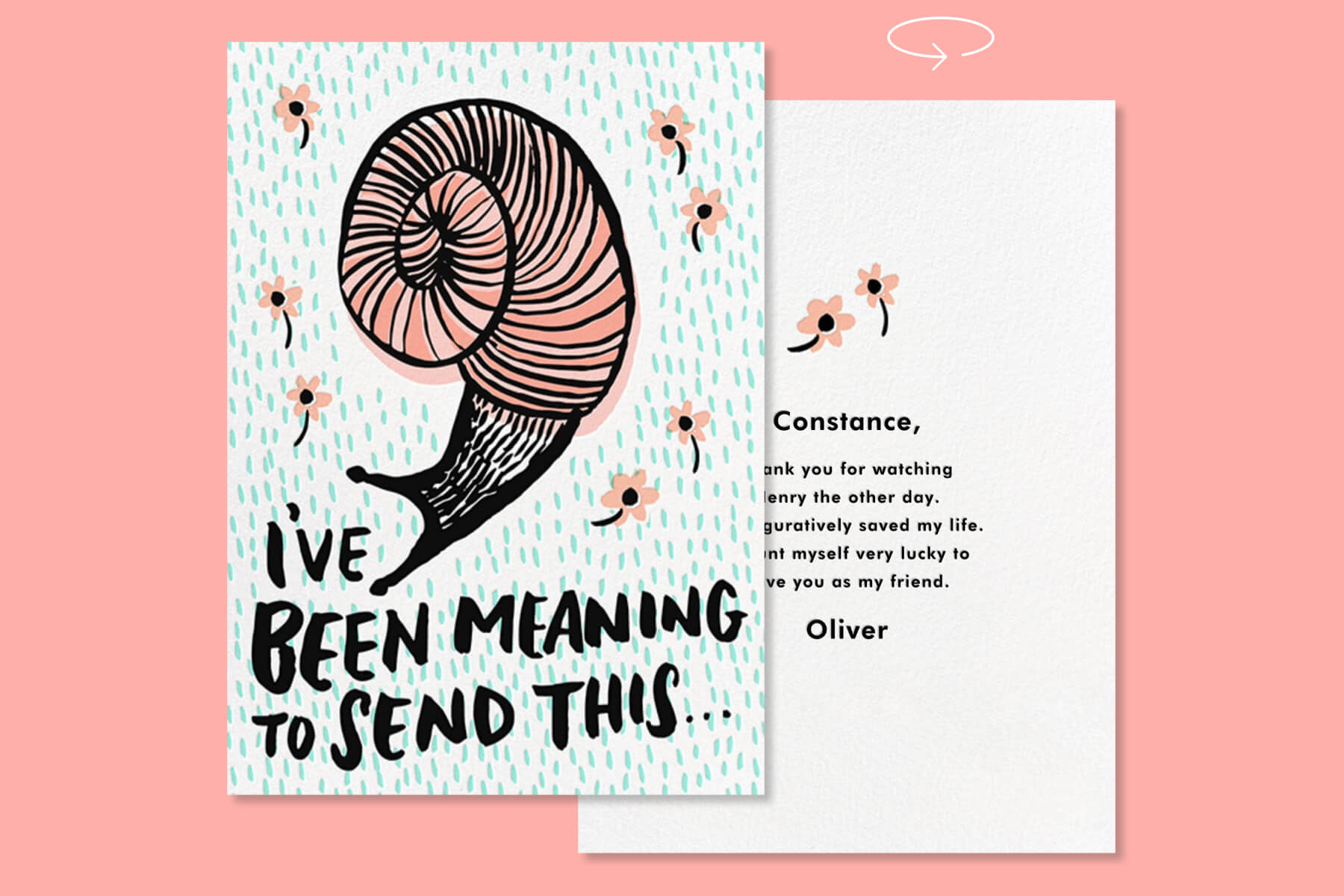 Online baby shower thank you cards
Below are online thank you cards that include sweet sentiments and, in some cases, a little humor. All of our online greeting cards are customizable, which means you can make the sample baby shower card wording (and everything else) all your own. 
— We are so tired thankful – If there's one thing friends and family will understand, it's how little sleep you've been getting. Give a wink with this Mr. Boddington's Studio card that expresses genuine thankfulness and surely will inspire a relatable chuckle from any other parent.
— Wildly Grateful – A little wordplay never hurts. This Hello!Lucky card is especially perfect if you had a similarly themed baby shower.
— Jungle March – Simple and sweet, this Little Cube thank you note is another perfect pairing for a safari, jungle, or animal-themed baby shower.
— Ocean Parade – This Petite Collage thank you note keeps things simple, using colorful and whimsical under-the-sea illustrations to help express your thanks for the lovely baby shower gift.
— Brushed thank you – Who can say no to pretty typography that has the look of textured paper? If this minimalist, artistic style is your aesthetic, go for it.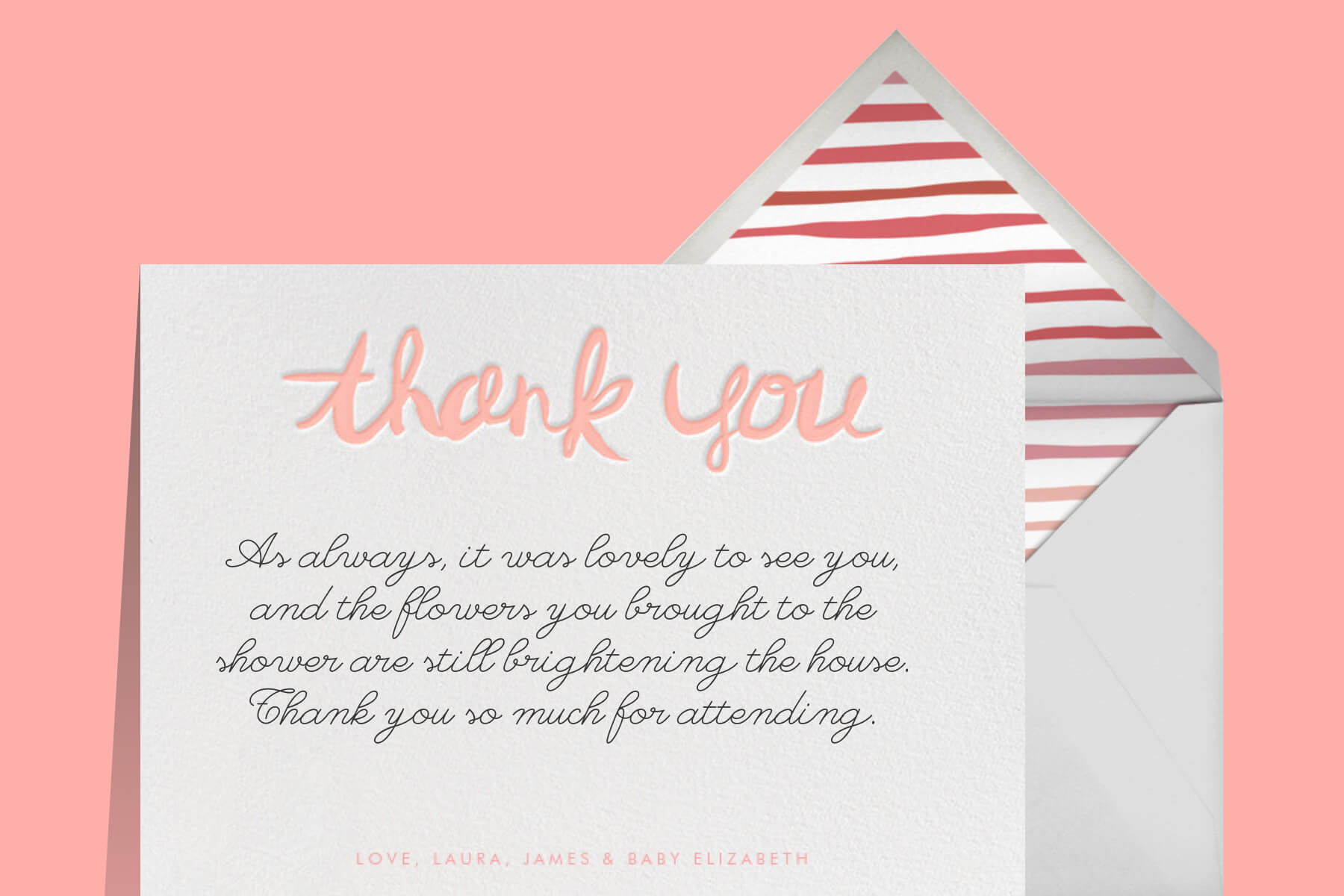 — Paddington Bear thank you – Say how "beary" grateful you are with a baby shower card featuring a famous, lovable personality.
— You are the sweetest – Give thanks on top of thanks with this Hello!Lucky card perfect for anyone with a sweet tooth, or a baby shower group gift that was extra sweet.
— Starry Slumber – These sweet watercolored baby shower thank you notes are reminiscent of bedtime stories and sleepy babies—and are almost just as cute.
— Dinos Might – Spring for some fun wordplay that sets you up for a thoughtful, personalized thank you. This Hello!Lucky card is even better if you had a dinosaur-themed baby shower!
— Ballet Slippers – Go for this pretty baby girl baby shower thank you card if you're eager to welcome (and want to hint at) a future ballerina.
— Blue stationery – This is a perfect example of an online thank you note that works for anything and everything, especially baby boy baby shower gifts!
Whatever you choose to write in your baby shower thank you, don't stress out about it needing to be perfect. What matter most is that it is heartfelt and authentic. You have plenty on your plate—and we're here to help with the "thank you" part. Online thank you cards are easy, affordable, and you can customize them to your heart's content. 
Paperless Post has custom invitations perfect for all the moments that matter. Need a hand with a custom baby shower thank you design? Our Personal Design Services team is here to help!