Totally tubular '80s theme party ideas
No offense to right now, but every once in a while, there's nothing better than kicking it old school—even just for a night. If you've found yourself yearning for a time when social media didn't exist and phones were still attached to the wall by a spiral cord; when shoulder pads and big hair competed for attention; when aliens snacked on Reese's Pieces and people did the moonwalk right here on Earth… then an '80s theme party is exactly what you need. 
Break out your acid wash denim and leg warmers and read on for our tips on how to throw the ultimate '80s theme party. 
Reasons to host an
'
80s theme party
While you don't really need an excuse to host an '80s theme party, some occasions that might lend themselves to an '80s bash include: 
— A birthday party for someone born or raised in the '80s
— A reunion or alumni party for '80s graduates 
— A retro game night
— An '80s trivia party
— A bachelorette or bachelor party 
No matter the occasion, your '80s party should make your guests feel as though you've traveled back in time. Immerse everyone in an '80s vibe by reflecting your theme in every facet of your party from the dress code to the decor to the invitations (of course). 
Not sure exactly what we mean? Take a chill pill—we're here to help you out. Let's dive into some specifics.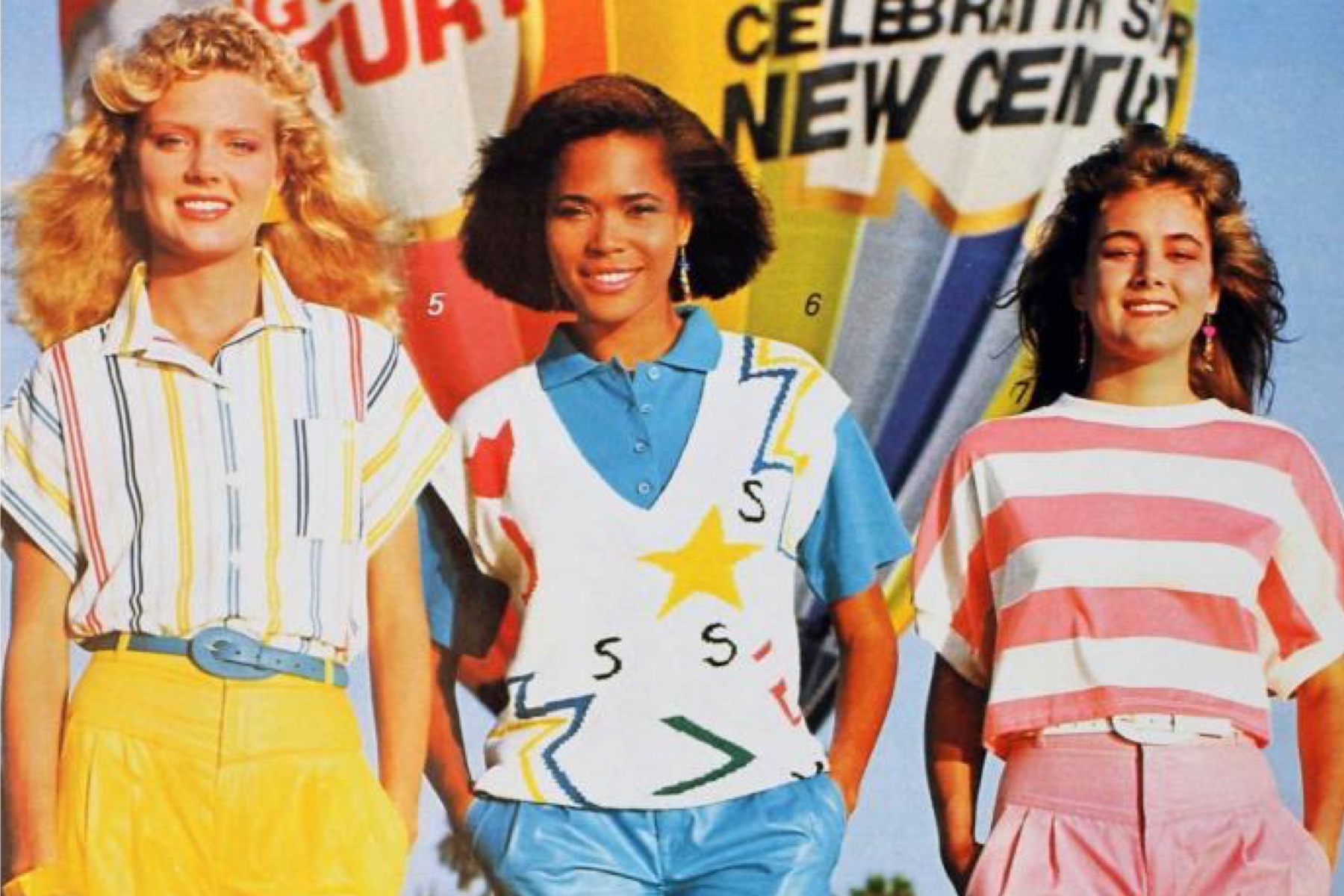 What was big in the 80's?
The '80s are generally regarded as a time when consumerism and materialism made a comeback in American popular culture. Young people were unafraid to spend the money they were earning, and that was often reflected in the things they purchased and the way they portrayed themselves. Clothing, hair, and makeup were bold, music was synthy and experimental, and a new wave of electronics—like the Walkman—meant that people could listen to exactly what they wanted, when they wanted and felt more comfortable expressing themselves accordingly.

A lot of the trends from the '80s—both in fashion and in music—died out by the end of the decade. But resurrecting them is part of the fun when you host an '80s party. Anything goes!
How do you dress for an 80's theme party?
Enforce an '80s dress code.
Eighties fashion trends broadened the color palette for clothes, makeup, shoes, and accessories, incorporating fluorescent pinks, electric blues, and highlighter yellows. So don't be afraid to go bold with your '80s theme party look. 
Along with the obvious—that being, shoulder-padded power suits, skin-tight spandex, and chunky leg warmers—there was so much incredible star-powered fashion in the '80s that it'd be a shame not to honor it. Ask your guests to take inspiration from some of the decade's most iconic celebs and taste-makers, a selection of whom are listed below.
Dress like a character from an '80s movie
The '80s gave us some great movies, many of which are now considered classics (and several that have gone on to spawn multiple spin-offs and sequels). Encourage your friends to watch their favorite '80s movies to get inspiration for their '80s party wardrobe. It doesn't have to be complicated—put on a red hoodie and blue jeans and presto—you're Elliott from "E.T." 
You can also coordinate with other guests to dress as the cast of your favorite '80s feature. Some of the best '80s movies for a group or duo to pull outfit inspiration from are: 
— "The Breakfast Club"
— "Fast Times at Ridgemont High"
— "Ferris Bueller's Day Off"
— "Back to the Future"
— "The Goonies"
— "Top Gun"
— "Heathers"
— "Dirty Dancing"
— "Labyrinth"
Dress like a music or fashion icon 
Music and fashion go hand in hand, and in no decade was that more evident than the '80s. Musicians were undoubtedly the biggest fashion icons of the time, with performers like Prince, Cyndi Lauper, Madonna, and Boy George inspiring the masses to dress and style themselves like they were moments away from being on MTV.

Here are a few other musicians and all-around famous people who set the style in the '80s (each one is ripe for the copying for your '80s party, of course):
— George Michael
— Princess Diana
— Grace Jones
— Pat Benatar
— The Bangles
— Molly Ringwald
— Michael Jackson
— David Bowie
— Run-DMC
— Michael Jordan
— Beastie Boys
— Salt-N-Pepa
Decorate with '80s style
If you want to plan a truly tubular '80s theme party, you can't forget about the details. Sure, what your guests are wearing is important—but you also want to transport them. No one's going to feel like they're back in the '80s if you keep yelling at your Google smart speaker to pull up your Spotify playlist, right? 
Here are some tips and ideas to get you thinking about your '80s party's ambiance. 
Choose a neon color palette
The '80s were a bold decade, so your party decor should reflect that. First off, stock up on as much neon as possible. Feel free to accent all your neon with some checkerboard and metallic elements, along with anything that reminds you of a Rubik's Cube. Your goal is to make the space you have look as much like a place the "Fame" cast would want to hang out as possible. 
Cover the walls with posters
If you're going for a teenager's-room-in-the-'80s vibe, hang era-appropriate posters on the walls. Hang a mix of movie and music posters: Any Blondie, Billy Idol, or Madonna posters will look right at home alongside "Ferris Bueller's Day Off" and "Pretty In Pink." For a truly gnarly vibe, add some Memphis-style geometric decals to the walls—you can peel them off when the party's over (or keep them… you never know what's going to come back in style!). 
Put out party favors
Make your party even more memorable by laying out nostalgic '80s-inspired favors your guests can pick up (and keep) throughout the night. They're fun props for pictures, and add to the overall look and feel of your '80s theme party. Any and all of the following would make totally awesome party favors: 
— Neon shutter shades
— Fishnet fingerless gloves 
— Slap bracelets
— Rubix cubes
— Novelty boom boxes and cassette tapes
— Mullet and perm wigs
What should you do at your '80s party? Plan '80s-themed party activities.
Although mingling and admiring everyone's radical costumes is bound to be a blast, all parties need a little activity to keep the energy elevated. Besides, a fun party game can give you and your guests a chance to really get into your '80s characters. Calling all method actors… 
Try one or more of the following activities to take your '80s bash to the next level.
Costume contest
A costume contest where every guest votes for their favorite '80s outfit can be a huge motivator for reluctant fashionistas to get into dressing up. No one's going to vote for your Flock of Seagulls group costumes if you haven't used at least two cans of hairspray per person—so either get into it, or go home. 
'80s Karaoke
Invite your guests to sing their favorite hits of the decade with an '80s theme karaoke party. There's little in this world more amusing than watching your friends try to hit the high note in Spandau Ballet's "True." Just wait. 
Don't want to spend hundreds of dollars on a karaoke machine? You don't have to! All you need is a microphone and a small amplifier. Then, search for karaoke versions of your favorite '80s hits on YouTube, which often include lyrics on the page (just in case you need them) (you probably won't). True, using the internet at all isn't overly authentic for an '80s party. But sometimes, it is what it is!
Retro video games
While kids from the current generation mostly associate gaming with their smartphones or high-tech consoles, you likely remember a time when your friends and family gathered around a Nintendo console or met at an arcade to play video games. By incorporating retro video games into your '80s party, you can delight your guests with classics, such as Tetris, Pac-Man, Duck Hunt, and more. 
'80s trivia or board game night 
Hosting an '80s trivia night is a fun and challenging way to quiz your guests on their '80s knowledge. See who remembers weirdly specific details about Princess Di's engagement ring, how many weeks "Thriller" topped the charts, or what city hosted the 1988 Winter Olympics. Print out trivia cards ahead of time and make sure you've got a solid mix of questions ranging from pop culture and politics to music, movies, and sports. 
If you don't want to create your own game of trivia, gather your guests around a table to play one of the most popular board games of the '80s—Trivial Pursuit. Whether you choose the standard version or the '80s edition, you're sure to invoke some serious '80s nostalgia. 
'80s dance party
Ask your guests to send you their favorite '80s dance hits in advance of your '80s dance party so that you have time to compile an epic playlist (bonus points if it's on a cassette tape). Rainbow party lights will help everyone get into the mood to get down. And you might want to put out tissues just in case someone starts crying when The Smiths come on. 
'80s movie marathon
Eighties movies and their memorable characters have left a lasting impression on how we view the decade (and let's be real—our everyday lives), so why not screen a few of your favorites with an '80s movie marathon? You can put movies on for background ambience, or pop a few bags of popcorn and get into the spirit with a theater-esque screening. 
While we've already mentioned teen hits like "The Breakfast Club," and "Ferris Bueller's Day Off," plenty of movie genres had their heyday in the '80s. 
Here are a few ideas to spark inspiration: 
— Horror/slasher – Well-known horror franchises like "Friday the 13th," "Nightmare on Elm Street," and "Hellraiser" all kicked off (and gave us nightmares for weeks) in the '80s. 
— Sci-fi – Some of the biggest movies of the decade belong in the sci-fi genre, including "The Empire Strikes Back," "Return of the Jedi," "The Terminator," and "Alien," just to name a few. 
— Action/adventure – The '80s gave us three "Indiana Jones" movies, and two installations of "Beverly Hills Cop." We really were not worthy. 
— Comedy – To get a laugh out of some '80s comedy, consider options like "Beetlejuice," "Weird Science," "Weekend at Bernie's," or any of the National Lampoon films from the era. You really can't go wrong.  
Serve '80s-specific snacks and refreshments 
Aside from socializing, people love coming to parties to eat snacks and toss back a few tasty beverages. Aside from simply filling up bowls with the sugary cereals and after-school snacks of yesteryear, there are a bunch of food trends from the '80s that are still just as satisfying as they were decades ago. 
Here are a few ideas for '80s-specific food and drinks you can serve at your event. 
Food

— BBQ chicken pizza: It's weird to think that, up until the mid-'80s, barbecue chicken pizza wasn't a thing. But it's true, and you should celebrate its blessed invention at your party. 
— Stuffed mushrooms: This fungus was among us quite a bit in the '80s, with stuffed mushroom caps served at cocktail parties across the country. They're easy to pop into your mouth and are quite customizable—fill a whole platter with mushrooms stuffed with various tasty ingredients. 
— Pasta salad: It's big today, but it was biggest in the 1980s. Fill up a salad bowl with this cold BBQ staple and then watch it disappear. 
— Dip in a bread bowl: Why did this ever go away? Hollow out a loaf of bread, fill it with dip, surround it with crackers, and there you have it—a novelty snacking vehicle with very little cleanup. Whoever wins your outfit contest can finish off the "bowl" as their prize. Kidding! Or am I? 
— Pesto anything: Italian food was all the rage in the '80s (though really, when hasn't it been?).  Pesto per sempre!

Dessert 
— Tiramisu: Again with the Italian influence—this decadent mascarpone and espresso-tinged dessert was the sweet on everyone's dessert dish during the '80s, and it should be at your party, too. 

— Frozen yogurt: Fro-yo was everywhere in the '80s, touted as a healthier alternative to ice cream. Set up a frozen yogurt bar with topping for guests to make their own "low-cal" sundaes.

Drinks

— Diet Coke: It first debuted in 1982, and your dad's fridge has never been the same. If you want to go all out, print off images of the original label and glue them to the cans you're serving. 
Looking to serve adult refreshments? Load up on wine coolers and shake up some Sex on the Beaches and Blue Lagoons.
"Wormhole" by Paperless Post.
Set the mood with the music of the era
While the well-known pop tunes of Madonna and Michael Jackson may be the first that come to mind when thinking about '80s music, many other genres and sub-cultures also thrived during the decade. 
While narrowing down your party soundtrack can solidify a certain mood, it's fun to involve your guest by asking them to collaborate on an all-inclusive '80s mixtape that incorporates a variety of '80s musical genres, including: 
— New wave
— Hip-hop
— Hair metal
— Punk
Even though a true '80s playlist would only exist on a cassette tape, the easiest way to get all your guests involved is to create a playlist on Spotify and share the link with them before the party. That way, everyone can add their personal favorites and everyone will feel like they contributed to the party. 
Choose an '80s theme party invitation
Once you've finalized your party details, get your guests pumped up with '80s-themed party invitations. Choose an invite from Paperless Post so that you can customize your invitations to match the exact style of your party, as well as hint at the activities that lie ahead. 
Check out some of our favorite '80s theme invitation ideas below:
"Mix Tape" by Paperless Post.
— Karaoke party – If you can't stand outside all of your guests' houses holding up a boombox, this card is the next best way to announce your party:
Come sing the hits
with Manny and Lola
Friday, November 12
The Blue Angel
38 Sternstrasse
"Confetti Party" by Ashley G for Paperless Post.
— Rewind the clock – Invite your friends to relive the past with this classic invitation:
Join Elijah Cook as he
turns back 
time to the 
1980s
at his birthday celebration
— Jazzercise – Want to get physical at an '80s aerobics party? Don't break a sweat—let this invitation do the work:
All Billy Pilgrim wants for his 26th birthday is to
party like it's 1989
Saturday, November 11th at 9 PM
22 Kurt Drive
Indianapolis 
Wear your best aerobics gear!
— Video games – Invite your friends over for an evening of Paperboy and Pac-Man at your house with this invitation:
Teddy and Rob Bhaer
invite you to 
an all-night affair of
video games
and junk food
Thursday, November 29th at 5 PM
399 Lexington Road
"VHS" by Paperless Post.
— Movie night – Gather your friends for an '80s movie screening (with or without the warped VHS) with this show-stopping invitation:
Jo and Friedrich invite you to a 
private film screening
of their favorite classic flick
Thursday, November 29th at 8 PM
399 Lexington Road
Let Paperless Post help you celebrate your decade
However you choose to celebrate the '80s, doing so with close friends and family will ensure a party that's as unforgettable as those wild '80s fashion trends. But first, you have to get your favorite people together. Paperless Post offers a wide selection of '80s theme invitations to fit any retro activity you choose—and with Paperless Post, you can customize your digital invitations to make them as gnarly as you are. 
Prefer to text your invites? All good. With Paperless Post, you can even send flashy animated Flyers in bold colors and styles that represent the flashiest decade the way you see it. 
RSVP "Yes" to personalized party invitations with Paperless Post.