Wedding thank you card wording examples and etiquette explained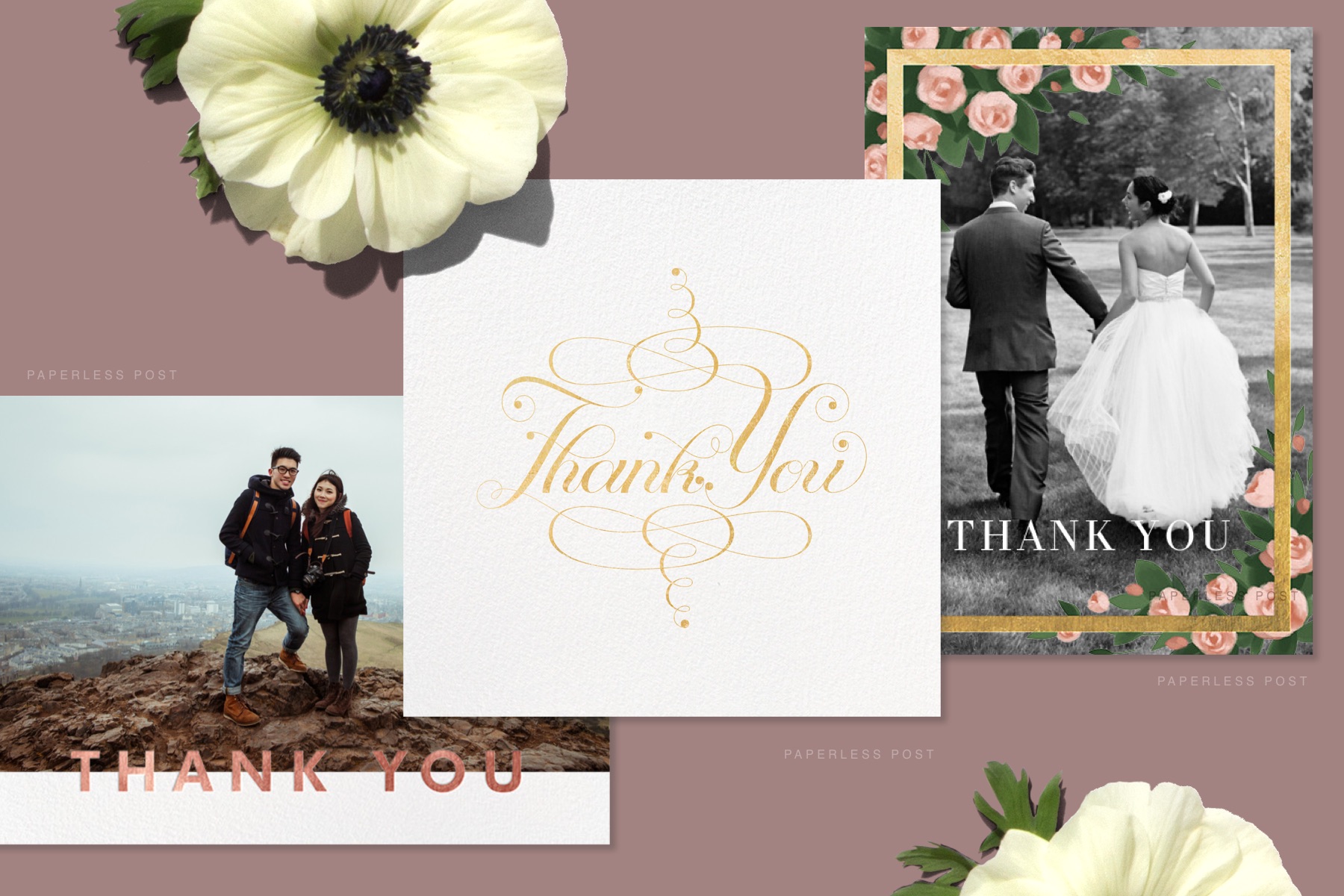 Every so often, a rumor goes around that you have a year to finish your wedding thank you cards. Like all rumors, you're better off ignoring that notion. Don't let your unwritten thank you cards pile up. Here's everything you need to know to get your gracious notes signed, scheduled, and, most importantly, delivered. 
When to send wedding thank you cards
For thank you notes in response to a wedding gift, you have three months to draft and send your reply. (FYI—Labors of love, like hosting a shower or helping the wedding planner with day-of coordination, are considered a kind of sentimental "present" and require a thank you note, as well.)
Card etiquette suggests writing and sending your note the very day you receive the wedding gift. Keep in mind that this is an organizational and time-saving tip, not a rule. Take on the task at whatever pace you need—try and get a little done every day. Otherwise, you'll find yourself with 100 unwritten notes and only a few evenings to write them. 
How to write wedding thank you cards
The gold standard for a wedding thank you note is a handwritten letter on you and your spouse's new wedding stationery (presumably with your new names, if they've changed) or a pre-printed wedding thank you card. For a more modern approach, try an online card over paper stationery. What matters most is that your note is personal, sincere, and written by you rather than pulled from a wedding thank you wording template.
Writing a thank you note can flummox even fluent wordsmiths, but don't let stage fright stop you-a simple note sent in a timely manner means a lot more than a work of genius that was never put to paper. Here's what a good thank you note should include:
— A greeting. Feel free to address close friends and family by a favorite pet name, but stick with a standard "Dear" for others.
— A thank you for the specific gift or service. If you're writing about money, "your generosity" is a handy euphemism.
— What their gift brought to your life. Are you using the corn cob holders at dinner? Were you relieved that your college roommate held the brunch? Will a distant aunt's check let you honeymoon in Rome? Say so-and feel free to embellish just a bit.
— A personal remembrance or note from your special day, even if it's just to say that you enjoyed seeing or hearing from them and hope you'll do it again soon.
— Another thanks. There's no such thing as being too thankful in a thank you note.
— A closing. "With love" never goes out of style, while "Sincerely" is a traditional choice that works for more distant relations.
— Sign it from both of you.
Who to send wedding thank you cards to
We're sure that you expressed your gratitude to every single one of your guests, whether you had a formal receiving line or made the rounds to each table. But, thank you notes are still in order after your special day. A thoughtful thank you note warms the heart, but it's also a chance to give your gift-giver a permanent reminder of the fun they had on your wedding day. While you don't need to send a personal message to every individual wedding guest, here's who you really ought to send a thank you note to:
— Anyone who gave you a physical gift. 
— Anyone who gave money. This includes guests who gave to your honeymoon fund or charity registry, as well as any benefactors who contributed to the cost of the event itself, or anyone who gave a cash gift or gift card the day of.
— Everyone in the wedding party. This includes maid of honor, best man, bridesmaids, and groomsmen.
— Hosts of the wedding and attendant celebrations. This includes wedding dress shopping, bridal shower, bachelor and bachelorette parties, rehearsal dinner, and post-wedding brunch.
— Wedding vendors who went above and beyond throughout the wedding planning process or in their execution. (optional—a glowing review on Yelp or other sites is an excellent substitute).
— Any loved ones who helped you out in a pinch or helped make the day extra special. Consider the people responsible for printing wedding programs, hand-delivering a lost wedding invitation, officiating your actual wedding ceremony, or who brought the funk to the dance party at the wedding reception.
Be sure wedding card language feels personal and thoughtful
When it comes to wedding card wording, the language should vary depending on who is reciving the card. If you don't tailor your messaging to feel personal, the thank-you cards you worked hard on creating may be overlooked or feel genaric. Below you'll find wording examples for each type of wedding thank you cards:
Wedding thank you card wording for someone who didn't attend
As with wedding invitation wording, sending out thank yous and gratitude cards may require special wording. But how do you write a heartfelt thank you card for someone who didn't attend your wedding? Here's how:
— Again, start with a greeting—"Dear" can skew on the formal side, but it's more appropriate in this case than "Hi." 
— A thank you for the thoughtful gift and support going into married life. If you're writing about money, consider saying "your generosity" or "your generous gift" instead. 
— The impact of their gift, e.g., "We'll think of you every time we eat ice cream with our beautiful new dessert bowls," or, "Thanks to you, our honeymoon will be that much more special."— If appropriate, mention how memorable and magical your big day was, and how you wish the gift-giver had been able to be there. If it's a close friend or family member, you may want to mention that you're looking forward to sharing memories and a wedding photo with them in the future. This is especially nice if you had a destination wedding that was hard to get to.
— Another thanks— "Again, thank you," "We really can't thank you enough," etc. 
— A closing. "With love" is sweet, "All our love" is sweeter still, and "Sincerely" is great for more distant wedding guests.
— Sign from both of you.
Wedding thank you card wording for money
When it comes to a monetary gift, here's how you can word your thank you card message: 
— Use a greeting you feel comfortable with. "Dear" is a little more formal, or for very close wedding guests, you may want to go slightly more casual by starting with names only. Remember to address each person at the party who attended your big day, as they presumably gave the gift together. 
— Writing about money can get a little awkward. It sounds a whole lot nicer to thank someone for their "generosity" or "generous gift" than "money" or even "monetary gift". Steer clear of mentioning specific amounts of money, too. In this situation, it's better to be vague.
— Mention how you plan to use the gift. You can be as specific (putting it towards your first home together) or vague (putting it towards our future) as you find to be appropriate, depending on how close you are to the gift giver. 
— Get a little personal. If they were at the wedding, mention a nice memory (or even just how much you loved sharing the day with them). If not, tell them how much the day meant to you and how you wish they could have been there. 
— Close things out with another "thank you":  "Again, thank you so much."
— End it "With love," "With gratitude," "All our love," or "Sincerely".
— Sign both your names. Hey, you're married now! Congrats, again.
Late wedding thank you cards
We're all human. If your three-month window has long passed you by, you may be wondering if a tardy note will end up compounding your embarrassment. We say: better late than never. 
Most modern guests are well aware that newlyweds aren't delaying their thank yous out of ingratitude. When you start your belated thank you note, offer a quick apology (with no excuses for the delay) and write the rest of your thank you note as you normally would. If you're still worried about sending out a late note, just think about how good you'll feel once it's done. 
Late wedding thank you cards wording
— Start your belated thank you note like any other: With a "Dear" followed by the names of all the guests in the same party/household who gave you the gift. 
— Next comes the apology. Make it snappy—there's no need to go into detail, and certainly no reason to make up elaborate excuses. Try something like, "Please forgive me for how late this is—time has truly flown by!"
— Then move on to the rest of the thank you note as you typically would: Mention the specific wedding gift (though it's better to call money "generosity" or "generous gift" than, well… "money" or "cash"), briefly explain how you plan to or have been using the generous wedding gift, and say something personal about celebrating the wedding with the gift giver. 
— "Again… thank you!"
— Wrap things up with a "With love," "With gratitude," "All our love," "Warm wishes," or "Sincerely"…
— And sign both your names. Now go ahead and just send it, already!
Wedding thank you card messages
Life, in general, can feel chaotic, especially adjusting to the newlywed life. Sending out one more wedding card can feel like a chore, let alone writing a custom message to each wedding guest. Paperless Post has beautiful wedding thank you cards with pre-formatted wording ideas, making thanking guests a snap. Customize your note with details of the gift, or a wedding vendor's amazing service. Thank guests for their thoughtful wedding gift, for attending your wedding ceremony, and for supporting you in your married life. 
NICOLE AND DICK,
THANK YOU SO MUCH FOR BEING A PART OF OUR BIG DAY. IT COULDN'T HAVE BEEN
MORE WONDERFUL, AND WE'RE SO HAPPY THAT  YOU WERE THERE TO SHARE IT WITH US. THANK YOU ALSO FOR THE BEAUTIFUL WEDDING GIFT. WE HAVE THE VASE IN THE KITCHEN!
WITH GRATITUDE, 
MARY AND ABE
"Marion Thank You" by Rifle Paper Co. for Paperless Post
PETER,
THANK YOU SO MUCH FOR THE WEDDING GIFT; WE'LL CERTAINLY PUT THAT LOVELY VASE TO GOOD USE.
WARM WISHES,
MARY AND ABE
THANK YOU!
THANK YOU FOR CELEBRATING OUR SPECIAL DAY WITH US AND WE LOVE THE WEDDING GIFT! IT WAS LOVELY SEEING YOU.
WITH LOVE,
SYDNEY AND DARYL
Now that you've got all the ideas to confidently write your wedding thank you notes with ease, it's time to choose a design that fits your style. With Paperless Post, you can choose from hundreds of digital thank you cards that are so perfectly you, or you can choose a photo card to upload a special memory from your wedding. Whatever design you choose, Paperless Post makes it easy to write and send your wedding thank you notes, all with the touch of a button.