9 trendy picnic party ideas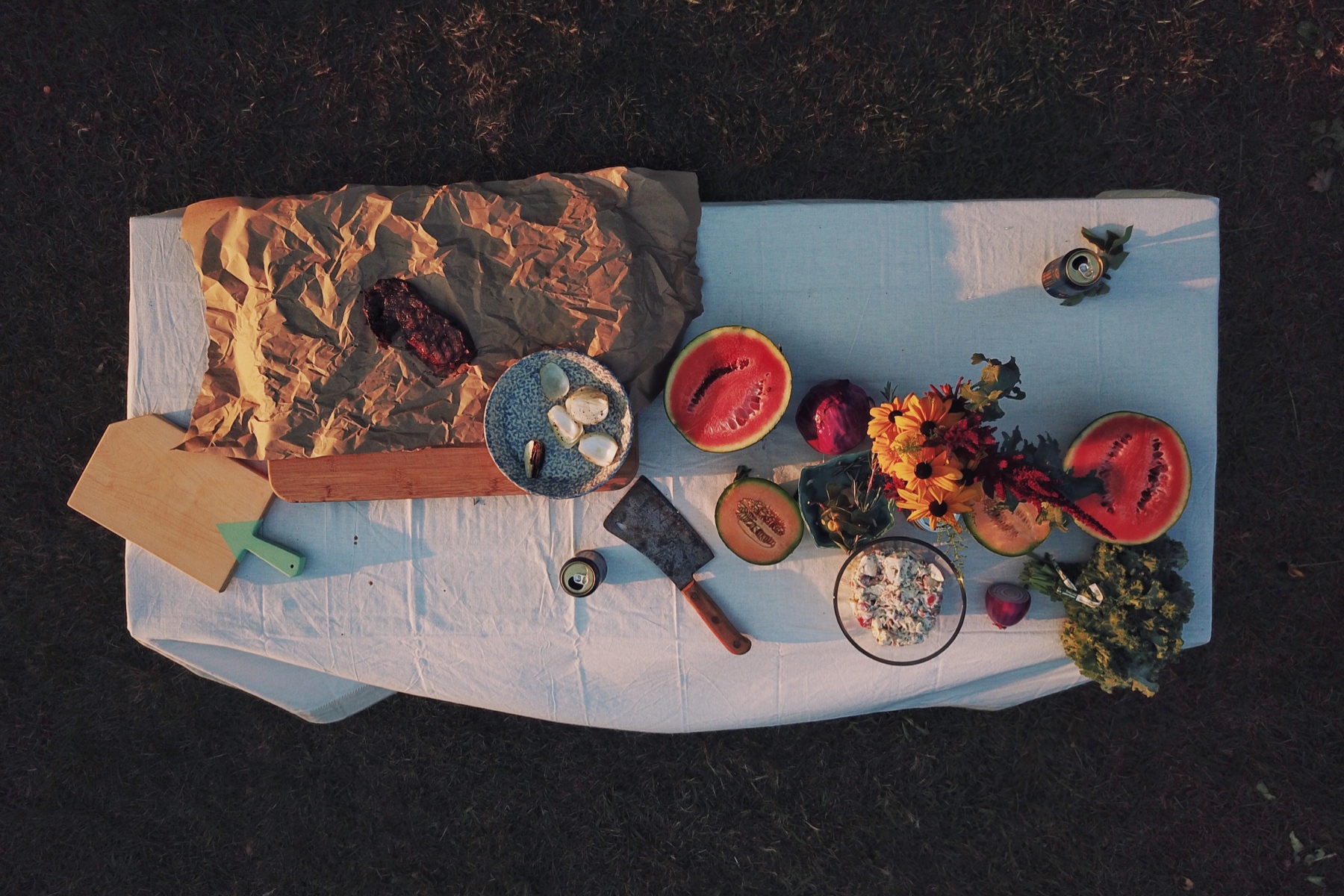 Picnic parties are a great way to get outdoors and enjoy the fresh air alongside some good company, especially in the summertime. This summer party theme is perfect for any casual or special occasion. That said, there are plenty of ways in which you can enhance the overall experience, turning a traditional picnic into a trendy picnic party your guests won't forget. From decor ideas to a themed summer party invitation, we've put together some top tips. Read on to discover some of our favorite ideas for throwing a picnic themed party.
1. Use fresh flowers
Flowers are a great way to truly embrace an outdoor setting. That said, putting together a bundle of flowers for your picnic will put a spin on a classic midday picnic. You can either gather a collection of flowers from your yard or head over to a local flower shop and have the florist put together an arrangement of your choosing
As for the placement of these flowers during the picnic, consider using a glass vase to create a beautiful centerpiece for your picnic party. The combination of flowers at the center of your picnic is a simple, yet elegant way to elevate the party. No matter what floral arrangement you choose, you can be sure that they will add a beautifully crafted aesthetic to your picnic.
2. Add some fun pillows
Pillows are one of our favorite outdoor party ideas. Not only is adding pillows to the layout of your picnic a cute way to elevate your outdoor lunch, but it also makes for a comfortable seating area that you and your guests will be able to sit back and enjoy. Once you decide the color scheme of your picnic party, add in some fun and unique outdoor pillows that compliment the overall theme of your event. 
If you are using a picnic blanket and are planning on floor seating, guests can use these pillows for extended comfort during the party. If your picnic extends into sunset hours, you may want to include some blankets in the set up as well. With that in mind, feel free to add as many pillows and blankets as you'd like—the comfier the better!
3. Create a fruit and cheese board
When it comes to planning food for your picnic party, consider making a fruit and cheese board for you and your guests to enjoy. Not sure where to start? Consider the following tips for creating a perfectly paired cheese and fruit board for your picnic:
Select fruits that are in season
For a perfect tasting spread, consider the fruits that are in season during your picnic party. For example, if you are having a summertime picnic party, berries, plums, and cherries are all great options as they are at their peak when it comes to flavor.
Use a variety of cheeses
As for the cheese on your spread, you will want to use at least three different types of cheese, especially when it comes to texture. For a spread that looks just as good as it tastes, choose a selection of cheeses from soft textures such as brie or goat, to hard cheeses such as cheddar or gruyere. You can even include crumbly cheeses as well, such as feta or gorgonzola, to pull the flavors and textures together. 
Other fruit and cheese board staples
Aside from the main focus of the fruit and cheese spread, don't be shy when it comes to getting creative and adding more to your board. Here are a few additional finger food ideas you can't go wrong with when adding to a fruit and cheese board: 
– Crackers
– Olives
– Prosciutto or salami
– Nuts
– Cornichons 
– Dark chocolate
4. Homemade refreshments
As far as drinks go, homemade refreshments are always a tasty way to keep cool on a warm, sunny day. That said, homemade lemonade is always a great option for any summer picnic party. However, for a drink that is a bit less sweet, yet still refreshing, consider fruit-infused water.
The best part about fruit-infused water is you can use just about any combination of fruits, making the options for flavors endless. Here are a few favorite fruit combinations for fruit infused water:
– Pineapple, orange, and strawberry
– Strawberry, raspberry, blackberry
– Cucumber, honeydew, mint
– Watermelon and kiwi
However you choose to make homemade refreshments, you can be sure that the extra love that you put into making these tasty drinks will not go unnoticed and will be a hit among your guests.
5. Use a tapestry for your picnic blanket
Traditionally, red and white checkered blankets have been used for picnic blankets over the years. However, there are plenty of options when it comes to setting up a picnic party that take a slightly different approach. 
A tapestry, or any woven and decorative fabric of your choosing, can be used to transform a traditional picnic area into a trendy outdoor spread. When choosing a tapestry or textile to layout as the base for your picnic party, select a theme and a color of fabric that best suits your event. From there, you can fill the space with pillows that match the overall theme of your picnic party. In doing so, you will be able to turn a classic picnic get together into an aesthetically pleasing, personalized picnic party.
6. Individual Italian sandwiches
Aside from the fruit and cheese spread, individual Italian sandwiches are another easy, yet delicious way to feed your guests. That said, Italian picnic sandwiches are a tasty option and can be easily altered for vegetarian guests as well. For a typical Italian sandwich, you can use ciabatta bread and fill the sandwich with Italian cured meats of your choice with lettuce, tomato, and onion. For a vegetarian option, you can make a classic Italian Caprese sandwich. 
Feel free to add some light and easy-to-pack sides as well. Some good options for picnic party sides include:
– Savory chips
– Fresh cut veggies
– Chopped salad
– Ice cold watermelon
7. Use real glassware 
Instead of using plastic cups, consider using glassware during your picnic party. The presentation of the glassware, as opposed to plastic cups, will undoubtedly elevate the overall look and feel of your party. The sunlight will also reflect beautifully off the glassware.
When it comes to using glassware, you will be able to transform the look of your picnic party, and in doing so, you are also helping save the environment at the same time. Even if you clean up well after your picnic, leaving nothing behind, using plasticware has a big impact on our planet. With that said, consider opting for glassware over plasticware when setting up for your picnic party. It's a win-win for both the look of your party and the environment.
8. Plan a birthday picnic
Birthday dinners and parties at night are always nice, but there's something fun and unique about celebrating your special day with a picnic in the sunshine. Start by choosing a location to fit the vibe of your birthday picnic—it could be at a nearby park, on the beach, or in your own backyard. You can choose to make it as casual or fancy as you want, just let your guests know what to expect—and what to bring—in advance. (By the way: Since this is your day, you also might be able to lay low and let your guests do most of the heavy lifting.) 
Set a festive mood by securely tying balloons to a sturdy structure, be it a tree or a chair. You can also add shiny streamers. If a boozy picnic is one of your birthday wishes, bring coolers large enough to chill all your guests' beverage contributions. As for food, shareable finger snacks are a must—and you might want to opt for cookies or cupcakes instead of cake, which require less silverware and plates to indulge in. No matter what kind of yumminess is holding your birthday candle, be sure you fully extinguish all flames when you finish your birthday picnic party, and collect all your waste and recycling before you take off. The goal is to leave the location around you as beautiful as it was when you found it. 
9. Create a picnic themed invitation
One of the most important and exciting parts of planning a picnic party is sending out themed invitations to all of your guests. A themed invitation lets your guests know what type of event you will be throwing while providing all of the necessary information all in one place. While it's one thing to include it in the wording, be sure to select an invitation that communicates the picnic theme in the design.
Another eco-friendly tip for a picnic party is sending online invitations. At Paperless Post, we offer a variety of customizable, online invitations for any occasion. When it comes to picnic parties, you're in luck! We have a wide collection of picnic party invitations that suit any and every picnic party, no matter how you choose to style it. 
Not sure what to include in your invitation? Check out our tips for summer party invitation wording.
Time to start packing and planning for your picnic!
Now that you have some ideas in mind regarding how to transform a traditional picnic event into a trendy picnic party, you can get started on making this event come to life. In the next step of the planning process, you will want to be sure that you have an accurate headcount when it comes to how many guests will be attending. Knowing how many guests to expect will help determine how large of a picnic space to set up and how much food and tableware you should plan to set up for. 
With Paperless Post's RSVP tracking, you can conveniently stay on top of your guests' responses and send quick, one-click reminders to those who you have not heard back from yet. With easy to use RSVP tracking, the planning process is made much more efficient, leaving you with more time to focus on the details of your picnic party. 
Start crafting the perfect invitation with our collection of beautifully-curated designs today.