Pamper your tween with a spa-themed birthday party
As anyone who's been there can attest, being a tween can be truly exhausting. What better reason to treat your almost-teenager to a relaxing spa-themed birthday party? 
But don't stock up on fluffy robes and monogrammed slippers just yet. Before you've invited all your kid's friends over for a day of self-care and tasty treats, read on for our favorite spa day birthday party hosting tips that'll make planning feel as chill as the party, itself. 
Choose colors and themes for relaxation and fun  
A spa birthday party can be a wonderful way to treat your tween and their guests to a day of leisure and plenty of joyful moments. To plan a unique, memorable spa birthday party, consider adding a fun twist that truly celebrates the birthday kid for who they are. 
Here are a few ways to individualize your spa party theme and color scheme: 
— Beach resort spa party: If there's anything better than a trip to the spa, it's a trip to the spa while you're on vacation at the beach. Add a seaside spin to your spa party with pink, orange, and turquoise colors, and look for decor with motifs of palm trees, seashells, and waves. Be sure to add some beachy music to your party playlist.
— Mermaid spa party: For a spa party that delights a younger group of tweens, you can't go wrong with a mermaid theme. Try a color scheme of purple, teal, and gold, and look for decor that comes with charming mermaid details. This is an excellent party to host poolside, if possible.
— Garden spa party: To elevate your spa party for older tweens, try a garden-themed spa party that incorporates gorgeous flowers and dainty designs. Try a color scheme of pink, gold, and white, paired with a few floral arrangements, flower petals, and garden-themed decor. If the weather is nice, you can even do your spa lounging out in a real garden.
— Spa party under the stars: This theme adds an enjoyable spin to any sleepover spa party. Add nighttime spa decor with moons, stars, and sparkles, and try a color scheme of blue, purple, and silver. Deck out of the party room with plenty of cute, comfy pillows and put on a few tween-friendly movies to enjoy during the party activities.
Plan some pampering activities
Put on a spa-inspired playlist, slice up some cukes, and prepare to pamper. These spa-themed party activities will allow both the birthday tween and their guests to indulge in a fun-filled day of relaxation and delight.
For spa party activities that feel like a real treat, try these ideas:
— Mani/Pedi station: Fill a small table with nail polish, nail files, and some stick-on gems or nail stickers. Have guests take turns glamming up their nails, or hire a grownup to do some fancier work. Once the party guests have their manicures and pedicures, have them dance around to some music and wave their hands in the air while the polish dries.
— Face masks: Set up some chairs where partygoers can recline and try on a mud mask or sheet mask. Add a plate of sliced cucumbers that the tweens can pop over their eyes for a truly cool spa experience.
— Flip-flop decorating: Once the tweens have pampered their toes with pedicures, they'll need some fancy flip-flops to show them off. Provide some plain flip-flops or have each guest bring their own and set out supplies they can use to decorate them. We love the suggestions at Momtastic to use fabric strips, washi tape, stick-on gems, or yarn for an easy but fashionable craft.
— Mini makeovers: Set up a table with some fun but simple makeup for tweens—think sparkly lip gloss, colorful eyeshadow, and blush. You can also add some cute hair clips and temporary tattoos. For extra fun, have each guest serve as each other's "makeup artist" and have a grand reveal when the makeover is finished. Don't forget to take before-and-after photos.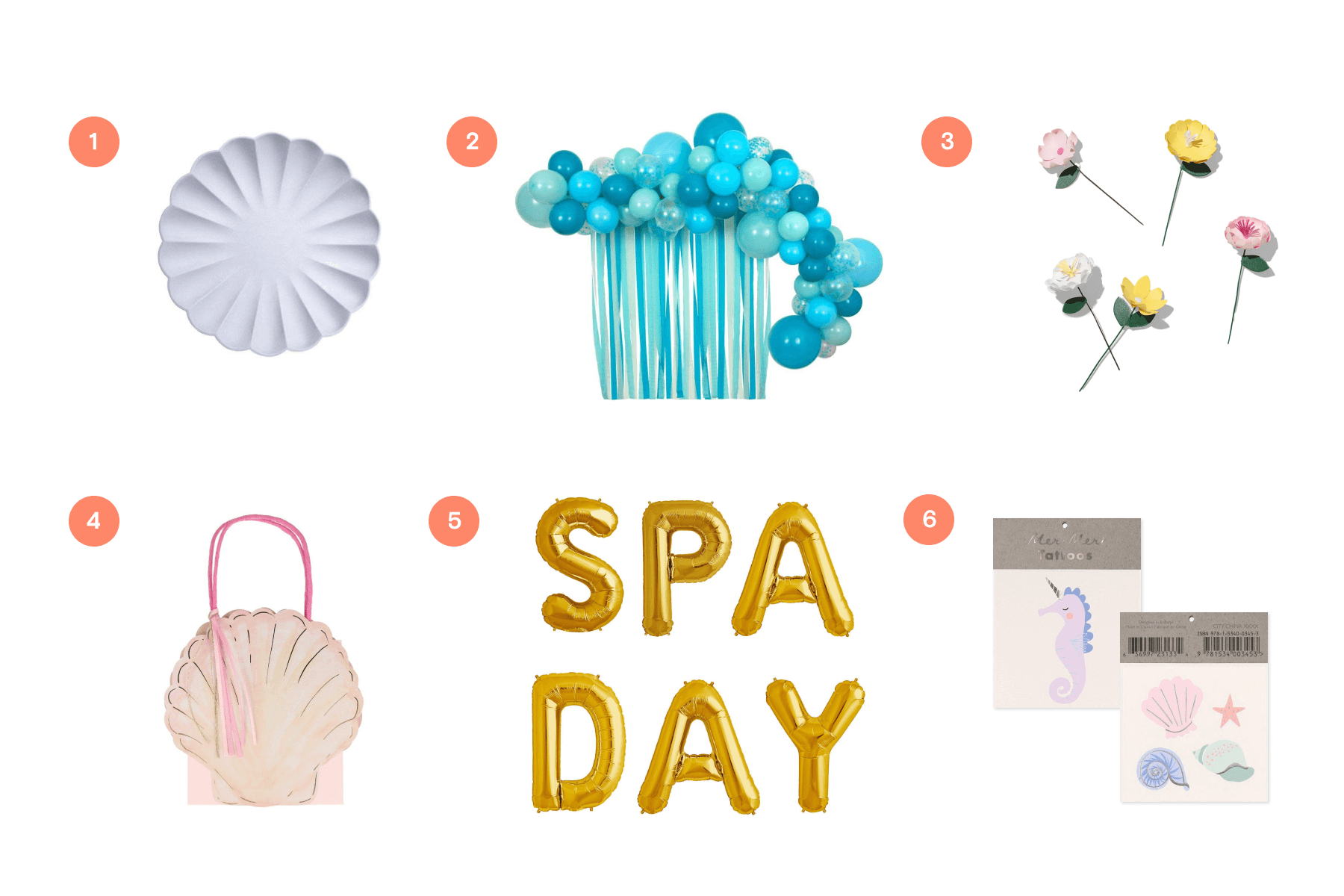 Spa party decor to turn your home into a tween's dream spa
To set the scene for your spa birthday party, choose decor that creates a lavish party experience. However, there are plenty of other ways to make this party special. Depending on your chosen spa theme, you might even want to browse party supplies by color scheme. 
Here are a few ideas to start your spa party decorating:
— Set the table: Find some tableware that matches your spa party and color scheme to create a luxurious setting where guests can enjoy your party treats. Try this cute pastel tableware (1) or lean into luxury with these pink marble plates. 
— Create a fun backdrop: Since they'll have spent most of the party primping and pampering, your guests will appreciate having a place to snap some cute photos. Choose a wall you can designate as a photo area and add some balloons, streamers, and other decor. The Blue Balloons & Streamers Kit (2) is an easy way to bring that bubbly spa atmosphere to your party.
— Give the cake a makeover: A cake topper is always a fun way to tie in some pretty decor. For your spa-themed party, try these floral cake toppers (3) or some heart mini toppers.
– Something to shell-ebrate: Send guests home with small favors (more on those in a second) in pretty scallop-shaped bags (4) any mermaid would love. 
– Spell it out: Use festive gold mylar letter balloons (5)  to spell out the name of your at-home spa, or give a special shout-out to the birthday kid.  
— Plan some party favors: Of course, no spa-themed birthday would be complete without spa party favors. Fill some cute party bags with face masks, mini nail polish bottles, temporary tattoos (6), or some sample-sized makeup and hair accessories. 
Provide some spa-worthy snacks
A spa day is all about luxuriating—so when it comes to treating the tweens at your party, you can't forget about serving them some equally luxurious snacks. For this party, you'll want some simple treats that are easy to snack on in-between spa treatments (and won't mess up anyone's nails), but that still give that special spa party feeling. 
Try these spa snack ideas for your party menu:
— Smoothies: Blend up some fruit, ice cubes, and a splash of juice for a refreshing treat. Serve with straws for ease of sipping while wearing a face mask. 
— Cheese and crackers: Set out a tray of crackers and a few types of cheese for a nibble-worthy snack.
— Fresh fruit on skewers: Try cubes of watermelon, pineapple, and grapes for a multicolor snack.
— Tea sandwiches: Here, you can mix and match the classic cucumber-and-cream-cheese sandwiches with more tween-friendly options like PB&J.
— Cake pops: These are the perfect way to indulge in a bite of cake while wearing a face mask or waiting for your manicure to dry. Find these at your local bakery or make them yourself with this simple cake pops recipe.
— Chocolate-covered strawberries: To create this delicious treat, dip strawberries into some melted semisweet chocolate chips and set them to harden on a sheet of wax paper. For extra pizazz, decorate them with sprinkles before the chocolate is fully dry, or drizzle with white chocolate.
Don't forget to supply some sweet beverages for everyone to sip on. Try mixing up a pitcher or two of pink lemonade or fruit punch, or sparkling cider served in Champagne flutes. For an extra twist of sweet and bubbly spa fun, try this easy three-ingredient sherbet punch recipe and serve it up in some party cups that match your other decor.
Welcome guests with some spa-themed invitations
Set the tone for your tween's spa-themed birthday party with invitations designed to stir excitement among their guests. Paperless Post's beautifully designed online invitations offer a stress-free way to collect RSVPs and communicate with guests about your upcoming celebration.
For a spa party of any theme, give a hint of what's to come with a Best Feet Forward (available in multiple skin tone options) or Mask On invitation. Try some kids' party invitation wording that's just as delightful, such as:
It's time to pamper…
Penny is turning twelve!
Join us for a spa-themed birthday party
Saturday, June 11 at 2 pm
The Williams Residence
Please RSVP by June 1. 
If your spa party is also a slumber party, choose an invite that blends the two themes, like this Slumber Party invitation or a Sleep Over Flyer. Try mixing up the invitation wording with a slumber party twist, like so:
How divine—Gabby is turning 9!
Let's celebrate with a spa party under the stars.
Join us for a birthday sleepover on July 8 at 6pm
[Address]
Wear your favorite PJs and bring a pair of flip-flops to decorate!
If makeovers will be the star of your glamorous spa party, you can also lean into all the beauty-themed invitations, like Birthday Beauty, Birthday Beauty Photo, and Lippy. Or, celebrate your mermaid spa party with a Mermaid Princess invitation.
"Sleep Over" Flyer by Paperless Post.
Plan a delightful spa birthday party with Paperless Post
At the end of a spa day full of pedicures, primping, and glamorous makeovers, it's easy to imagine your party guests will feel oh-so-relaxed and pampered. But how can you make your party planning just as stress-free?
To start with, you need some invitations that make your birthday party preparations easier than ever. Our online invitations make it easy to track RSVPs, send party updates, and manage your guest list. Plus, you can choose from our many marvelous party invitation designs and find a perfect option to suit your tween's personality. And don't forget to stop by our Party Shop for all the spa party decor you'll need.
For a stress-free party planning experience, sit back, put up your feet, and start with Paperless Post.
Browse Kids' Birthday Invitations
Editor's note: Party Shop shipping is only available in the continental US.