Indian wedding invitation wording for your big celebration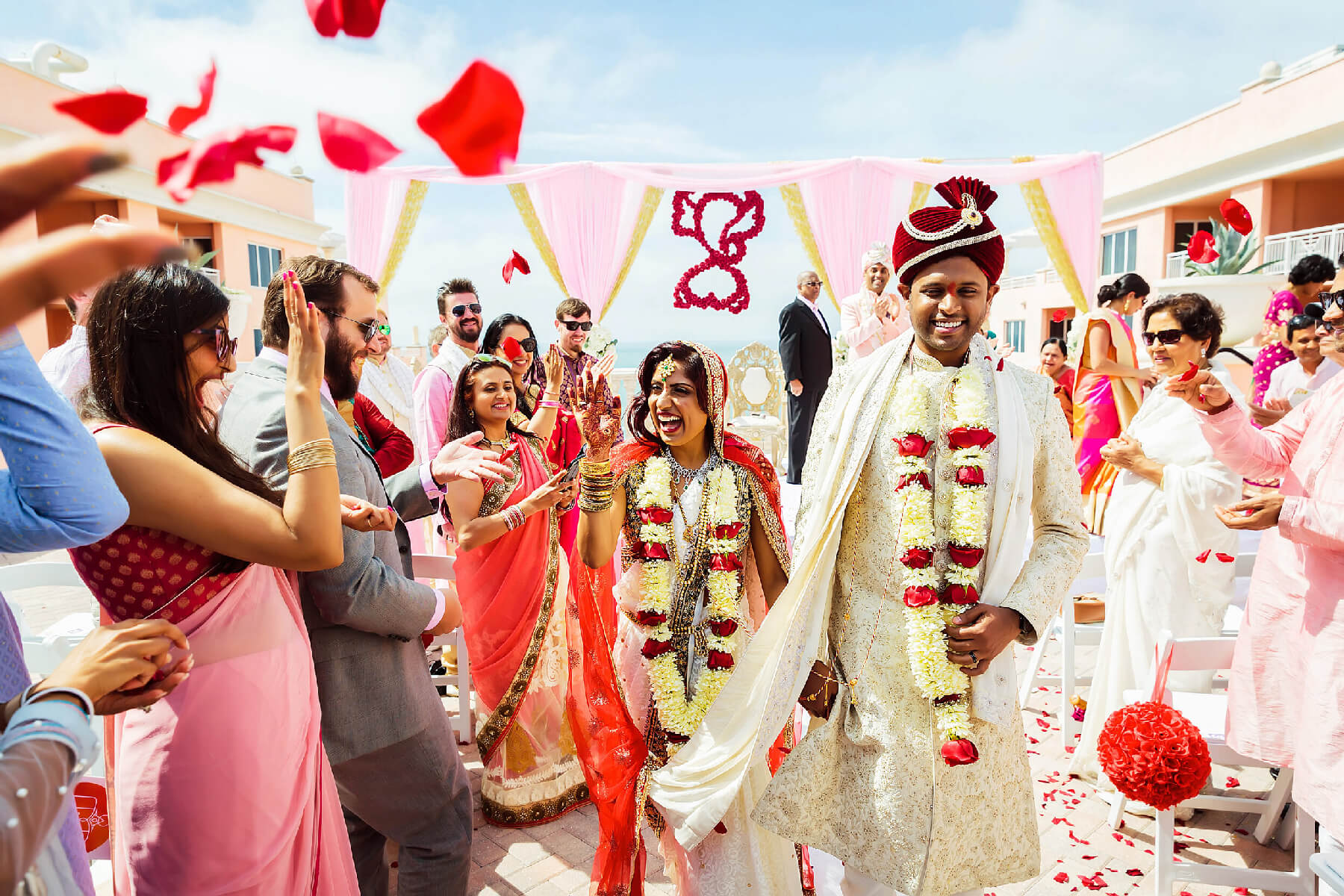 From your Haldi to your wedding reception, every event of your Indian wedding deserves special attention and a beautiful wedding invitation suite to bring it all together. Thankfully, Paperless Post has Indian wedding cards for every wedding event. Once you've chosen the design, you'll then decide on the perfect invitation and schedule wording for all the events that go into your big celebration, whether it's three days long, one afternoon, or somewhere in between. We'll help you along with Indian wedding wording examples for casual or formal affairs.
Want to put your own modern spin on traditional ceremonies? Choose Flyer invites you can text (so long, messy group chat). You can link to your hotel or accommodation, personalize it with an image of the bride and groom, and send a link via SMS, email, or social media. Be sure to take a look at our premium invitation templates by Anita Dongre, one of India's most beloved designers. Customize an exclusive design, upload your guests' emails, and collect RSVPs all in one place. 
What to write in Indian wedding invitations?
Our "Dvaar" wedding suite is a vision in turquoise.
Must-haves
— Name of bride and groom and the name of their parents (or whoever is hosting the event)
— Some couples will also mention parents who have passed away with the phrasing "With the blessing of the late…."
— Date & time
— RSVP instructions 
— Paperless Post makes it easy to RSVP, from casual Sangeets to formal wedding receptions
— Theme or dress code (casual, semi-formal, regal, etc)
— Encourage guests to dress in their favorite wedding clothes and join you for a unique day of celebration.
— Registry information
— Or note if gifts are not necessary, nor expected.
— Ceremony schedule (especially for traditional events if some guests are not familiar with the components of a traditional wedding ceremony) 
Sample Indian wedding ceremony schedule wording 
11:15am — Baraat (procession with groom)
11:45am — Snacks + Refreshments
12:15am — Dwar Pooja (Groom Prayer)
1:00pm — Kanya aagaman (Bride arrival)
1:30pm — Marriage Ceremonies:
— Ganesh Pooja (Pray to Lord Ganesh)
— Jai Mala (Exchange Garlands)
— Hasta Milap (Giving away the bride)
— Agni Sthapan (Lighting of sacred fire)
— Gaath Bandhan (Tying the knot)
— Mangal Pheras (Circling the fire)
2:15pm — Cake Cutting
2:20pm — Luncheon
3:45pm — Vidai (Sending the bride off)
Indian wedding invitation examples
Paperless Post offers many Indian wedding invitations, including our luxurious collection from designer Anita Dongre, with pre-formatted wording, which you can customize and tailor to your events. In addition, you can customize our Flyer wedding templates to reflect your special love and send it to your guests via SMS or email.
"Niwas" by Paperless Post
Formal Indian wedding card wording
Baruni and Bhaskor Bhaduri
request the pleasure of your company
at the marriage of their daughter
Ashima Bhaduri
to
Ashoke Ganguli
son of Piyali and Nikhil Ganguli
Saturday, the eleventh of May
nineteen hundred and sixty-eight
The Oberoi
Grand Hotel
Kolkata
Dinner, dancing,
and ceremonies to follow
Attire: REGAL
Formal directions and accommodations wording 
Directions and accommodations
The Oberoi Grand Hotel
15 Jawaharlal Nehru Road, Kolkata
For guests out of the country:
We recommend taking Grab or a pre-hired car from
 the airport.  Additionally, please ensure your visa is up to date.
We have arranged a block of rooms.
Please contact the concierge and mention the Ganguli
wedding when making your reservations.
ASHIMA-ASHOKE.COM
Indian wedding invitation wording
RUPA AND ARUN MEHRA
REQUEST THE PLEASURE
OF YOUR COMPANY
AT THE MARRIAGE
OF THEIR DAUGHTER
SAVITA
MEHRA
TO
PRAN
KAPOOR
SON OF
VEENA AND MAHESH KAPOOR
SATURDAY, THE FIFTH OF MAY
NINETEEN HUNDRED AND FIFTY-ONE
MUHURAT AT SIX IN THE EVENING
KHANNA HOTEL
BRAHMPUR
DINNER AND DANCING TO FOLLOW
Intimate Indian wedding wording 
"Blush Floral" Flyer by Paperless Post
Siraj and Mia's wedding reception
While we had dreamed of a big fat Indian wedding, COVID has interrupted our plans, but we are still committed to becoming Mr. & Mrs.
We would like to invite our closest friends in New Jersey to celebrate with us in a much leaner and cozier version of our wedding.
Would you please join us? 
Kindly RSVP to let us know
If you can, join us at the Trenton City Hall for our vows and then to Elements in Princeton for photos, a late lunch, and merriment. Safety precaution details to follow.
Indian wedding reception card wording
DIRECTIONS 
KHANNA HOTEL
40 SETH ROAD | BRAHMPUR
FROM THE EAST:
TAKE NH 30 WEST TO AH 1.
AT BRAHMPUR, TAKE A RIGHT
ONTO DURGAWATI ROAD.
TURN LEFT ONTO SETH ROAD.
FROM THE WEST:
TAKE NH 2 EAST TO NH 97.
AT BRAHMPUR, TAKE A LEFT
ONTO BAHORA ROAD.
TURN RIGHT ONTO SETH ROAD.
ACCOMMODATIONS
FOR YOUR CONVENIENCE, WE HAVE
ARRANGED A BLOCK OF ROOMS.
PLEASE MENTION THE MEHRA-KAPOOR WEDDING
WHEN MAKING YOUR RESERVATIONS.
SAVITA-PRAN.COM
Casual Indian wedding wording
"

Wedding Barn

" Flyer by Paperless Post
Siraj & Mia are tying the knot
Together with their parents yóu are cordially invited to celebrate the marriage of Siraj & Mia
FRIDAY, AUGUST 27, 2021
9:00AM – 11:00AM EST
THE BANYAN HOTEL & WEDDING HALL
POONAMALLEE
Co-ed Sangeet invitation wording
"Aniyora" by Anita Dongre for Paperless Post
Join us for one last celebration before we say I do! 
PLEASE JOIN US FOR THE SANGEET of
BEN
&
DILPREET
THURSDAY, JULY 27, 1989
EIGHT IN THE EVENING
THE JADE ROOM AT THE LOOP HOTEL
857 W FULTON MARKET, CHICAGO
ATTIRE: REGAL
Mehndi invitation wording examples
Celebrate the bride by adorning her hands with henna. Send an online Mehndi invitation, for a beginning filled with color. Celebrate with food, spirits, music, dance, and henna to rejoice in the union of families and close friends. 
Semi-formal Mehndi night invitation wording
DHOLKI & MEHNDI NIGHT
HOSTED BY
SIRAJ AND MIA'S FAMILIES
Enjoy food, dancing, henna, and turmeric to celebrate a blessed occasion.
Kindly RSVP by August 15.
Dress code: Semi Formal.
FRIDAY, SEPTEMBER 17, 2021
6:00PM NZST
SIRAJ's BACKYARD
27 BOYCE AVE
AUCKLAND
Female-only henna ceremony invitation 
MIA'S HENNA CEREMONY
HOSTED BY THE BRIDE'S MOTHER
You're invited to a female-only tradition. Henna will be provided for all women who would like it. Dinner and dancing for all. 
No gifts, please.
FRIDAY, SEPTEMBER 10, 2021
6:00PM EST
CHANDNI GRAND
TORONTO
EVENT NOTES:
We will have an all-female staff on-site, so you can let your hair down.
Ample parking available.
Masks are encouraged. 
"Abhitha (Sangeet) – Yellow" by Anita Dongre for Paperless Post and "Aditri" by Anita Dongre for Paperless Post
Rehearsal dinner and henna invitation wording
Priyanka and Siraj's Rehearsal Dinner and Henna
HOSTED BY THE MODI FAMILY
RSVP by July 10
FRIDAY, JULY 17, 2021
7:00PM – 10:00PM CST
THE JADE ROOM AT THE LOOP HOTEL
857 W FULTON MARKET, CHICAGO
Casual Co-ed Mehndi Night
We invite you, our dearest friends, to join us for our Mehndi night. 
For us, this is an intimate occasion with our closest family & friends where we can enjoy good conversation and a bit of cheese and wine.
Dress code: Casual
Alcoholic beverages & mum-made Indian food will be provided. You bring the love and your mask.
THURSDAY, SEPTEMBER 23, 2021
6:00PM BST
 Love Punjab Leicester
268-270 Catherine St
Leicester
HOSTED BY MIA & SIRAJ
Anita Dongre x Paperless Post
Fall in love with our exclusive collection with Anita Dongre, one of India's most beloved designers. From the Sangeet to the Haldi to the ceremony, the exclusive collection offers invitations for every wedding event. 
Looking for more inspiration? Anita Dongre shares tips on how to host traditional ceremonies with a modern spin on the blog, Introducing Anita Dongre for Paperless Post.