How to host a killer murder mystery party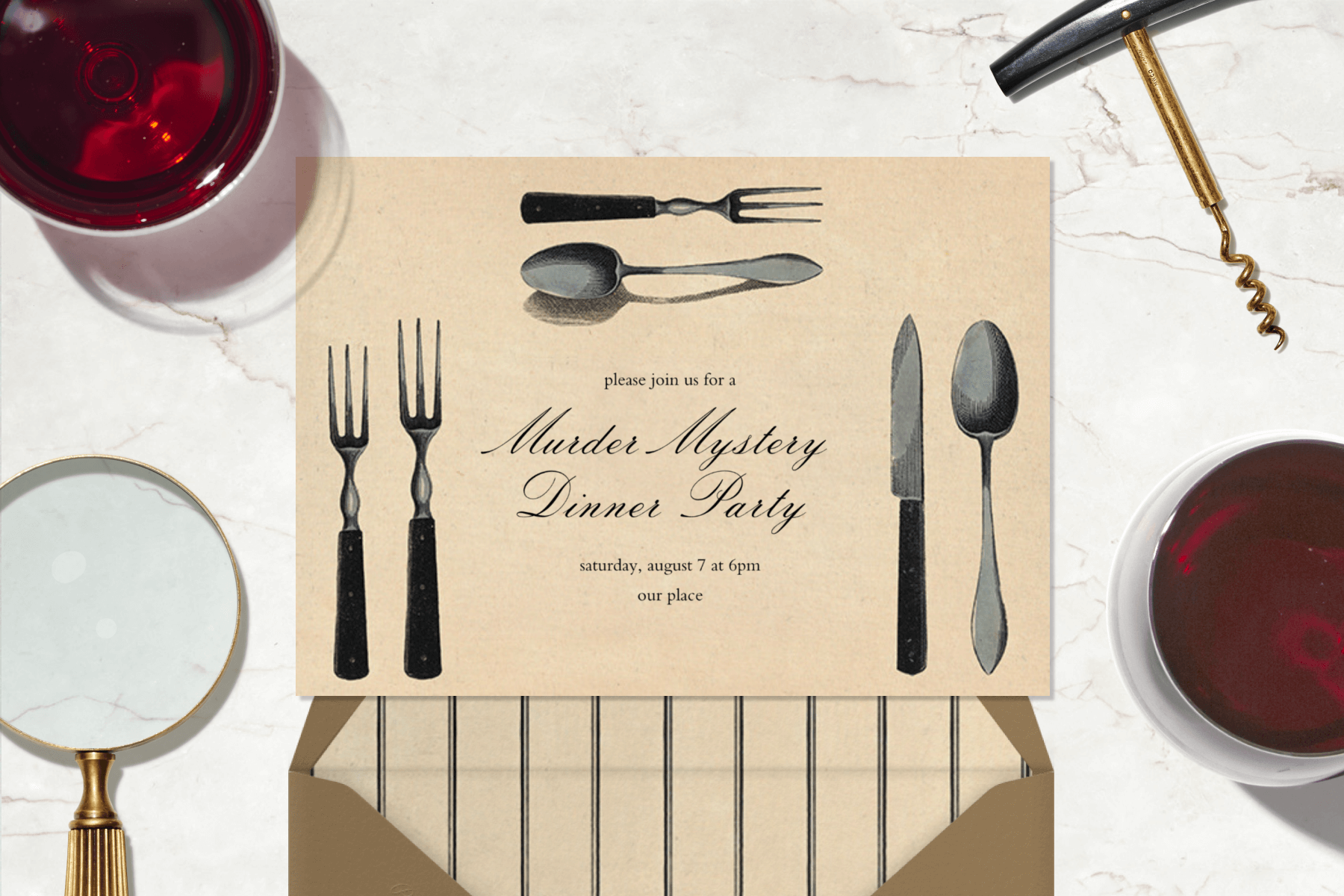 Intrigue, suspicion, and murder most foul—as long as it's all fictional, these elements can come together to create a fun-filled party your guests will never forget.
Anyone who has ever attended a murder mystery party can attest to how thrilling they can be. Putting on a persona, dressing up, and playing pretend with grownup friends can be both fun and freeing, and make for a murder mystery dinner party that keeps attendees on the edge of their seats. This type of themed party is one of the most unique milestone birthday themes or 50th birthday party ideas out there. Or if your group of friends is into cosplay, it'd make a great get-together idea any old Friday night.
Fortunately, you don't have to be a master detective to plan a killer murder mystery party. With these essential tips, you'll be ready to connect the dots and Sherlock Holmes your way to a successful (yet sinister) soirée. 
How to host a murder mystery party 101: the essential elements of a murder mystery party
Hosting a murder mystery party is a lot like putting on a play—you'll need to evoke a certain setting through design and decor, keep track of character interactions, and make sure the partygoers meet all of your cues.
Plot
If you want to host a successful murder mystery party, you're going to need a plot. There are a few different ways to achieve this:
— Purchase a pre-planned murder mystery kit: These kits vary in setting, number of characters, included materials, and price. While murder mystery party kits leave a little less room for creativity, there are plenty of options out there, so you'll likely be able to find one that suits your vision. For example, kits from Masters of Mystery offer options for various themes and party sizes.
— Create the plot of your murder mystery yourself: This can be a more labor-intensive option, but if you're the creative type, the challenge can be almost as fun as the party itself. If you're a true crime enthusiast, a dungeons and dragons game master, or a mystery-genre hobbyist, this may be the best option for you.
— Reserve a slot with a murder mystery company: Depending on where you live, there may be a murder mystery party purveyor nearby. Some have their own dedicated venues in historical houses, some will send performers to your home, and some operate out of hotels, restaurants, and theaters. For instance, Jest Murder Mystery Co. offers a number of options at the location of your choice. Because they can be more costly and might cause you to go over your event budget, working with a company may be a better bet for parties on a grander scale.
Participation
Murder mystery parties are for the wallflowers in your friend group: your guests must actively participate in the play-acting and murder-solving. Depending on the murder mystery plot you choose, you may also need to limit your guest list to a certain number. Consider your party guest list and invite friends who will jump into the festivities head-first. (By the way, Paperless Post invitations make it easy to track RSVPs, and message guests about their roles so they can come to the party prepared.)
Once you solidify your attendees, it's time to assign them their roles. 
Select a storyline that suits your guests and assign them parts they will be able to assume naturally. As any casting director would tell you, the best fit for a role is someone who resembles the character already. Fulfilling this task with care is essential to ensuring each guest can play their part with enthusiasm.
Props and costumes
Imagination is a baseline requirement for a riveting murder mystery party—but the physical items you include can be equally important. Props and costumes that fit your theme can help inspire your guests' creativity.
Here are a few ideas for party-enhancing props:
— Costumes: You can ask your guests to come in costume, but you may also want to provide them with essential pieces or costume suggestions to help ensure they fit the character description of your murder mystery script. For example, you might have a lab coat on hand for the kooky professor character, a long cigarette holder and feather boa for the femme fatale, a monocle for the mysterious widower—the possibilities are endless.
— Mystery-solving tools: A kit may come with a few props like magnifying glasses and fingerprinting kits, but you can also provide these yourself. You can also give each guest a small notebook and pen to write their observations in so they can channel Dr. Watson and Captain Hastings.
— Props: If your storyline involves a murder weapon, make sure to source a prop replica to use in place of any object that could be dangerous to guests (no real knives at the party, please!). Costume shops and toy stores can be superb sources for these.
How to prepare for a murder mystery party
Once you have your plot, your cast list, and your props and costumes all decided on, you can start the real prep for your party. From creating themed decor to designing a delicious menu, the preparation for this gripping murder mystery event is half the fun.
Choose a theme that suits your plot
Most likely, your theme is already baked into your party plan. For instance, if your party plot is centered around the murder of an eccentric prohibition-era millionaire, you know that you'll need to imbue the evening with 1920s glamour. On the other hand, if you're diving into a film noir-style detective story, your decor will lean more shadowy and monochrome. 
If you're DIY-ing your murder mystery event plot, however, have no fear—here are a few theme ideas to consider:
— Murder in the city: Modern-day glitz and glam fit right into this party theme.
— Holiday murder: This theme is perfect for a family party or a gathering around a certain holiday, as your existing holiday decor will fit right in. 
— Horror in Hollywood: If your guests would enjoy dressing up in old Hollywood glamour while debating the identity of a killer, this is a clear choice.
— Death of the decade: If you want to combine the thrill of a murder mystery party with the nostalgia for another time, simply combine your party theme with a '60s, '70s, or '80s party theme—or any other decade of choice.
— Train tragedy: Say all aboard to your guests with this vintagey voyage-themed party. 
— Murder mystery birthday party: Whether you'd like to blow out candles and solve clues at your own birthday or throw an exciting event for someone else, a birthday party can be a fantastic theme and occasion for your plot.
– 1910s mentalism murder mystery party: Conjure the undead to help you solve a vintage murder with a creepy seance-themed party. Make sure you've got a medium in your midst—or at least a Ouija board. 
– Mad Hatter tea party: If your guests are all a bit mad, an "Alice in Wonderland"-inspired murder mystery party with spiked "tea" and eerie characters with questionable motives might be the perfect choice.
Prepare your space with chilling decor
On the day of the party, make sure that your home or venue is appropriately decked out according to your theme.Set up a snack table or a self-serve drink station—it's a great way to help guests stay refreshed without messing with the murder plot timeline. Most importantly, hide essential clues and props around the space where they'll be easy to track down later.
Make sure to keep your plot details somewhere out of reach of party guests. You wouldn't want the big reveal to be spoiled!
Craft a menu that inspires anticipation
Since you'll be too entranced in the plot to whip up any refreshments in the moment, you should pre-plan snacks, drinks, and the meal menu for your murder mystery party. You don't need to have a sit-down meal, but it can add a level of immersion in the plot that is truly exciting. 
If you're sticking with finger food, choose snacks that are easy to grab while solving clues. Consider the following options:
— A pre-batched cocktail or two to match the party theme
— Cheese and crackers
— Finger sandwiches
— Fruit skewers
— Cupcakes and cookies
– Nuts
If you'd rather not worry about what everyone's eating, consider choosing a murder mystery kit that includes food suggestions. Alternately, cater your event and let someone else handle the food. If you want to pay for the complete package, you may want to book with a murder mystery dinner theater.
Set a schedule for the key moments
Murder mystery parties can require a bit more scheduling than your typical get-together. After all, there are a few key events that need to happen throughout the night.
Consider structuring your party into sections with a general timeframe. You'll want to customize the schedule depending on your plot, but here's an example of what we mean:
— Arrivals and pre-murder cocktails at 6pm: Guests trickle in and become acquainted with each other's personas for the evening while enjoying a themed cocktail.
— Discovery of the body at 7pm: The night takes a thrilling turn with the discovery of a (seen or unseen) body.
— Dinner and the first clue are revealed at 7:30pm: Guests sit down to eat. Each place setting includes an envelope containing a clue for participants to discover at their leisure during the course of the meal.
— After-dinner discussion and role play at 9pm: Jokes, bits, and cross-examinations abound after the meal has concluded (and maybe after-dinner drinks, too).
— Dessert and second clue reveals at 9:30pm: Time the discovery of the murder weapon, a letter from the deceased, or a suspicious bloodied clothing item along with a delicious dessert.
— The big reveal at 10pm: Gather everyone in the parlor to announce their guesses and reveal the true identity of the murderer.
A fine-tuned schedule can help you keep the event on track, but what if something goes awry? Channel a piece of classic stage wisdom: the show must go on. If someone forgets their essential line, or an important prop goes missing, just improvise. As long as you're having a good time, your party is sure to be a success. 
Spark anticipation for any party with Paperless Post
You've plotted the perfect murder mystery party, crafted compelling characters, and fine-tuned your menu options. All that's left is to send out invitations and start building suspense. But what if choosing the right party invites is still a mystery?
We have the perfect clue: there's no better way to send out invites to your murder mystery party than with an online card from Paperless Post.
Send out party invitations for your next event with Paperless Post, and you can customize your cards, track RSVPs, and send updates to each of your party guests with ease. It's the best way to inform guests of your party's theme and message them the specifics of their roles and costumes. 
Enticing invitation options like our Miss Scarlett in the Library card are an excellent way to prepare your guests for an evening of excitement and intrigue. In fact, we offer themed invites for pretty much any occasion you could dream up. So next time you want to throw a really killer party, you know where to go: Paperless Post.