5 creative fall wedding ideas worth cozying up to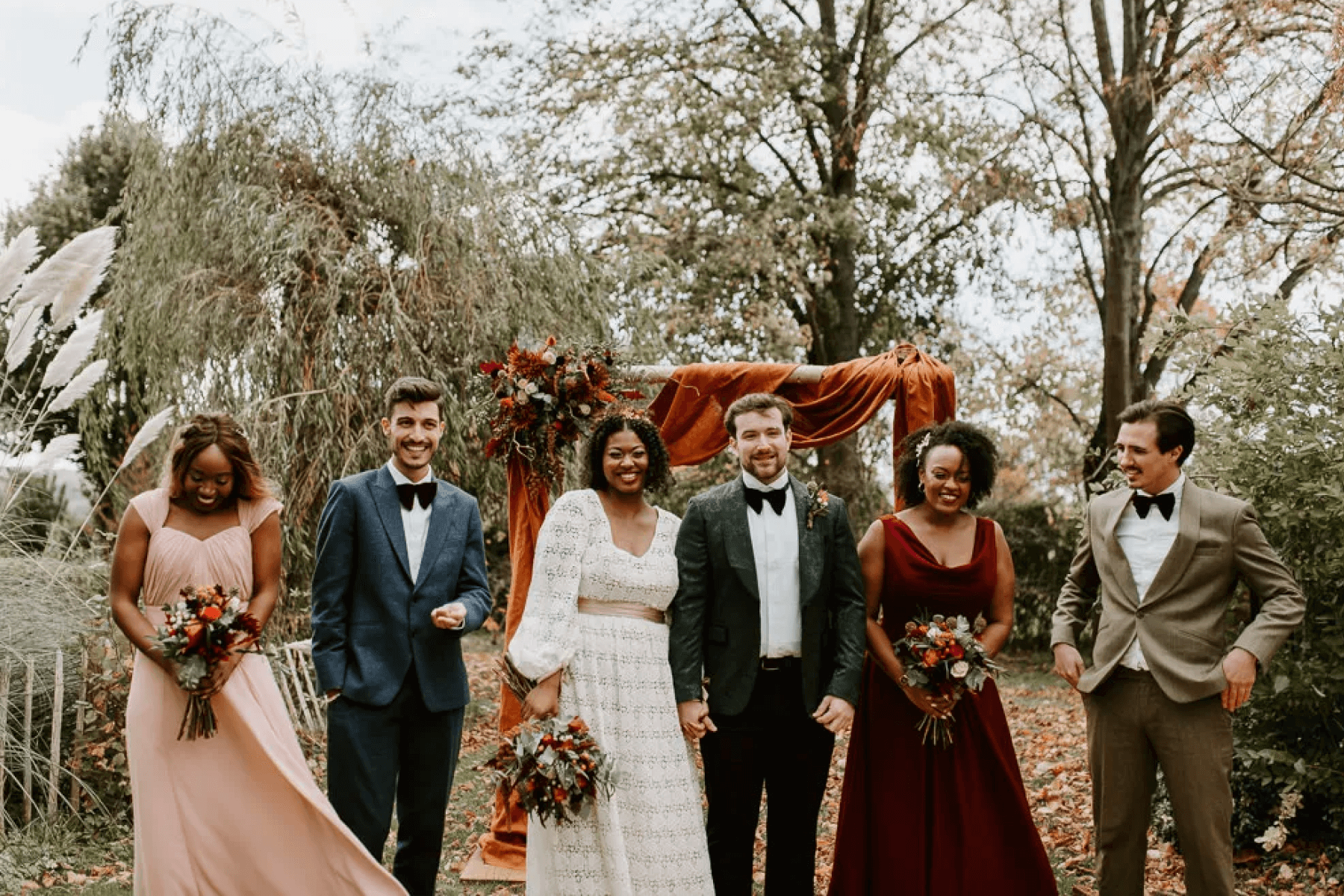 If you've envisioned your big day under a canopy of goldenrod, crimson, and rust-colored leaves, saying "I do" during the autumn months may be for you. A fall wedding is the perfect excuse to incorporate all your favorite elements of the cooler months, from touring breweries to creatively cooking with pumpkin spice. And the best part? Nature pulls out its most stunning colors to celebrate your love. 
There are endless ways to tap into this romantic season and make your autumn wedding feel as special as a September sunset. Read on for our guide to the best fall wedding ideas. (And when you're ready to pick out your wedding invitations, we've got those, too.) 
Photo: Lori Young Photography, "Autumn Boughs" by Felix Doolittle for Paperless Post.
1. Use your invitations to set the tone
Whether you're orchestrating a simple backyard wedding, an elegant garden soirée, a glamorous ballroom extravaganza, or a fun-filled barn wedding, the right stationery is the best way to set the stage. 
Think of it this way: invitations are the first impression you give your guests about the type of wedding you're throwing. Consider using a warm color palette with autumnal hues for your fall wedding invitation. Orange, gold, yellow, and red exude elegance for a fall event. 
You can also pay homage to the season in your invitations by choosing a design with classic autumnal accents. Adding a pinecone, acorn, pumpkin, or colorful maple leaf will add some fall flair to your invites. 
Here are some of our favorites for fall:
— Floréal: Perfect for a refined, elegant wedding, this invitation gives off major autumn aesthetics with a romantic wreath of fall flowers. 
— Forsythia: Give your guests a golden welcome to your fall-inspired wedding. This invite's gilded details are as beautiful as an October sunset and hint at an opulent soirée. 
— Pampas Grass: Lead your guests to imagine you slow-motion running through a windswept wheat field and into your partner's arms. This invite works exceptionally well for an outdoor, country, or bohemian-style wedding. 
2. Festoon the room in fall-inspired décor
The right fall wedding decorations can turn your event venue into a romantic autumnal wonderland. And depending on your style, an autumn wedding can take on many different looks. With so many different color combinations, floral arrangements, and decor items to pick from, you can endlessly experiment and find which type of wedding is calling your name. 
Here are a few wedding decor ideas to help you get started:
— Harvest: Celebrate the harvest with décor you'll fall for. Wedding color schemes that go well with a harvest theme include oranges, greens, browns, and golds. Hang honeycomb fans or a romantic chandelier for an eye-catching spectacle. When decorating your tables, go all out with pumpkins and gourds. Big beautiful flowers such as dahlias or marigolds will complement the theme beautifully. Don't forget about fall-colored floral arrangements for your centerpieces or even your bouquet. Or you might consider using a cornucopia as a gorgeous and unique centerpiece. 
— Cozy fall library: Evoking jewel-toned tomes and comfy couches, a cozy fall library theme would work perfectly for a couple of bookworms. Complement your theme with dark, rich colors like oxblood, leather brown, or faded copper. Floral arrangements with garden roses or amaranthus would look beautiful with dark-hued dishes and Champagne glasses.
— Rustic: If you and your partner are fans of the outdoors, a rustic wedding theme may be the answer to your prayers. This one's a classic for a reason. Ideal for a barn or garden setting, a rustic theme can work with any number of colors. Some top contenders include gold, sage green, and dusty pink. For florals, think chrysanthemums or hellebore. 
Whatever fall theme you choose, you can't go wrong with these decor tips to make your fall wedding pop:
— Use foliage: Flowers are usually the star of wedding centerpieces, but in the fall, colorful leaves and branches steal the show.  
— Tap into the spirit of harvest: If you're throwing a rustic affair, a few farm elements can enhance and elevate your décor. Adorn the reception and ceremony areas with pampas grass, gold and black painted pumpkins, and brass-colored fall ferns.
— Embrace new material: It's hard to imagine a perfect fall morning without your favorite mug in hand, steaming with hot tea or coffee. Ceramics call to mind warmth, natural materials of the earth, and a sense of hominess. Swap glass items for ceramics to give guests an extra dose of cozy.

— Play with candlelight: As the days grow shorter, candlelight plays an even more important part of our evening life. Fill your reception and ceremony spaces with candles to invite a golden, autumnal glow to your celebrations. 
Image via Pinterest, "Laurel" by Paperless Post.
3. Savor the evening with seasonal food and beverages
Once you've got your fall wedding invitation and décor ideas picked out, it's time to find the perfect food and beverages to fit your wedding theme. Since fall is the harvest season, it's a delicious time of year to enjoy seasonal fruits and vegetables. Adding in classic autumn flavors will undoubtedly add to the magic of the evening. Consider some seasonal favorites such as:
— Hazelnuts
— Butternut squash
— Pumpkin
— Cranberries
— Cinnamon
— Maple
– Apples and pears
By picking out a few fall flavors that speak to you, you may find the rest of the menu comes relatively quickly. For example, you could provide a pear and hazelnut soup, serve your poultry option with a cranberry sauce, or even add cinnamon to your wedding cake icing. 
As for drinks, the same rules apply. For non-alcoholic fall beverages, you can opt for:
— Ciders
— Cranberry juice
— Pumpkin-spiced cocoa
When it comes to alcoholic options, offer delicious cocktails with darker liquors like scotch, bourbon, or whiskey. Give cocktails a boost with additional autumnal flavors like allspice, cranberry, or maple. A good supply of mulled red wine and IPAs can create an even cozier effect.
Ensure your guests feel fully satisfied by factoring in these food and drink tips:
— Stay warm: As much as we love the fall, it can get chilly in the evening. Opt for warm cocktails like hot toddies or cider to keep the fun lasting all night long. If your guests feel warm inside, they'll feel warm outside.
— Do the brew: Make sure your guests are getting the freshest drinks possible by hosting your wedding at a brewery. Not only do many breweries have a rustic look that's perfect for a fall wedding, but you'll also be supporting a local small business. Alternatively, consider holding your wedding at a wine vineyard where the grapevines are turning beautiful fall colors. 
— Keep it local: But why stop at beer? To keep in the spirit of a happy, healthy harvest, you can source fresh food and other beverages from local farms and caterers. You'll support your community and embody the spirit of the harvest with a farm-to-table wedding. 
— Salute the harvest: Celebrate the fall season by making your table settings as cozy and enchanting as possible. Set the table with gold and silver tableware for a gilded glow. You can also add fun place settings for your guests with monogrammed pumpkins or pinecones for an extra autumn surprise. 
Photo via Sara Fitz Co, "Adorned Aisle" by Oscar de la Renta for Paperless Post
4. Embrace fun and foliage with autumnal activities
Take the opportunity to have as much fun as possible at your wedding reception. Show your love for all things fall with autumn-inspired activities to entertain your wedding guests.
Need some ideas for creating the perfect fun-filled fall ball? We've got you covered.
— Fall photo opps: Work with your florist or local art store to create a fall-inspired backdrop for photos. Be sure to include colorful fall leaves, add some playful signage, and offer fun props so everyone can take home an autumnal memento.

— Give guests a break: Stage a guest lounge and incorporate rugs for a cozy feel. Set out instant or disposable cameras so people can sit, chat, and snap photos when they want to give their dancing feet a break.

—  Maximize the cozy factor outside – If you're celebrating outdoors, keep everyone comfortable and in the fall spirit. Set up a make-your-own-cocoa bar with various toppings and flavorings, help guests keep warm with backyard games like cornhole or ring toss, and be sure to provide some heat lamps in the ceremony and reception areas.

— Gather round a fire: There's nothing like curling up next to a fire close to loved ones on a chilly fall night. Create a fire pit to gather around (or opt for indoor venues with fireplaces) and have s'mores supplies nearby. You can also keep your guest book and photo tables near the hearth to invite long chats and thoughtful notes. 
5. Dole out sugar and spice wedding favors
Considering you get to leave your wedding with a new spouse, surely your guests deserve a little something to take home with them as well? Gift your wedding guests some fall-inspired favors that will have them reminiscing about your big day every time the leaves start to turn. 
Some easy and charming wedding favors include:
— Fall-scented candles
— Mulling spices
— Maple candy or maple syrup
— A bag of seeds for planting sunflowers
— Candy apples
— Honey sticks
— Pumpkin spice mix
— Monogrammed mugs
— Personalized thermoses
A little thought goes a long way. Thank your guests for taking the time to celebrate a day you'll treasure forever.
Are you brimming with fall wedding ideas? Start planning your perfect autumnal celebration by picking out your perfect Paperless Post invitation. Track opens and RSVPs instantly, include links to your gift registry and location and ask guests helpful questions about meal preferences and mailing addresses. When it comes to celebrating your eternal love, you'll love using Paperless Post.