18 retirement party ideas for a very special send-off
Whether you're celebrating a family member, friend, or coworker, hosting a retirement party is a thoughtful way to highlight someone's professional accomplishments and send the honoree off in style for the next chapter of their life. Retirement parties are usually thrown during the retiree's last month at work, so once they announce their last day, it's time to start planning. Read on for our best retirement party ideas and how to get started on organizing a send-off for the ages.
Venue ideas for a
retirement party
The best venue for a retirement party depends on a number of factors, including your budget, the headcount, the retiree's personality, and the general nature and vibe of the industry the person is retiring from. Whether the party will be a small or large event, you have a variety of options around where to host it:
1. The office
For a casual, intimate get-together with (soon-to-be former) coworkers, plan a laid-back party at the office on a Friday afternoon. To make the event extra-special, have someone whisk the guest of honor out of the office for an hour before the event, and festoon the space with balloons, banners, and hanging honeycomb balls.
2. Someone's home 
A friend or family member's home is a casual, relaxed spot for a small retirement party. Host an intimate dinner party, a cocktail reception open house, or a backyard barbecue. Have the food catered, cook it up yourself, or make it a potluck—retiring party exempt, of course.
3. A private room at a restaurant, winery, or bar
Many dining and drinking establishments have private rooms you can reserve for your retirement party. If the venue serves food, they'll likely assist with the menu and take care of the setup and cleanup. Depending on the establishment, you may be allowed to bring in your own food.
4. A hotel ballroom or rented banquet hall
Traditional party venues like rented halls and hotel ballrooms are ideal for large parties. Hotels generally have staff on hand to help plan your event, and many will even take care of logistics like decorating the space, providing a bartender, and serving food. Rented banquet halls, on the other hand, generally provide just the space and leave the rest—including cleanup—to you.
5. A beach, park, or other outdoor location
Don't be afraid to think outside the box and head out to your local sandy shores for a retirement beach party, or rendezvous at a nearby park for a barbecue or catered al fresco dining experience. Rent a suite at a baseball game, or hit the greens for a casual round of golf followed by drinks and hors d'oeuvres in the clubhouse. Whatever type of outdoor event you think the retiree will enjoy is fair game.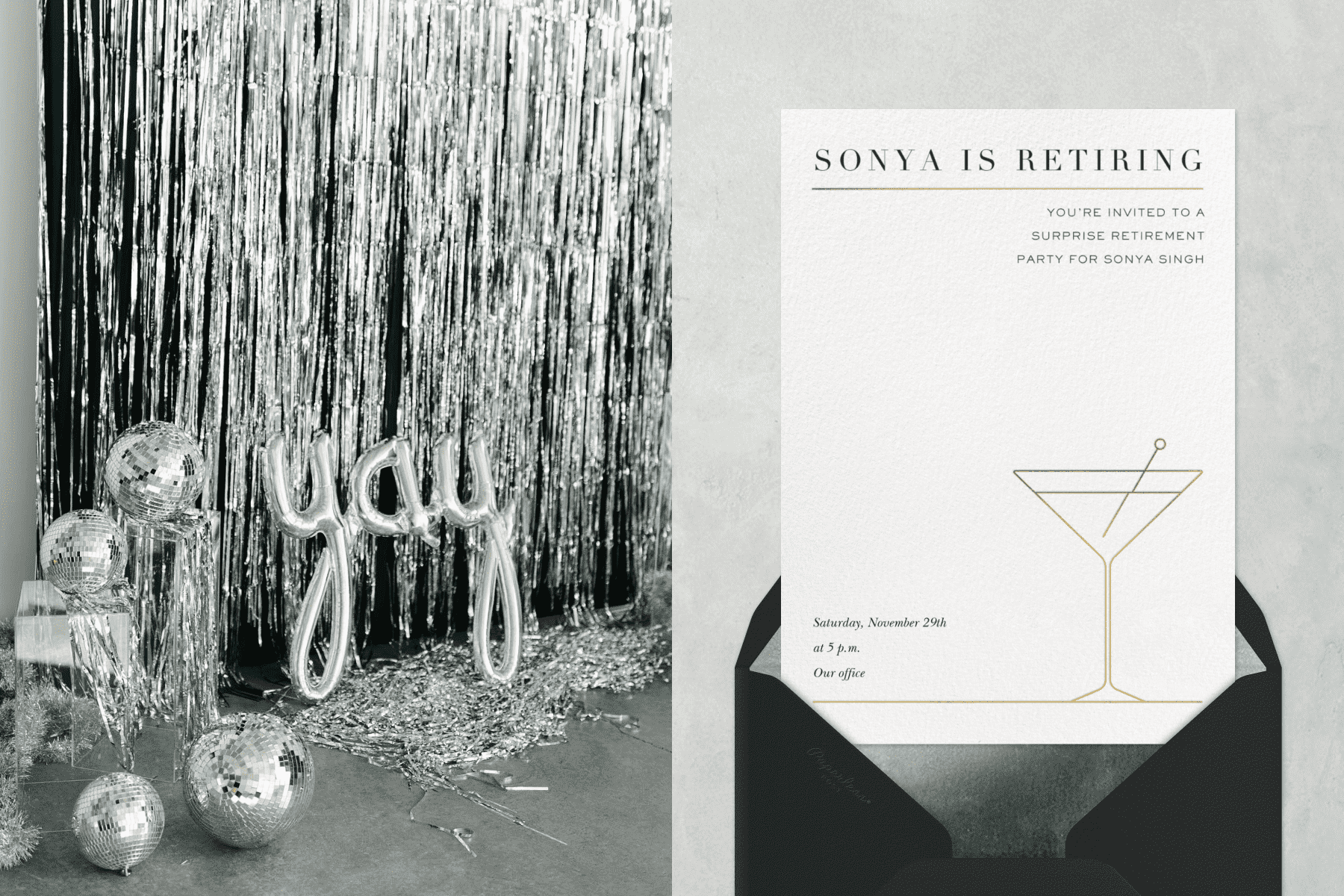 Activities for a
retirement party
Typically, a retirement party doesn't include planned activities other than speeches and toasts—but that doesn't mean they're off the table. Here are a few ways you can create an upbeat, festive atmosphere and make the party fun and memorable. 
6. Set up an interactive display 
Create a guest book table where attendees can leave a personal message for the celebrant. Include a display with photos of the retiree, along with any awards and other accolades they received during their years on the job.
7. Take a walk down memory lane
As each guest arrives, ask them to write a fond memory they have of the retiree—either work-related or personal. Set aside some time during the party to read each card. You can make a game of it by having the retiree or the guests guess who wrote the memory.
8. Provide a photo booth
Rent or DIY a photo booth where guests can snap some selfies—with or without the celebrant. Include props, accessories, and signs the guests can use to set their photos apart. After the party, pop the photos into a physical or digital album keepsake for the retiree. 
9. Show a slideshow on a loop
Gather photos of the retiree, and create a slideshow loop to play on a big screen for guests to enjoy during the event. Alternatively, if there's ample footage, compile a video of the person of the hour, and set aside time to play it during the party. Pro tip: Keep the video clips short and sweet—and keep the entire video under 10 minutes long.
10. Play trivia
Host a trivia contest about the retiree. Include workplace-related questions, like what they kept on their desk, what they liked to listen to while they worked, or their favorite afternoon pick-me-up snack or coffee drink. Hand out prizes to those who answer the most questions correctly.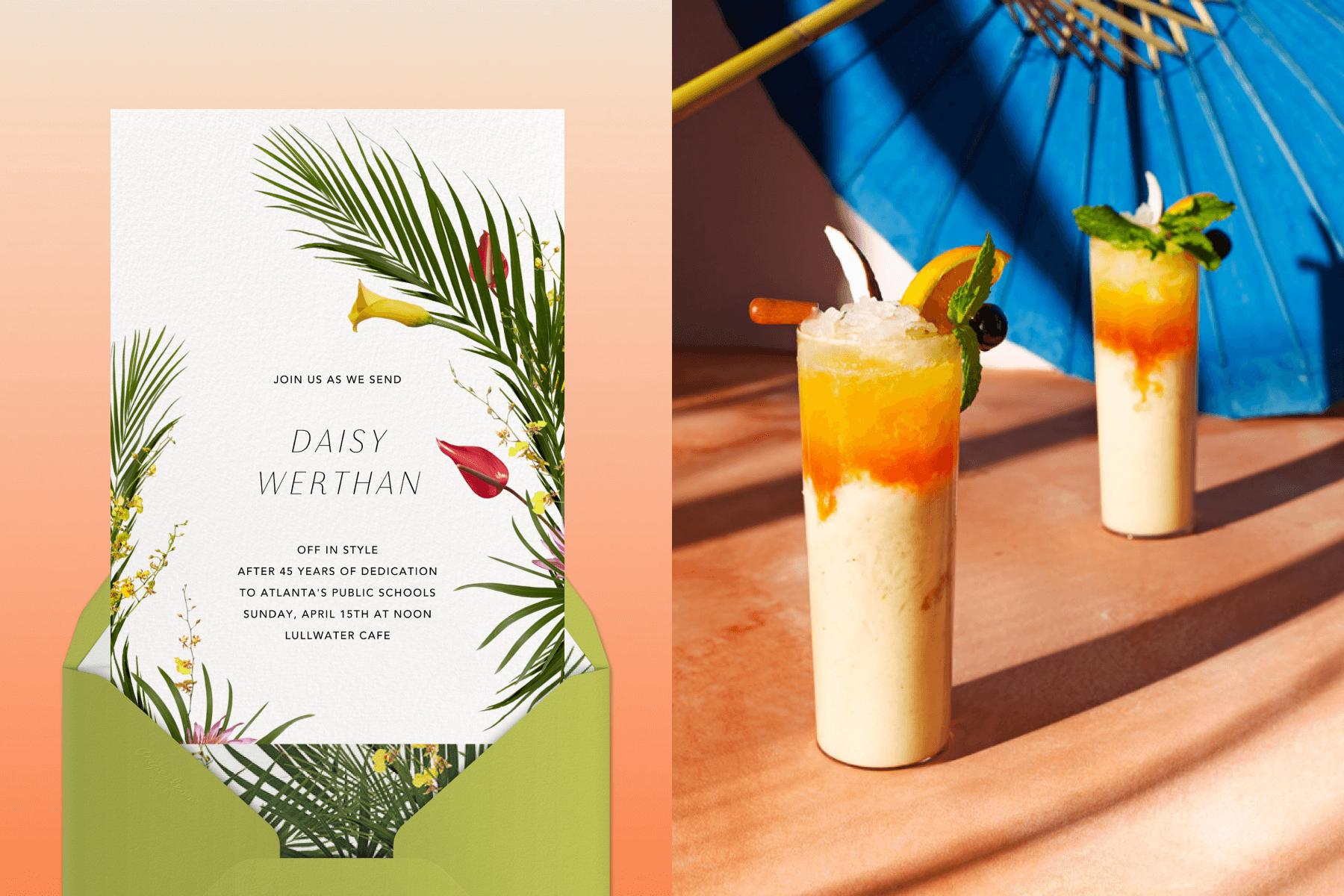 Theme and decor ideas for a retirement party
Sure, you can adorn your event space with traditional party decor—or none at all—but a themed party with matching accouterments is a fun departure from tradition. A theme adds an extra layer of personalization and festivity to the party and leaves a lasting impression on guests and—most importantly—the retiree. Whether you want wall-to-wall decor or a simple smattering of balloons, Paperless Post Party Shop has all the decorations and supplies you need to do it up right. Try one of these unforgettable retirement party themes to give them a proper send-off:
11. Tropical theme
Even if the retiree isn't setting sail for an exotic island retirement, a tropical theme hints at the fact that they can go wherever they want—after all, isn't retirement just one long vacation? Mix up exotic drinks topped with mini umbrellas, and serve island-inspired food. Deck out the space with fake palm trees and flamingos, and set up a photo booth with props like oversize sunglasses and floppy hats. 
12. Throw-back theme
Deck the halls with decor from the decade the retiree started their career. An '80s party or a '90s party will get everyone feeling nostalgic—especially the guest of honor. Costumes are optional, but they're a fun way to fully immerse the guests in the experience. Create a playlist of top hits from the first year the retiree started working, and spruce up the room with decade-appropriate retirement party decorations and supplies. Complete the scene with photos of the guest of honor throughout the years.
13. Golf theme
If you know the retiree is planning to spend much of their retirement on the course, make it the party theme. Ask everyone to wear their finest golfing clothes, and set up a putting green for guests. Serve finger foods skewered on tees, and offer white-frosted cake (golf) balls for dessert. 
What to serve at a
retirement party
Let the celebrant help choose the menu for their party, whether it's to be a sit-down dinner, a catered buffet, or a DIY smorgasbord. Here are some ideas for tasty refreshments to serve:
14. A buffet of finger foods
For a cocktail reception, serve a buffet of finger foods and little bites that guests can eat while milling around. Crudités are classic finger foods—serve them with dips, or skewer them with cheese on a toothpick. A charcuterie board with a selection of olives, nuts, crudités, crackers, and cheeses gives guests lots of choices. For something a little more substantial, set out a variety of snacks like mini bagels topped with cream cheese and smoked salmon, bacon-wrapped stuffed jalapenos, or rolled tacos. 
15. A platter of sandwiches
Whip up a few trays of sandwiches for guests to enjoy. Provide a variety for different tastes—for example, offer ham and cheese, turkey and avocado, and cucumber and cream cheese. Cut the sandwiches in half so guests can try a couple of different options. Alternatively, set up a sandwich bar—offer a few different bread choices and all of the fixings, and let guests make their own. Include a selection of chips—either in individual bags or in a big bowl—and a fruit or pasta salad.
16. A mess of barbecue
A backyard barbecue is a relaxed, casual setting for a retirement party. Grill burgers, hotdogs, or chicken drumsticks for a large crowd. For a smaller crowd, serve up steaks or ribs. There are plenty of vegetarian grilling options, too, like portobello burgers, stuffed peppers, and plant-based burgers and dogs.
17. A fully stocked taco bar
A taco bar is always a popular—and economical—choice for feeding a crowd. Set out corn and flour tortillas, ground beef, refried beans, cheese, lettuce, chopped tomatoes, and diced jalapenos. Offer clearly labeled mild, medium, and hot sauces. Serve the tacos with chips and queso or Mexican rice.
18. An epic sheet cake
No matter what kinds of snacks you're serving, the main food event at a retirement party is the cake. Cakes are a fun and efficient way to feed a large group of people—and they're a blank canvas for a personalized message and sugary adornments that match the retirement party theme or the retiree's job.
For a retiring teacher, choose a cake embellished with fondant rulers, pencils, and alphabet graphics. For a CEO, a black and white theme with gold flakes sprinkled on top is an elegant option. Tradespeople with a joyful sense of humor can certainly get on board with a square-shaped construction sign cake reading, "Caution: No Work Ahead."
How long should a
retirement party
last?
Two or three hours is a good duration for a retirement party, whether it's an 11 a.m. brunch, after-work cocktails, a formal 6 p.m. dinner, or a Sunday afternoon open house. It's just enough time for guests to eat, drink, mingle, and wish the retiree well—and it leaves plenty of time for planned toasts and speeches.
Can't make the party? Send a card with Paperless Post
Retirement is a big deal, but if you can't make the farewell festivities, send your well-wishes in a retirement card—we have lots to choose from, and you can personalize it with a special message and photos.
No matter how you slice it, Paperless Post cards and invitations make any event a breeze to plan, whether it's an epic bash or an intimate reception.