Kids' flower theme birthday ideas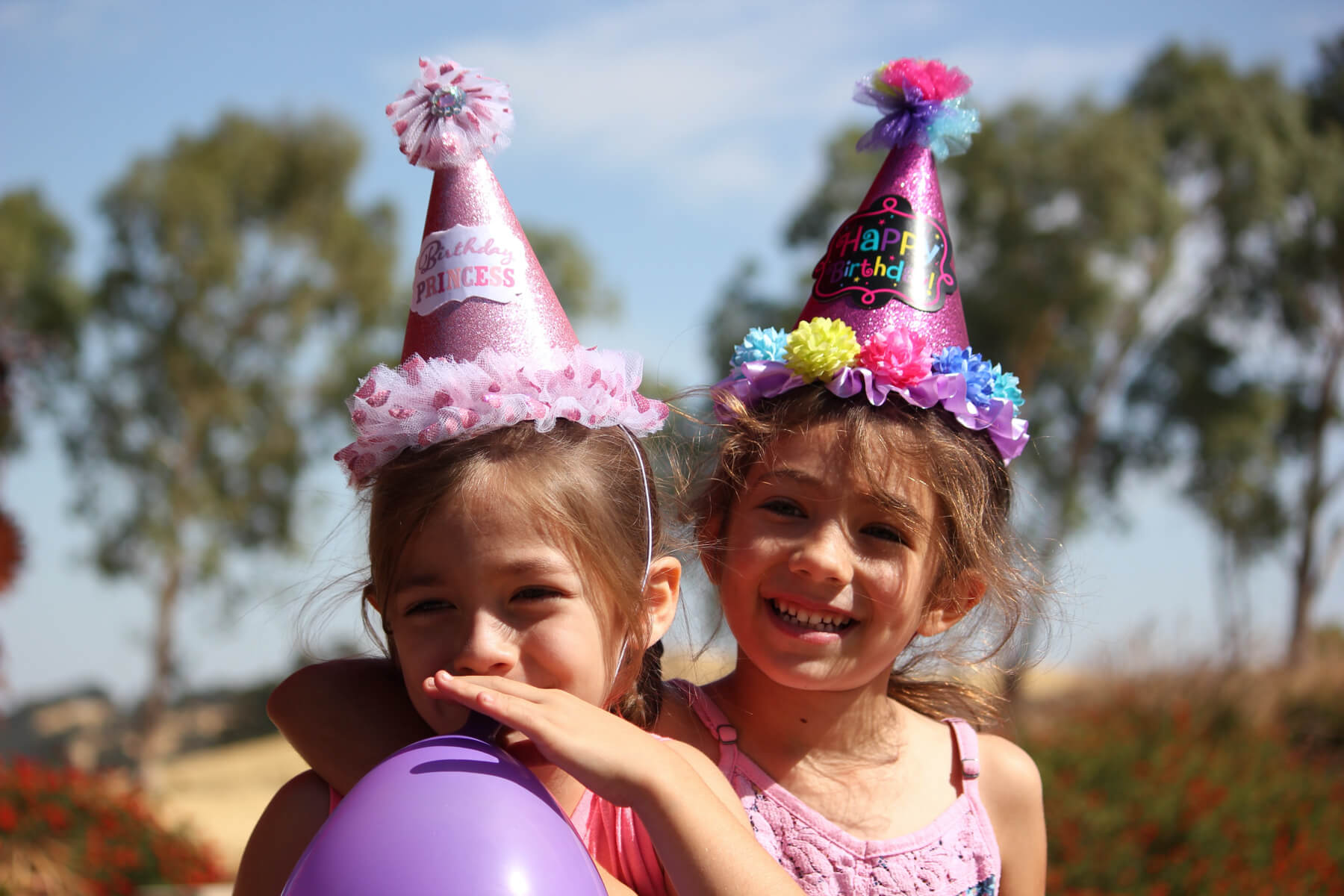 Whether your little one's birthday is during spring when flowers are blooming, or if it happens to fall in the middle of winter, a flower theme party is always a great option, no matter what season. Since this is such a creative party theme, there are countless ideas for kids' birthday invitations, decorations, refreshments, and activities that accentuate a flower themed birthday party. Read on to learn more about flower themed birthday party ideas and how to decorate with this theme in mind.
Floral invitations
A fun way to let guests know about your child's big day is with an invitation—with the most convenient being online invitations. With Paperless Post, you can invite guests with just one click by sending out creative and exciting invitations that match your child's birthday theme. 
Inform guests of the flower party theme by incorporating floral designs in the invitations. There are many flower theme party invitations to choose from, like this one that features a flower stem design. You can even get creative with the kids' birthday invitation wording, using phrases that allude to the flower theme like "flower power" or "celebrate our little one as they blossom and grow."

"
Folk Floral
" by Rifle Paper Co for Paperless Post. "
Flower Stem
" by Petit Collage for Paperless Post.
Flower-themed birthday party decor
When it comes to decorating a flower-themed birthday party, feel free to get crafty and creative. Now sure how? We've put together a list of flower-themed birthday party ideas to give you some inspiration on how to decorate your child's special day. Here are our go-tos:
Think spring
Even if your party does not fall into the few months that make up the spring season, putting yourself into the mindset of spring will help flourish ideas that are fitting for a floral-themed birthday party. Sticking to a pastel and greenery-based color scheme will help you seek out some beautiful floral decorations that will tie together effortlessly.
Add floral arrangements
If you want the party to be filled with fresh flowers consider seeking out a local flower shop. Discussing the vision that you have for your child's birthday with a florist can be extremely helpful in the planning process. They'll be able to help you select flowers that compliment one another and your overall color scheme.
Use centerpieces
If you are planning a large event and will be setting up an area to seat all of your guests, consider ordering or making a few centerpieces to stand out throughout the party. You can do this with fresh or artificial flowers that pair well with the overall color scheme. However, when it comes to centerpieces, be sure to consider sizing as you don't want them to take over the tables entirely.
Hang a flower garland
A cute and unique way to arrange flowers is by turning them into a beautiful garland that you can drape anywhere in the party. For a children's birthday party, you may consider draping a garland right above the refreshments or dessert table. This floral decor will capture everyone's attention and will lead them over to the goodies right underneath as well.
If you are considering a floral garland for your party, be aware that they can get a bit pricey depending on size and choice in flowers. However, you can also purchase your flowers separately and take the DIY route by creating your own flower garland. While this may be slightly more time consuming, it does give you more freedom and flexibility.
Create artificial flowers
You don't need real flowers to throw a beautiful flower themed birthday party. In fact, you can save on floral costs and make equally stunning DIY flowers out of tissue paper. Here are four different ways to make beautiful paper tissue flowers for your event.
If you choose not to take the DIY route when it comes to flowers for your event, you can also purchase realistic artificial flowers from a craft store near you.
Flower-inspired food and dessert
As far as refreshments go, you can incorporate the flower theme as well. From flower shaped cookie cutters to edible flowers, there are a number of ways you can play around with this theme when planning the food and dessert for your child's birthday!
Snacks
Cracker and cheese flower blossoms: Cracker and cheese flower blossoms are a simple and tasty treat that is a favorite among children of all ages. All you need to do is use a small flower-shaped cookie cutter to cut the cheese and place one on each cracker. These are a go-to party favorite because they are a quick snack that kids can reach for in between activities. 
Flower sandwiches: No matter what sandwiches you decide to serve at the event, a cute way to spruce it up is to use a larger flower-shaped cookie cutter before serving them. Simply make your sandwich of choice and use your cookie-cutter to create the flower shape. 
Edible flower arrangements: A classic, beautiful way to incorporate fresh fruit is through an edible flower arrangement. If you are feeling exceptionally crafty, you can use your  flower-shaped cookie cutters and wooden sticks to make your own, or check out all of the beautiful options that Edible Arrangements can provide. As you can see, a flower-shaped cookie cutter can help you create a number of flower-themed snacks. 
Dessert table
For obvious reasons, one of the most favored parts of a kid's birthday party is the dessert table. At the center of the table, the birthday cake is a great place to start and work around. Here are some ideas for toppings on a flower-themed cake:
• Edible flowers
• Fondant flowers
• Flower cake topper
• Flower candles
While some prefer a classic birthday cake, others may feel more inclined to celebrate the special day with cupcakes instead. Cupcakes are a great alternative because they are easier to make and pass out to guests during the event. You can still incorporate the flower theme with cupcakes by using icing to create floral designs.
To fill the rest of the dessert table, here are some options for other cute and tasty flower-themed desserts:
• Flower lollipops
Flower-filled activities
Once you have some decorations and refreshments planned out, you can start deciding what activities you want to set up for the kids on the day of.
Flower crowns
Prior to the event, cut out a variety of paper flowers that range in shapes, sizes, and colors. On the day of, spread these cut outs across the table where the kids will be doing the activity along with some kid-friendly glue. When the kids are ready to get crafty, help them measure the right amount of paper for the base of their crown. Then, help them glue and secure the base of the crown, and let them express their creativity by adding flowers and leaves.
Painting and planting station
Once you know how many children are going to be joining in on the fun, head out to a local craft store and gather pots, flower seeds, and painting supplies for some DIY fun. This craft allows the kids to be creative and design their own flower pots to take home. Not only is this exciting for them in the moment, but being able to take their plants home and watch the flowers gradually grow makes the activity twice as fun!
Flower power party favors
No matter what age, everyone loves receiving a beautiful set of flowers. One way to thank your guests is by making a mini bundle of flowers as party favors, either real or artificial, and including a thank you note such as "Thanks a bunch!" tied to the stem.
Another option for a flower-filled thank you is by gifting your guests with flower seeds that they can grow at home with their families. Similar to the potting activity, this is a great way to extend the fun even after the party has ended. 
Sit back and watch your party bloom
A flower themed birthday party is undoubtedly the perfect theme to commemorate how your little one has "grown" and continues to "blossom" overtime. With the ideas and inspiration listed above, you can be sure to make this day just as special as your child. Your first step should be letting everyone know about your little one's big day. To get started, browse our beautifully curated invitation designs to find the perfect template for your child's flower-themed birthday party. For more kids' birthday themes, check out our Frozen-themed birthday party ideas or our guide to throwing an outer space birthday party.

"
Le Chaton
" by Nathalie
Lété
for Paperless Post. "
Groovy
" Flyer by Paperless Post.