10 Virtual bridal shower ideas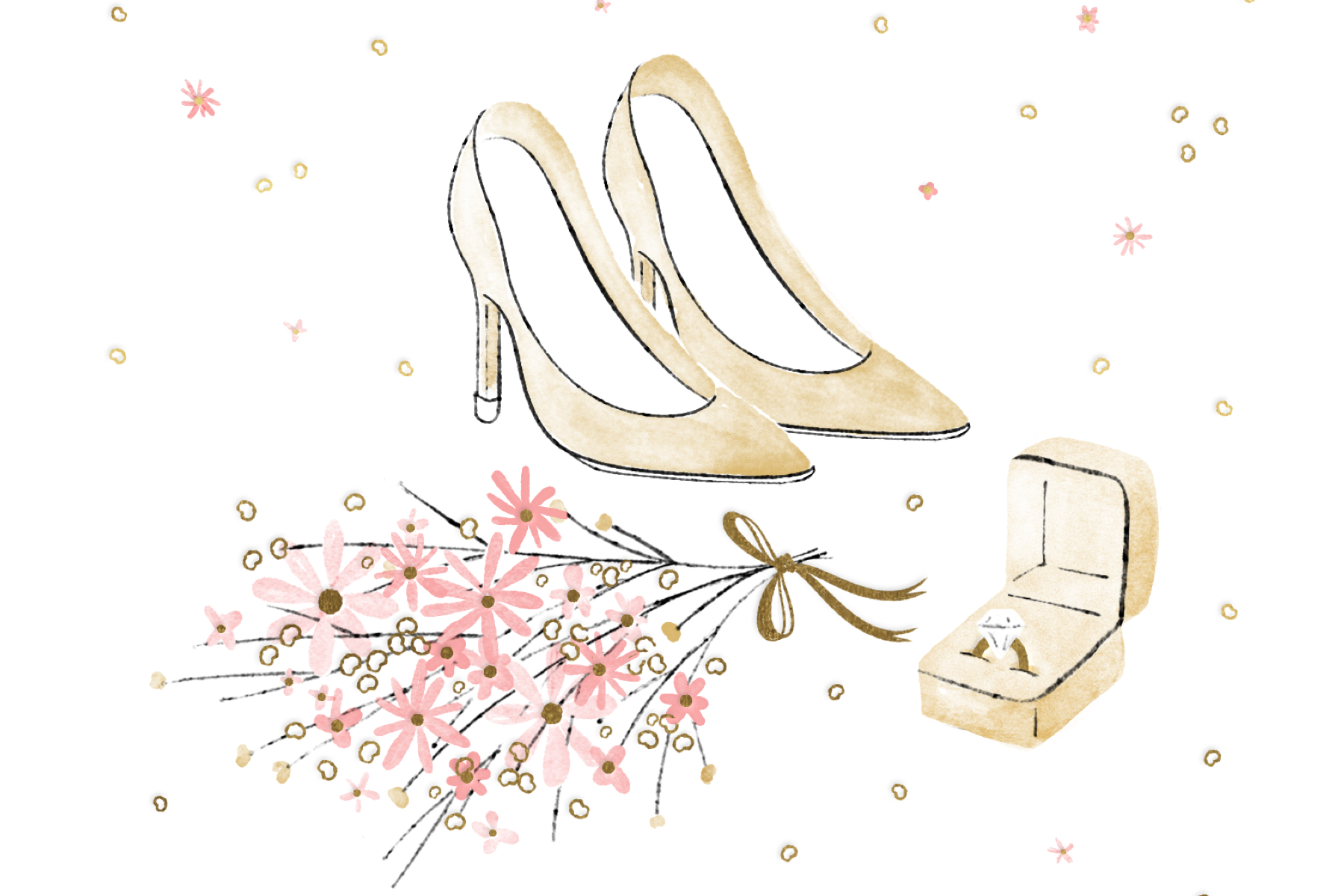 As an alternative to in-person wedding showers, virtual bridal showers have emerged as a fun way for couples to celebrate their upcoming marriages with the people most important to them both near and far. And just because they're virtual doesn't mean they have to feel like any ordinary Zoom happy hour. With a festive theme, a specific itinerary of activities, and, of course, thought-out online bridal shower invitations, a virtual bridal shower can be just as meaningful and memorable as a more traditional affair. 
What is a virtual bridal shower?
A virtual bridal shower is exactly what it sounds like. A wedding shower that's hosted entirely online, using a live streaming service like Zoom or Google Meet. Even if you're hosting an in-person celebration, a virtual component can still come in handy for those who cannot attend in person but would still like to participate in the festivities. 
Traditionally, in the past bridal showers have been events for brides-to-be and female friends and family members, but today, there are no strict rules you have to play by. If the couple prefers, they can also have a wedding shower during which they're both the guests of honor, and they can feel free to include whoever they'd like on their guest list. 
What do you do at a virtual bridal shower?
The purpose of this kind of event is to "shower" the bride or couple with love ahead of the wedding, and there are countless ways to do so that don't require being together in person. Here are just a few ideas that will make for a memorable occasion. 
1. Send presents and open them on camera
This is the most traditional activity for a wedding shower and for good reason. It gives the bride a chance to thank guests for their generous gifts in person—and it's also entertaining for gift-givers. 
Shower Gifts virtual bridal shower invitation by Paper Source
2. Play a virtual bridal shower game
There are plenty of games that are just as fun when you play them online. Consider playing trivia about the engaged couple, having a scavenger hunt (asking people to find certain objects in their home), or downloading a game from Jackbox that everyone can join in on. The couple themselves can also be challenged to play a few rounds of the newlywed game.
3. Have pre-wedding cocktails with the bride or couple over Zoom
If the couple is having a micro-wedding, in lieu of a rehearsal dinner, have a Champagne toast over Zoom the day before the event. That way, even if guests won't be attending the pared-down ceremony, they can still feel involved.
4. Have a "sneak peek" of the dress with friends
This activity is an especially good idea for brides who may be opting for an extremely small wedding. Ahead of the big day, they can show off their wedding day look (either on the hanger or wearing it) with friends and family members who might not get to see it in person.
 
Before the Gown bridal shower invitation by Cheree Berry
5. Take a cooking or virtual yoga class
If the bride or couple loves a good activity, then consider hiring an expert to instruct a class. A virtual cooking class can be a nice complement to kitchen-themed gifts, and a yoga class can make a nice stress reliever. You can also get creative with an art class or a mixology lesson.
"Time Well Bent" virtual bridal shower yoga invitation by Hello!Lucky
6. Do a housewarming tour
If the couple has moved into a new home together ahead of the apartment, they can lead their friends and family members on a virtual housewarming tour, in lieu of a more traditional housewarming, and finish it with a toast.
7. Bubbles and brews
If the couple wants to enjoy the wedding shower together, this simple theme is all-around fun for everyone. Invite guests to "BYOB" their favorite drink and use a festive Zoom background to bring the party into their own home. The shower can either start or end with a toast to the soon-to-be-married couple, and it can either have a casual, cocktail party vibe, or guests can play virtual games together. 
8. Virtual flower arranging class
Just because you can't all get together in person, don't let your hosting wilt. Joining a virtual flower-arranging class is a fun virtual bridal shower idea. Go the extra mile and mail guests theme-friendly flower cookies from baker Lori Stern as a party favor.
"Pluviôse" by Putnam & Putnam
9. Remote Rosé
If the bride-to-be is bashful at the idea of an extended shower in her honor, keep it simple with a remote toast with her favorite friends, and her favorite rosé. 
10. Surprise virtual bridal shower
If the shower is a surprise, the person planning the event can receive packages at their home and then drop them off at the couple's home ahead of the party. Then, during the celebration, the couple or bride can open gifts and share their thanks with everyone who's logged on. The planner or another volunteer (a parent or family member, perhaps), can also help write down which gifts came from which guests, to make sending thank you cards later even easier.
How to throw a virtual bridal shower?
Bridal showers are most often hosted by a friend (often the Maid of Honor) or a relative. Since the bride-to-be is typically busy enough planning her wedding, the details of the virtual bridal shower can be delegated out. It's up to the person planning whether they want the shower to be a surprise for the bride or not—just make sure she knows when to log in to Zoom, and figure out a good excuse if you want the event to be a mystery. Of course, it's also perfectly acceptable to throw your own wedding shower if that's what you'd prefer. Follow these steps to ensure the celebration goes smoothly.
Choose a virtual bridal shower co-host.

If you're the person planning the shower, you might not necessarily want to be the host—the person who acts as emcee throughout the event—so, you can feel welcome to recruit another outgoing friend or family member to get involved. Especially if you're inviting a large number of guests to celebrate with you virtually, a good, active host can ensure that everyone on the video call feels like they're a part of the party.

Plan the virtual bridal shower guest list.

Your guest list can turn out one of two ways: You can either stick with a small, intimate list that mimics an in-person shower, or you can use the virtual shower as an opportunity to invite more people than you'd be able to include otherwise. After all, a virtual shower cuts down on costs like food and alcohol and it makes it possible for friends and family members to attend no matter what time zone they may be in. So, you may feel more inclined to make it a bigger affair.

Decide on whether gifts will be opened or not.

Gifts from the wedding registry are traditionally given and opened at the bridal shower, but some couples may prefer not to accept gifts, or may not feel comfortable opening them in front of a crowd. In that case, make sure that guests know what to expect. If you do plan to have a gift-opening component, provide the best mailing address on the virtual bridal invitation as well as on the registry (which can also be linked from the virtual invitation). 
Pick a time and technology.

Zoom has become an especially popular option for virtual weddings and showers alike, but you can also consider other alternatives like Google Hangouts or Skype. Don't forget that some services (like Zoom) are only free for a certain length of time, so check if you need a subscription before the day of. It's also a good idea to have a trial run using the technology beforehand, especially if you haven't used it before. 

Wedding showers are typically a daytime affair, held around lunch or just slightly after, but you can plan to have the party whenever it makes sense to you and your guests. Some might prefer to have an event in the evening, especially if you're planning on having a Champagne toast. Bridal showers can run from two to four hours, but for a virtual event, it's best to lean on the shorter side.
When to send a virtual bridal shower invitation?
Bridal shower invitations are typically sent anywhere from four to eight weeks ahead of time, but for a virtual event, three to four weeks is a fine timeline, since guests won't have to take any necessary travel into consideration. If you're sending invitations through Paperless Post, gather names and email addresses before inviting guests. Personalize your invitation with an image of the bride-to-be. If you prefer a more casual invitation, Paperless Post also offers animated Flyers that are perfect for more laid-back virtual showers (or laid-back brides who prefer GIFS to calligraphic fonts). 
"Flutter Photo" by CONFETTISYSTEM
Virtual bridal shower invitation etiquette
Thoughtful online invitations can make a virtual bridal shower feel as special as an in-person one. Send virtual bridal shower invitations at least three weeks ahead of time and give guests a good expectation of what to expect. If the bride or couple will be opening presents live, provide the best mailing address on the invitation. Suggest a deadline for guests to order presents in case of mail delays. And don't forget the link to their wedding registry!
Make sure that guests understand how to log on for the party, and are aware of the timeline for the shower. If the party has a hard start, make note of that so that guests don't tune in too late. Note the end time as well—that way, no one fears they will have to stay on the call for hours on end. 
With Paperless Post invitations, you can also easily send follow-up messages to guests. Remind them of the party's start time and the Zoom login link. It's a good idea to send a quick reminder about three days before the event. If anyone has any questions about logging in or anything else, they have time to ask ahead of time.
And if you have any questions, never fear: Our Personal Design Services team is here to help bring your dream virtual bridal shower invitation to life, and can even provide matching Zoom backgrounds to make the event extra special.
Ready to get started? Toast the bride-to-be with virtual shower invitations that show you really care; because her shower deserves more than the average text.