25 glamorous gala theme ideas to elevate an evening
Formal galas are elegant gatherings with a purpose—and often Champagne. They can raise funds for an important cause, thank members of an organization, provide a venue for awards ceremonies for notable individuals, or celebrate the end of a successful company year. Planning a gala is a lot more work than it looks, though, and it all starts with a theme.
We've called in the experts: Janine Repka Guzzone, Senior Development Manager at Crime Victims Treatment Center, and Ann Marie Elmayan, Director of Development at Spark the Journey. Each has planned a number of galas and fundraising events, and we've got their words of wisdom to share—plus a few dozen gala theme ideas for inspiration.
25 gala theme ideas
Whether your organization or fundraising gala ideas involve tuxedos and ball gowns or cowboy hats and miniskirts, it's always nice to have a theme. "Think about the theme of the event and what you want it to look like," advises Ms. Elmayan. "The theme will inform the program, the number of attendees, and more."
Meet the experts
Ann Marie Elmayan
brings 10 years of fundraising experience in the nonprofit sector and currently serves as the Development Director at Spark The Journey.
Gala ideas can range from very specific to more of a general vibe. Whichever you choose, it's important to communicate your idea right away with themed gala invitations so your guests know what to expect. Then, pair the invitation with matching gala dinner décor ideas to fully establish the theme. 
1. Sparkling Champagne
Use a classic, dazzling, Champagne-focused gala theme for any type of formal event.
Food and drink:

Serve

plated dinners or delicate hors d'oeuvres with a few glasses of bubbly.
Additional ideas:

Give out awards for a very special appreciation night that everyone can toast to.
2. Golfing gala
Tee up for a great celebration when you invite guests to a golf-themed gala.
Food and drink:

Think golf foods—light drinks, lunch-type food, sandwiches, or iced tea.
Décor:

Decorate with lots of green, outdoorsy party goods.
Additional ideas:

Host the gala on a golf course—and auction off a free round to guests. For a special

gala entertainment idea,

try to book a golf pro as a speaker. 
If you do hire speakers for your event, Ms. Elmayan advises "making sure you do a run-through with your speakers if you have them at your event beforehand. If someone fumbles the ask, it's going to end the whole thing on a curve ball."
3. Patriotic gala
Have gala guests dress in patriotic colors to honor guests who served their country, including military veterans, or to celebrate a patriotic holiday.
Food and drink:

Serve light appetizers and beer for occasions like the 4th of July. Consider including bite-sized versions of traditional foods like burgers and fries.
Additional ideas:

Have the gala outdoors for a summertime picnic feel and hire a band to play patriotic classics. 
4. Met Gala
Unless you live in New York and rub elbows with the stars, attending the actual Met Gala may not be in your plans. But you can bring the Met's famously offbeat and artistic vibe to your own event.
Food and drink:

Serve plated dinners with ultra-fancy appetizers and drinks.
Décor:

Decorate to match this year's specific Met Gala theme, or choose a theme from years past.
Additional ideas:

Provide photos or links to previous Met Galas for guests to get some attire inspiration—the wilder the better.
5. Black and white
Stark and dramatic, a black-and-white gala encourages guests to bring out their most sophisticated, monochrome outfits.
Food and drink:

See if you can stick to the black-and-white theme for food and drinks—think blackened salmon, vanilla cake, black-and-white cookies, and dark liquor.
Décor:

Go wild with black-and-white streamers, tablecloths, centerpieces, and balloon arches.
Additional ideas:

Use a chessboard as inspiration and incorporate chess imagery throughout your invitation and decorations.
6. Holiday gala
Nothing says "holiday" like dressing up, gathering with your guests, and enjoying delicious food.
Food and drink:

Serve traditional food and drink from the holidays, such as roast beef, glazed ham, and spiced cider.
Décor:

If you're going for a Christmas holiday gala, bring out the red and green. For other winter holidays, use appropriate color palettes in your decorations.
Additional ideas:

Introduce a white elephant party to liven up your holiday event.
7. New Year's Eve gala
Whether you're celebrating the end of the fiscal year, a successful product launch, or just one more year with valued coworkers and guests, a New Year's Eve gala promises sparkling fun.
Food and drink:

Serve a multi-course dinner that stretches the event from seating time to the countdown of the last moments of the year.
Décor:

Go with lots of silver and black décor —along with traditional New Year's decorations, party hats, and noisemakers.
Additional ideas:

Hire a live band for the gala, so guests can dance until midnight and beyond.
8. Mardi Gras gala
You don't have to live in New Orleans to celebrate Mardi Gras—but it helps. Bring the festivities of Bourbon Street to your fundraising event or appreciation gala, instead.
Food and drink:

King crabs, jambalaya, beignets, and mint juleps provide the perfect southern Mardi Gras vibe.
Décor:

Beads, feathers, and lots of colors—it's party time!
Additional ideas:

Host the event around or on Mardi Gras for added excitement. Hire a jazz band to set the tone.
9. Tropical party
Put on a lei, slip on your nicest sandals, and host a tropical gala that brings island celebrations home.
Food and drink:

Serve island fare as passed appetizers or plated meals, coupled with tropical drinks.
Décor:

Think tiki torches, grass streamers, and leis for all your guests.
Additional ideas:

Rent a beachside venue and string up romantic lights to illuminate the sea. Consider adding a pig roast to make it feel extra tropical. 
10. Casino night
Lady luck is your plus one when you host a casino night gala. It's the perfect idea for a fundraiser where all the house's winnings can go towards your cause.
Food and drink:

Serve passed hors d'oeuvres and cocktails so guests can spend more time at the casino tables. 
Décor:

Go all-out Vegas for this one, or just focus on casino themes—cards, poker tables, and chips.
Additional ideas:

Host a silent auction for more risk-averse guests to join in the fun. Print customized poker chips for the event for a special treat. 
11. Masquerade gala
Something about a masquerade ball feels so delightfully elegant and exciting. Provide fancy masks for guests—or have them bring their own—for a night of intrigue.
Food and drink:

Serve plated dinners or a buffet-style meal for guests to socialize at the table.
Décor:

Bring the mask theme into the gala decorations, lace and all.
Additional ideas

: Encourage guests to dress up in ball gowns and tuxedos for even more vintage fun. Or make it a costume night to match the masks. 
12. Hollywood red carpet
Ready, set, action! A Hollywood gala makes everyone feel like a star, so it's a perfect theme for an awards ball or appreciation banquet.
Food and drink:

Think Los Angeles fusion here: sushi and cocktails, or even a street taco truck.
Décor:

Roll out the red carpet—literally—and decorate with gold awards and black moviestrip reels.

Additional ideas: Rent a photobooth as a pleasant alternative to Hollywood paparazzi.
13. Secret garden
A garden gala makes a formal event feel like a sweet, romantic evening.
Food and drink:

Plan a meal straight from the garden, with salad, fruity drinks, and roasted vegetables.
Décor:

Lots of green leaves and colorful flowers will bring the garden vibe to your event.
Additional ideas:

Host the gala in an outdoor space, such as a botanical garden or a patio venue.
14. Medieval castle
Every guest can be a king or queen when you host a medieval gala.
Food and drink:

Roasted chicken, turkey legs, and dark beer or mead will make your event feel like it took place 700 years ago.
Décor:

Castle decorations—think swords, shields, suits of armor, and dragons.
Additional ideas:

"Crown" a king and/or queen of the event—especially if your gala has a guest of honor.
15. Fiesta
Who cares if it's not Taco Tuesday? Everyone will be quick to RSVP to a fiesta gala, no matter what day of the week it is.
Food and drink:

Serve lots of Mexican food as plated dishes or buffet-style, and don't forget the flan and churros.
Décor:

Smaller events can focus on more of a "taco" vibe, while larger, upscale events can incorporate the Mexican flag and its colors into their décor .
Additional ideas

: Hire a Mariachi band to get guests into a fiesta mood.
16. Sports night
Baseball, soccer, football, basketball… no matter what sports season it is, you can find a great gala idea.
Food and drink:

Find a fancy way to serve game food, such as nachos, beer, hot dogs, and chips.
Décor:

Use the current seasonal sport—or local favorite team—to inspire your decorations.
Additional ideas:

Rent out a local stadium or court to host the gala. Hire a sports pro as a surprise speaker. 
17. Diamonds and denim
Sometimes called "Boots and Bowties," this unique gala idea combines cowboy gear with a little bit of city glitz.
Food and drink:

Serve steak and potatoes alongside a traditional host bar.
Décor:

Cowboy hats and diamond necklaces. Need we say more?
Additional ideas:

Call out a line dance during the gala to get those boots scootin'.
18. Anchors aweigh
A nautical gala can take place on a ship, a harbor, or miles inland. What matters more than the location is the blue-and-white sailor attire.
Food and drink:

Seafood, either as served appetizers or seated plates.
Additional ideas:

Auction off a cruise for guests to bid on in either a silent auction or a live auction.
19. Food and wine gala
Isn't every gala a food and wine gala? Yes—but when it's the focus of your gala theme, you know the food and wine will be especially delectable.
Food and drink:

Plan a palate-pleasing menu that involves sample plates and lots of exotic cheeses.
Décor:

Style the gala as a fancy restaurant—red-and-white checked tablecloth and candlelight or an Italian vineyard outdoors with lots of string lights and Italian music.
Additional ideas:

See if local restaurants and wineries will donate the food and wine needed.
20. Winter wonderland
Whether there's 10 feet of snow outside or no snowflake to be found, celebrate an important event with a winter wonderland gala.
Food and drink:

Lots of warm foods and drinks, like hot cocoa and buttered rum.
Décor:

Create your own winter wonderland with pure white décor, from tablecloths to chair covers to wall coverings.
Additional ideas:

Host the gala at a local ice rink or ski lodge.
21. Cocktail hour
To commemorate the occasion without making it a black-tie ball, host a cocktail gala where guests wear less formal attire and socialize around standing tables. 
Ms. Elmayan recommends that you "build in downtime in your event for people to network, talk, connect, and enjoy themselves, whether it's a cocktail reception before or a dessert bar after."
Food and drink:

Host a bar for your guests, or give each guest two tickets to redeem for drinks before it becomes a cash bar.
Décor:

Go with darker colors—black, dark red, dark blue—to match a cocktail mood.
Additional ideas:

Use th

is gala theme idea for events with smaller budgets.
22. Science night
You don't have to be a kid (or a scientist) to love science. If your organization is raising funds for or thanking members of a science museum, experiment with a science night gala.
Food and drink:

Serve small plates with creative cocktails—extra points if they're fizzy, foamy, or otherwise scientific.
Décor:

Use metallics and dark colors to add an air of sophistication and technology to the evening. 
Additional ideas:

Bring in local scientists or grad students to perform chemistry or physics experiments as entertainment.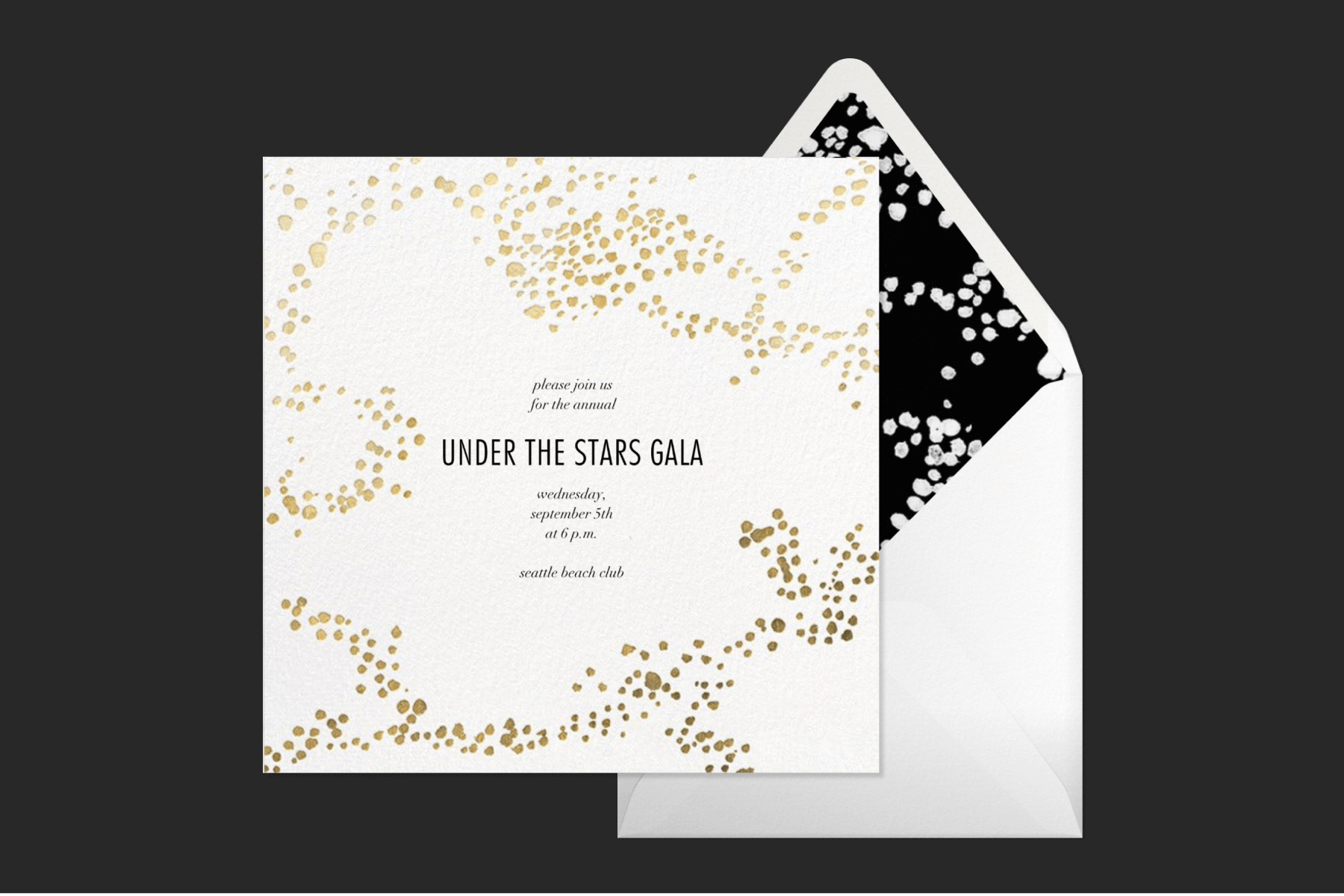 23. Under the stars
Incorporate some outdoor time to your event for guests to take a much needed break from a crowded room with additional cosmos-themed activities. 
Food and drink:

Find upscale versions of traditional camp food, such as roasted trout or deconstructed hamburgers to serve as appetizers or plated dishes.
Décor:

More formal events can focus on glittering stars and rolling hills in the décor, with plenty of comfortable seats available for stargazing.
Additional ideas:

Invite astronomers to set up telescopes for guests' viewing pleasure. 
24. A night in Paris
Planning a gala in Paris may be the dream, but if it's outside your organization's budget, bring Paris to you instead.
Food and drink:

French cuisine all the way—croissants, coq au vin, quiche Lorraine—and of course, a selection of French wines and cheeses.
Décor:

Channel a Parisian cafe in your decorations with fresh flowers, pastel colors, and Eiffel Towers galore.
Additional ideas

: Offer a trip to Paris as the main prize in a silent or live auction.
25. New York, New York
This city might be so nice that they named it twice, but it's no match for the shindig you're about to throw.
Food and drink:

Go for a fancy version of New York-style pizza or steak as hors d'oeuvres or plated dishes. For drinks, it's mixed cocktails. Extra points for Long Island Iced Teas, Manhattans, or apple flavors for the Big Apple.
Décor:

Colors can include silver, green, and black to match common New York landmarks like the Statue of Liberty or the Chrysler Building. 
Additional ideas

: Offer a trip to NYC as the main prize in a silent or live auction.
Gala invitation ideas
Gala invitations should match your gala theme idea and get guests excited about attending. Whether you want a classic and simple message or corporate invitation wording, Paperless Post has just the right gala invitation examples for your event. Plus, you can create your own shareable URL, replace our logo on invitation emails, and easily add Guest Tags to keep your guest list organized.
"Invitations should really be simple," Ms. Elmayan stresses. "You want it to have the event name or the theme, the location, the date, the time, and a brief program run down. Include your branding. That's it! All the other information, what you should wear, where to park, you can send that in a know-before-you-go email because you don't want to overcrowd the invitation." 
However, when you choose to send an invitation via Paperless Post, you don't need to send a separate email with all those details. Instead, you can add helpful information without cluttering your Card using Blocks, which sit directly under your invitation on its Event page. It's never been easier to send sophisticated, professional invitations with all the info your guests will appreciate.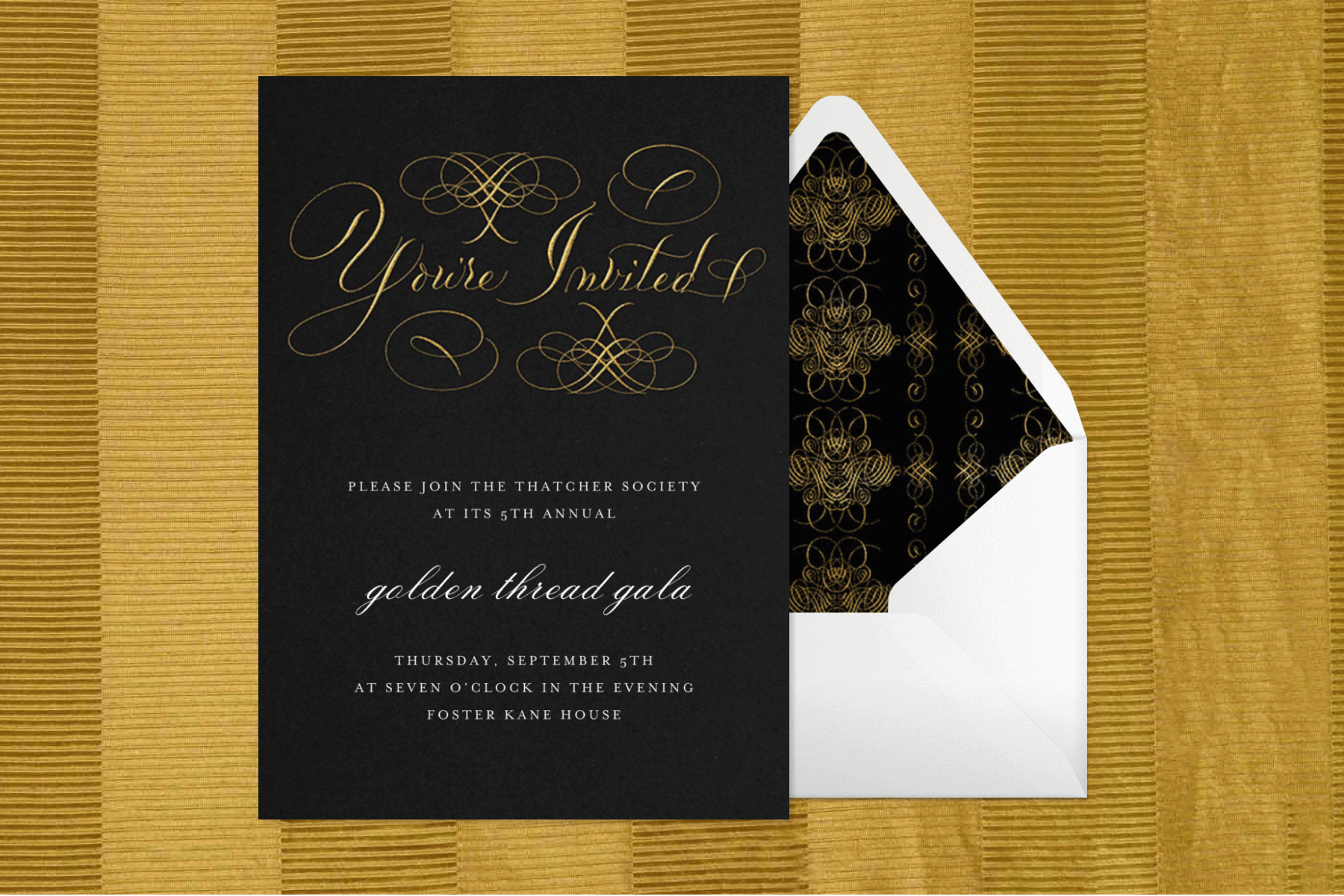 26. Black and formal
Sleek and beautiful, the black-and-gold "You're Invited" gala invitation sets the right tone for a formal affair.
27. Break out the bubbly
Have a little fun with the "Champers Fountain" gala invitation, great for less formal gala themes or ones focused on the drinks.
Tips for planning a gala
Event planning isn't as easy as it looks. It involves creating and sticking to an event budget, straightening out a timeline, marketing the event, and thanking everyone afterward.
"However early you think you should start planning, back it up by four more weeks," reminds Ms. Elmayan. "Remember, the last two months leading up to the fundraiser are going to be stressful no matter how much you plan—so just give yourself some grace in that space."
Choose the right type of gala
Remember, not every gala has to be a formal event. "What works for our organization is doing passed hors d'oeuvres and drinks and recognizing honorees," says Ms. Repka Guzzone. "Sit-down dinners simply don't make sense for our millennial donor base."
It all depends on your organization and their needs, capabilities, and preferences. For example, don't plan a black-tie affair for a product launch if employees typically come to work in jeans and t-shirts. Likewise, some themed galas—like Sports Night or Fiesta—may be too casual when thanking donors for very generous contributions.
Give yourself a buffer
Ideally, galas and other large events have a long enough planning timeline to cover every detail. But there will always be something you didn't plan on—and that's where the buffer comes in. 
"If your venue allows it, I like to finalize RSVPs a week out and leave myself a buffer or wiggle room for people who show up at the door without sending an RSVP," says Ms. Repka Guzzone. "I buffer my catering orders too, while making sure it's within budget. Give a 10-guest buffer for catered events. People will always eat more canapés!"
Market your event
Sending invitations ensures that guests make it to the door—most of the time. Ms. Elmayan advises planners to "tell your board members in your board meetings, let your volunteers know when you see them, and lean on email campaigns and invitations." 
But what about events where spreading awareness can result in more donations? Choose event marketing strategies that spread awareness and pique donors' interest. 
"Messaging is key," says Ms. Repka Guzzone. "We focus on adding moments of joy to marketing. We use GIFs in our fundraising emails. Email and social messaging are the most effective."
Thank donors right after the event
Your event went off without a hitch—congratulations! But now isn't the time to kick back and enjoy your success. Take a moment to send thank you cards to guests and donors right after the gala is finished. 
"Send thank yous as soon as possible while the event is still in their minds," advises Ms. Repka Guzzone. "You can use your follow up materials to do a last call for donations." 
Set goals for next year
The last thing to do after a gala is to reflect on it. How well did it go? What would you do differently next year?
Ms. Repka Guzzone gets right down to business. "To measure success, have a meeting as soon as possible with the internal stakeholders to get things down and talk about metrics," she says. Examining what went well—and what didn't go well—is the key to next year's gala's success.
Ms. Elmayan reminds planners to "always have an overarching fundraising goal. I base goals off of what the organization has raised in the past with similar numbers of attendees." 
Get the gala started with Paperless Post
Choosing a theme makes your gala enjoyable and memorable for every guest. Whether you're renting a taco truck, auctioning off a trip to Paris, or sipping Champagne under the stars, it's sure to be a night to remember.
Paperless Post has the tools you need to make planning go smoothly. From choosing the right invitation to creating your own URL, to tracking RSVPs, our invitations make the hard part of gala planning a piece of cake (which, by the way, is never a bad idea). Yum.