50 fun things to do on your birthday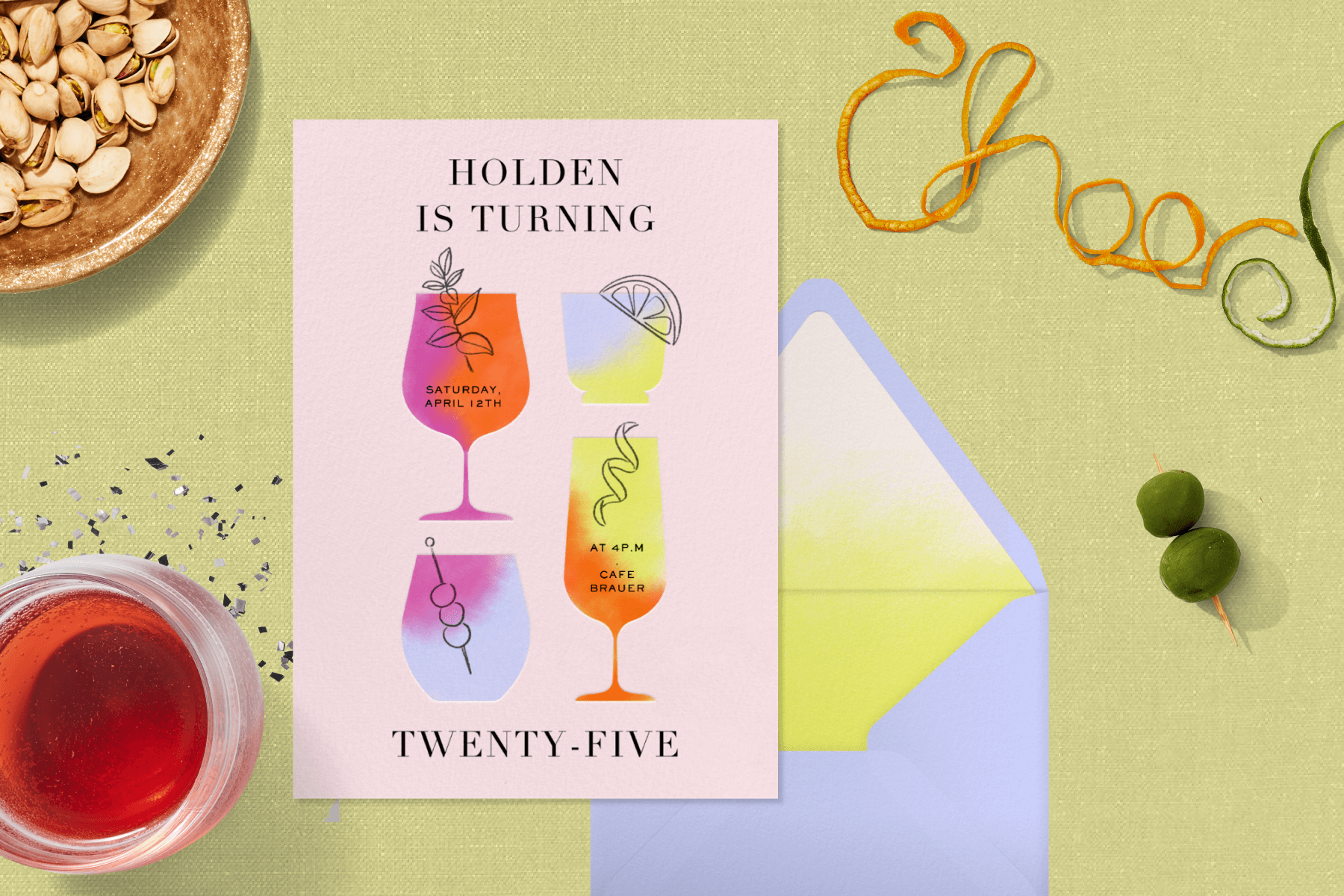 Imagine spending your birthday any way you want—the perfect way to say "goodbye" to the last year, and "hello" to the upcoming one. For some, the best birthday plan includes a big bash with lots of friends and well-wishers. For others, it's a quiet afternoon to themselves, wide open with possibilities.
Wondering what to do on your birthday, and not sure where to begin? According to Aimee France, baker extraordinaire, simple birthdays are the way to go: "If I were hosting it, I'd probably choose something low-key with my friends. It'd be fun to cook with friends"
Meet the experts
Serena Merriman
specializes in event planning and decor, working with each client to create a visual and experiential storyline around the theme of an event.
Aimee France
is a self-taught baker based in Brooklyn, New York.
Derek Blasberg
is a bestselling author and quintessential man about town.
Since your birthday is all about you (as it should be!), it's your chance to think about what you'd really like to do on your special day. Whether you want a laid-back day or an epic to-do that goes down in the history of your friend group, we've got plenty of ideas to help you celebrate your birthday.
1. Have a spa day
For some birthday celebrators, there's nothing better than being pampered. Forgo the noisy party, and enjoy a hot stone massage or relaxing facial—or both.
2. Visit a cat café
If you love adorable animals and happen to have a cat café nearby, schedule some face-to-fur time with your new best friends. Some cat cafés even offer lunch and drinks along with your snuggle sessions, which is truly all you need to ring in a new year of life.
3. Treat yourself
Pick up those double-chocolate cookies you love, or buy yourself a gourmet cupcake with gold flakes. Not every birthday treat has to have a candle in order to grant your wish.
4. Watch your favorite movie
Check your streaming services, or pay a few bucks to rent the movie that always makes you smile, cry, or both. Bonus points if you can talk a best friend into sharing some popcorn with you on the couch.
5. Try a new hairstyle
If you've been considering something new for your 'do, your birthday might be a great time to make the cut. Warm highlights, a dramatic bob, beautiful balayage—embark on your new year with a fresh coif.
6. Go out for brunch
Make reservations at that hard-to-reserve place with the best daytime drinks in town. Go solo with a good book, or slide into a booth with good friends.
7. Get a mani/pedi
Nothing says "birthday" like a shiny new set of nails. Pick a color you wouldn't normally get, and enjoy being spoiled for an hour.
8. Take a hike
The solitude and beauty of nature can be a lovely backdrop on your birthday. Invite friends to traverse your favorite trail, or try the new route everyone's been talking about.
9. Visit a bookstore
When was the last time you spent an afternoon surrounded by books? Even if the answer is "yesterday," going to a bookstore and perusing the shelves is a luxury worthy of your special day.
10. Go shopping
You can still buy things inside a store—it's true! Try on some new clothes, and splurge on something you'd reluctantly pass up on a normal day.
11. Make a photo book
What better way to remember the year you're finishing than by picking your favorite photos from it? Take all those selfies and group pics that live on your phone, and put them into a pretty photo book for keeps.
12. Have a wine or beer-tasting day
Chances are, there's a great wine bar, vineyard, or brewery just a short drive away. Make a day of it, and come home with a great experience—and some bottles of your favorites. (Don't forget to assign a DD!)
13. Play at an arcade
You may not be a kid anymore, but you can still spend your birthday like one—and you don't even need to bug your parents for quarters. Check out a fun arcade in your area and spend some quality time with Mario, Zelda, and Sonic the Hedgehog.
14. Go horseback riding
Make a new equine friend with a birthday horseback ride. Join up with your human buddies, and take a trail ride through a nearby forest, meadow, or ranch for an afternoon of quiet contemplation.
15. Buy a new piece of furniture
A new coffee table, sideboard, or TV stand may not be on your birthday wish list for your loved ones, but it could be the perfect gift for yourself. Treat your favorite room to a mini upgrade with brand-new furniture for your home.
16. Go ice skating
People with winter birthdays know the cool thrill of an ice-skating party, but summer birthdays don't have to miss out! Find an ice rink near you, strap on your skates, and show off your icy moves.
17. Take a walk
Turning the age clicker over one more year can be a lot to take in—especially if it's a milestone birthday. Spend your afternoon walking around your neighborhood, along the beach, or through a new town to contemplate what goals you'd like to achieve in your new year.
18. Buy a nice journal
Once you've got those goals down pat, put them in writing to revisit throughout the year. Choose a pretty journal or a nice notebook to jot down your brilliant ideas, deepest thoughts, and dearest dreams for your next trip around the sun.
19. Go on a road trip
Remember road trips with gas station snacks and your favorite tunes playing? Relive the good old days with a solo or friend road trip to a place you'd like to visit (Hint: It's about the journey, not the destination).
20. Visit an amusement park
Zooming roller coasters, delicious treats, epic gift shops… what's not to love about visiting an amusement park? Some parks give you special perks if you tell them it's your birthday, so grab your fanny pack and your best friends for a day of fun—and funnel cakes.
21. Buy a new gadget
Every other day of the year, you can tell yourself that you don't need an automatic toothpaste dispenser or potato slicer. But on your birthday, let the robots take over some of your workload—pick up a new gadget or gizmo to make the rest of your year even better.
22. Go to a concert
Is your favorite band playing near you? If not, you can be sure that someone's touring—and they might become your new go-to. Head to a local music club or nearby concert venue to sing your heart out, dance your feet off, and make new friends.
23. Try a new restaurant
Comfort food is a staple on the other 364 days of the year. On your birthday, try that new Vietnamese or Persian place down the street, or try the authentic Italian ristorante everyone's raving about.
24. Go bowling
When was the last time you bowled a strike (or bowled at all)? Your birthday is a great time to slip on some bowling shoes, knock down some pins, and knock back a few pints.
25. Check out a comedy show
For a birthday full of unbridled laughter, find an improv night or comedy show near you. If you're feeling particularly brave, join in an open mic night and show off your own funny bone—applause really is the best gift of all.
26. Go camping
Outdoorsy birthday celebrators will enjoy a peaceful weekend of stars, s'mores, and sleeping bags. You may be a year older when you return home, but you'll also be a lot more rested.
27. Create a work of art
Your birthday is an ideal time to start that creative work you've been thinking about. If you need some inspiration and practice, check out a paint-and-sip or craft-making venue near you.
28. Visit a petting zoo
Baby goats on your birthday? Yes, please! See if there are any petting zoos or touring farms in your area, and get up close and personal with some barnyard buddies.
29. Buy some new jewelry
A beautiful pendant or ring can be the right finishing touch for your birthday ensemble. Go to a chic boutique, your local jeweler, or your favorite Etsy shop, and pick out something special to mark your day.
30. Give back
Do you love building houses? Reading to kids? Walking dogs? Volunteering in the community is a great way to help others and feel great about heading into another year on the planet.
31. Write a letter to your next-year self
Start a new birthday tradition by writing a letter to your future self about the year you're leaving behind and your aspirations for the new one. Even if you don't jot down anything overly insightful or deep, it can be fun and interesting to look back at the things you felt were important at the time, and the strides you've made as you've grown. 
32. Get a makeup makeover
Is there a better day for going glam than your birthday? Pop into a salon or beauty counter, and let them work their magic on you. Then, stock up on your favorite new makeup as a birthday gift from you to you.
33. Try a new style
Shake up your regular wardrobe and try something new. Let a personal stylist pick a new outfit for you that celebrates your youth, no matter what age you're turning. Remember: You'll never be as young as you are right now!
34. Stay in a hotel
Two words: Room. Service. Snuggle up in a soft hotel robe, rent a movie, and order your favorite dishes—prepared lovingly by someone who isn't you—with a slice of birthday cake for dessert.
35. Treat yourself to an expensive face mask
Is a fancy face mask taking up space in your cabinet, just waiting for the right time to use it? Your birthday is that time! Make it a full-service mask day with a luxurious foot mask and hand mask for some baby-soft birthday appendages.
36. Go thrifting
Thrift stores are a treasure trove of new-to-you clothing. Find a cute top from the '70s or some hip-hugging jeans from the '90s (they're baaaack…).
37. Sit by the pool
If you're lucky enough to have a summer birthday—or to live in a warm weather climate—treat yourself to a birthday pool party without getting your hair wet. Pick out a birthday book and stretch out on a poolside lounge for luxury vibes, even if it's only yours for the afternoon.
38. Visit an escape room
Want a challenge for your birthday? Try an escape room that tests your brain and your teamwork skills at the same time.
39. Go to a game
If your favorite team is playing, hop over for a birthday game and some stadium snacks. You can also check local colleges for high-stakes games that you may not even know about.
40. Throw yourself a party
Don't wait for your friends to get the guest list together—throw your own party. "I usually throw myself a birthday party," says Serena Merriman, an NYC-based event planner. "Hosting your friends and cooking for them is an act of love." 
Or take a page out of party guru Derek Blasberg's book: "What elevates a so-so party to a fantastic one? Guest list, guest list, guest list. Invite a few oddballs or people from different friend groups. Also, good music, and never run out of booze."
41. Get a tattoo or piercing
Your birthday is a great time to get that tattoo or piercing you've been thinking about for so long. Spend some time beforehand researching the right shop or artist to execute it—if you already have a preferred artist, make sure to book them in advance.
42. Adopt a pet
Share your birthday with a furbaby's adoption day! Tour your local pet shelter to find a new buddy who can share the spotlight while you blow out the candles this year.
43. Go bungee jumping or skydiving
Your birthday can be out of this world (or at least many feet above it) with an extreme sports excursion. Jump out of a plane, or bungee jump from a bridge for a jolt of adrenaline to help you welcome in a new age.
44. Plant a garden
Want to start something that will last past your birthday? Find some space in your backyard or in a community garden to sow some seeds—veggies for your favorite salad, flowers for a beautiful bouquet, or even a spiky little succulent garden, depending on the season and climate.
45 Enroll in a class
If you've always wanted to cook, play an instrument, write a novel, or speak another language, your birthday is a great time to start. Enroll in a class, and by your next birthday, you'll have mastered a brand-new skill.
46. Take a cruise
Celebrate your birthday the nautical way—with island excursions, poolside limbo contests, and midnight ice cream buffets. A cruise is a never-ending birthday party that you can enjoy solo or with a group of like-minded shipmates.
47. Buy new workout equipment
If you've had your eye on a new bike, weight bench, or treadmill, your birthday is a great time to make the purchase. Embark on your new year with a new focus on your health—it's a present that holds the promise of many more birthdays in the future.
48. Visit a long-distance friend
Sometimes, the best gift we can give ourselves is time with loved ones—especially when we haven't seen them in a while. Hop a plane, board a train, or take a road trip to see that friend who lives too far away to visit as much as you'd like.
49. Run a race
Get yourself a shiny medal this birthday with a local race. Many races include beginner events for those getting started in the running world and more challenging events for those who want to push themselves this year.
50. Collect freebies
Lots of people want to help you celebrate your birthday with freebies—and you don't need to invite all of them to your party. Stop by these stores and restaurants to pick up a free gift on your birthday.
Starbucks

: If you're a Starbucks Rewards member, you can redeem one free drink or food item on your birthday.

Olive Garden

: Enjoy a birthday meal at Olive Garden, and they'll serve you dessert on the house.

Sephora

: Beauty Insider members get to choose from a selection of free birthday gifts on their big day.

AMC Theaters

: Sign up for the AMC Stubs program, and get your popcorn for free when you go to a movie on your birthday.

P.F. Chang's

: Join the P.F. Chang's rewards program, and get a free dessert on your birthday.

Baskin-Robbins

: There's a free small scoop or soft-serve birthday treat waiting for you when you sign up for the Birthday Club.

Buffalo Wild Wings

: When you join the Blazin' Rewards program, you'll get a free 6-piece order of wings on your special day.
Throw the best birthday ever with Paperless Post
Once you've got the plans under control, it's time to invite your guests. "I hate mass emails, which is part of why I love Paperless Post invitations," says Mr. Blasberg. "No one is too busy to send out individual email invites or text messages."
Whether you're looking for ways to celebrate your 21st birthday or planning your 70th birthday party, we've got the invitations to make it happen.
Hero image: "Dazzling Drinks" by Paperless Post.