25 rainbow birthday party ideas to brighten up your child's big day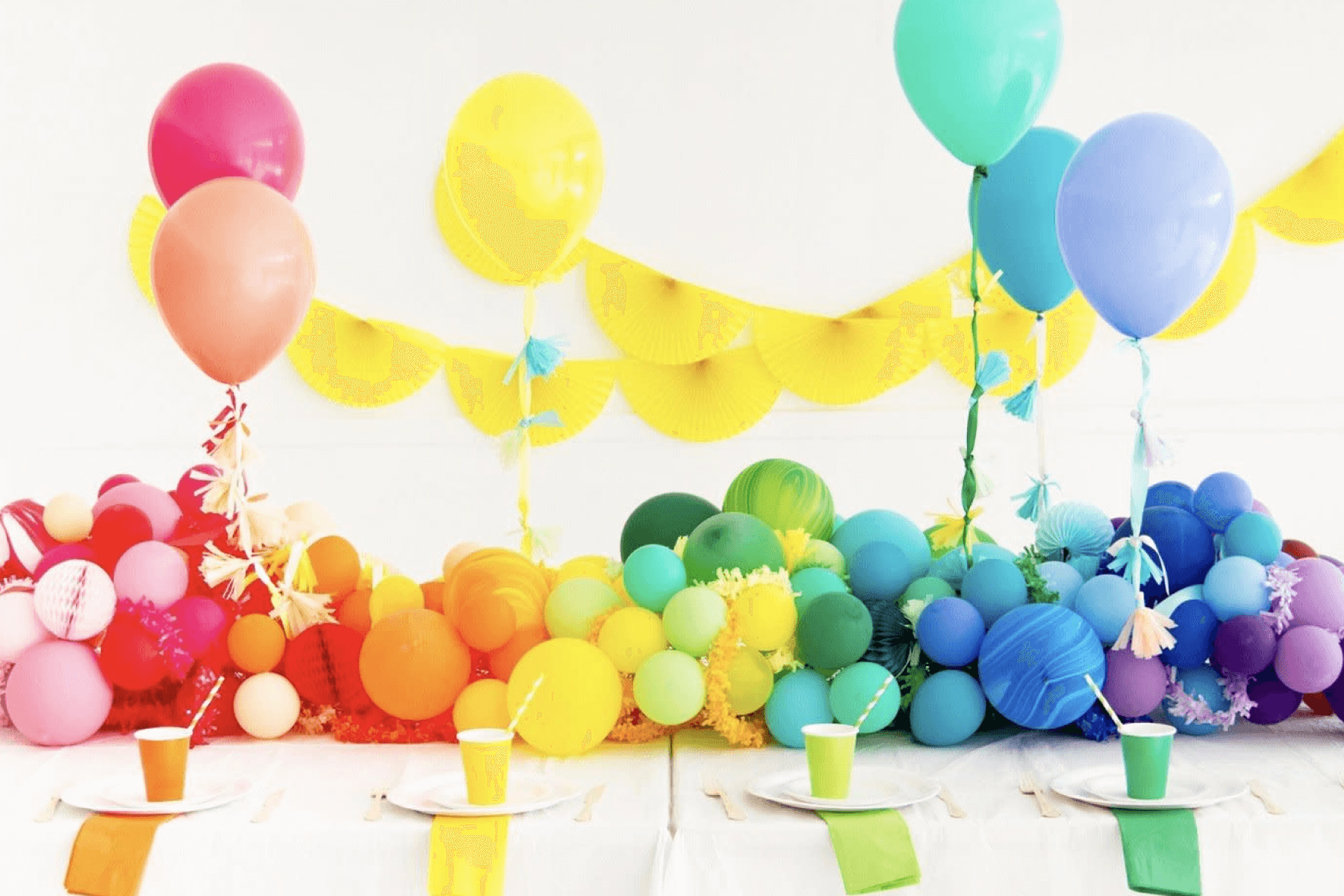 With your little one's birthday around the corner, you're likely contemplating the perfect theme for their big birthday bash. Maybe they're a budding artist, or perhaps they simply delight in all things colorful. Either way, if a rainbow-themed party has crossed your mind, it's time to follow that feeling to the end of… well, the rainbow.
There—and by there, we mean in this article—you'll find plenty of rainbow birthday party ideas waiting to be discovered: a fun blend of activities and party games fit for youngsters, delectable delights bursting with color, and a kaleidoscope of multicolored party decorations that'll take your rainbow birthday party to the next level. 
From princesses to unicorns, here are 25 unique rainbow party ideas that the leprechaun-sized ray of sunshine in your life is sure to love.
Set the scene: rainbow party themes that sparkle and shine
It simply isn't a real rainbow party without a colorful party theme. Here are a few brightly-colored motifs to inspire the big bash:
#1 Throw a tie-dye party: Whether the birthday girl or boy is a young hippie at heart or they simply love any opportunity for a DIY craft, everyone will have a groovy time at your tie-dye party (and leave with their very own handcrafted work of art).
#2 Host a regal rainbow prince and princess gala: Your little prince or princess is cordially invited to host the most vibrantly colored birthday party of the year! Our only request is that their esteemed guests wear their most royal garb, come hungry, and share an appreciation for all things rainbow.
#3 Spot a unicorn at a rainbows and unicorns party: What do you see at the end of this rainbow? Something much rarer (and more sparkly) than a pot of gold: a unicorn! Bust out the glitter and rainbows for this once-in-a-lifetime affair, where we feel quite confident you'll come across more than one unicorn.
#4 Dress your little monster up at a rainbow costume party: Who says ghosts and vampires are only appropriate during Halloween? Not us! Dress your kiddo up in their favorite costume—with a DIY rainbow twist. Tie-dye a sheet to make a rainbow-clad ghost, or turn your little one into a psychedelic vampire with a pair of plastic vampire teeth and a hodgepodge of colorful garments.
#5 Follow the yellow brick road to a "The Wizard of Oz"-themed party: Anyone who's had the pleasure of watching this classic film can tell you that it's full of enchantment—whimsical witches, mystical munchkins, and the introduction of technicolor. Set the stage with yellow tablecloths and a pair of ruby-red slippers. Don't forget to ask everyone to dress in their favorite color of the rainbow, or as their favorite character—and a playlist featuring "Over the Rainbow" is a must.
Create a cheerful vibe: Rainbow party decor and supplies
After you've chosen a theme, consider some of these cheery decor ideas to add pops of color to your vibrant party vibes: 
#6 Balloon arch: When it comes to rainbow decor, the idea of "too much color" doesn't exist. A rainbow balloon arch adds a vibrant pop of color and is a staple accessory in the realm of rainbow-themed party ideas. You can also assemble a colorful backdrop for a far-out photo booth with the help of a tie-dye or mandala-inspired tapestry.
#7 Rainbow birthday banner: Let the good times roll with a rainbow happy birthday fringe banner. Multi-colored fringed tissue paper sets the scene, complete with giant gold glitter letters that add the perfect amount of pizazz for any rainbow-themed celebration.
#8 Rainbow tableware: Whether you're hosting a classic rainbow party or veering in the direction of sparkly unicorns or princes and princesses, you can't go wrong with neon rainbow plates and cups to help you enjoy all of the delectable goodness in style. Cheerful? Check. Colorful? Double check. Plates that are shaped like a rainbow? You're three for three—need we say more?
#9 Over the rainbow birthday candles: From homemade birthday cakes baked with love (and extra frosting) to professionally crafted works of art, no rainbow-themed birthday cake is complete without rainbow candles. You can let the little guest of honor blow out their candles in style or turn each tricolored candle into a cute accent on a batch of decorated cupcakes.
#10 Multicolor party bags: What better way to say goodbye to all of your party guests than with a rainbow-inspired party favor? Keeping it on-theme, you can fill these multicolor party bags with rainbow party favors like rainbow sprinkle cake pops, rainbow piñata favors, and rainbow surprise balls.
Make it a magical affair with games and activities
After the initial excitement of being with their besties has settled down, it's time to kick the party into a complete rainbow fest with some of these fun-filled activities:
#11 Bounce castle: You can combine party decorations and playtime by incorporating an activity that'll elicit a rainbow of emotions—a colorful bounce house castle. The bounce house will provide hours of entertainment for the birthday child and party guests—and parents will leave happy with their thoroughly exhausted little ones at the end of the rainbow-themed party.
#12 Tie-dye station: It only makes sense to tie-dye something at a rainbow party, right? From shirts and beach towels to napkins and pillowcases, anything and everything is fair game. When sending out invites, we recommend asking parents to bring a white article of clothing they don't mind getting messy so their children have something special to tie-dye.
#13 Pin the Tail on the Rainbow Unicorn: A twist on the tried-and-true classic, giggles are sure to ensue during a rousing round of Pin the Tail on the Rainbow Unicorn. For the littlest partiers, skip the blindfold.
#14 Painting palette station: Let their little imaginations run wild with a painting station. Supply each guest mini easels, canvases, and palettes filled with paint colors to paint to their heart's content. If you prefer a messier affair, you can cover a table in butcher's paper and let everyone embrace their inner Pollock as they paint an eye-catching mural dripping with color. If your little one is a bonafide crafter, you can also round up the ingredients for everyone to make sparkly unicorn slime.
#15 Lawn Twister: Sure, you could bust out your old box of Twister that's been in the closet for years—or you could spray paint your very own Twister board on your lawn with eco-friendly colors. This creative adaptation of the classic game is fun, lets everyone enjoy some fresh air, and disappears after a mow or two.
Feast on oodles of colorful party snacks everyone will love
In addition to the classic birthday cake, you can turn a black-and-white menu into an explosion of tasty colors with some of these colorful snacks:
#16 Rainbow popsicles: A fruit-filled rainbow popsicle is the perfect snack for any rainbow-themed party. They're colorful, healthy, and as easy to make as one, two, or three. 
#17 Rainbow cupcakes: If the birthday boy or girl is a self-proclaimed foodie, you can also incorporate a cupcake frosting station with—you guessed it—a rainbow of frosting colors for everyone to decorate their cupcakes. Bonus points for offering colorful toppings like rainbow sprinkles, mini M&Ms, and gummy bears.
#18 Rainbow pizza: No matter how fancy the party is, one thing is certain—little party guests love pizza. You can treat their palettes to an explosion of color and flavor with a rainbow fruit pizza. Complete the pie with a vanilla yogurt base and colorful toppings like strawberries, blueberries, bananas, and all of your little one's other favorites. 
#19 Multi-colored waffles: Add some food coloring to a few bowls of waffle batter and embrace your inner chef to create a stack of brightly-colored rainbow waffles for each little guest. Feel free to kick it up a notch by placing a waffle-topping table where everyone can add their favorite accoutrements. From colorful whipped cream to vibrant fresh fruit, let their vivid imaginations run wild!
#20 Colorful veggie kabobs: We have no doubt that almost every tot at the party would be more than happy to eat an unlimited supply of cupcakes, waffles, and gummy bears all day long. However, you can appease parents by incorporating a healthy flair into the menu. Try crafting some veggie kabobs stacked with colorful veggies like yellow peppers, green cucumbers, and cherry red tomatoes. For an added touch, mix a dash of food coloring into a few bowls of ranch dip. You might be surprised to find most (or all) of the kabobs gone by the end of the day.
Make a statement with rainbow party invitations
Everyone will be over the rainbow with excitement for your little one's upcoming birthday with these unforgettable rainbow-themed party invites:
#21 Unicorn Magic: Hosting a unicorn-themed bash? Set the tone with an adorably cheerful unicorn gesturing to a picturesque snapshot of your little one—obligatory rainbow included.
#22 Mini Rainbow: Keep your invite boho chic with an understated mini rainbow birthday invitation. With a neutral background and a small rainbow situated at the top of the invitation, you have plenty of room to fill in the important details, like the date, time, location, list of kids' birthday party games, and the color-filled dress code.
#23 Cloud Nine: Want your precious little rainbow to be the focal point of the invitation? Say no more. With this fluffy cloud-filled invite, their picture floats on top of two smiling clouds attached to a brightly illustrated rainbow.
#24 Rad Trail: No matter if your ray of sunshine is four or 14, they'll be sending out cool kid vibes with this very groovy invitation. Perfect for tie-dye parties, rainbow parties, and everything in between, you can send out their colorful invites in style.
#25 ROYGBIV: Remember your old friend, Roy G. Biv? Whether you plan to whip out the paintbrushes for a painting lesson during the celebration or you simply want to make an artistic statement, this beautifully decorated invite features a dripping rainbow on a blue background—great for any rainbow-themed event.
Follow the rainbow to find the perfect invitations and decor at Paperless Post
Planning a rainbow party is a breeze with all of your party needs in one convenient location—Paperless Post.
"Magic Colors" Flyer by Paperless Post.
After you've homed in on the perfect rainbow invitation, you can customize it to your liking. Need to ask parents how many siblings are coming? With our customizable settings, you can easily add party guest questions to ensure no event-planning stone is left unturned, along with your child's wishlist, favorite photos, and more. Once you've sent your invites via email, text message, or shareable link, you can easily manage your party from our app, where you can instantly track RSVPs, message guests, and more.
Don't forget to check out Paperless Post Party Shop so you can stock up on kids' birthday party supplies in every color of the rainbow. From brightly colored plates to colorful honeycomb pom poms, your kid can have their rainbow cake and eat it, too.