A fabulous 40: 10 fantastic 40th birthday party ideas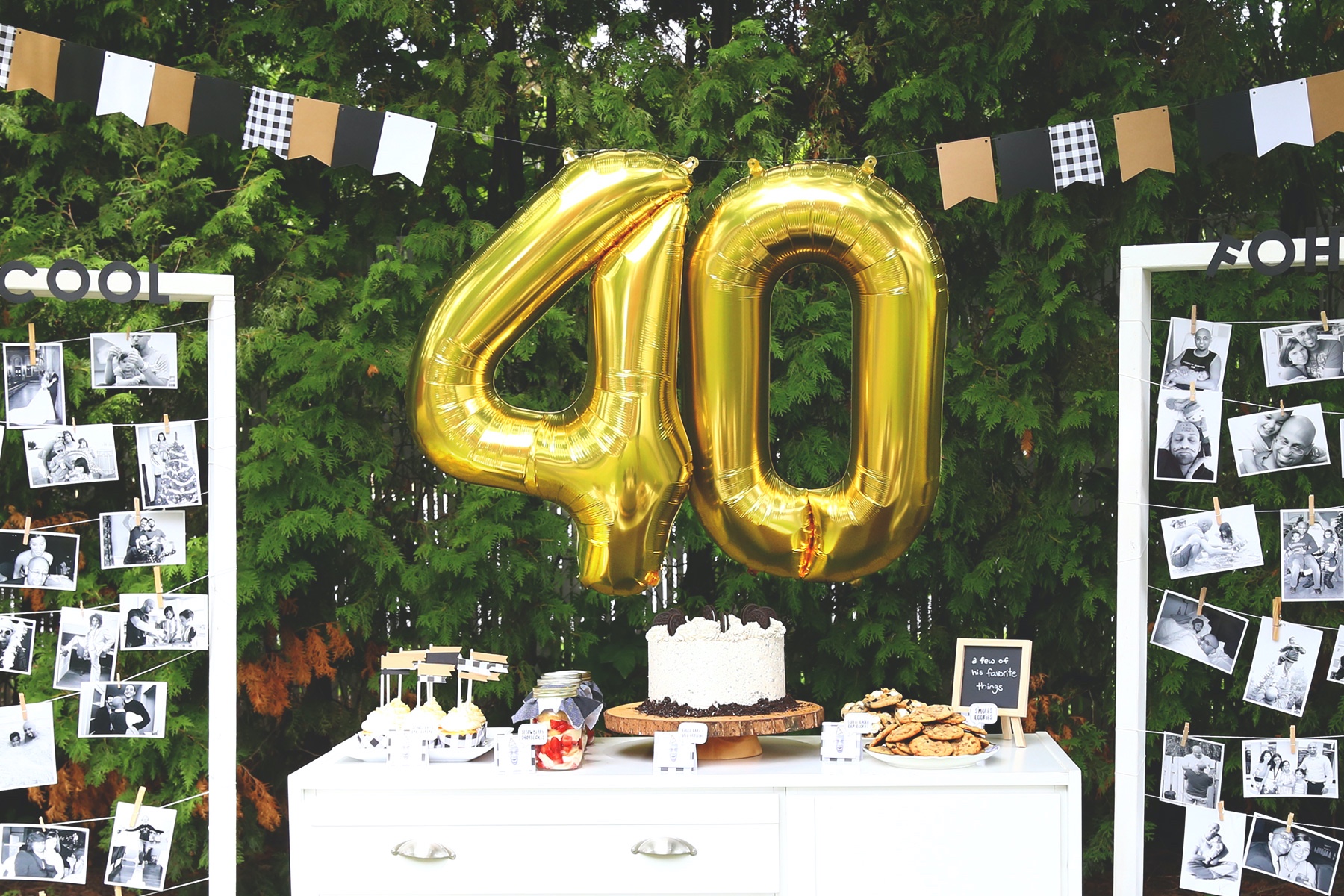 The big 4-0 is a time to celebrate. We're talking "My Big Fat 40th Mega Bash" big. So when it comes to planning the birthday party—whether it's for you or a beloved friend or family member—make it the best by considering the four T's: theme, tradition, time, and tone. 
In other words, you'll want to curate a birthday bash that's complete with a memorable theme, thoughtful traditions, and elegant invitations—all while paying special attention to the time of year to make any adjustments based on weather or seasonality. 
After that, it's a piece of (birthday) cake.
"Plant Party" Flyer by Paperless Post.
Whether you're excited or anxious to be turning 39 for the second time, you deserve to throw a party that's all about you and your passions. That means you should pick a theme that you've always wanted to do—now's the time to go all out. Perhaps you love camping or you're a budding oenophile or you just want to put on an outfit that makes you feel fabulous as you hit up your favorite cocktail bar. No matter which theme you choose (and trust us, we have ideas), your 40th birthday celebration deserves a little extra pizzazz. Looking for memorable 40th birthday party ideas? Read on for 40th birthday party ideas from Paperless Post!
1. Make it a weekend getaway
Looking for a more relaxing 40th birthday celebration idea? What could be more relaxing than a weekend with your closest friends and family? Rent a cabin or pitch tents in a beautiful locale—a flower-filled meadow, a red-rock desert, or a lake nestled in the mountains.
Welcome guests with an under-the-stars reception, complete with delicious appetizers and perhaps even a signature cocktail. Then, end the night with a decadent dinner party and a night of dancing with your favorite songs from the past four decades. 
When it comes to accommodations, each guest may have their own preferences. As such, provide your guests with a selection of sleeping options—on-site glamping tents for lovers of camping and nearby hotels or holiday rentals for the less seasoned outdoor enthusiasts. 
After a night of sleeping under the stars, say farewells to guests the next day with a village fête send-off—an elaborate festival complete with food, games, and entertainment. It'll certainly be a weekend to reminisce on for milestone birthdays to come.
2. Join forces and plan a family bash
Plan a traditional family weekend all of your invitees can enjoy, no matter their age. Set out for the countryside with all the aunts, uncles, and cousins you can gather to celebrate the next decade of life. In the afternoon, set up activities suitable for cross-generational fun, whether it's a badminton tournament or a treasure hunt that pits youngsters against their elders in a friendly competition for a prestigious prize—the winner gets to choose dessert. 
Pick a meadow with plenty of space to picnic or pitch tents. Or, find a park pavilion with enough space to host family and friends. Once the youngsters are asleep, kick things up a notch for an evening of fun—drinks, games, and reminiscing about the last four decades.
3. Plan a surprise '90s bash
Are you on party planning duty for a loved one turning the big 4-0? Call all your best partiers and dancers for an epic surprise birthday bash that will transport your birthday girl or birthday guy back to the days of acid-wash denim, butterfly clips, and boy bands.
Remind your guests of any theme party must-haves before attending, whether it's a costume or a vaccination card. Then, get the celebration started with a DJ to play all the top hits from the '90s (a Spotify playlist will work just as well) for a peppy soundtrack to dance the night away. 
Provide your guests with a selection of '90s-era fruity cocktails like Cosmopolitans, Apppletinis, and Strawberry Daiquiris. We also strongly suggest ordering pizza for a much-needed refuel session. 
Make safety, laughter, dancing, and the birthday star's smile your top priority of the night. Using '90s theme party ideas is the perfect gateway to a new feel-good decade. Plus, we have the perfect invite. You can throw an '80s bash or substitute it with 70s party ideas, too!
4. Oh, Schitt. He's 40!
Let your friends know it would give you no greater joy than to spend the evening with them to celebrate your 40th birthday! Pitch a "Schitt's Creek" dress code—grandiose wigs and hats for the Moiras, graphic sweaters and high-top Converse for the Davids, and chic dresses and ditzy hand flips for the Alexises. You can even compete in an "Ew, David" impression contest! 
If your guests have no idea what you're talking about when you reference the Rosebud Motel, encourage them to binge the series before the birthday bash to catch them up on the hit riches-to-rags sitcom.
5. Rent out a hotel
Go big with a hotel extravaganza! Many hotels allow guests to book a block of rooms (typically nine or more) at a discounted price for birthday celebrations. The hotel will most likely offer a slew of amenities and activities, from rounds of golf to spa days. Depending on the location, the hotel may even offer wine tasting events.
Before setting your guests loose, be sure to clarify which events are included in the hotel stay, and which aren't. Non-hosted events, like the ones listed above, can usually be paid directly through the hotel during the event. Hosted events, such as poolside cabanas, casual dinners, and farewell brunches, are also a great way to bond with your guests and celebrate the new decade!
"Bottle Shock – Gold" by Kelly Wearstler for Paperless Post.
6. Host a big dinner in the big city
If you're lucky enough to live a train ride away from the Big Apple, invite guests to a classy night on the town with a "New York Glam" themed birthday dinner. Ask guests to tune into their inner Carrie Bradshaw or Samantha Jones with a dress code that screams New York chic, then take to the streets for a night of decadent treats, a broadway show, and a nightcap before bedtime. 
Even those who are Midwest or West-coast bound can participate in the fun with a big-city-themed soirée, complete with Manhattan cocktails, a streaming of broadway-hit "Hamilton," and an Italian dinner for the ages (and ageless). 
7. Throw a chalet birthday
If you love skiing, head to the slopes for a weekend packed with powder, moguls, and more than a couple of cold ones at your après party.
There are plenty of activities on and off the mountain to celebrate in grand winter fashion—from mountain top dining to spa treatments at the lodge. You can even hold a snowman-making competition to see which one of your guests can best portray the birthday boy or girl in a flurry. 
Wondering how to beckon your closest family and friends to the slopes? We've got an invitation for that. 

8. Hold a game night (or day)
Are you looking to include some of your favorite birthday party games in your event? Celebrate your 40s with a game night instead alongside a few of your closest friends and family.
Whether you're figuring out whodunnit with Clue or partaking in fast-dealing property grabs with Monopoly, a game night is an amusing way to celebrate your big day intimately. If you're looking for a more active celebration, consider competing in a laser tag competition, a paint gun war, or a bowling tournament. Or you can take to the sand for a fierce game of beach volleyball.
No matter your game of choice, make sure it's one your entire guest list can get involved with and enjoy.  
9. Recruit friends and family to help give back
Your 40th birthday can also be a way to give back and make a difference within your community. Bring along friends and family to your favorite neighborhood charity or nonprofit to offer a few dozen helping hands to those in need. Most likely, there will be a food bank, an animal shelter, or a homeless shelter nearby that needs extra assistance. If you're not keen on participating in the day-to-day activities of the charity, consider donating food or clothes instead!
At the end of the day, what matters most is not the success you've accumulated over the years, but the people you've uplifted along the way.
"It's Getting Lit – 40" by Cheree Berry Paper & Design for Paperless Post.
10. Belated birthday? Celebrate with a 40.5 birthday party
If your 40th birthday was interrupted by the pandemic and you were unable to celebrate with family and friends, consider throwing a 40.5 birthday party.
If you're feeling whimsical, go with an "Alice in Wonderland" theme complete with a Mad Hatter's tea party and a 40/5 mad hatter hat for the birthday boy or girl. You can also go with a more casual theme, such as a backyard get-together or a movie night with close friends. 
To make sure your guests don't miss the shindig, plan on sending party save the date cards.
40th birthday invitation wording
In addition to choosing 40th birthday celebration ideas, invitations are perhaps the most important aspect of party planning or setting the event budget. They let your guests know when and where your party will take place, as well as any additional details such as party theme, dress code, or gift guides. As such, you'll want to make sure your invitations stand out in design and wording. Luckily, we're here to help.
—Milestone Moment – Mark the momentous occasion with an invitation that's just as special. Dazzle with the invitation and keep the wording simple:
Bessie Glass is Turning 40
Join us in toasting
Her grand achievement
Saturday, July 10th at 1PM
9 Story Avenue
—The Number Oh (Forty) – Make the invitation stand out just as much as the 40-year-old to be with a card that makes an entrance, accompanied by a posse of straightforward details: 
Benjamin's 40th Birthday
Saturday, June 2, 3 PM
The Pool Deck at the Taft Hotel
3400 Wilshire Boulevard
Los Angeles
"Lucky Number" by kate spade new york for Paperless Post.
—Lucky Number – Complement an elegant soiree with a chic invitation:
Join Tracy Lord for
Confetti & Cocktails
In honor of her 40th birthday
Friday, December 27th at 8pm
The Hepburn Hotel – Philadelphia
RSVP
—It's All Uphill From Here – Stay simple and sophisticated with this black and white design that'll remind your guests  just how far your birthday-basher has come:
Please Join Us
In Toasting 
Maude Chardin
On the Occasion of
Her 40th Birthday
December 20th at 7PM
71 Ashby Street
San Francisco
Hosted by Harold | RSVP
—Neon 40th – Go bold with an eye-catching design and unique wording that's sure to allude to the upcoming night-to-remember:
Join Us in Making
Mark Thackeray's 40th One For the Books
Saturday, June 14 at 7:30 PM
115 Cable Street | London
— Like We're In Our 20s – Stay young with a chalkboard-inspired design that invites guests to a youthful and lively bash:
If 40's are the new 30's
Can we party like we're in our 20's?
Saturday, March 8th, Eight O'Clock
Employees only and other fine drinking
establishments in the West Village
Please reply
Make it a birthday to remember with Paperless Post
Turning 40 is a huge milestone, and while it's an exciting new chapter in one's life, turning the big 4-0 may also come with its slew of emotions, both good and bad. No matter where your head is at, it never hurts to get a head start on brainstorming 40th birthday ideas and plans, especially when it comes to the invitations. There, Paperless Post has you covered. We offer a selection of online custom cards and birthday invitations to help make your birthday extraordinary. Want your invitations to double as keepsakes? We also have a collection of printable invitations.
Using our in-site customization tools, you can change the card's text, style, envelope, and background color to make an invitation that's truly you. 
We also provide RSVP tracking tools to help organize your guest list and responses. With such a big milestone to come, it's only fitting that you have the experts in party planning behind you—Paperless Post. 
Browse 40th Birthday Invitations