PAPER by Paperless Post
---
How do I get started creating a PAPER card?

You can click on any card to see the online price, the PAPER price, and any color variations (if applicable). You can then click Design for PAPER. You can always create a version for online sending later.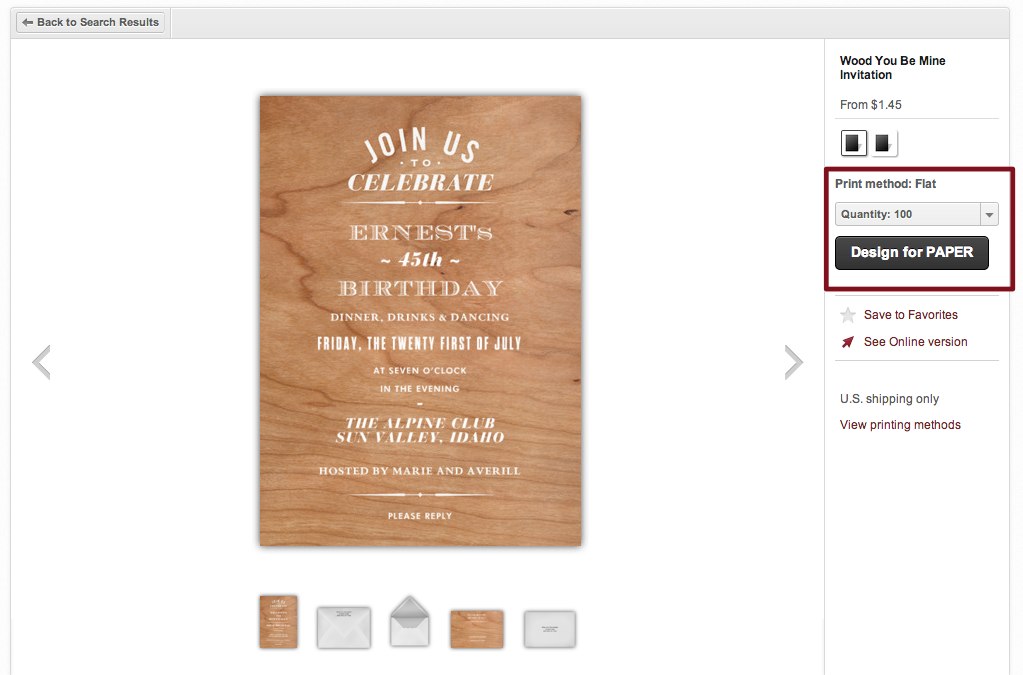 Click to enlarge.
---
Can I add a logo or motif to my PAPER card?

Yes, you can definitely add a logo or motif to your flat-printed PAPER card. It's not possible to add a logo to a fine-printed card, however you can add a motif. You can add a logo or motif on the Design page by clicking Options and either Add Logo or Add Motif. However, not all of the logos in your account may be a high enough resolution to be printed. You will see a warning that your logo is too low-resolution in the logos menu on the left side of the page if your logo is less than 400 pixels. We would recommend re-submitting any logos that are too low-resolution, as we cannot guarantee that the logo will look great when printed when they are smaller than 400 pixels.
---
Can I add an envelope liner to my PAPER envelopes?

You can definitely include an envelope liner in your printed envelopes. You can add an envelope liner on the Design page. You can add a liner if your envelope doesn't have one by clicking into the space where the liner should go on the Design page. When you are ordering flat-printed cards, adding a liner costs an additional 70 cents per card. Our liners are printed straight onto the envelope, they are not a separate insert.
For fine-crafted cards, the cost of the envelope liner depends on the liner you choose. The liners are separate inserts that are attached to the envelope.
---
Can I edit the back of my PAPER card?

If you are using a card where only one side is editable, it is not possible to edit or change the back of your card at this time. If you are using a card where both sides are editable (i.e. photo on the front, text on the back), you can edit the back of your card.
---
Can I use two different printing processes in the same order?

You can only use one printing process (i.e. thermography or engraving) on your order at this time - it's not possible to change the printing process per item.
---
How can I order PAPER cards?

After you have finished designing your card, you can place your order on the Order page. Here, you can click to view the front and back of your card and well as the envelope to make sure that everything looks perfect before adding the order to your cart. You need to verify that all of the information and spelling are correct on the card and then choose the quantity and paper type for your mailing. You will see the subtotal here. Once you're ready, click Add to cart. Adding an item to your cart does not immediately place the order - you still need to go to your cart and check out before your order has been submitted.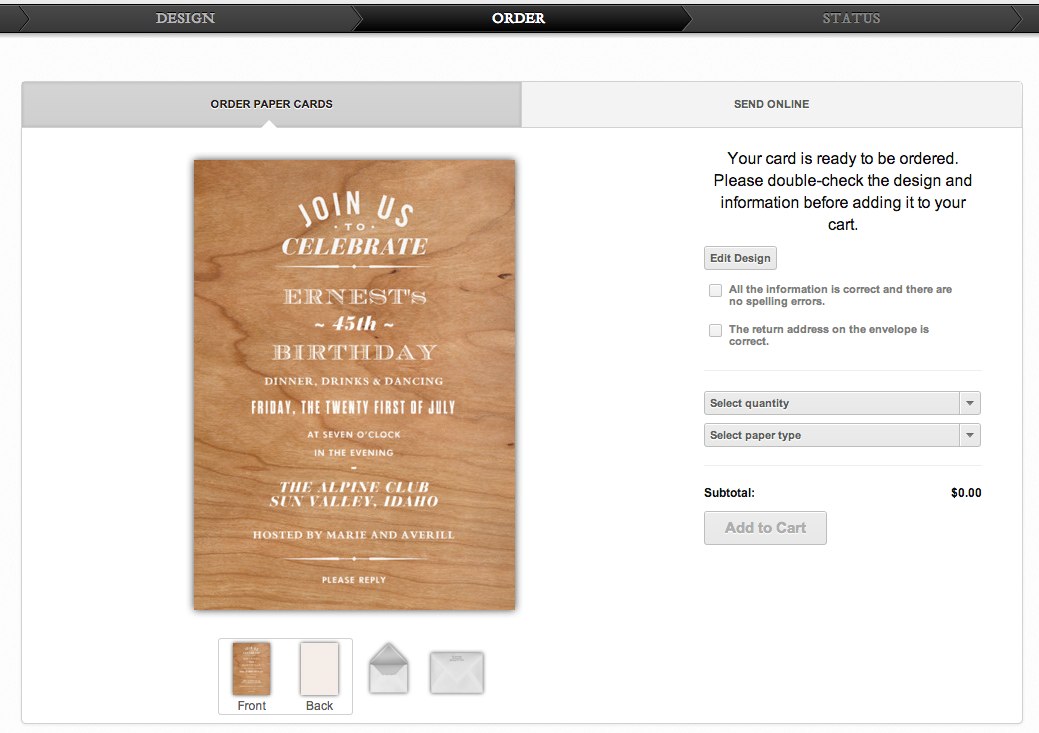 Click to enlarge.
---
Do all PAPER cards come with envelopes?

You can order ivory envelopes with your PAPER order. If you'd like, you can choose to have no envelopes on the Order page. You can also choose to order a different quantity of cards and envelopes. When you receive them, the outside of the envelope will be blank, so you can address the envelopes and distribute the cards however you would like.
---
Can I receive a sample of my PAPER card before ordering the full amount?

We do not ship any samples of your card before receiving your full order. You will have a chance to see how the card will look on the Order page before submitting your order. If you are unhappy with the way your cards look when you receive them, please contact the support team.
You can always order one card before submitting your entire order. You can do this on your Order page by selecting one keepsake card and then checking out. You can always place the full order later. Keepsakes are only available for our flat-printed cards. If you'd like to see a sample of any of our cards, you can contact us and we can see what we have in our offices to send you!
---
Do you offer addressing the front of the envelopes for me?

When you receive your envelopes, they will be blank. You will need to address them and then distribute them however you'd like. We only offer return address printing at this time.
---
I want to order a card that is not available in PAPER. What do I do?

Unfortunately it's not possible to order any cards on the site that are not available in PAPER. You can put in a request that your card become available in PAPER on the Delivery page by clicking Order PAPER Cards and then submitting a request. If you do not see this option on the Delivery page, that means that we definitely cannot make a PAPER version of this card design.
---
Are there different options for shipping? How much does each shipping option cost?

We offer three different shipping options, all via FedEx: standard ground (3-5 days), 2-day, and overnight shipping. All shipping times are in business days The prices for shipping are as follows:
For residential addresses:
Ground: $8
2-Day: $17
Overnight: $27

For commercial addresses:
Ground: $8
2-Day: $15
Overnight: $25

You can select your shipping option and type of address when you check out.
---
This fine-crafted order is out of my budget. Why is it so expensive?

All fine printing orders are produced by hand with extreme care and use the highest quality of papers, inks, and production techniques available. If you choose a card that is available in both engraving and thermography, you can choose thermography if you're looking for a less expensive option. You can see these options before you start designing your card. Each color you add to the card costs an additional fee (prices vary by printing process), so you can remove a color if you'd like to lower the cost. Some of our designs start with two colors, but every design has at least one color variation that has only one color on the static design. All of our packages start with envelope liners and return addresses, so you can always remove these as well.
---
Is there sales tax for ordering PAPER cards?

You are not charged sales tax for ordering PAPER cards unless you are shipping to New York, California, or Tennessee. The sales tax rate is based on your zip code. When purchasing coins, there is no sales tax unless you're in New York.
---
Can I use Coins to pay for my PAPER order?

No, it is not possible to use any coins in your account to pay for a PAPER order. Coins can only be used for online sending.
---
If I placed my order already, can I order more PAPER cards?

You can always order more cards by returning to your Order page. You can order as few as ten flat-printed cards in one mailing if you just need a few extra. For fine printing, the minimum order is 25.
---
What if I placed an order but realized I need to make a change? What happens if I see an error on the cards I receive?

If you see an error on your card after you've submitted your order but the order has not yet been shipped, please contact us as soon as possible. We cannot guarantee that we will be able to fix the card before it is printed and shipped, but we can do all that we can so that you do not receive cards with a misspelling or an incorrect date.
You are responsible for all of the content that you add to your card. If you misspelled a word or changed the date of your event, Paperless Post is not responsible for that error. If there is an issue with the production of your cards, such as a color or border inconsistency, you should contact us and let us know about this as soon as you receive your cards. Please include your account email address and order number when contacting us.
---
Will there be any differences between the card I design online and the card that I receive in PAPER?

When our designers started working on our PAPER cards, they realized that not all colors, borders, and shapes would look as beautiful printed as they do online. This means that we've had to make some slight tweaks in the color and texture to some of our cards that you have loved to send online in the past. We want to make sure to deliver the highest quality product to you - both online and in print - so please let us know if you notice any major differences between your PAPER and your online card!
---
Do I need to be at home to receive my shipment from Paperless Post?

Your package is being shipped by FedEx and should not require a signature for delivery. You can always track when your package will arrive on the FedEx website. You can find your tracking number on the Order History page after your order has shipped.